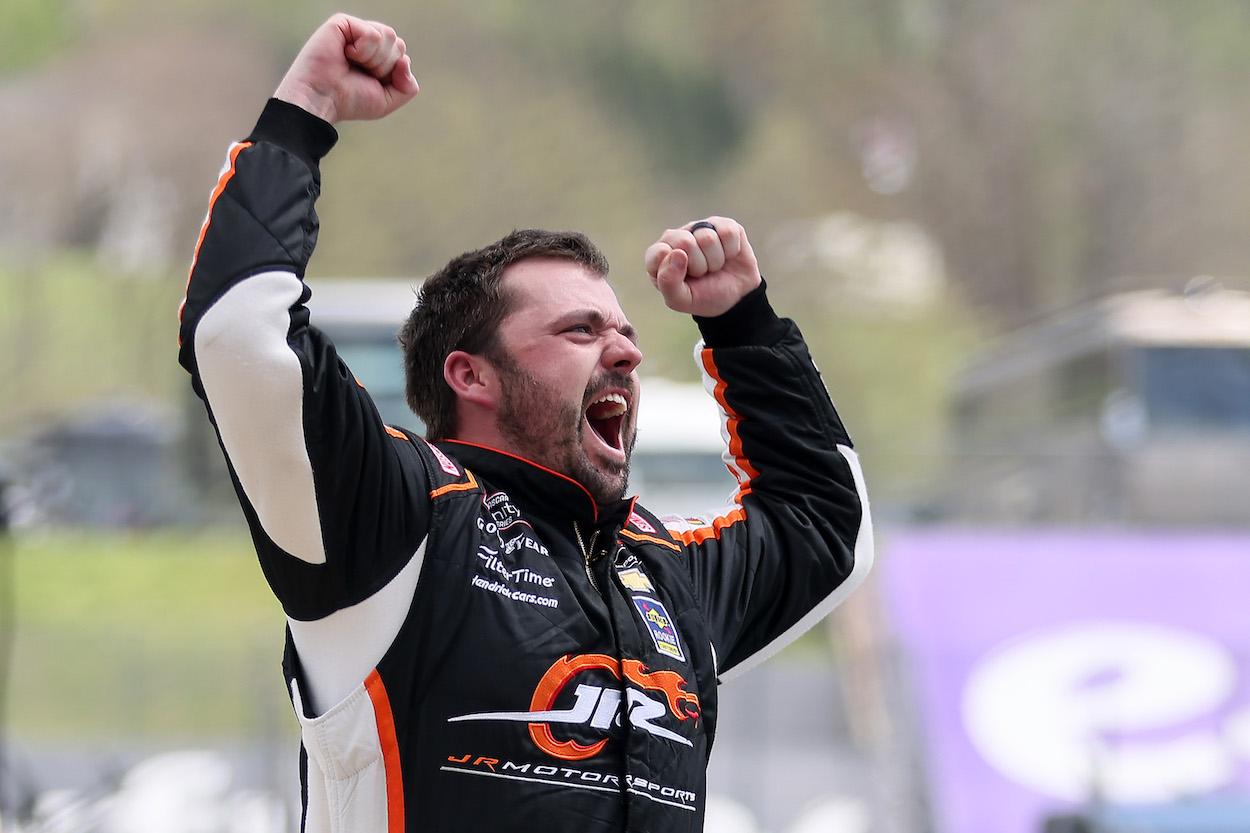 Emotional Dale Earnhardt Jr. Admits He 'Cried So Hard' After Josh Berry Captured First Xfinity Series Win in Martinsville
Dale Earnhardt Jr. admits he cried hard after Josh Berry won his first Xfinity Series race.
Dale Earnhardt Jr. openly shares his thoughts and feelings on his podcast talking about his JR Motorsports drivers and their experiences on the Xfinity Series. He's talked a lot about the team's struggles early in the 2021 season, highlighted by a couple of headline-making events, including Noah Gragson's post-race fight on pit road and Josh Berry sharing his frustration by flipping a double-bird after another race. 
In recent weeks, the tide has turned, and Earnhardt's team has found success, with Justin Allgaier getting the organization its first win of the season at Atlanta. On Sunday, Berry extended the streak to two with his first career Xfinity Series win. For Earnhardt, who has shepherded the 30-year-old short-track specialist for years now, it was an emotional win that left him in tears. 
Dale Earnhardt Jr. disappointed in Josh Berry
Josh Berry had a sense of urgency coming into the 2021 season. After years of just driving a couple of races a year on the Xfinity Series, Dale Earnhardt Jr. and JR Motorsports gave him a part-time ride for the first half of the season. During this time, the 2020 NASCAR Advance Auto Parts Weekly Series national champion would have to prove he was capable of racing on a variety of tracks.
In five races this season, Berry had a pair of top 10s sandwiched in between a 27th at Daytona and another pair of forgetful finishes at Phoenix and Atlanta. Unfortunately, Berry's finish at Phoenix was memorable for what he did after the race when he flipped a double-bird to Santino Ferrucci for an incident that happened during the race. 
Earnhardt was understandably unhappy with his driver and said as much on his podcast.  
"I told Josh, I said, 'Man, you've been wrecked before. You know how to act. And this ain't it.' I know a lot of people are like — you love the passion, get 'em, Team Josh, right? I get that, too. But here's the thing, Josh is trying to become imprinted in people's mind and he ran a great race… Now, all they remember is the double-bird and nothing at all really about the performance on the track. I just don't want him to divert people's attention away from what's really important and that is that he is fast, that he can do this, and that given more opportunities, which we're trying to get for him, he could have great success."
Dale Earnhardt Jr. cried hard after Berry's victory at Martinsville
Josh Berry has been part of Dale Earnhardt's JR Motorsports Late Model program for a decade. Earnhardt has seen all the hard work put in by Berry. That's why he was so frustrated to see the veteran driver let his emotions get the best of him in Phoenix, knowing what's at stake.
As frustrated as Earnhardt was with Berry losing his composure in the desert, he was equally excited to see his long-time driver win his first Xfinity Series race at Martinsville. In fact, Junior admitted he had a hard time watching because he was so nervous and with 20 laps remaining he went outside.
"My heart was beating so fast," Earnhardt told Kelly Crandall of Racer.com. "I've never felt that way … not when I raced or when my dad raced. … I peaked around the corner when he got the white."
Once Berry crossed the finish line, Earnhardt admitted his emotions got the best of him.
"I've never cried like I cried today over racing. I just wanted it so bad for Josh."
Josh Berry could have big payday in near future 
Josh Berry, who led a race-high 95 laps, was understandably happy following the race and thanked Dale Earnhardt Jr. and company for everything.
"Oh, gosh, I have so many people I could thank I could be here until tomorrow morning," Berry said in the post-race interview "Just Dale, L.W. (Miller), Kelley, everybody for believing in me, everyone on this No. 8 team. Man, they've been through a lot the last couple of years. Had a ton of different drivers. Man, I wanted to win so bad for these guys. They're such a great group."
Berry won his first Xfinity Series race and will be looking for more until he's scheduled to be replaced in the No. 8 car in June by teammate Sam Mayer. Until then, he is now eligible for the Dash for Cash at Talladega on April 24, where he could win $100,000.
Things have turned around quite nicely for JR Motorsports. Could the recent run of good luck also result in Berry landing himself a full-time ride in the future? Time will tell.
Like Sportscasting on Facebook. Follow us on Twitter @sportscasting19.