John Hunter Nemechek's Unconventional NASCAR Career Path Looks Like It Might Actually Be Working
John Hunter Nemechek took a huge risk two years ago when he dropped two levels from NASCAR's top series after his rookie season in the Cup Series in 2020, and now it is starting to look like his gamble is going to pay off.
Nemechek, the 25-year-old son of former Cup Series driver Joe Nemechek, began his NASCAR career in the Truck Series in 2013 at the age of 16. He finished 16th at Martinsville Speedway in a truck owned by his father's NEMCO Motorsports and went on to rack up five wins in the Truck Series across the next four seasons with his family-owned operation.
John Hunter Nemechek worked his way up the NASCAR ladder after starting with his family team
The younger Nemechek had two wins and finished eighth in the points standings in each of his last two full-time Truck Series seasons of 2016-17. He then split the next season between the Truck Series with NEMCO and the Xfinity Series with Chip Ganassi Racing.
Nemechek won a race in each series in 2018, which earned him a full-time Xfinity Series ride in the No. 23 car for GMS Racing. He did not win a race that season but finished seventh in the points standings. That led him to a full-time deal with Front Row Motorsports in 2020 to drive the No. 38 car and compete for Rookie of the Year honors.
He had three finishes of 11th or higher in the first 13 races, but a stretch of five crashes in the span of 11 races throughout the middle of the season dropped him to 26th in the points standings. He ultimately finished 27th in the points standings and then made an unusual decision with his career at a crossroads.
Nemechek made a unique choice to move from the Cup Series to the Truck Series
Nemechek announced after the season that he would sign with Kyle Busch Motorsports to drive the No. 4 truck full-time in the Truck Series for the 2021 season rather than return to FRM.
"It definitely was a tougher decision, for sure, trying to weigh out the pros and cons of each one of them," Nemechek said at the time. "But when it comes down to it, I'm a competitive guy. I want to show up to the race track every single weekend and have a shot to win. Definitely, I learned a lot and gained a lot of knowledge. … I'm looking forward to kind of coming back, even though it is somewhat taking a step back, but at the same time, you have to look at the positives. We're here to win races."
That's precisely what he did. Nemechek won a series-high five races and had a series-leading 12 top-five finishes in 2021. He reached the Championship 4 but finished seventh in the season finale at Phoenix Raceway and third in the final points standings.
Nemechek returned to KBM in 2022 and won another two races, along with a series-high seven pole awards en route to a fifth-place finish in the points standings.
Nemechek has had an outstanding start to the 2023 Xfinity Series season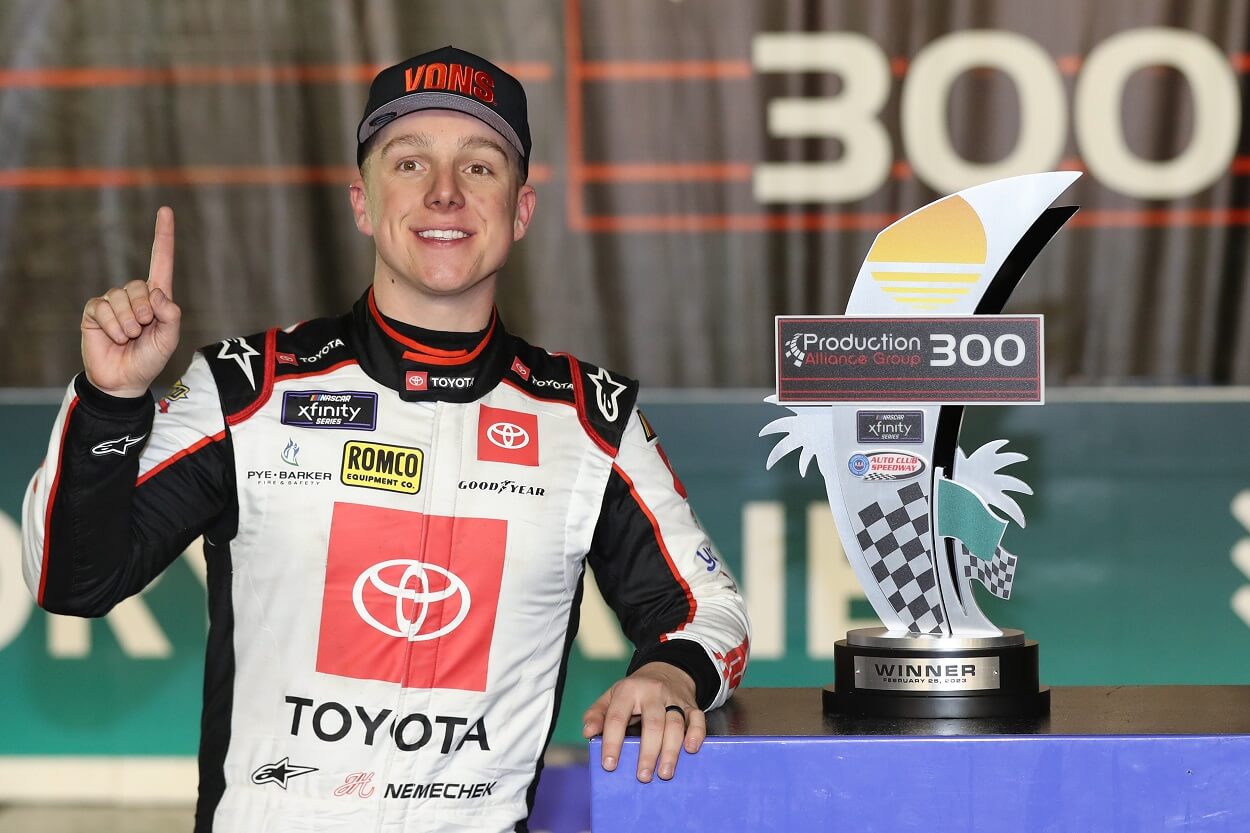 With KBM moving to Chevrolet for the 2023 season to follow team owner Kyle Busch's transition to Richard Childress Racing, Nemechek stayed in the Toyota camp. He moved up to the Xfinity Series to drive the No. 20 car full-time for Joe Gibbs Racing after driving 11 races in the series a year ago, and the results have been superb through the first two events of the year.
Nemechek led eight laps in the season opener at Daytona International Speedway and finished inches behind winner Austin Hill when a caution came out on the final lap of a double-overtime restart when Sam Mayer flipped down the backstretch.
Nemechek then led a race-high 49 laps Sunday at Auto Club Speedway in Fontana, Calif., to reach Victory Lane and establish himself as one of the early championship favorites. He has had one of the strongest cars in each of the first two weeks and is setting himself up to have his long-term gamble pay off.
He is now firmly at the top of the JGR pipeline, and at least one of the organization's four Cup Series teams could have an opening for next year or at least the year after.
Both Martin Truex Jr. and Denny Hamlin are in the final season of their current contracts, so the possibility exists that the No. 19 or No. 11 (or both) teams could need a new driver for 2023. Truex, 42, is probably the more likely of the two not to return for next year, as he strongly considered retirement a year ago. Hamlin, who is also 42 years old, has not mentioned retirement plans, but his primary sponsor FedEx has yet to extend its contract with the organization.
All signs point to Nemechek as the next in line for one of those spots if Truex or Hamlin leave, which would complete a remarkable career comeback for a driver who bet on himself and might put him far ahead of where his career might have been had he stayed with his initial Cup Series team.