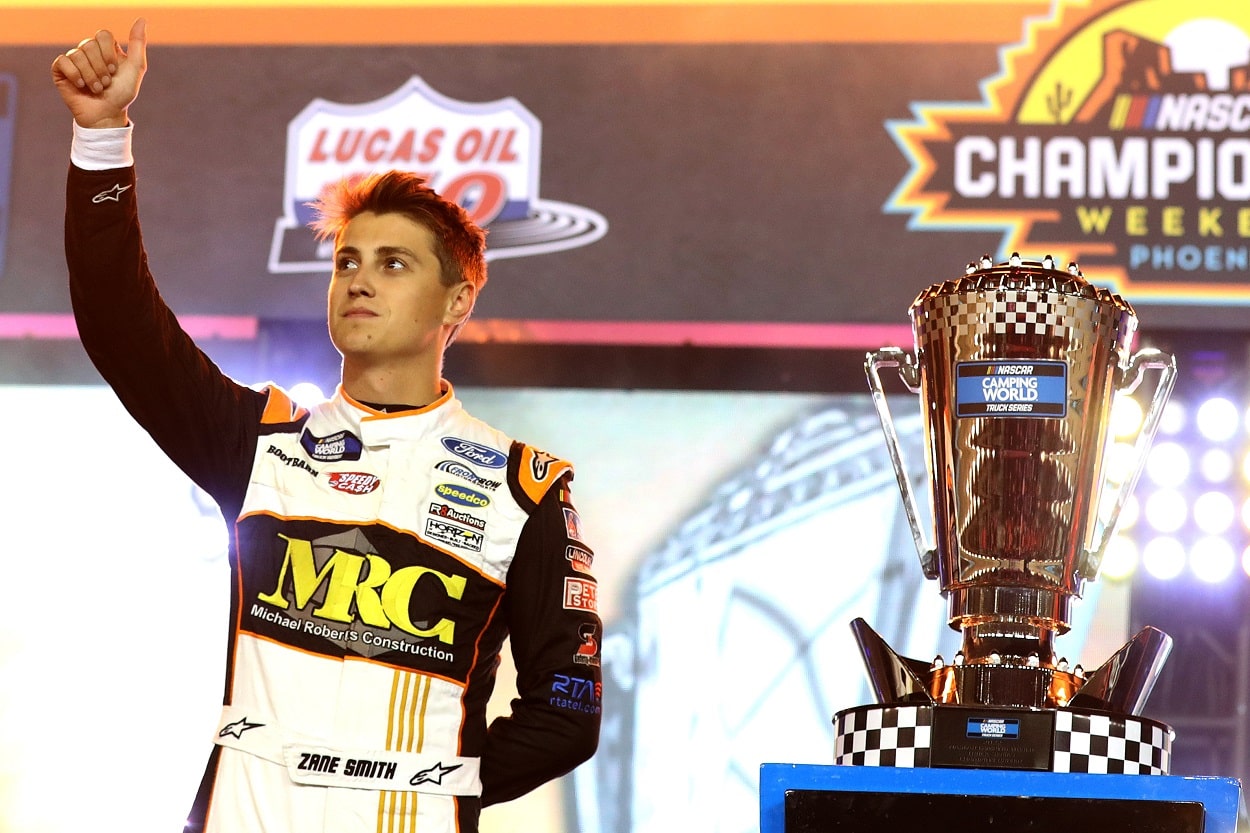 The NASCAR Truck Series Faces a Major Problem Heading Into the 2023 Season
Zane Smith may be the only true star in the NASCAR Truck Series.
Defending Truck Series champion Zane Smith has what should be an exciting year ahead of him as his career is poised to take off, but he might be one of very few drivers in the series with the potential to climb the NASCAR ranks.
Smith won the 2022 championship in the No. 38 truck for Front Row Motorsports with a victory in the final race at Phoenix Raceway for his series-leading fourth win of the year. He narrowly outran 2021 series champion Ben Rhodes for the title to complete what turned out to be a breakout season for Smith.
A strong season created multiple opportunities for Zane Smith
The 23-year-old driver had been runner-up in the Truck Series championship both of the prior two seasons with GMS Racing after he posted seven top-10s in 10 races as a 20-year-old in 2019 while driving the No. 8 car in the Xfinity Series for JR Motorsports.
Smith mostly dominated the Truck Series in 2022. He led the series with 14 top-fives and 19 top-10s across the 23-race schedule. He also led a series-high 492 laps and had a series-best 7.7 average finishing position.
He also received the opportunity to race in the Cup Series for the first time. Smith piloted the No. 17 car for RFK Racing in June at World Wide Technology Raceway near St. Louis as a replacement driver for Chris Buescher, who was out because of a positive COVID-19 test.
Smith started the race 32nd in the 26-car field but drove a clean race and finished on the lead lap in 17th.
All of that success has translated into an enhanced schedule for Smith in 2023. FRM announced in August that Smith would return to the Truck Series full-time next season, but he will also attempt to qualify for the Daytona 500 as part of a partial slate in both the Cup Series and Xfinity Series.
Another winning season could put Smith in the Cup Series full-time sooner rather than later, but he might not have many fellow current Truck Series drivers to join him.
Several potential rising stars are leaving the Craftsman Truck Series
The Truck Series lost a pair of strong title contenders for next season, with John Hunter Nemechek moving to the Xfinity Series full-time with Joe Gibbs Racing and Chandler Smith also headed to the Xfinity Series full time with Kaulig Racing.
Nemechek, who has a full Cup Series season on his resume already, finished inside the top five in the Truck Series points standings each of the past two seasons, and Smith reached the Championship 4 for the first time in 2022 to go with a career-high three wins.
Both Nemechek and Smith drove for Kyle Busch Motorsports, which will switch from Toyota to Chevrolet next season to remain aligned with team owner Kyle Busch as he transitions from Joe Gibbs Racing to Richard Childress Racing in the Cup Series.
KBM will still field two trucks in 2023 but will have two new drivers in its stable. Chase Purdy will join the team full-time after two non-playoff Truck Series seasons from 2021-22. Jack Wood will also join KBM for at least 10 races after two seasons at GMS Racing, in which he amassed only one top-10 finish.
Otherwise, the Truck Series does not have much depth beyond Zane Smith in terms of potential Cup Series prospects.
The Truck Series is currently devoid of Cup Series prospects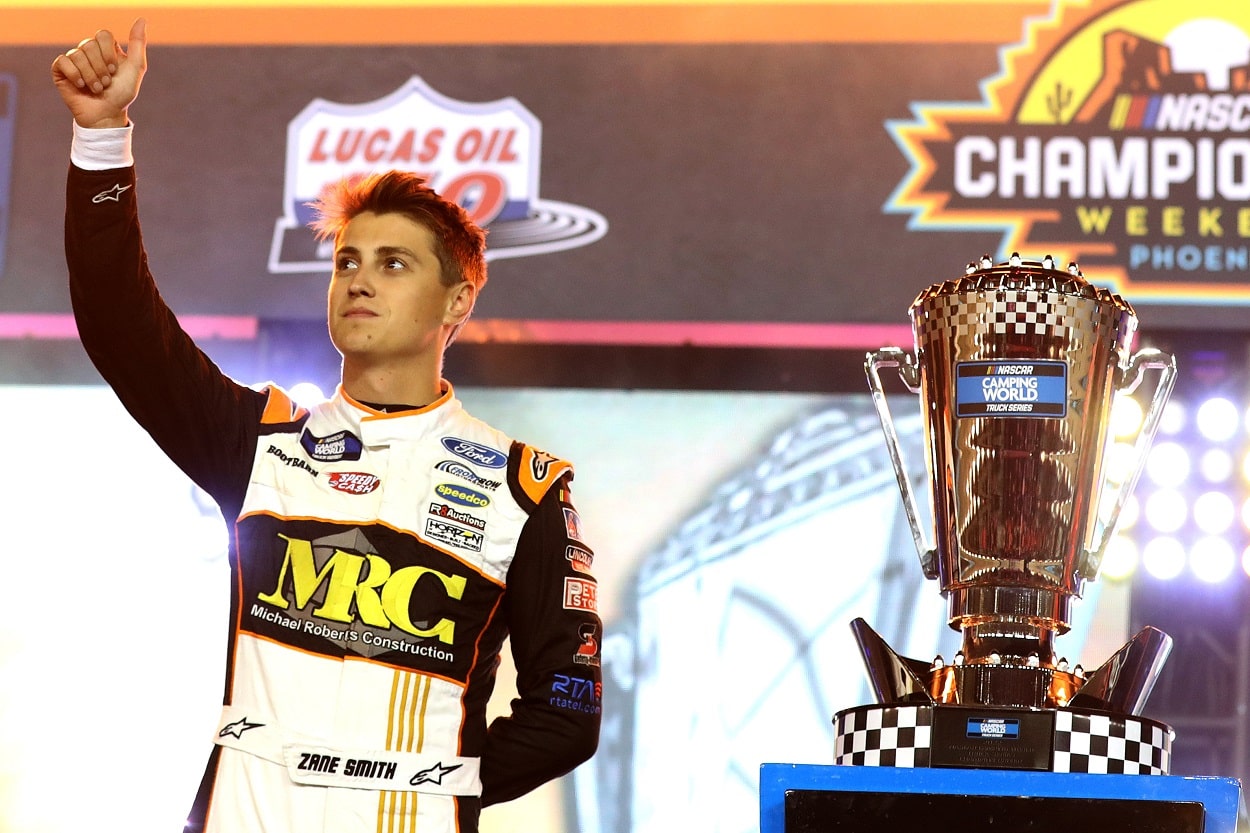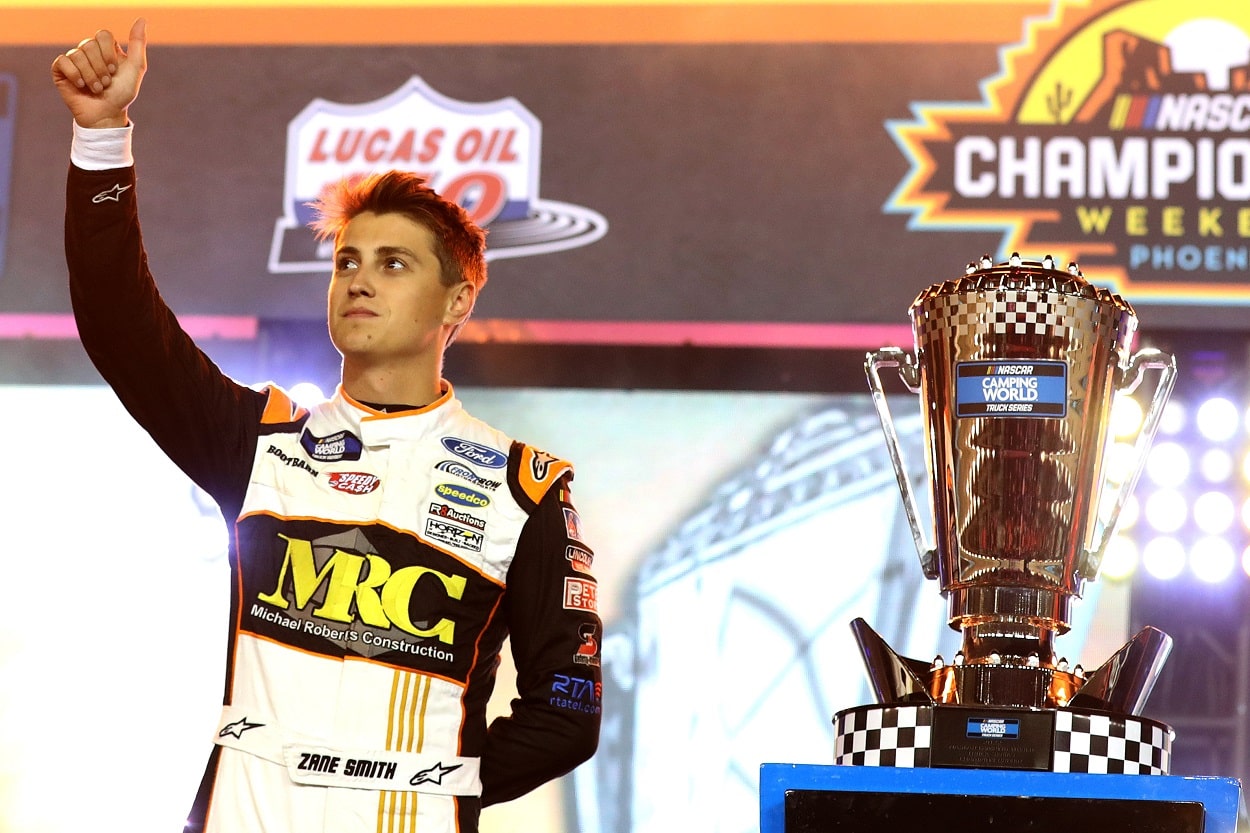 Ty Majeski revived his career in 2022 with a pair of wins and a Championship 4 appearance for Thorsport Racing, so perhaps at age 28, he will gain the attention of owners in other series.
Christian Eckes has dropped from powerhouse organizations of KBM and Thorsport to McAnally-Hilgemann Racing for 2023. He has a win and two playoff appearances on his resume, but MHR has yet to win a race across seven seasons in the series.
Corey Heim could win some races for TRICON Garage after a pair of victories as a part-time driver for KBM in 2022, but this will also be his first year as a full-time driver in the series.
Others, such as Carson Hocevar and Tyler Ankrum, are with well-established teams, but Ankrum's win in 2019 at Kentucky Speedway is the lone career victory between the two.
Hailie Deegan also might move to Thorsport next season, but she has only three top-10s in 46 career Truck Series. Rajah Caruth has signed with GMS Racing, but he has yet to capture a top-10 in 11 NASCAR starts.
In fact, no young driver currently in the Truck Series, aside from Smith with seven wins, has more than two career wins in the series. 
That presents a possible wide-open opportunity for new drivers to show their potential, but also could mean the series is headed toward a stretch in which long-time series veterans such as Rhodes, Stewart Friesen, Grant Enfinger, and Matt Crafton lead the series.
That shouldn't be a problem in terms of entertainment value for the series, but it could be a cause for concern for the sanctioning body if one of its developmental series doesn't have drivers who might develop into stars of the future.
Have thoughts on this topic? Keep the conversation rolling in our comments section below.