John Hunter Nemechek's Patience Will Get Him Back to the NASCAR Cup Series
In some other year with some other team, John Hunter Nemechek's first full-time foray into the Cup Series would have lasted longer. However, 2020 was the wrong year to make a go of it in NASCAR's top circuit.
Nemechek decided at the conclusion of that season to take two steps back. Now, he's taking one step forward while looking like a candidate to return to the Cup Series eventually.
John Hunter Nemechek has raced in all three NASCAR series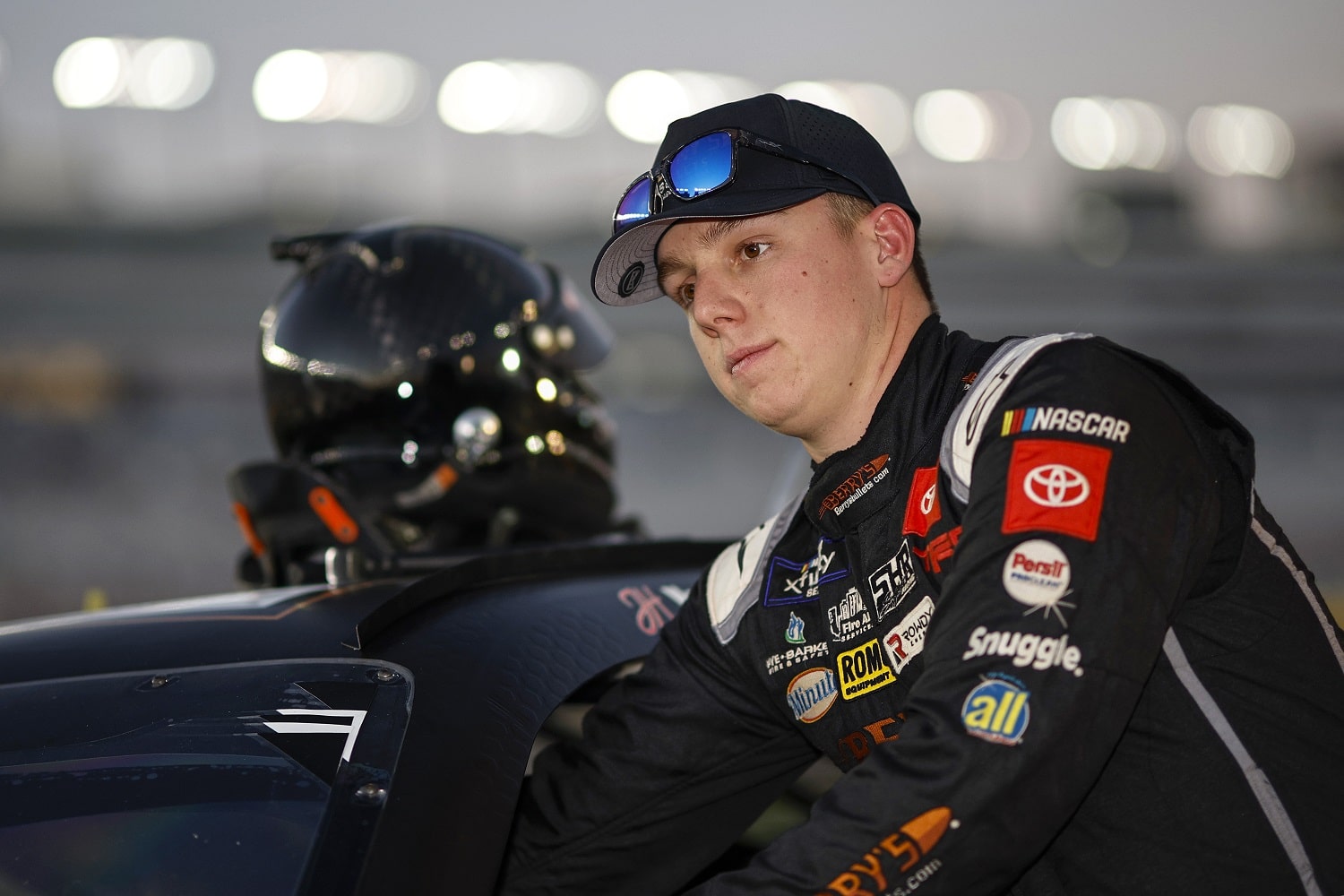 John Hunter Nemechek started making his mark in NASCAR with eighth-place finishes with his father's truck series team in 2016-17. That got him to the Xfinity Series with Chip Ganassi Racing and then GMS Racing the next two seasons. He was just 22 when Front Row Motorsports put Nemechek in a Cup Series car in place of Matt Tifft for three races late in 2019.
The following year, FRM picked Nemechek to replace David Ragan in the No. 36 Ford. Outside of eighth place in both Talladega races and 11th in both Daytona events on the oval, the year was unremarkable, and he finished 27th in points.
That was the season in which COVID-19 brought sports to a halt in mid-March. When NASCAR returned, practice and qualifying were practically non-existent. While inconvenient for veterans, the curtailed schedule was hard on rookies, and Nemechek decided to return to the truck series.
"You're racing so hard to run 20th-25th (in Cup)," Nemechek explained to NBC Sports at the time. "In the truck series, you're still racing hard to win races, but I feel like the competition is so much stiffer in the Cup Series. There's so much experience in the Cup Series, and you're racing against all these veterans who've been there for such a long time.
"For a rookie coming in last year with no practice and no qualifying, you had to adapt so fast. Most of the places we went last year, our first laps being turned in a Cup car were when the green flag flew."
John Hunter Nemechek has made his way back to the Xfinity Series
Joe Gibbs Racing just introduced John Hunter Nemechek and Sammy Smith as its full-time drivers in the 2023 Xfinity Series. JHN, now 25, will be in the No. 20 Toyota.
Nemechek raced part-time for both JGR and Sam Hunt Racing in 2021-22, but his primary objective was to score wins in the truck series to gain confidence and build sponsor interest. He succeeded with seven victories and seven pole positions over two seasons with Kyle Busch Motorsports. Now, he's with a top team in the second-tier series and poised to add to his two wins in 67 Xfinity starts.
"I think I've grown a lot, that I'm OK with taking risks at times to try and better myself," Nemechek told NASCAR.com. "But I think the biggest thing is to continue to learn every single day and try and be better every single day."
Nemechek has his previous Xfinity experience, and the top two finishers this season, Ty Gibbs and Noah Gragson, have moved to the Cup Series. Driving for the team that provided the past two champions certainly won't hurt his chances of contending quickly.
JHN's patience will get him back to the Cup Series
It's not as though Front Row Motorsports is a NASCAR bottom feeder, but the team wasn't going to be John Hunter Nemechek's path to stardom. Since entering the Cup Series in 2005, FRM has never had a driver finish the season higher than 16th (Chris Buescher in 2016 and Michael McDowell in 2021).
By leaving, Nemechek picked up valuable experience in the truck series and became a favorite in Toyota's racing division. He could just as easily have gotten the nod to replace Kurt Busch at midseason, a job that went to Ty Gibbs instead.
Toyota made retaining Nemechek a priority as Kyle Busch Motorsports in the truck series left the manufacturer. Though Sam Hunt Racing is becoming increasingly important to Toyota's driver development program, JHN has landed in the stronger Joe Gibbs Racing organization.
"I don't know where my future lies," Nemechek said. "I'm excited about this opportunity, focusing on 2023. I feel like being able to go and win races and prove myself will help set me up for a future, but I don't know what that future may be."
There are only six Toyota rides available in the NASCAR Cup Series, and two just went to Ty Gibbs at JGR and Tyler Reddick at 23XI Racing. JHN is now the logical go-to guy should a Kurt Busch situation arise with either organization, so going to the back of the line for a couple of seasons has pushed the driver back to the front of the line.
Sammy Smith may be talked up as the next Ty Gibbs, but it's Nemechek who can expect the first look should Martin Truex Jr. or Denny Hamlin leave in the next two years. Steady performances with a top-notch Xfinity team can solidify his position.
"It's all about pushing to be better every single time that you hit the race track and learning every single time that you're on the race track and off the race track, he said. "Just excited."
Got a question or observation about racing? Sportscasting's John Moriello does a mailbag column each Friday. Write to him at [email protected]