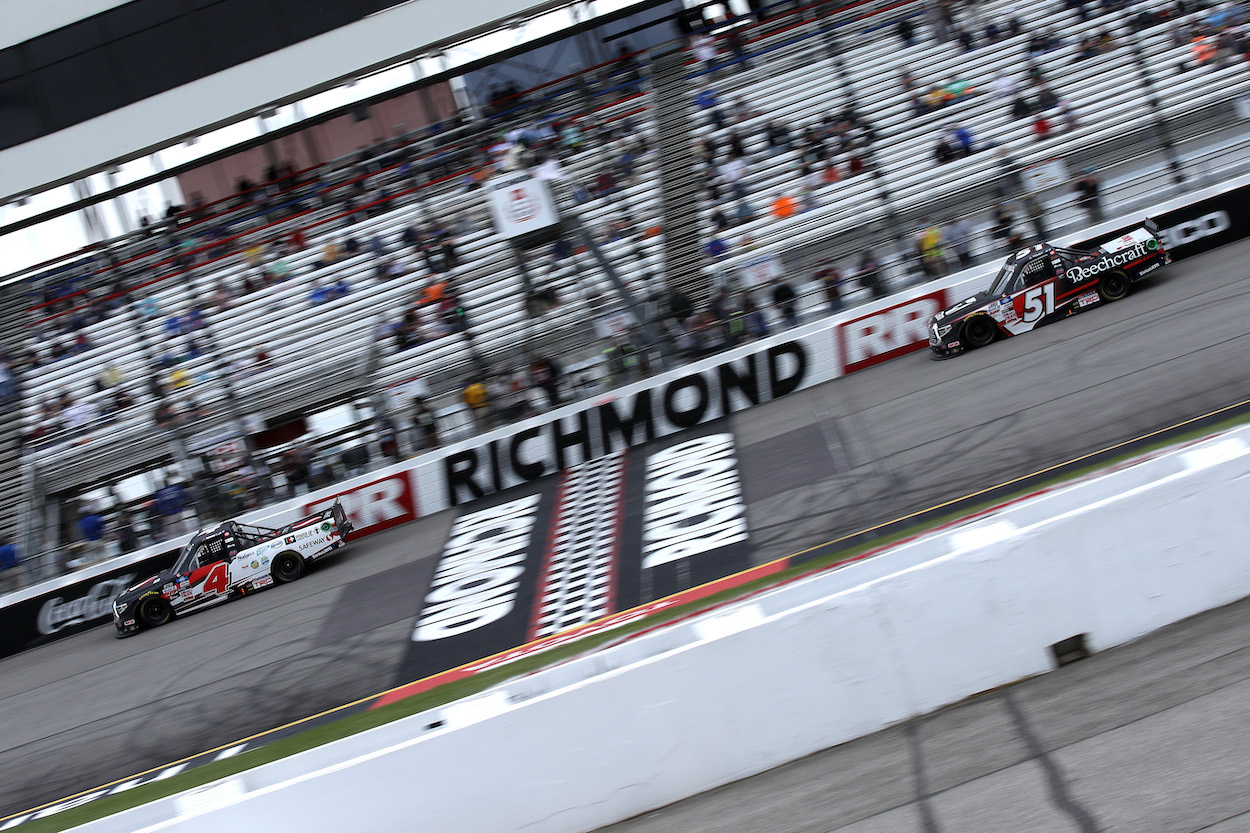 Kyle Busch Cheats and Gets Revenge on John Hunter Nemechek at COTA After Finishing Second During Truck Race at Richmond
Kyle Busch cheated during a race at COTA and exacted revenge on driver John Hunter Nemechek after finishing second to him twice this season.
Kyle Busch has multiple wins at Richmond on both the Cup and Xfinity Series, but victories have eluded him in the Truck Series throughout his career. This past weekend, Busch had a chance at victory but fell just short, finishing second behind his own driver, John Hunter Nemechek, for the second time this year. 
On Monday, Busch and Nemechek joined Daniel Hemric in Austin to film a promotional spot for the upcoming race weekend in May at COTA. As part of the trip, the three drivers of the different series competed on the karting track adjacent to the main track, and Busch exacted his revenge. 
John Hunter Nemechek joins Kyle Busch Motorsports for 2021 Truck Series season
After three top-10 finishes on the NASCAR Cup Series in 2020, John Hunter Nemechek decided to run a full-time schedule on the Truck Series in 2021 with Kyle Busch Motorsports. The 23-year-old appears to have made the right decision.
Nemechek has been more than impressive in the season's first six races, finishing in the top 10 five times. He won his first race in 2021 at Las Vegas and held off his boss/team owner in the final laps to do so.
After a third-place finish at Atlanta, Nemechek got into an accident early in stage 2 at Bristol on the dirt and had his worst finish of the season at 39th. 
Kyle Busch finishes second behind John Hunter Nemechek at Richmond
This past weekend at Richmond, Kyle Busch was thrilled with his team's performance, which included three trucks finishing in the top four and another John Hunter Nemechek win. Busch finished second, unable to capture his first win in a truck at Richmond.  
On Monday, Busch, Nemechek, and Daniel Hemric made an appearance at COTA in Austin to film a promotional spot for the upcoming NASCAR races in May. During a session with reporters, Busch and Nemechek discussed the Richmond race, and each described what happened at the end, including how far Busch would go to win, even if it meant taking out his own driver. 
"I don't think he would necessarily wreck me for the win, but did you see how far he drove into the corner trying to get to me to move me out of the way?" Nemechek pointed out. "We don't like running second, that's for sure. When Kyle drives a truck, obviously, I feel like he's the one to beat every single week. Being able to beat him twice this year has been a lot of fun in his own equipment, but overall, I know that he's going to push me to his absolute limit, and I have to drive to my absolute limit. I know that we're pushing each other and the trucks as hard as we possibly can."
Busch said he viewed those final laps at Richmond as preparation for something much bigger for Nemechek:
"I just wanted to worry him a little bit. Just to know that it's not going to be easy always. Get him ready for that championship race. Come Phoenix, there's going to be those other guys that are bearing down on his rear bumper to try to make sure that he doesn't win it."
Pair battle at COTA and Busch cheats using 'Joker Lane'
Kyle Busch admitted "it sucks" finishing second to Nemechek twice this season, including at his home track in Las Vegas and last weekend at Richmond. However, the two-time Cup Series champion did something about it and got his revenge at COTA in a fun little race around the karting track on the property.
Busch, Nemechek, and Hemric ran numerous laps around the track that features elevation change and 15 turns, similar to the big track next door. Initially, the three were just taking a casual pace around the track, but toward the end of their run, the group got bunched together, and it got competitive. 
Busch pulled off a veteran move late in the run when he took what he described as the "Joker Lane," or an unapproved shortcut that allowed him to cut through the barricades around the track and take the lead. While it was all in good fun, Busch summed up the kart race and his Cup Series season with a candid admission: "I'll take any one I can get right now. These days I'm used to being slow." 
Like Sportscasting on Facebook. Follow us on Twitter @sportscasting19.