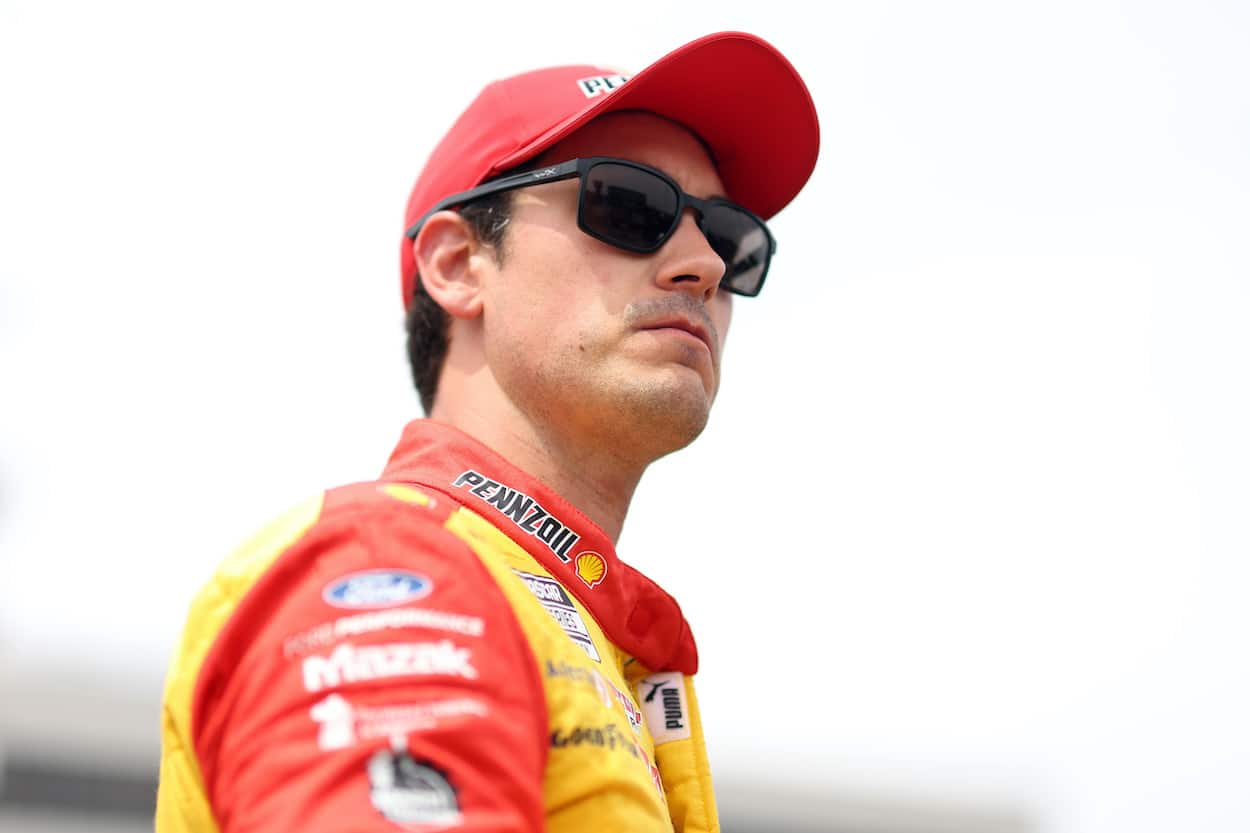 Joey Logano Calls Out NASCAR for Being 'Too Slow' With Safety Changes and Says Next Gen Car Is 'A Serious Step Backwards'
Joey Logano didn't mince words recently when talking about NASCAR being too slow to make safety changes with the Next Gen car, and suggesting it's "a serious step backwards."
Joey Logano and Ryan Blaney are in their sixth season together at Team Penske. They've given fans an inside look into their chemistry the last couple of seasons through their work in the Fox broadcast booth, bantering back and forth and having a good time while describing the on-track action. 
While the two-time champion always seems to be smiling when on the air, this past weekend in Chicago, he was anything but smiles when talking about drivers' safety concerns. He was very serious when discussing the latest incident with his teammate at Nashville just a few days before, and candidly called out NASCAR for being "too slow" in making changes and said safety in the Next Gen car has taken "a serious step backwards."
Joey Logano and Ryan Blaney would both like to forget Nashville
After back-to-back third-place finishes at Gateway and Sonoma, Joey Logano struggled to find speed at Nashville and finished 19th. That was considerably better than his Penske teammate Ryan Blaney, who didn't finish and ended 36th. But it wasn't where he finished as much as how he finished that everyone was talking about after the race. 
Just shy of the race's halfway point, Kyle Busch got into the rear of the No. 12 car on a stacked-up restart and sent it sliding through the infield grass before it gained traction on the pit road surface and darted hard left into the inside concrete wall, which was shockingly without a SAFER barrier. 
After a trip to the infield care center, Blaney visited with reporters, where he acknowledged it was the hardest hit of his life, expressed frustration with the situation, and said he would be willing to pay for installing SAFER barrier for the unprotected section. 
NASCAR addressed the situation after the race in a statement: "NASCAR safety engineers work closely with safety experts on the implementation of barriers around the track. As we do following every race weekend, we will evaluate all available data and make any necessary improvements."
Blaney admits to having concussion-like symptoms
Less than a week after the nasty crash, Blaney met with reporters in Chicago, and his health and recovery were the first topics discussed. The 29-year-old revealed he had experienced concussion-like symptoms earlier in the week, consulted with a renowned concussion expert, and confessed there was some concern he might miss NASCAR's first-ever street course race.
"Physically I felt fine. On Monday, just kind of the mental side was I had to do a little bit," Blaney said. "By Thursday I felt really good about it. I think Friday I felt 100%. Definitely a long week, nervous week, nervous Monday and Tuesday kind of seeing how you progress. Fortunately, it got better."
A reporter followed up and asked him to explain what he meant by the "mental side."
"Dr. (Micky) Collins felt good about it Monday when he talked to me," the driver said. "He had some concerns but didn't feel like I was ever really at a point where I was going to sit out, or he didn't see anything too severe, at least where I didn't have to go up to Pittsburgh. But there were a couple of things in my eyes that he didn't really like. You know, you just feel kind of foggy. You just kind of feel out of it. 
"And the exercises he kind of gave me to do. At the end of the day, it's a muscle. You have to work that muscle out. The way he approaches it is pretty unique is go into noisy areas and light conditions and work out and put yourself in these situations with a lot of people that are going to help you out. It's not good to sit in a dark room. That's not going to get you better. Having that advice and going and doing it really sped up the process, which was obviously idea to get me here."
Joey Logano doesn't mince words on his concerns about safety
Driving for the same team, Logano knew the details of what Blaney was enduring the week leading up to the race in Chicago. When asked about his teammate's situation and NASCAR's overall safety record with the Next Gen car, the Cup champion didn't mince words. 
"Just not fast enough," Logano said. "And we just need to do a good job of looking for any possible scenario that can hurt us. We need to walk the tracks ourselves. We need to find those areas, and we need to be loud. We got to be loud about where the issues are. 
"There's no doubt last year the back of the cars were too stiff. We made a change. The front of the cars are now too stiff. The changes aren't coming until next week. 
"Took way too long and we almost hurt a driver again because of it. So we're just too slow. We're too slow. We designed a car that hurts the drivers more. Took a serious step backwards from a safety standpoint and we almost hurt another one last week."
Logano says the drivers need to be loud. The two-time champion appears to be leading the way.
To stay up to date on the latest happenings in NASCAR, including breaking stories you can't find anywhere else, follow Kyle on YouTube and Twitter.