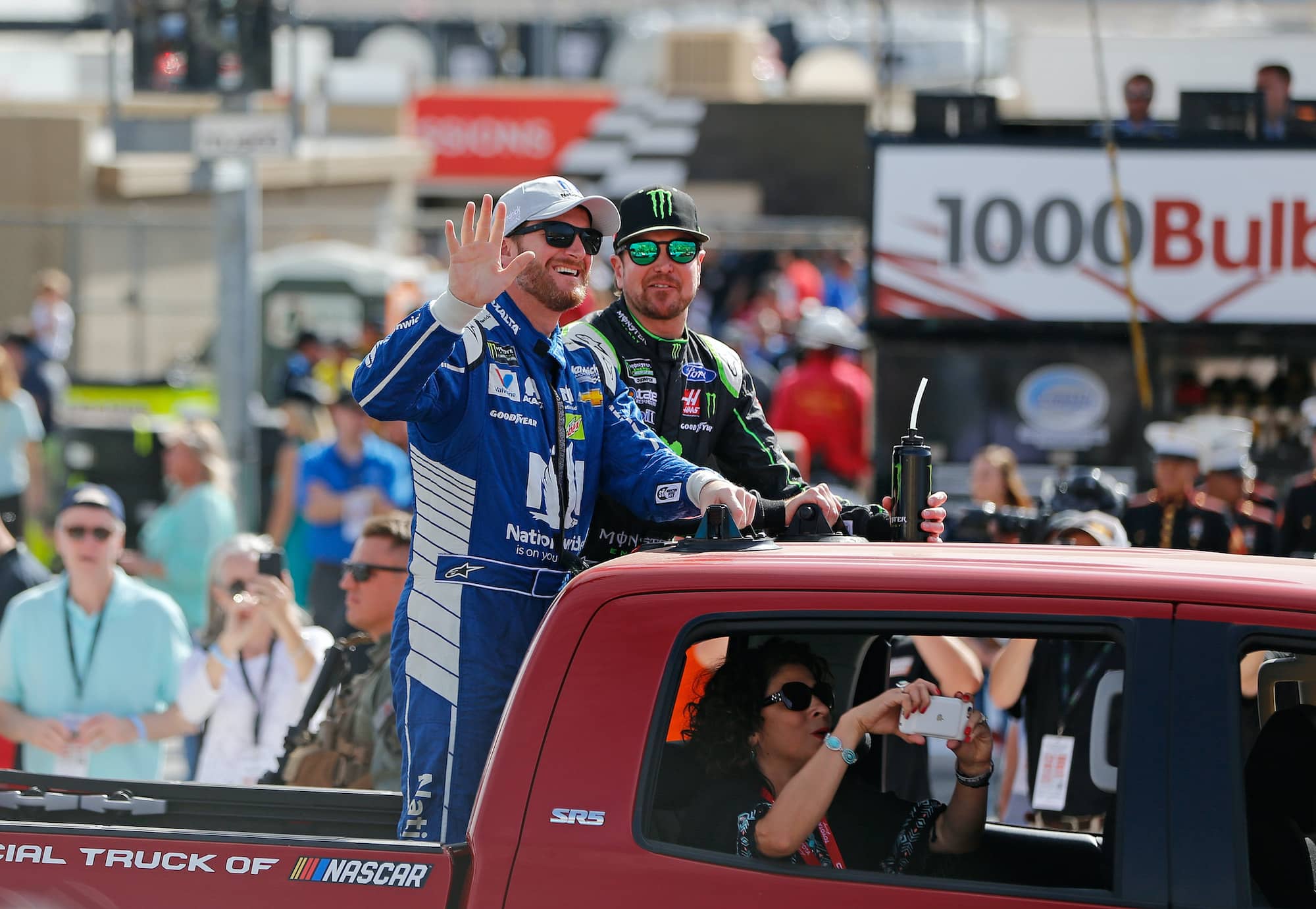 How Dale Earnhardt Jr. Has Played an Important Role in Kurt Busch's Concussion Recovery
Dale Earnhardt Jr. has played an important role in Kurt Busch's recovery from concussion, according to Denny Hamlin.
Kurt Busch is sidelined at Michigan this week and will miss a third consecutive race after suffering a concussion in a big hit during Pocono qualifying several weeks ago. The 23XI Racing driver's return remains uncertain, but he's posted several encouraging tweets recently suggesting that he's on the mend.
This weekend team co-owner Denny Hamlin visited with reporters and was asked about the health of the 2004 Cup Series champion. He talked about Busch's treatment and acknowledged Dale Earnhardt Jr. played an important role in his recovery.
Kurt Busch suffers concussion at Pocono and misses multiple races
Kurt Busch came out of Turn 3 during qualifying at Pocono when he lost control of his No. 45 car and the right rear violently slammed into the wall, with the momentum from the impact slamming the right front immediately after. Busch's spin was not the first of the day as several other drivers, including Ross Chastain were involved in incidents in the same corner during practice.
While we've heard drivers like Joey Logano, Kevin Harvick, and Bubba Wallace talking about harder hits in the Next Gen car this season, no one had missed any races. That changed with Busch, who sat out at Pocono, missing his first Cup event since 2015. 
He missed the Indianapolis road course last Sunday. And this week, he's not competing at Michigan International Speedway.
Dale Earnhardt Jr. involved in Busch's recovery
This week Busch provided his fans with updates on his progress through social media, where he shared one video on Twitter of him working out and another with him in a loud place, which happened to be Charlotte FC's stadium, on doctor's orders. 
According to Denny Hamlin, that doctor, Michael "Micky" Collins, is the same one Dale Earnhardt Jr. used during his concussion issues several years ago.  
"That's the biggest thing. He's listening to the protocols that they're giving him," Hamlin told reporters in Michigan. "I know Dale Jr. really helped out getting him in with his doctor in Pittsburgh. It's the different philosophy from what they used to do in concussion stuff where it's just go in a dark room and sit there until you get better. Now, it's just trying to retrain the brain, as far as I understand."
Earnhardt shows support for Busch
Hamlin's albeit brief description of Busch's treatment is accurate and was interestingly confirmed this week by Earnhardt, who replied to Busch's tweet from the noisy soccer match. 
"Awesome to see," Earnhardt replied. "Going to complex environments challenges the brain. It exposes symptoms and produces opportunities to control anxiety and emotions. Concerts, grocery stores, all the busy places are great ways to push yourself in rehab. Way to go Kurt."
If there's any driver who is well-versed in concussions, it's Junior. And as we all saw, he raced another season after missing the last half of 2016 before calling it quits. He was 43. Busch turned 44 this week. 
Like Sportscasting on Facebook. Follow us on Twitter @sportscasting19 and subscribe to our YouTube channel.