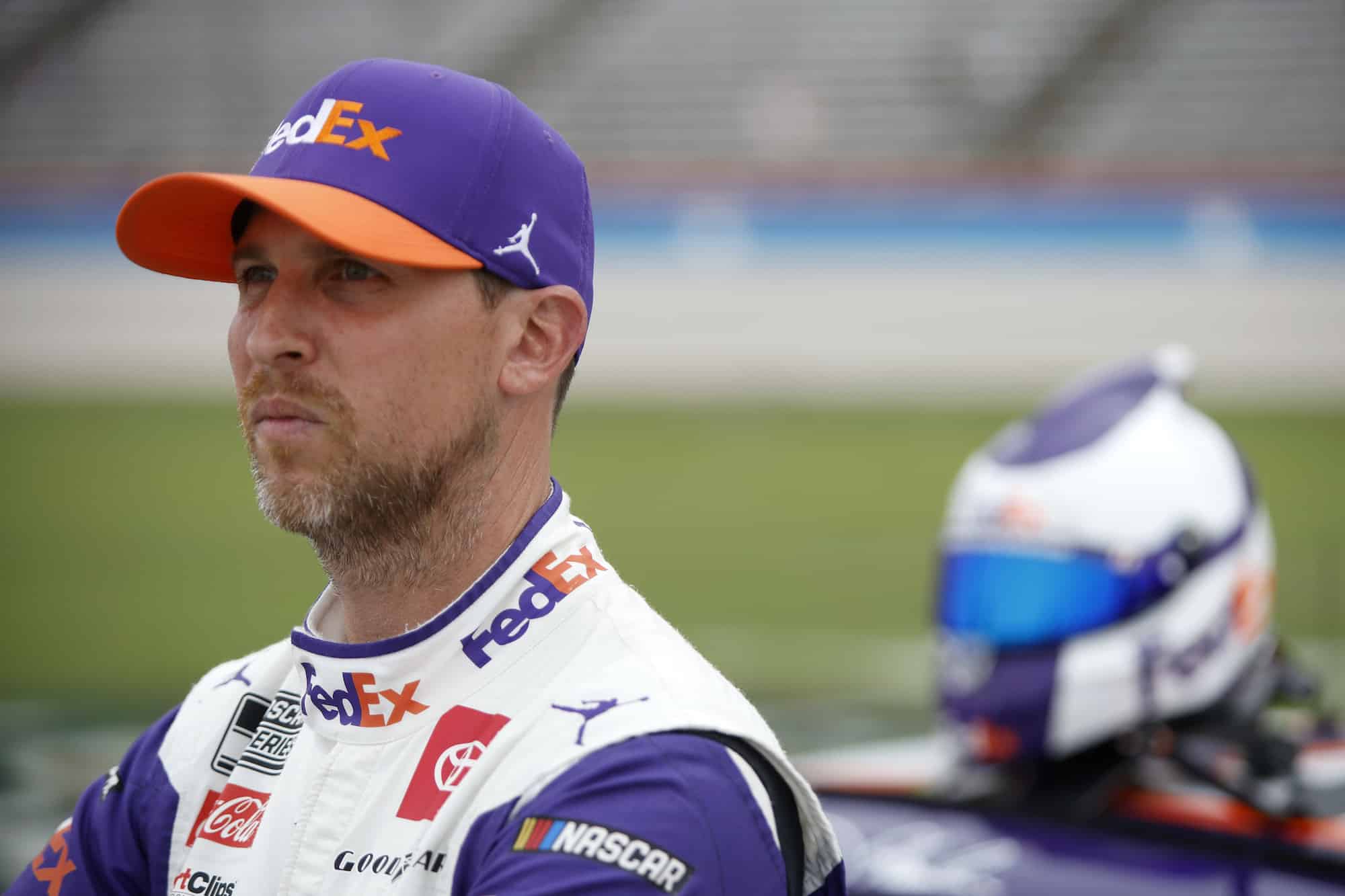 Denny Hamlin Bluntly Admits His Team Deserved Punishment After Blatantly Ignoring NASCAR's Warning, and Agrees With Brad Keselowski, Hoping More Teams Get Punished This Year
Denny Hamlin candidly admitted this week that his team deserved the harsh punishment it received at Pocono. He also agreed with Brad Keselowski, who said this week that NASCAR needs to penalize more teams.
Denny Hamlin will one day be the answer to a trivia question as one of a select few Cup Series drivers stripped of a win through disqualification. His DQ at Pocono sent shockwaves through the garage. 
This week, Hamlin made the media rounds on multiple podcasts and addressed the situation. In one conversation, the Joe Gibbs Racing driver bluntly admitted that his team had been warned by NASCAR just days before about that specific infraction but chose to ignore the warning and, ultimately, paid the price. The three-time Daytona 500 winner said he hopes and believes there will be more severe penalties to come this year. Brad Keselowski completely agrees.    
Denny Hamlin gets disqualified at Pocono
Denny Hamlin and Kyle Busch were the dominant cars at Pocono. Starting from the front row with Hamlin on the pole, the JGR teammates stayed up front the entire race. Incredibly, the drivers crossed the finish line in the same position they started.
However, Hamlin's jubilation was short-lived. Hours after the race's conclusion, NASCAR officials announced the Nos. 11 and 18 cars had been disqualified for an infraction discovered in postrace inspection. It was the first disqualification of a winner since 1960. 
Less than 24 hours later, NASCAR announced that JGR would not appeal the decision. This announcement was effectively the organization acknowledging guilt.   
Denny Hamlin admits his team deserved punishment
This week Denny Hamlin appeared on the Door Bumper Clear podcast, where he talked about a variety of topics, including his disqualification at Pocono. The 41-year-old addressed what happened at Pocono and candidly admitted that his team deserved the punishment.  
"I think that they've set a precedent," Hamlin said. "Hopefully others get DQ'ed this year. I believe that that will be the case. I think that they're really laying down the law here and saying, 'We're done with it. We've told you what the rule is.' 
"I believe — now listen, I could be innaccurate — I believe that they put a bulletin out a week or two before, saying, specifically, specifying that thing. They did. I mean, if they send that out and you still do it, then by all means we should have got it."
Brad Keselowski also wants more penalties assessed
Interestingly, Hamlin wasn't the only driver this week talking about NASCAR and its willingness this season to dole out severe punishments unlike in years past. Brad Keselowski, who felt the wrath of NASCAR earlier this season with a major penalty that included docking of points, agreed with Hamlin.
"I feel a little bit a sense of relief in the fact the penalty that was handed out to us at Atlanta was in some form replicated to more than us. I feel like you could probably make arguments that some teams' penalties could have been adjusted higher or maybe even lower for sure," Keselowski said.
"But the reality is the garage is going through a reset with respect to, you know, kind of cutting out the games and that's a good thing for us as a sport. I personally think the sport needs more penalties and NASCAR should be handing them out like candy right now to get control of the garage.
"We've been playing a lot of games for a lot of years and the games have to stop. The games cost a lot of money. Those games come directly at the expense of being able to afford to do things that we've like to be able to do or just to be able to afford to be able to race."  
Denny Hamlin and Brad Keselowski have a unique perspective of the sport as both drivers and team owners. While they want to win races just as much as the next driver, they also understand that NASCAR is intent on leveling the playing field with the new Next Gen car and that means strict enforcement of the rules with severe penalties to those who don't want to abide by them. In other words, the winning-at-all-costs mentality is a thing of the past.  
It is until one team decides to try and skirt the rules for that extra advantage. Everyone knows it's going to happen. But now, with NASCAR officials on high alert, it's not a matter of if, but when they get caught. And the cycle continues.
Like Sportscasting on Facebook. Follow us on Twitter @sportscasting19 and subscribe to our YouTube channel.