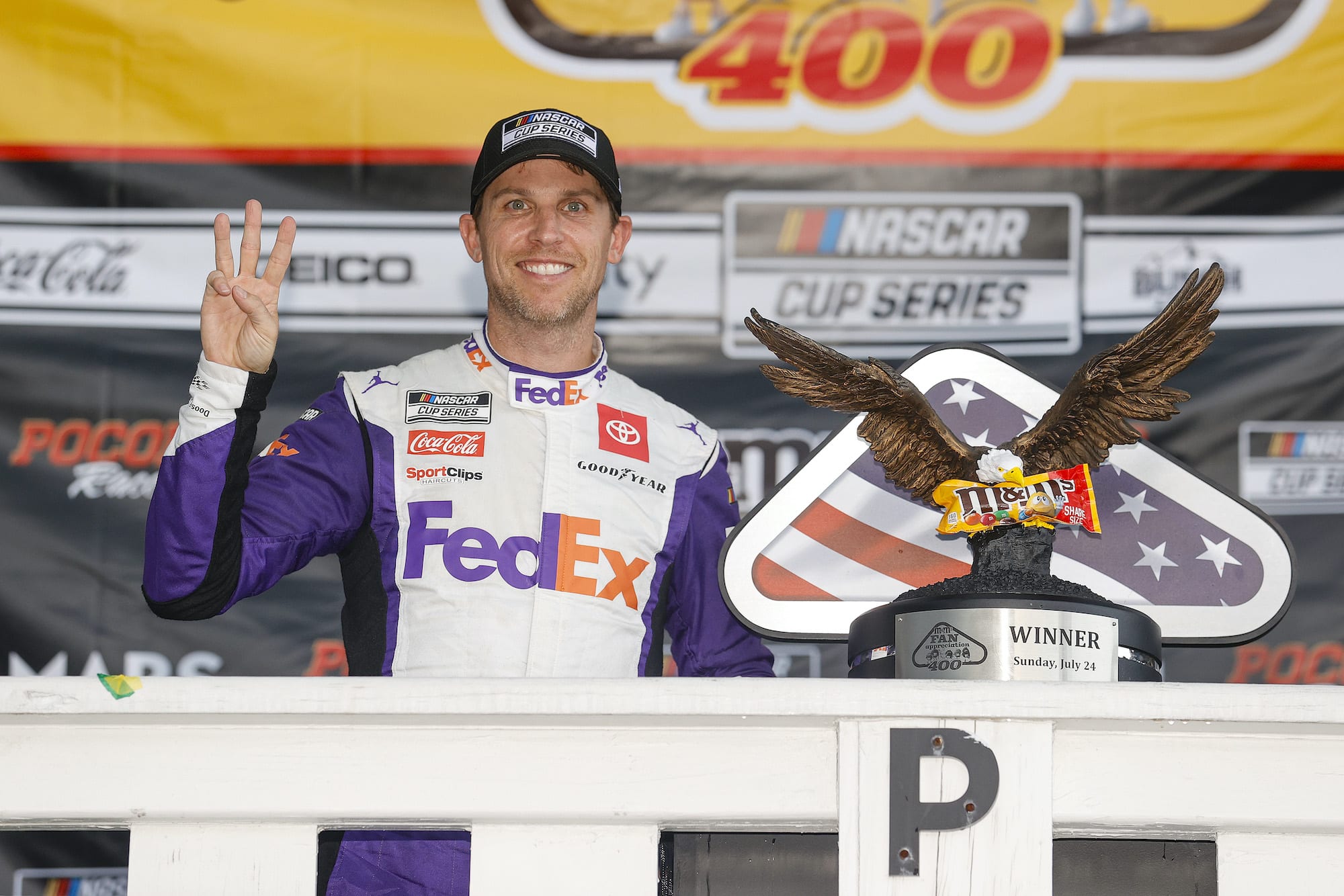 Denny Hamlin Unapologetically Mocks NASCAR's Disqualification and Draws Big Fan Reaction
Denny Hamlin unapologetically mocked NASCAR's shocking penalty after he became the first Cup driver to get disqualified from a race since 1960 and the fans loved it.
Denny Hamlin had previously won six times at Pocono. The seventh one on Sunday was special, though, breaking the tie with Jeff Gordon for most all-time Cup Series wins at the track. Then NASCAR intervened, taking away the win when it disqualified the Joe Gibbs Racing car and second-place finisher and teammate Kyle Busch hours after the race.
Hamlin initially responded to the DQ on Twitter that evening, suggesting NASCAR wouldn't get the checkered flag back that his daughter collected after the race. The next day, the three-time Daytona 500 winner took his tweet game next level, mocking NASCAR's disqualification in true Hamlin style.  
Denny Hamlin disqualified at Pocono
Denny Hamlin took the checkered flag at Pocono for his third win of the season. Kyle Busch finished second. At least that's what the drivers, teams, and fans thought for several hours. That all changed when NASCAR officials announced a historic move, disqualifying the top two finishers after discovering violations on both cars during the postrace inspection.
"Yeah, unfortunately we were doing our postrace inspections, which we do. There was some issues discovered that affect aero of the vehicle," Cup Series Managing Director Brad Moran told reporters. "The part was the front fascia. There really was no reason why there was some material that was somewhere it shouldn't have been, and that does basically come down to a DQ."
NASCAR later revealed it found a piece of tape on both cars.
Hamlin mocks disqualification on Twitter 
Denny Hamlin is one of the most active Cup drivers on social media. A day after the shocking reversal, the 41-year-old took to Twitter and showed a side many of his fans adore, and his haters find irritating. 
He posted a video of him sitting in his house eating dinner. Next to him on the large white countertop was the Pocono trophy on one side and a bottle of champagne on the other. 
"Live on EBay. 1 tainted trophy and 1 used bottle of champagne," Hamlin joked. 
"Wait a second…….. what's that in the eagle's mouth?" The Athletic's Jeff Gluck replied, referencing a piece of tape Hamlin placed in the bird's mouth.
"That would be a a piece of clear tape worth about 300k. (Not to be included in sale)," Hamlin said.  
Fans react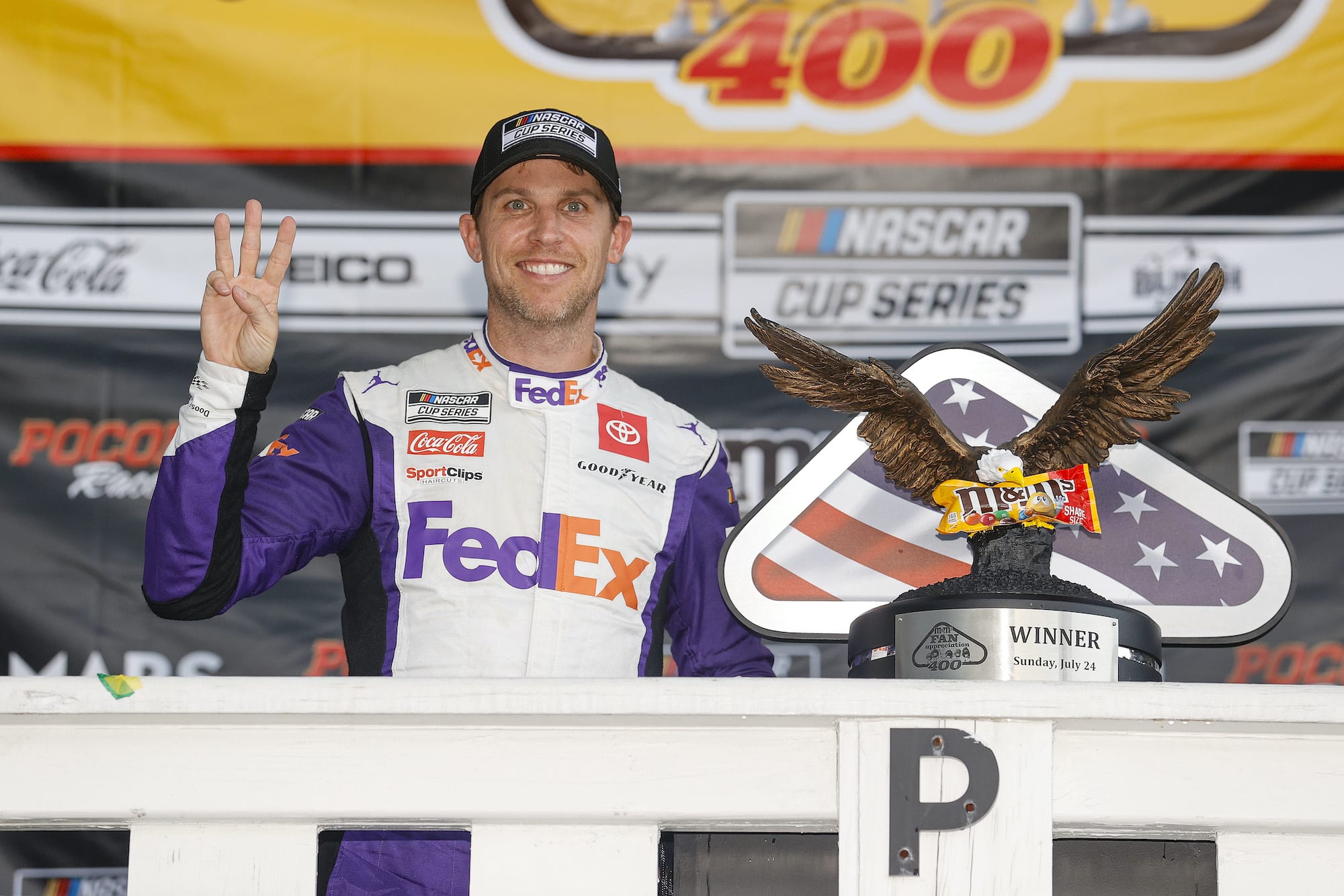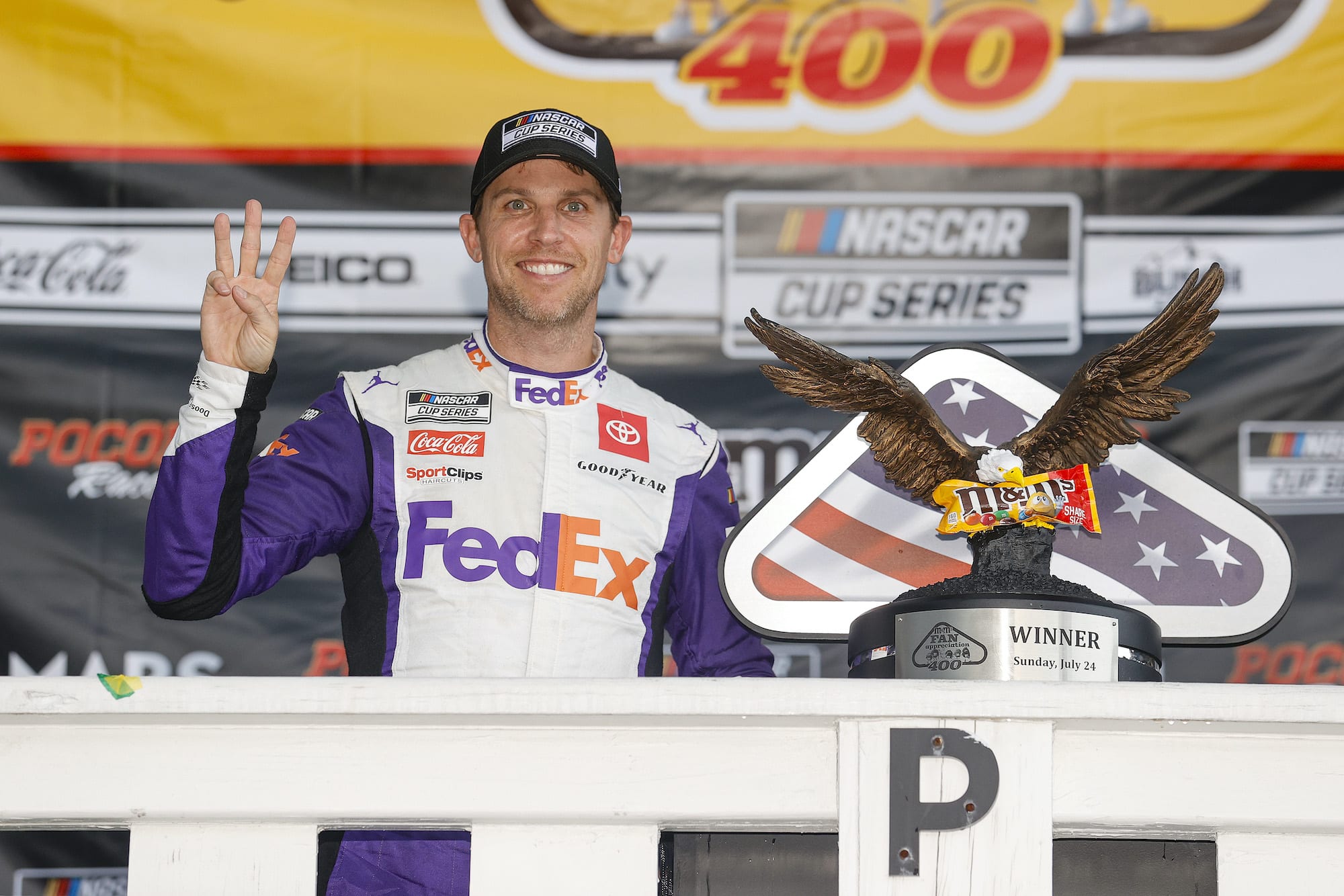 The Dawsonville Pool Room Twitter account, which took a shot at Hamlin and Busch after the race, calling them cheaters, gave props to Hamlin for the tweet.
"Okay this is funny," the account responded. "Too bad you can't keep the 5 playoff points."
"I mean… too soon, maybe?" wrote Hamlin's crew chief Chris Gabehart, who also included a crying laughing emoji. 
"This is great," Xfinity Series driver Jeb Burton wrote.
While most of the replies were positive, lauding him for his sense of humor, the haters didn't like it one bit.
"Dude has as much class as championships he's won," wrote one person.
"I have always liked Denny but I feel this is not the look he needs right now," one fan wrote. "One team I see a mistake but two teams doing the same is an area to cheat. Rub it in the face of NASCAR and see how the next few weeks of inspections are for the cars you drive and the cars you own."
Based on Hamlin's reaction and ability to joke after being the first victorious Cup driver to get disqualified in a race since 1960, something says he's not too worried about it.
Like Sportscasting on Facebook. Follow us on Twitter @sportscasting19 and subscribe to our YouTube channel.