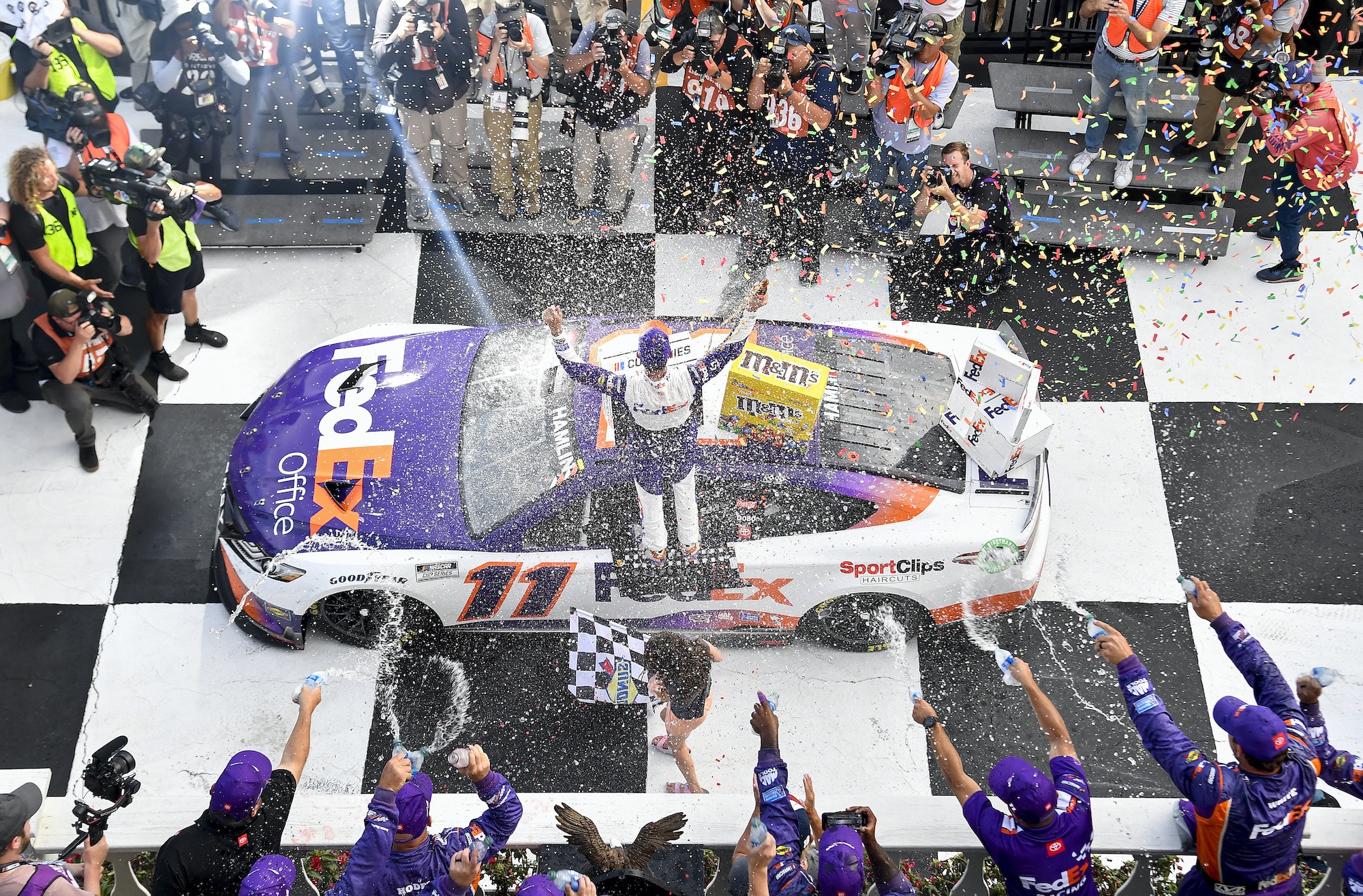 How Did NASCAR Discover Disqualification-Worthy Violations for Denny Hamlin and Kyle Busch in Postrace Inspection But Miss Them in Prerace Inspection?
Denny Hamlin's disqualification has fans wondering how NASCAR could discover a violation in postrace inspection but miss it in prerace inspection. Here's why.
Denny Hamlin, Kyle Busch, and everyone else watching Sunday's Cup Series race at Pocono thought when it was over that the Joe Gibbs Racing pair had posted a fantastic day, finishing first and second. Hours later, NASCAR shocked everyone by disqualifying both cars for infractions discovered in the postrace inspection. 
That stunning move produced a serious question — how did NASCAR discover a violation in the postrace inspection but not catch it during the prerace inspection? Here's why.
Denny Hamlin and Kyle Busch disqualified after Pocono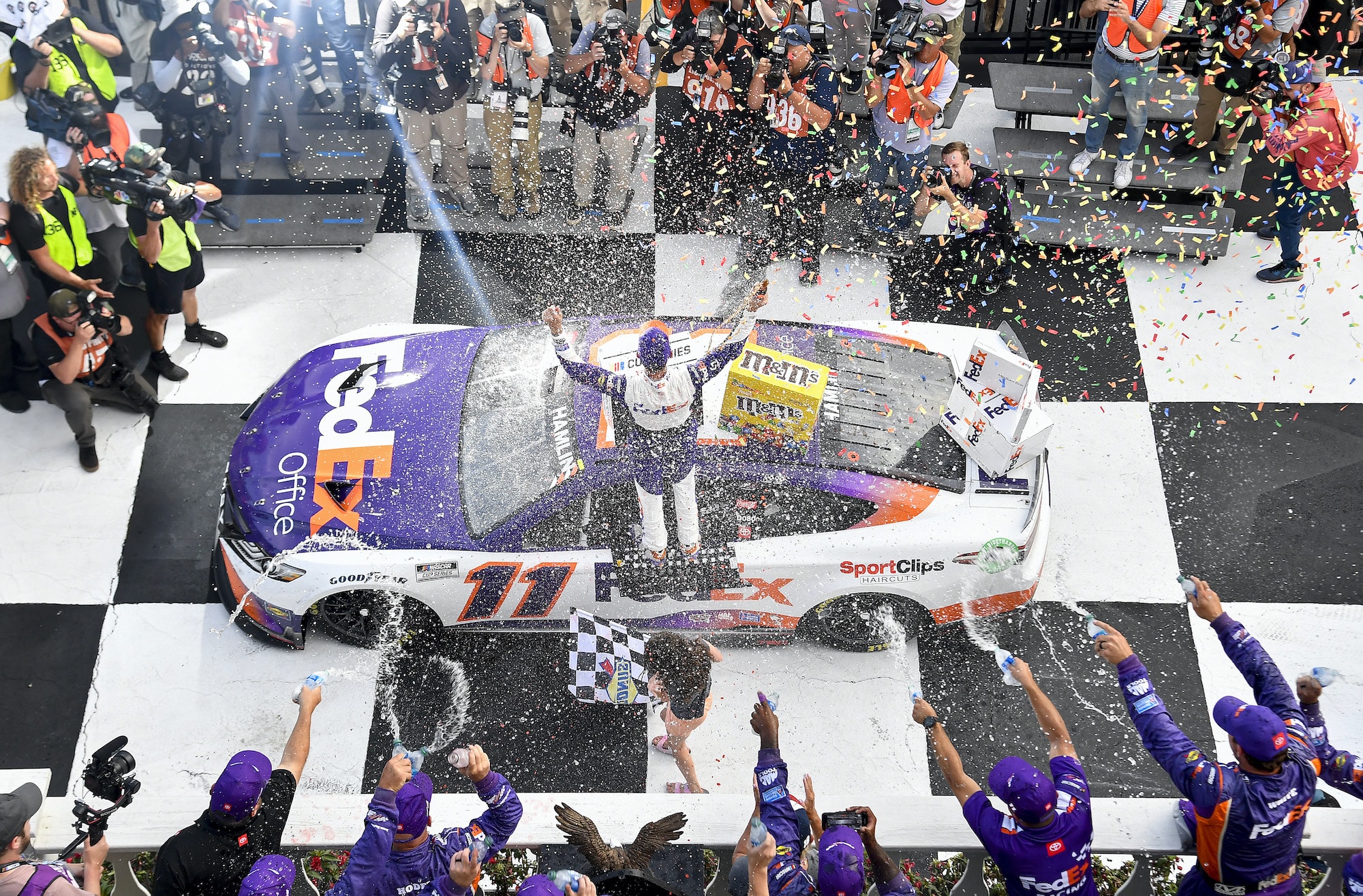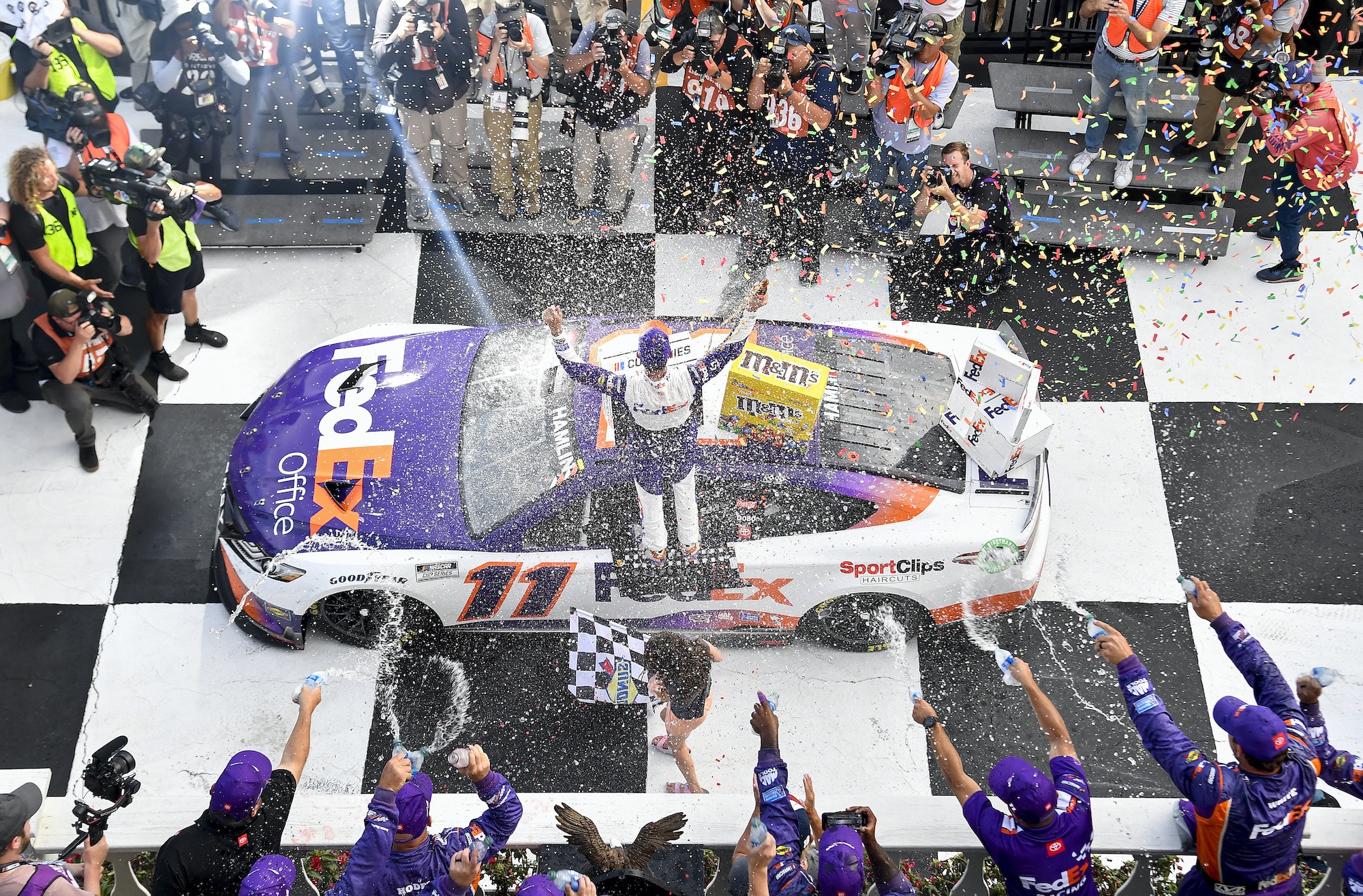 Denny Hamlin, Kyle Busch, and their Gibbs teammates had a great day at Pocono. In addition to Hamlin and Busch finishing in the top two, Christopher Bell finished sixth, and Martin Truex Jr. finished ninth. 
However, all of those numbers changed following postrace inspection when NASCAR disqualified Hamlin and Busch, which meant that Bell and Truex finished fourth and seventh, respectively. 
NASCAR officials made the extraordinary move to disqualify a Cup winner for the first time since 1960 because of a specific reason, according to Series Managing Director Brad Moran.
"Yeah, unfortunately we were doing our postrace inspections, which we do. There was some issues discovered that affect aero of the vehicle," Moran told reporters. "The part was the front fascia. There really was no reason why there was some material that was somewhere it shouldn't have been, and that does basically come down to a DQ."
Why weren't violations on Hamlin and Busch cars discovered in prerace inspection?
While NASCAR officials perform a postrace inspection every week of the winner and several other cars, which typically in the past resulted in fines and/or suspensions for cars missing a lug nut or two, this year, with the single lug nut, the penalties have changed and are generally known before the end of the race because it's more often than not been a loose wheel that's ended in four-race suspensions for the crew chief and two pit crew members.  
On Sunday, NASCAR handed down a massive penalty by disqualifying both Hamlin and Busch for, as Moran said, something that affected the "aero of the vehicle" that was "part of the front fascia." It's pretty specific what officials found and where they found it. 
But why did they find it in the postrace and not prerace inspection? NASCAR said it was because, during prerace inspections, the car is scanned and reviewed with the wrap in place. 
However, in postrace inspection, the wrap can be removed, allowing officials to see the raw mold of the car without anything covering it. And that's when the alteration was discovered.
NASCAR produces another question in postrace inspection
In NASCAR's official postrace inspection report, it indicated that the Nos. 11 and 18 would also go back to the R&D Center, and be joined by the cars of Michael McDowell and Ricky Stenhouse. That's NASCAR's customary practice of randomly selecting other cars for further examination.
But that brings up another question — if there were violations on the two Gibbs cars, why didn't NASCAR inspect the other JGR cars? Maybe it was because they were already loaded up in their haulers and headed back to North Carolina.
We'll likely never get an official answer to that question other than that's not NASCAR's standard protocol. You would think, though, with this historic decision, officials would have made an exception and said they also wanted to examine the cars of Truex and Bell no matter if they were halfway back to North Carolina.
It didn't happen and fans are still left with more questions.  
Like Sportscasting on Facebook. Follow us on Twitter @sportscasting19 and subscribe to our YouTube channel.