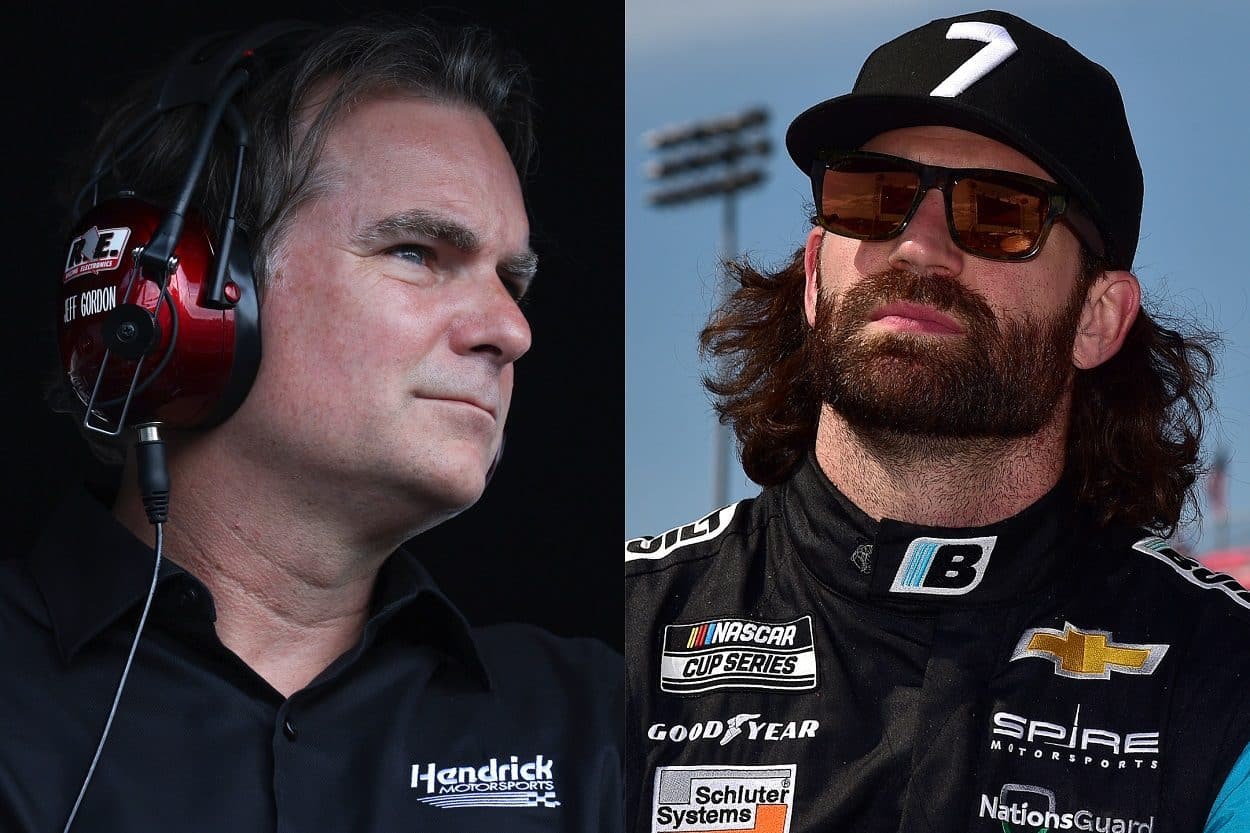 Jeff Gordon Sparks Ridiculous Ruckus With Corey LaJoie Comments
Jeff Gordon has some NASCAR fans speculating after comments he made about Corey LaJoie.
Corey LaJoie put himself in position to notch his first-ever NASCAR Cup Series victory at Atlanta Motor Speedway. LaJoie's bid, of course, fell short as a last-lap wreck that ensued when he attempted to pass Chase Elliott ruined his afternoon and relegated the 30-year-old to a 21st-place finish.
Nevertheless, LaJoie impressed quite a few people with his performance, one being four-time Cup Series champ Jeff Gordon, who had some great things to say about the Spire Motorsports driver afterward.
But as it goes in sports, some NASCAR fans took those comments from Gordon, who currently serves as the Vice Chairman of Hendrick Motorsports, and swerved them into a scenario that will never come to pass.
Corey LaJoie put himself in position to win his first-ever NASCAR Cup Series race in Atlanta
As he sat in 31st place in the Cup Series standings coming into Atlanta, LaJoie had no choice but to go for the win on the final lap at Atlanta. As the regular season is winding down, he and several others are running out of chances to qualify for the NASCAR Playoffs.
And, again, he'd never won in 180-plus Cup Series starts over seven years. So having led 19 laps before being passed by Elliott on the penultimate lap, he was going to do whatever it took.
And what it was going to take was for him to pass the No. 9 on the final lap, which LaJoie attempted to do in the same spot where Elliott had passed him a lap earlier. LaJoie tried to go to the outside, but Elliott blocked him, and the No. 7 simply ran out of room and hit the wall, causing the 13th and final caution of the day. The yellow lights flashed soon after, and that was that.
Jeff Gordon praised the Spire Motorsports driver for his efforts: 'You want a guy like that'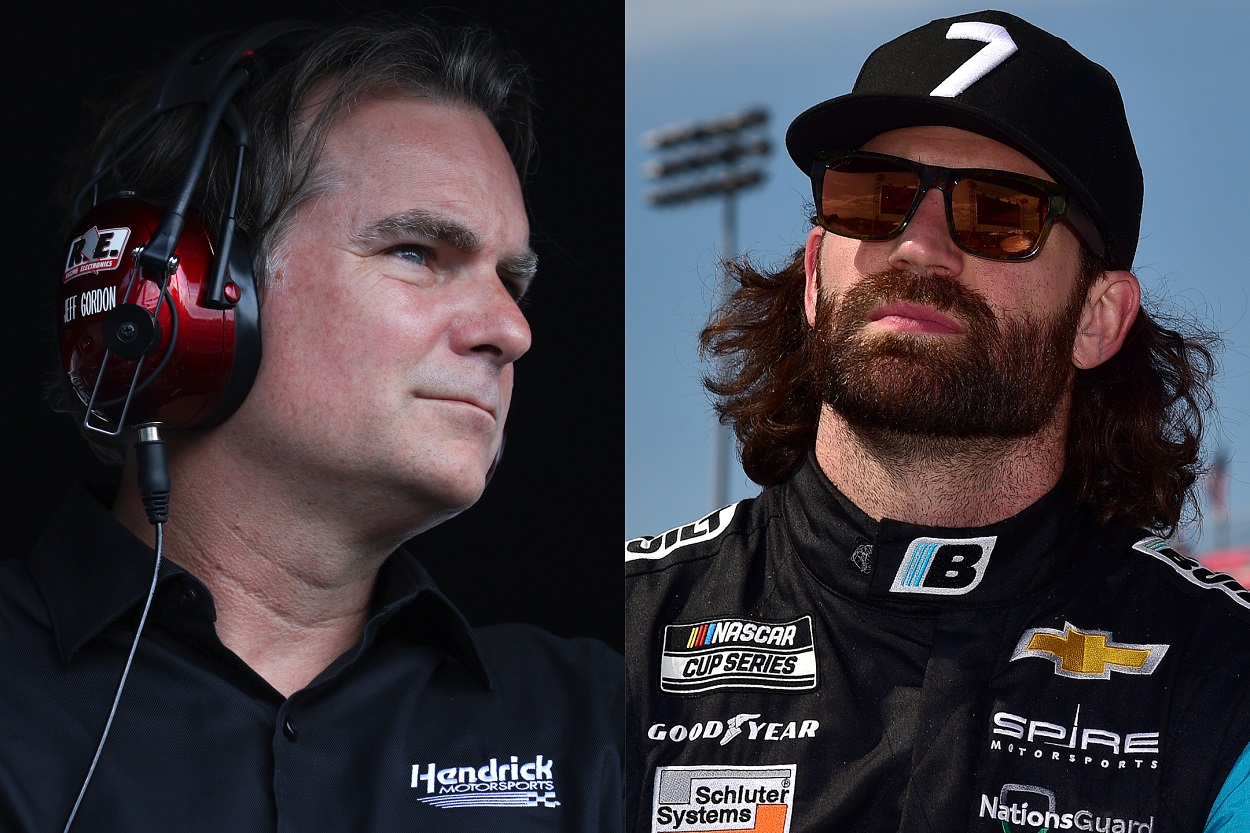 Jeff Gordon, who didn't have an issue with winning as he racked up 93 victories during his 25-year career in the Cup Series, was highly impressed with how LaJoie ran in Atlanta and had great things to say about him in Hendrick Motorsports' post-race press conference (h/t ASAP Sports).
"I like Corey's attitude and I like his drive. He's got a lot of passion, and he showed that today. It was unfortunate with the way it ended up for him, but I thought he and the team and the car showed a lot today.

You know, you want a guy like that who has the pedigree that he has, has the passion that he has and with the work ethic to get the opportunity that he's searching for."

Jeff Gordon on Corey LaJoie
Gordon continued by saying how Hendrick has a great relationship with Spire Motorsports, which Rick Hendrick himself also mentioned in that same presser. Both said they would have loved to see LaJoie win if their guy didn't, which naturally started some speculation that won't come to fruition.
No, LaJoie won't be going to Hendrick Motorsports
Just because Gordon and Hendrick like LaJoie on a personal level and how he ran in Atlanta, that doesn't mean they're interested in bringing him to Hendrick Motorsports. Hendrick, of course, has a full four-car roster with Elliott, Kyle Larson, William Byron, and Alex Bowman, all of whom have at least one win this year.
But that didn't stop NASCAR fans from jumping on that bandwagon once Gordon's comments went public. Just hit up social media, and you'll see what I'm talking about.
I've seen comments about how LaJoie will replace Bowman or Byron. Nope. Bowman is a year younger than LaJoie and has seven Cup Series wins to his name. Byron is only 24 and has four wins.
And there's certainly no way he ever replaces Elliott or Larson, who won the previous two Cup Series titles, respectively, and have 33 wins combined.
With all due respect to Corey LaJoie, he simply doesn't have the pedigree for Hendrick. Wins matter, especially at Hendrick, and he hasn't yet proven he can get it done. It's great that he's got a fan in Jeff Gordon. It really is. But let's just leave it that, shall we?
Stats courtesy of Racing Reference
Like Sportscasting on Facebook. Follow us on Twitter @sportscasting19 and subscribe to our YouTube channel.