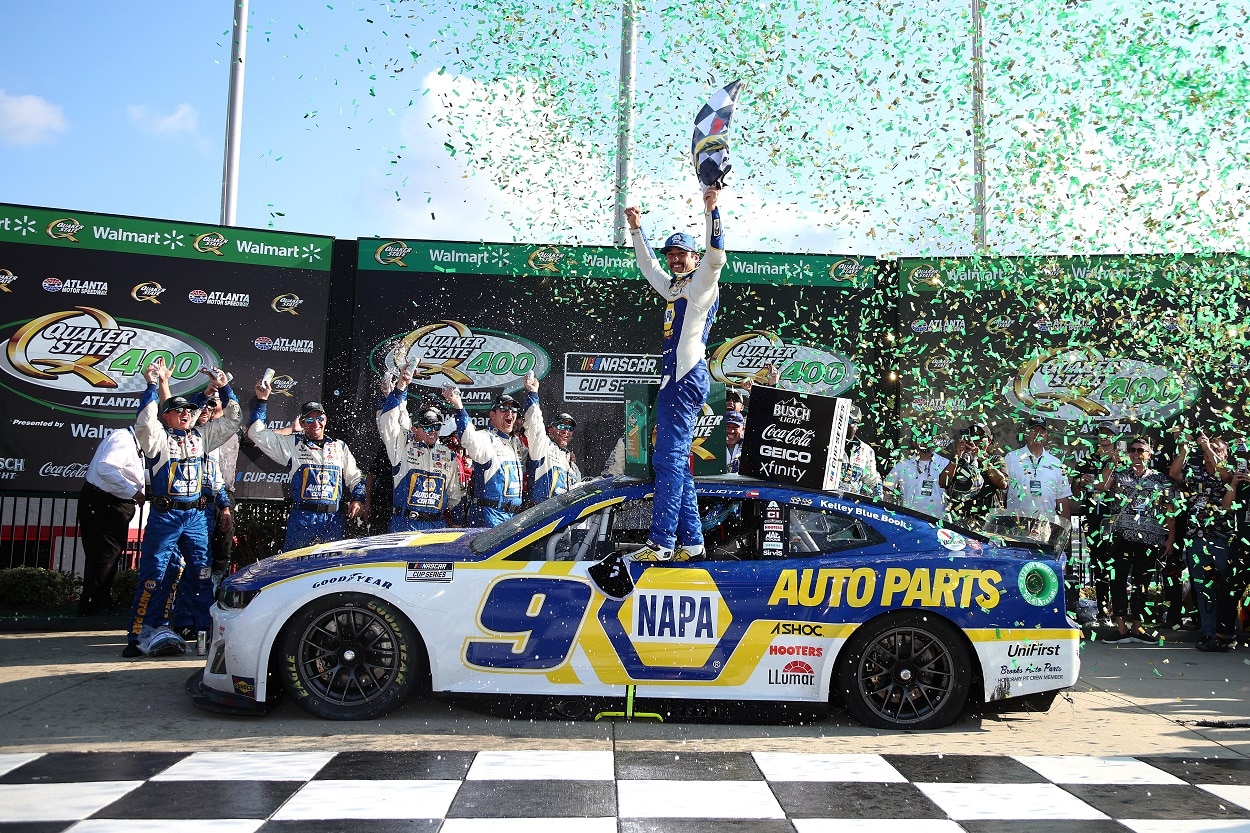 Chase Elliott Sorry but Not Sorry About His Actions in Atlanta, Joins a Highly Exclusive Club Featuring Only NASCAR Hall of Famers
Chase Elliott got he and his father into an exclusive club with his win at Atlanta Motor Speedway.
After eight failed attempts, Chase Elliott finally scored a NASCAR Cup Series victory at Atlanta Motor Speedway, which he considers his home track as he grew up less than 90 miles away in Dawsonville, Georgia.
The 2020 Cup Series champ took his second checkered flag in three races, a stretch that includes his win in Nashville and a runner-up finish at Road America. As it goes in racing, Elliott is taking a little heat for what some are calling a sketchy block on Corey LaJoie, but the 2020 Cup Series champ simply says he did what he had to do to cross the finish line first and would do it again.
And not only did the current points leader pick up his third win of the season, he also got himself and his father into a highly exclusive club featuring only NASCAR Hall of Famers.
Chase Elliott 'tore up some cars' to get the win in Atlanta but isn't sorry he went for the win
With three laps remaining in Sunday's caution-filled Quaker State 400 — the race featured 13 yellow flags — Corey LaJoie was in prime position to win his first-ever NASCAR Cup Series race as he led from the inside lane on a restart with Elliott in pursuit.
But with a bit of help from Erik Jones, Elliott surged to the outside on the penultimate lap to take the lead. As the white flag dropped, LaJoie was looking to take back the lead in about the same spot he gave it up a lap earlier. But Elliott wasn't having it. He slid his No. 9 Chevy up the banking to cut LaJoie off, and the No. 7 simply ran out of real estate.
LaJoie hit the outside wall, ruining any chance he had to win his first Cup Series race while also collecting several other cars in the process. Ross Chastain tried to make a move to get in front, but the yellow lights flashed, and that was that. The race ended under caution, and Elliott had his series-leading third win.
Afterward, Elliott addressed the last-lap chaos and wasn't overly apologetic about how things went down (h/t NBC Sports).
"Obviously, I knew (LaJoie) was going to have a big run (on the final lap). I didn't really want to give him the bottom, and I tried to give it one real good aggressive block. … I hate I tore up some cars, but I don't know what you do…either go for the win or don't. I'm going to choose option A every day of the week."

Chase Elliott
LaJoie ultimately finished in 21st and still has just one top-five finish in 183 Cup Series starts. For the record, he made it a point to congratulate Elliott after the race.
Bill and Chase Elliott join the Earnhardts and Jarretts as the only father-son duos to win at Atlanta Motor Speedway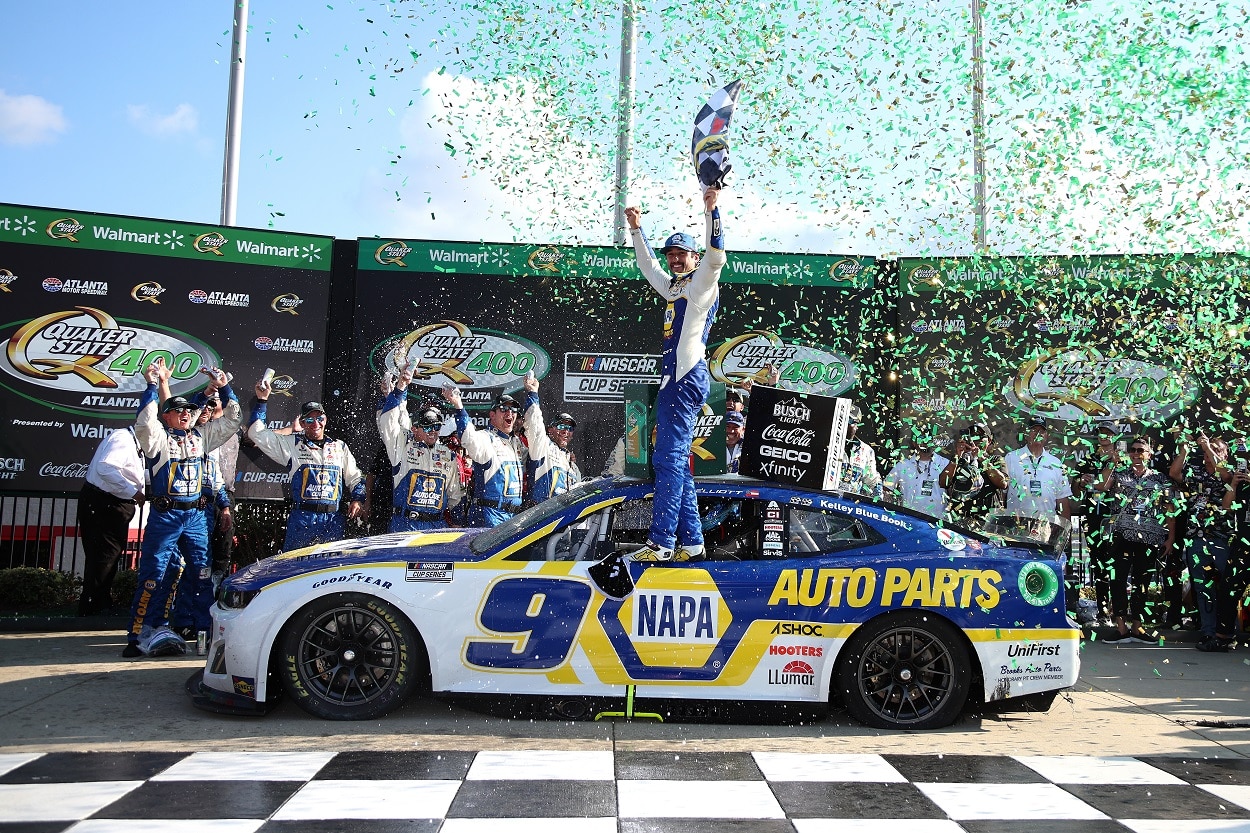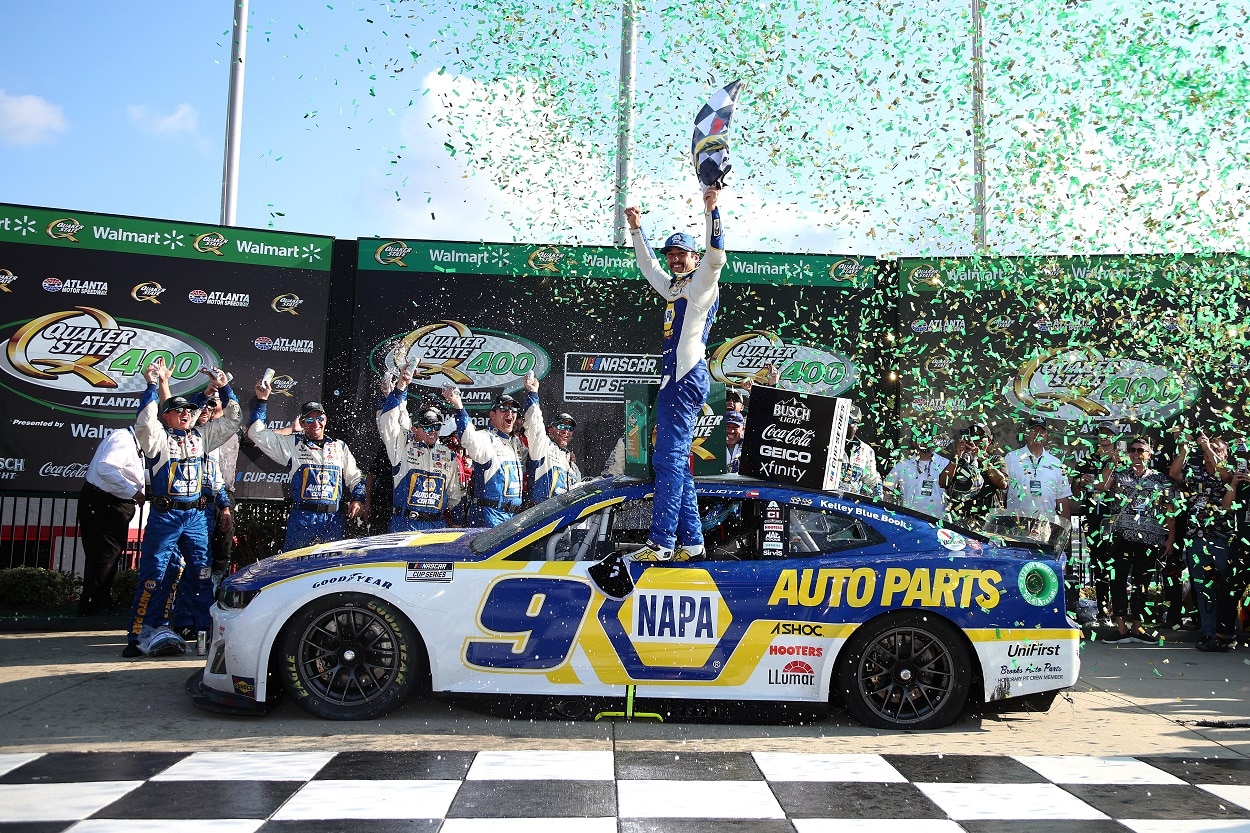 As mentioned, the victory was Chase Elliott's first at Atlanta Motor Speedway in nine starts. His previous best was a fifth-place finish in March 2017. His father, 1988 Cup Series champ Bill Elliott, won in Atlanta five times, good for a tie for fifth for the most all-time victories on the famed track.
With Chase's win on Sunday, the Elliotts became just the third father-son duo to win in Atlanta, joining the Earnhardts and Jarretts. Dale Earnhardt Sr. is the all-time wins leader at the track with nine, while Dale Jr. took one checkered flag there in 2004.
Ned Jarrett (1964) and Dale Jarrett (1997) each took one checkered flag in Atlanta as well.
Stats courtesy of Racing Reference
Like Sportscasting on Facebook. Follow us on Twitter @sportscasting19 and subscribe to our YouTube channel.