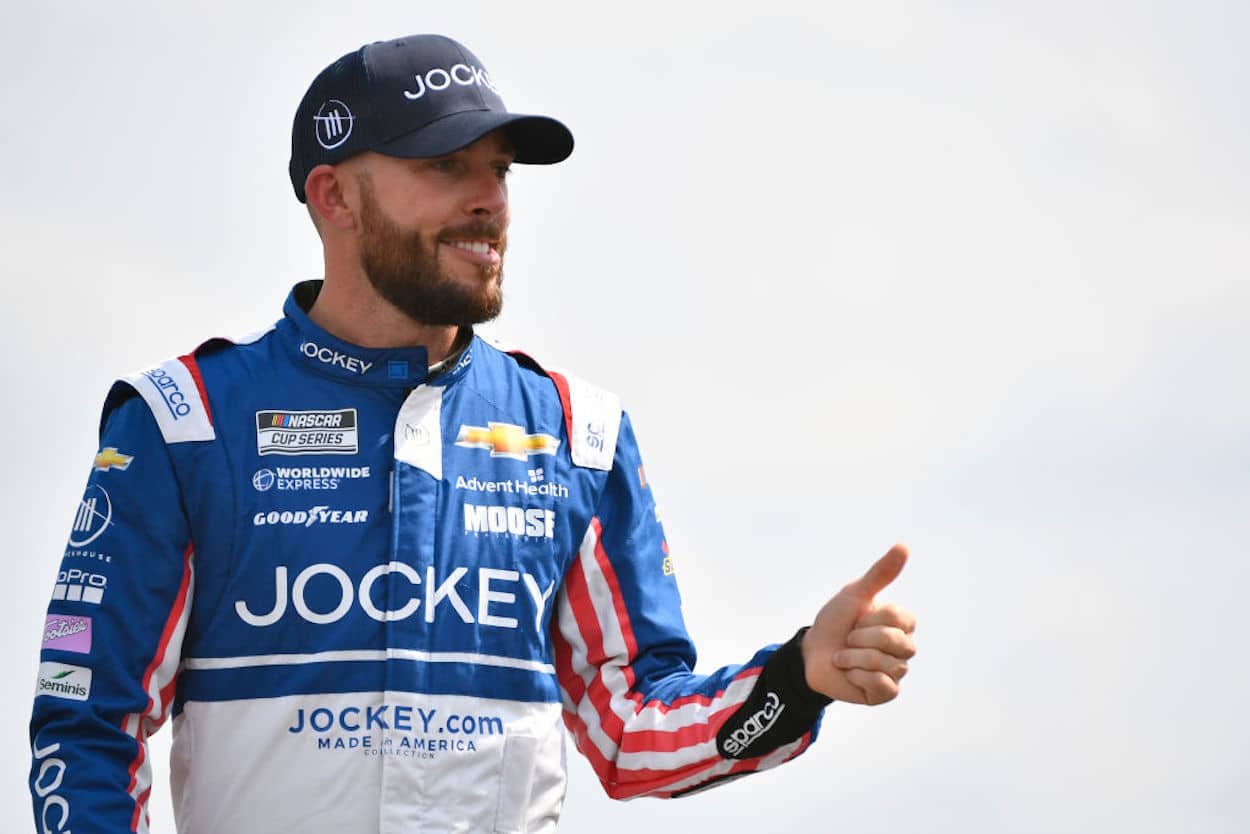 Ross Chastain is Unfairly Getting a Bad Rap as a Dirty Driver When Others are Just as Guilty
Ross Chastain may be at the center of some NASCAR controversy, but it's not exactly fair to place all the blame on his shoulders.
It all started fairly innocently for Ross Chastain. In a hotly contested three-way battle for his first career NASCAR Cup Series win, the Trackhouse Racing driver bumped AJ Allmendinger, who then collected Alex Bowman, paving the way for a Chastain victory at Circuit of The Americas on March 27. 
With the exception of Allmendinger, virtually everyone excused Chastain's aggressive last-lap move at COTA, chalking it up to a hungry driver simply doing what was necessary to capture a long-awaited triumph after coming up empty in 120 previous tries.
By the time that Chastain, an eighth-generation watermelon farmer, emerged from his race-winning vehicle and promptly smashed his favorite fruit on the ground during his postrace celebration, he'd captured the hearts of the NASCAR universe and provided just the kind of feel-good story that NASCAR needed after three of the sport's powerhouse organizations – Hendrick Motorsports, Team Penske and Stewart-Haas Racing – had unsurprisingly swept the first five races of 2022.
But now, some three-and-a-half months after Chastain's maiden win, the narrative on the 29-year-old Floridan has shifted radically.
Ross Chastain's boss, Justin Marks, sees star potential in driver
About a month after his breakthrough on the road course at Circuit of The Americas, Chastain went to Victory Lane again – this time at Talladega Superspeedway, where he led only the final lap. But unlike at COTA, this win didn't require any late-race pushing and shoving. 
Chastain simply held his line as the drivers around him began bouncing off each other coming through the tri-oval on the final lap. The result was Chastain's second triumph in only his 10th start for Trackhouse Racing, a second-year organization that few prognosticators and pundits expected to be a contender when the season began. Trackhouse co-owner Justin Marks, himself a former NASCAR driver, had faith that Chastain could help take the organization to another level, however.
Speaking during the postrace winner's press conference at Talladega, Marks made no bones about how much confidence he had in Chastain from the start.
"I met Ross 10 or 11 years ago," said Marks, who, after announcing plans to acquire the assets of Chip Ganassi Racing at the end of last season, added a second Trackhouse car with Chastain as its driver. "I'm a huge, huge fan of Ross' talent. What I told him when the Ganassi acquisition happened, when I offered him the job, was that Trackhouse sees an opportunity … to be great in this sport, and you are a championship driver.
"I've seen the whole time I've watched him race, raced against him, watched him come up [through the NASCAR ranks], this is a championship-contending talent at the NASCAR Cup Series level – period."
The tide of NASCAR opinion then began to turn against Chastain
Gaining in popularity and running near the front virtually every weekend, Chastain saw his season take a dramatic turn at World Wide Technology Raceway (aka Gateway) on June 5 when dustups with both Denny Hamlin and Chase Elliott infuriated the two drivers and prompted both to retaliate against Chastain later in the race. 
Hamlin was the angrier of the two and displayed his wrath by attempting to wreck Chastain multiple times subsequent to their initial contact, which sent Hamlin into the wall after Chastain moved up the track and into the No. 11 Toyota. After the race, Hamlin hinted strongly that further retaliation might be in order, while Chastain took full responsibility for driving recklessly.
"I owe half of the field an apology," he said during a televised postrace interview with FOX Sports' Jamie Little. "Words aren't going to fix it, so I'll have to pay for it on the track. I almost did today, and I deserve everything that they do."
Speaking on the popular Dale Jr. Download podcast a little more than three weeks after the race, Marks passionately defended his driver, however.
"He's very, very motivated, and he understands and recognizes the opportunity that he's got in this sport, and I think he's just finding his way," Marks said. "It's a different economy in the top five every week than it is 20th every week and 30th every week. So he's gotta learn Denny, and he's gotta learn Chase, and he's gotta learn Joey [Logano] and Kyle [Busch] and Martin [Truex Jr.] and all these guys. They're all different, and they're all in different degrees unhappy to see him there. 
"I told him one time, 'You know, you're not necessarily doing anything wrong by going out there and fighting. I mean, you could make some better decisions in moments, but just your general level of aggression isn't wrong. It's just you've just entered a chat that you're not really welcome in. Because these guys are used to racing against these guys every single week, and now all of a sudden, you're here every single week, and they're not reacting well to it."
Ross Chastain has since become public enemy No. 1 
After flying somewhat under the radar for a few weeks after his wild day at Gateway, Chastain re-entered the firestorm in Sunday's race at Atlanta Motor Speedway, where he triggered a multicar wreck with a midrace bump of Martin Truex Jr. (who, coincidentally or perhaps not coincidentally, he had tangled with on the last lap at Dover in May).
Despite significant damage to the front end of his Chevrolet, Chastain was still in contention for the win late in the race when he slid up the track into – of all people – Hamlin, sending the No. 11 car for a spin and immediately drawing an impassioned rebuke from NASCAR on NBC race announcers Jeff Burton and Steve Letarte.
"This is the frustration I think drivers have with Ross Chastain," Letarte, a former Cup Series crew chief, said during the live race broadcast. "When you interview him, he talks about how he's going to try to do it differently and race differently, and then here we are, he just climbs the banking – I'm sure his car is probably not handling as he had hoped – but his contact spins Denny Hamlin out!"
Burton – a 21-time Cup Series race winner during his driving days – responded to Letarte with an equally critical take.
"I'm with you, Steve," Burton said. "You've got a gas pedal in there. Chastain is going to have to make a decision on, 'What does he want to do?' He's up the racetrack, he's lost the nose, you're going to have to lift [off the throttle]. You've got to lift and get off of the guy no matter who it is. He's going to have to clean these things up. He's a professional race car driver. He's a winner. He's a championship contender. You just can't continue to do these types of things."
Unlike at Gateway, where Chastain apologized profusely for how he drove, the two-time 2022 race winner was far less conciliatory this time, blaming the contact with Hamlin on the damage his car suffered earlier in the race, which he said caused him to misjudge how much he needed to lift off the throttle. Chastain also added that he planned to reach out to Hamlin personally to give his take on what happened.
Hamlin, meanwhile, was predictably agitated with Chastain, telling a group of reporters during a postrace interview that "everyone has their different tolerance levels certainly, but you guys know I've reached my peak."
Ross Chastain's critics should give him a break, especially in light of NASCAR's history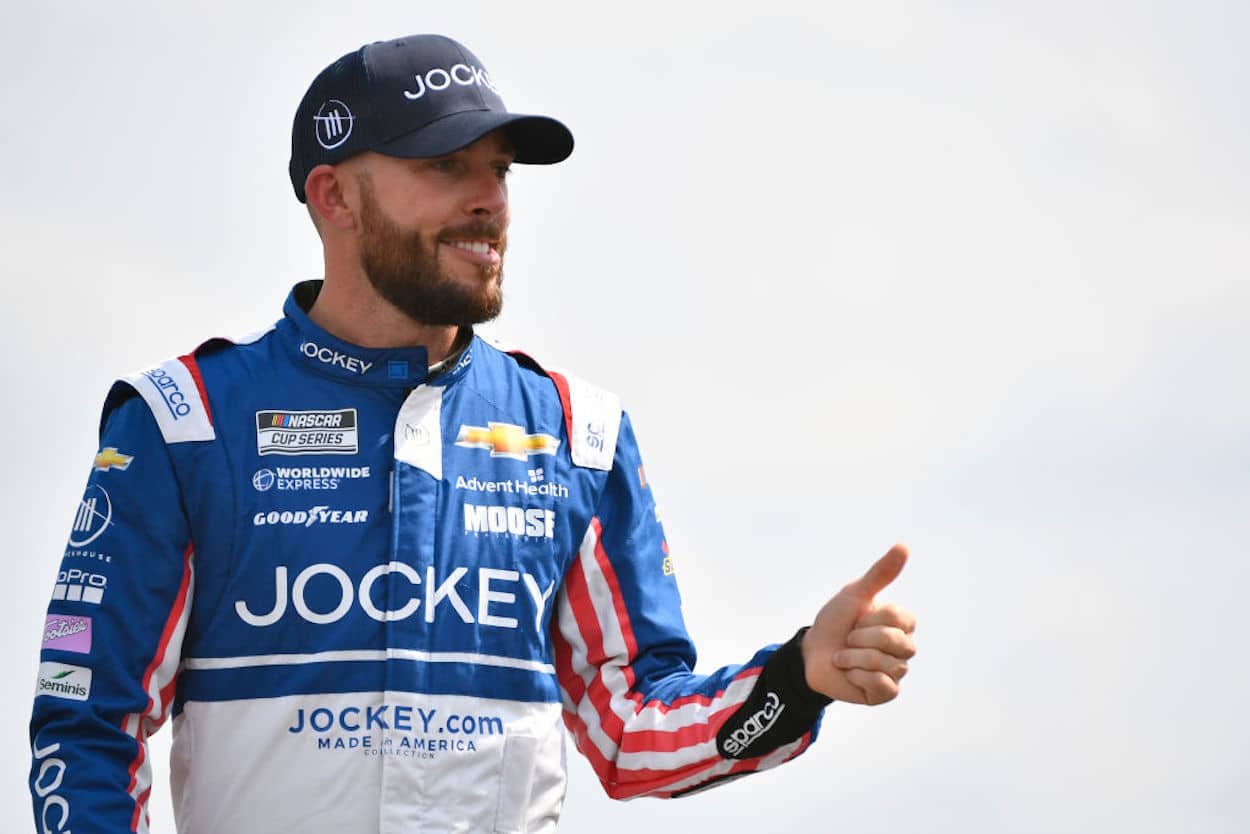 While it seems that almost everyone right now – even members of the NASCAR on NBC broadcast team – wants to chastise Chastain for his overly aggressive driving at times this season, it should be noted that Chastain is hardly the only driver to ruffle the feathers of one or more fellow competitors in 2022. Consider:
Joey Logano ran William Byron into the wall on the next-to-last lap at Darlington.
Kyle Larson pinched teammate Elliott up into the wall with a few laps to go at Auto Club Speedway.
Logano gave Byron a shot to the rear bumper on the final lap at Martinsville. 
Chase Briscoe wrecked Tyler Reddick – and himself – in the final corner of the Bristol dirt race.
Elliott put a major block on Corey LaJoie on the final lap Sunday at Atlanta, causing LaJoie to hit the wall and incur heavy damage.
And these are just the dustups that have taken place during late-race battles for the win, mind you. They don't even account for the myriad other accidents caused by extra-aggressiveness this season (Ricky Stenhouse Jr. didn't get the nickname "Wrecky Spinhouse" for nothing.).
Not to mention the fact that some of the most esteemed drivers in NASCAR history – Lee Petty, Darrell Waltrip, Dale Earnhardt, Rusty Wallace, Tim Richmond, Jeff Gordon, and Tony Stewart, just to name a few – were notoriously prone to lay a front bumper to a competitor's back bumper at various stages of their fabled careers.
Chastain isn't on the level with any of those drivers, and he may never be, but that's not the point. The point is that when it comes to all the criticism being aimed at Chastain, he who is without sin should cast the first stone. The point is that somebody wrecks somebody almost every race – often with no involvement from Chastain. The point is that drivers have been running into each other since NASCAR began on the beaches at Daytona in 1948. And it'll continue for as long as NASCAR exists.
So everyone just needs to relax and cut Chastain a little slack. This is the first year he's ever been in equipment capable of running up front on a consistent basis. He's still adjusting to life with a new, young team. And he's frankly just in over his head a little bit. But his talent and speed are undeniable. And his future is incredibly bright. The sooner his competitors – and the guys up in the booth – can learn to accept Chastain, aggression and all, the better they'll sleep at night and the lower their blood pressure will be. Because he's not going anywhere anytime soon. 
Except Victory Lane.
Like Sportscasting on Facebook. Follow us on Twitter @sportscasting19 and subscribe to our YouTube channel.