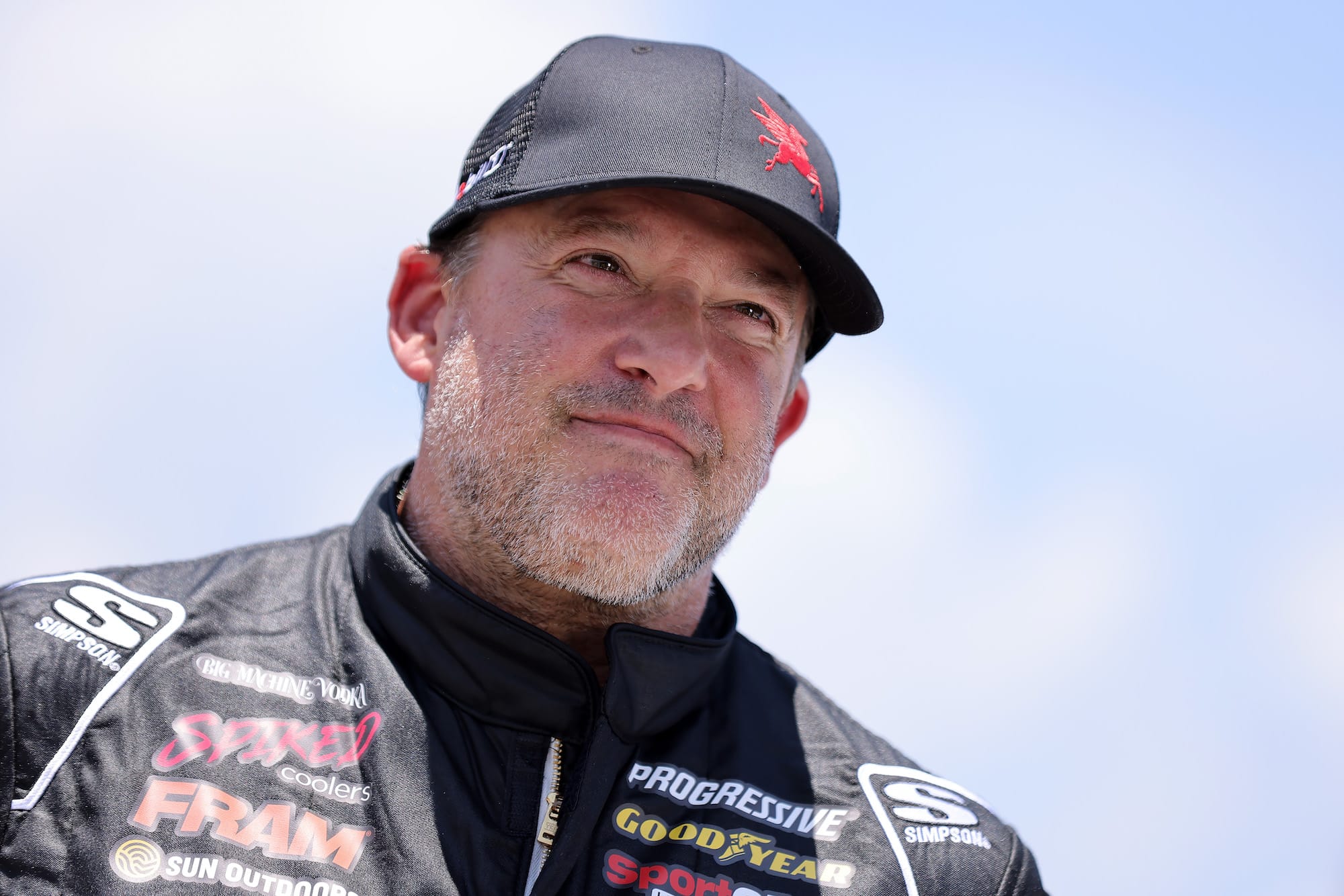 Ernie Francis Jr. Reveals He's Not Over Tony Stewart Confrontation a Week After Smoke Embarrassed Him on National Television
Tony Stewart raced in SRX this weekend. Ernie Francis Jr. did not. The latter made his presence felt when he sent off a tweet directed at the former during the race.
A week ago, Tony Stewart won the SRX Series event but after the race everyone wasn't talking about his victory but the one-sided heated confrontation between him and Ernie Francis Jr.  
This week, Stewart didn't win the race. He didn't even make the podium. Francis wasn't even at the race. However, he did make his presence felt and revealed he had still had some hurt feelings when he directed a tweet at Stewart during the middle of the race.
Tony Stewart chastises Ernie Francis Jr.
Tony Stewart wasn't happy during last week's SRX Series race at South Boston Speedway in Virginia because of how other drivers were racing him. He was particularly agitated with Ernie Francis Jr. and confronted the young driver when the second heat ended.
It was a very one-sided interaction as the NASCAR Hall of Famer did most of the talking and then aggressively grabbed the young driver by the back of his firesuit. 
Willy T. Ribbs visited with Stewart a few minutes after the exchange.
"Well they've pissed off Uncle Tony right now," Stewart said. "So they're about to get a dose of it that they really don't want. Trust me, I know every dirty trick. Got it in my bag. 
"When you're following somebody and the guy is on the outside and as soon as he gets clear he just turns down across, that's the dumbest s*** you can do. I swear to God. I'm just done playing nice with everybody. It's like anybody that touches me I'm touching back times five. Just done jacking with some of these clowns."
Ernie Francis Jr. reveals he's not over Stewart confrontation
Several minutes after that heated conversation, Matt Yocum caught up with Francis for his side of the story. 
"He came up afterwards pretty upset," Francis said. "You know, I'm not going to take that from him. I know he's the boss, but rubbing is racing out there. He got up on my inside. I didn't see him there. I was two-wide with Andretti and someone else. I turned down and didn't see his car in there last second. 
"For him to hit me under caution, that's kind of a dirty move there. That's the kind of stuff Paul Tracy does. For him to come after me and push me around after that and I'm not going to take that from him. It is what it is. We're going to go out there and race and try and turn our night around. Going to work on the car in this break and try and get the car faster so we can work our way to the front so we can see if we can get to his back bumper."
During this week's event at Stafford Motor Speedway, Francis wasn't racing. But that didn't prevent him from getting some airtime when he tweeted about the race and who he was supporting, clearly revealing he's still not happy with what happened the week before.
"Sorry, @TonyStewart, I'm team @paultracy3 tonight @SRXracing," he wrote.
Conflict-free race without Francis
In a week's time, Francis had gone from calling out Stewart for driving "dirty" like Paul Tracy to supporting Tracy over Stewart. Unfortunately, that tweet was the extent of it because the young driver wasn't a part of the race and was unable to extend the conflict on track. 
The race itself was pretty tame and altercation-free after a week that had multiple feuds brewing, including Tracy versus Helio Castroneves, and Ryan Hunter-Reay versus Michael Waltrip.
Stewart made it clear last week after the race how he was not happy with so many damaged cars. This week at Stafford the racing was clean and as a result, the cars were, too. 
Fans can only hope Francis returns to the track in the remaining three races for some exciting action both on and off the track.
Like Sportscasting on Facebook. Follow us on Twitter @sportscasting19 and subscribe to our YouTube channel.