Irate Tony Stewart Goes Ballistic, Confronts Driver, Cusses on Live Television, and Gets Called 'Dirty' for His Actions
Tony Stewart was not happy during the SRX Race on Saturday at South Boston and let it be known when he confronted a driver, grabbed him by his firesuit, and then cussed on live television.
Tony Stewart was known to run hot on occasion during his racing career. It didn't matter if it was fans, NASCAR officials, or another driver. If the three-time Cup Series champion didn't like something, he wouldn't hesitate to share what was on his mind.
Now, as a team owner in multiple series and the founder of the SRX Series that fiery side of Stewart isn't on display anymore. Or at least that's what we thought. That all changed on Saturday night during the SRX race at South Boston Speedway in Virginia when the NASCAR Hall of Famer went off and grabbed another driver and cussed on national television.
Tony Stewart creates SRX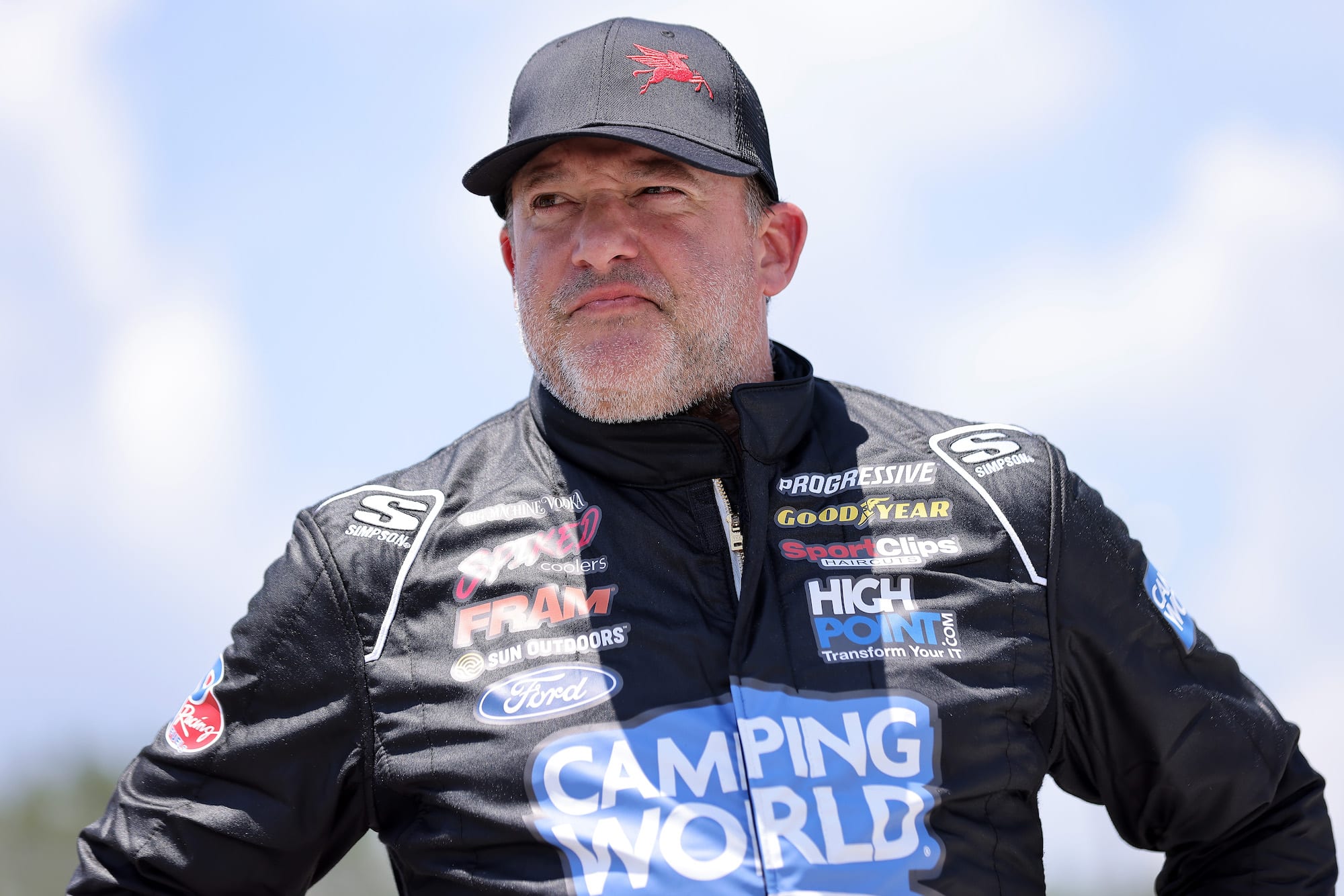 Since retiring from Cup Series racing in 2016, Tony Stewart has been plenty busy. In addition to his work at Stewart-Haas Racing, the 51-year-old has been involved in numerous ventures, including the creation of the Superstar Racing Experience, which launched last year.
In the first six-race season, Stewart proved that he still had what it takes to make it to Victory Lane, winning a couple of races and more importantly, claiming the overall championship. 
However, after last week's season-opening race at Five Flags Speedway in Florida, some unsurprisingly questioned Stewart when he failed to lead any laps and didn't win either of his heats. He finished 10th overall. 
Tony Stewart goes ballistic at South Boston
This week it was almost guaranteed a different Tony Stewart would show up. He did. Stewart battled Marco Andretti on the final lap of Heat 1 and finished second. In Heat 2, he made his way up from the back and finished sixth. But it's what happened after that second stage that had everyone talking. 
Stewart didn't like the way several drivers had raced him, specifically Ernie Francis Jr. When the heat ended, cameras showed the pair in a heated confrontation that included Stewart aggressively holding the young driver by the back of his firesuit. 
Willy T. Ribbs caught up with the angry driver a few minutes later.
"Well they've pissed off Uncle Tony right now," Stewart opened. "So they're about to get a dose of if that they really don't want. Trust me, I know every dirty trick. Got it in my bag. 
"When you're following somebody and the guy is on the outside and as soon as he gets clear he just turns down across, that's the dumbest s*** you can do. I swear to God. I'm just done playing nice with everybody. It's like anybody that touches me I'm touching back times five. Just done jacking with some of these clowns."
When Ribbs suggested it's all part of the show, Stewart agreed. 
"You're getting ready to get one hell of a show for the rest of this night and the next four weeks I can promise you because there's guys that are good friends," the driver said. "I love Ernie Francis. I was so excited he got here last year. I was so excited he ran well and won IRP and it got him a chance at an IndyLights car. He deserves it. He's so talented. He's way more talented than doing the stupid s*** that he just did out there. That's probably what ticked me off the most. 
"I'm trying to race these guys with all respect, give them room, and we got cars that we got to run the next four weeks in a row and to have guys making stupid mistakes just pisses you off."  
Francis responds but Stewart gets last word
Immediately after Stewart's interview, Matt Yocum visited with Ernie Francis Jr. and got his version of events.
"He came up afterwards pretty upset," Francis said. "You know, I'm not going to take that from him. I know he's the boss, but rubbing is racing out there. He got up on my inside. I didn't see him there. I was two-wide with Andretti and someone else. I turned down and didn't see his car in there last second. 
"For him to hit me under caution, that's kind of a dirty move there. That's the kind of stuff Paul Tracy does. For him to come after me and push me around after that and I'm not going to take that from him. It is what it is. We're going to go out there and race and try and turn our night around. Going to work on the car in this break and try and get the car faster so we can work our way to the front so we can see if we can get to his back bumper."
Francis's threat of retaliation never materialized. He finished seventh. Stewart won the race.    
Like Sportscasting on Facebook. Follow us on Twitter @sportscasting19 and subscribe to our YouTube channel.