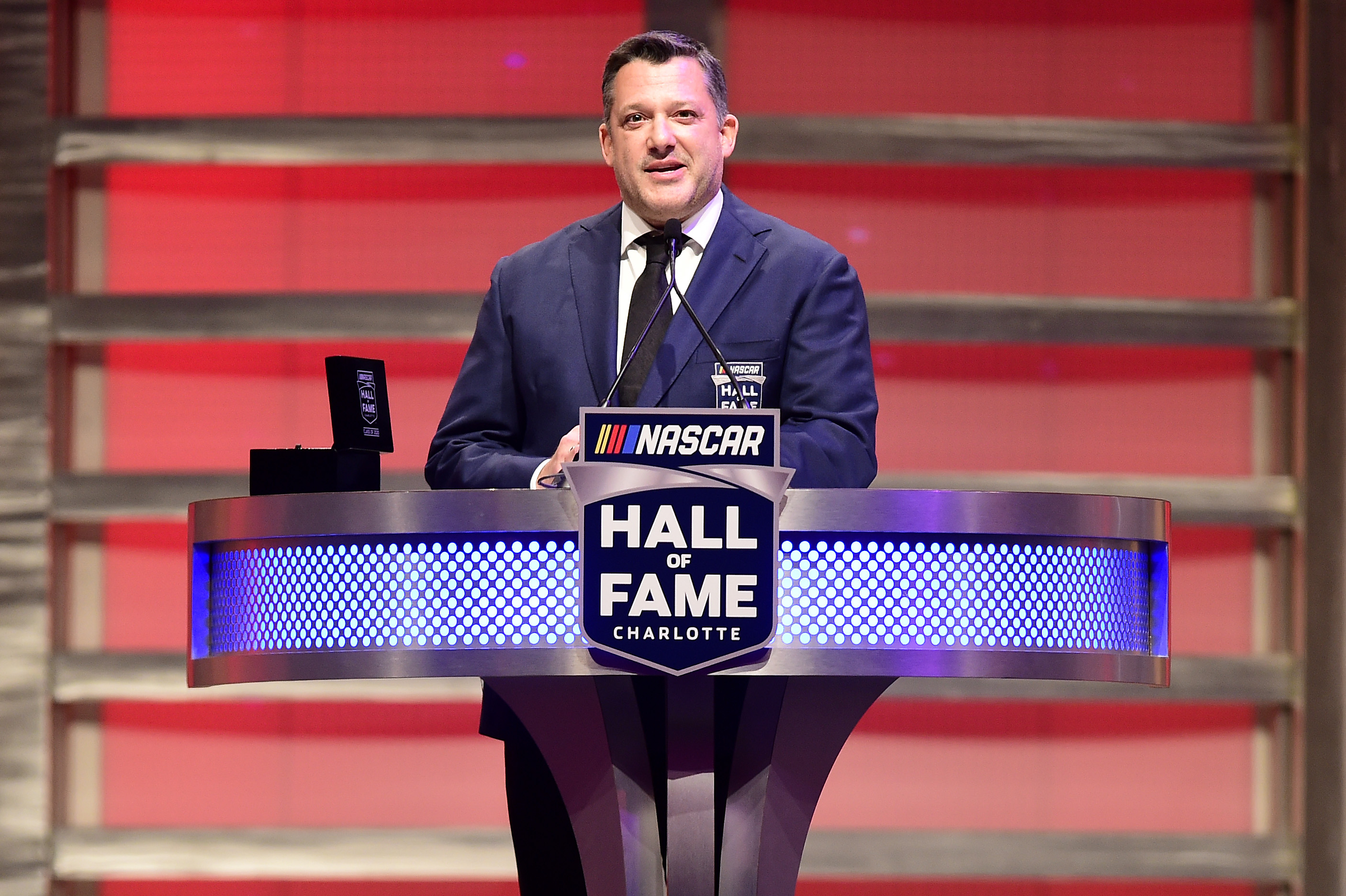 NASCAR Hall of Famer Tony Stewart Out at Indy; Planning on NASCAR Return in the Future
NASCAR Hall of Famer Tony Stewart had talked of a return to the Xfinity Series this weekend in Indianapolis. Those plans have changed but NASCAR fans can expect to see him return in the future.
Earlier this year Tony Stewart was inducted into the NASCAR Hall of Fame. When you think of Hall of Famers in any sport, you envision someone who has retired and moved on. That's been true of Stewart—until recently.
In March, the three-time NASCAR Cup Series champion announced he planned to return for this weekend's Xfinity Series event on the road course at the Indianapolis Motor Speedway, his home track. Unfortunately, like everything else, the pandemic altered Stewart's plans.
Tony Stewart's Hall of Fame NASCAR career
Tony Stewart was already a proven commodity when he showed up for the NASCAR Cup Series in 1999. He had raced for three years in the Indy Racing League, where he won the championship in 1997. In Stewart's first season with NASCAR, he proved that his skillset could transfer from open-wheel racing to stock racing winning three races late in the year.
A year later, Stewart doubled his win total earning six trips to victory lane. In 2002, Stewart earned his first of three Cup Series championships. During that year, Stewart won three races but finished in the top 10 an impressive 21 times.
Stewart's most impressive season came in 2005 when he won his second Cup title. That year he won five races, including the Pepsi 400, where he won from the pole position and led the most laps. It was far and away his most dominating season when he also had 25 top-10 finishes.
Tony Stewart earned his last Cup championship in 2011, which was even more meaningful because he also owned the car. He finished the season with five victories. Stewart retired from racing after the 2016 season.    
Stewart returns to his roots
While Tony Stewart retired from NASCAR, he didn't retire from racing. Stewart maintained his position as a car owner, but more interestingly, he returned to his racing roots and sprint cars. In April of 2017, Stewart earned his first victory since his NASCAR retirement winning the United Sprint Car Series Spring Speed Xplosion feature at Bubba Raceway Park. It was his first of three victories that year. 
In 2018, Stewart won four more sprint car events at tracks around the nation. However, his biggest win in 2018 came as a car owner when he won his ninth World of Outlaws Craftsman Sprint Car Series championship. It was Stewart's 28th championship as a car owner (14 USAC, 9 World of Outlaws, 3 UMRA King of the TQ Midget Racing Series, and 2 NASCAR Cup Series). 
The 2019 season was a busy one for Stewart both on an off the track. In addition to his NASCAR Hall of Fame nomination and induction into the Motorsports Hall of Fame of America, Stewart's competitive streak kicked into another gear. Stewart won 13 races in 2019, including the "Rumble in Fort Wayne" United States Auto Club (USAC) Midget double-feature to close out the year. With those wins, Stewart broke the record for most indoor midget wins all-time in North America.
Tony Stewart planning a comeback 
The 2019 results proved not only is Tony Stewart still racing, he's winning with regularity. That success prompted Stewart to suggest late last year while running a stock car in a demonstration at the Circuit of Americas in Austin, Texas, that he might be making a return to the Xfinity Series in 2020.
"I'd say even though I'm officially retired, I might do a Dale (Earnhardt) Jr. and pull a one-off here or there," Stewart said. "It doesn't mean we're doing it, it doesn't mean we're trying to put something together, it just means it could possibly be on the radar."
In March, Smoke confirmed the speculation about his NASCAR return in a tweet. "There's no place like home… and home is where I'll be on the Fourth of July," he wrote. It also included a video with Stewart detailing his return and why the inaugural Xfinity Series race at the IMS road course suits him best. 
That was the last Stewart had mentioned of his return to NASCAR until a tweet earlier this week revealed that the COVID-19 had claimed another victim in the sports world. While disappointing, Stewart did offer hope for a future return. "Maybe another time…" 
Tony Stewart fans, while disappointed, will patiently wait. They understand whenever Smoke does return, it will be well worth it just to see him back.