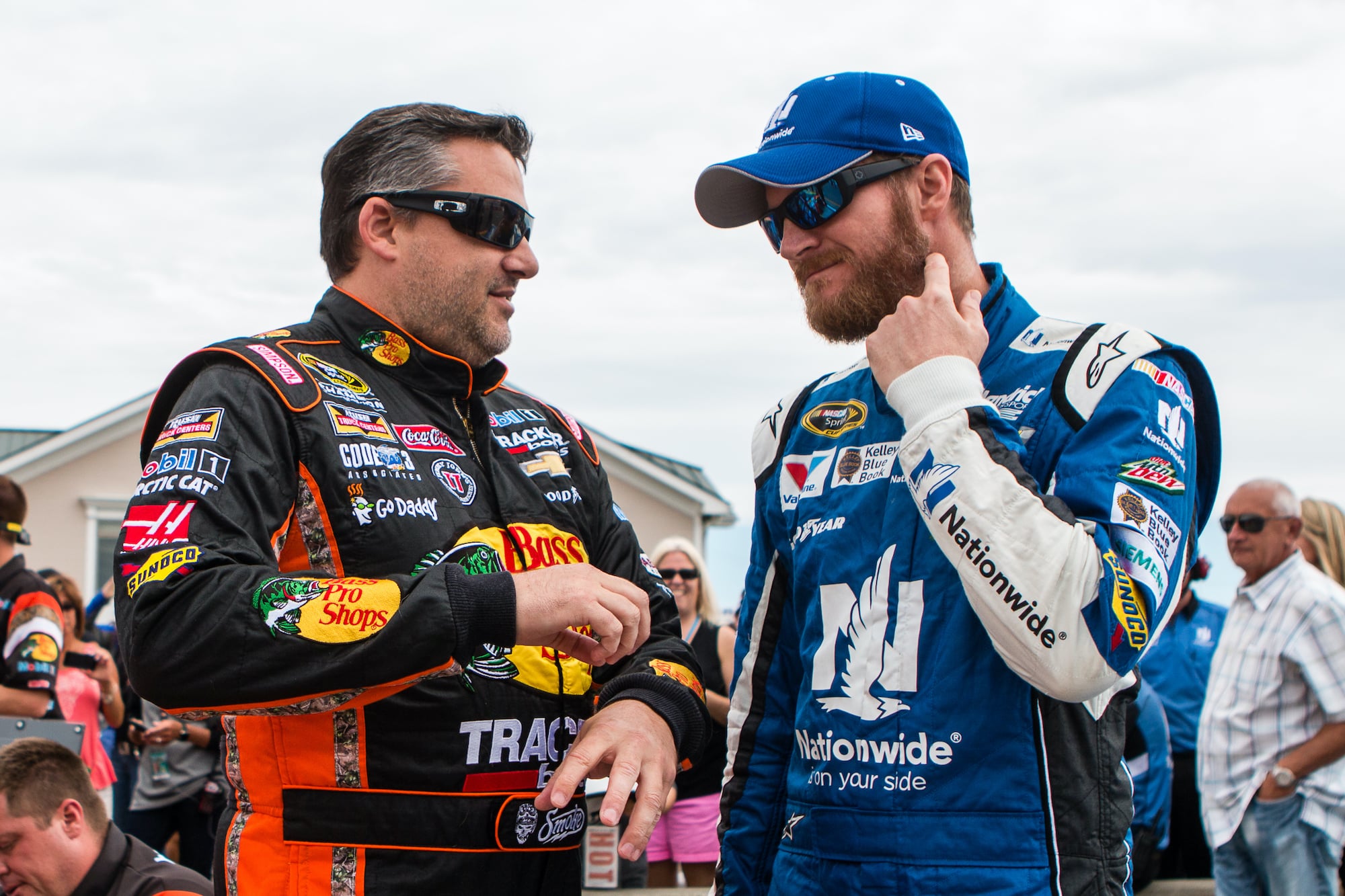 Dale Earnhardt Jr. Calls Out Tony Stewart's Treatment of SRX Driver While Acknowledging Emotion and Conflict All Part of the Show  
Dale Earnhardt Jr. admitted he would never behave like Tony Stewart did during last week's SRX race but also acknowledged the drama makes for entertaining television.
Dale Earnhardt Jr. had the same reaction as many fans watching the SRX race last Saturday at South Boston Speedway when an irate Tony Stewart grabbed Ernie Francis Jr. by the back of his collar and chastised the young driver for his moves on the track. 
This week the NASCAR Hall of Famer talked about his fellow Hall of Famer on the Dale Jr. Download, broke down what happened between the two drivers, and discussed the other conflicts that popped up during the race and how it's all part of providing an entertaining show for the fans.  
Tony Stewart among several drivers involved in conflicts during latest SRX race
In the second race of the SRX season, Tony Stewart made headlines not because he won the race but due to one of his emotional outbursts NASCAR fans grew accustomed to seeing during his career. 
On Saturday night, Ernie Francis Jr. was on the receiving end of the three-time Cup Series champion's ire. The young driver sat there and listened as Stewart grabbed him by the back of his collar and admonished him for an incident that had happened in the heat. 
The Stewart-Francis episode was just one of several conflicts born on the Virginia short track. Paul Tracy took exception to Helio Castroneves's moves early in the race, while the typically calm Michael Waltrip showed his displeasure with Ryan Hunter-Reay by running his car down the track into the inside retaining wall under caution.   
Dale Earnhardt Jr. calls out Tony Stewart for treatment of Ernie Francis Jr. 
During the "Ask Jr." portion of the Dale Jr. Download this week, Earnhardt talked about all the conflicts in the race and specifically about Stewart's exchange with Francis and how it was something he could never do.
"We had Ernie in here, right," Earnhardt said about Francis appearing on his podcast earlier this year. "He's a great kid. I couldn't imagine ever being that — even if I was that angry with him, I couldn't ever. I'd never be like, 'Hey you.'"
Earnhardt admits Stewart gets it right when it comes to providing entertainment
While Earnhardt couldn't ever do what Stewart did with Francis, the two-time Daytona 500 winner acknowledged that the conflict between the two drivers, plus the other confrontations are all a part of the show and provide an entertaining experience for fans.
"It's entertainment," Earnhardt admitted. "I think that they absolutely turn the knob up a little bit for the show. Not that Tony's frustration with Ernie was all an act, but I think that they absolutely just let it go. Like whatever emotion they're having they just let it out, let it run, because it needs to be entertaining. 
"They can't just show up and run a race and go home. It's a TV show. And so CBS expects them to deliver. I think when they got done they probably thought, 'Yeah, we probably don't need to do this much physical damage to the cars. We have to get them back on the race track in a very short period of time.' I didn't watch the whole thing but it absolutely checked off all the big boxes in entertainment for what they're aiming for."
Later in the podcast, Matthew Dilner said he was in attendance at the track, and heard one fan suggest to Stewart that he bring on Earnhardt to race. Stewart agreed. 
Whether or not it happens remains to be seen. If it does, Earnhardt just might find Stewart doing whatever he can to press his buttons and add a little entertainment value to the show.  
Like Sportscasting on Facebook. Follow us on Twitter @sportscasting19 and subscribe to our YouTube channel.