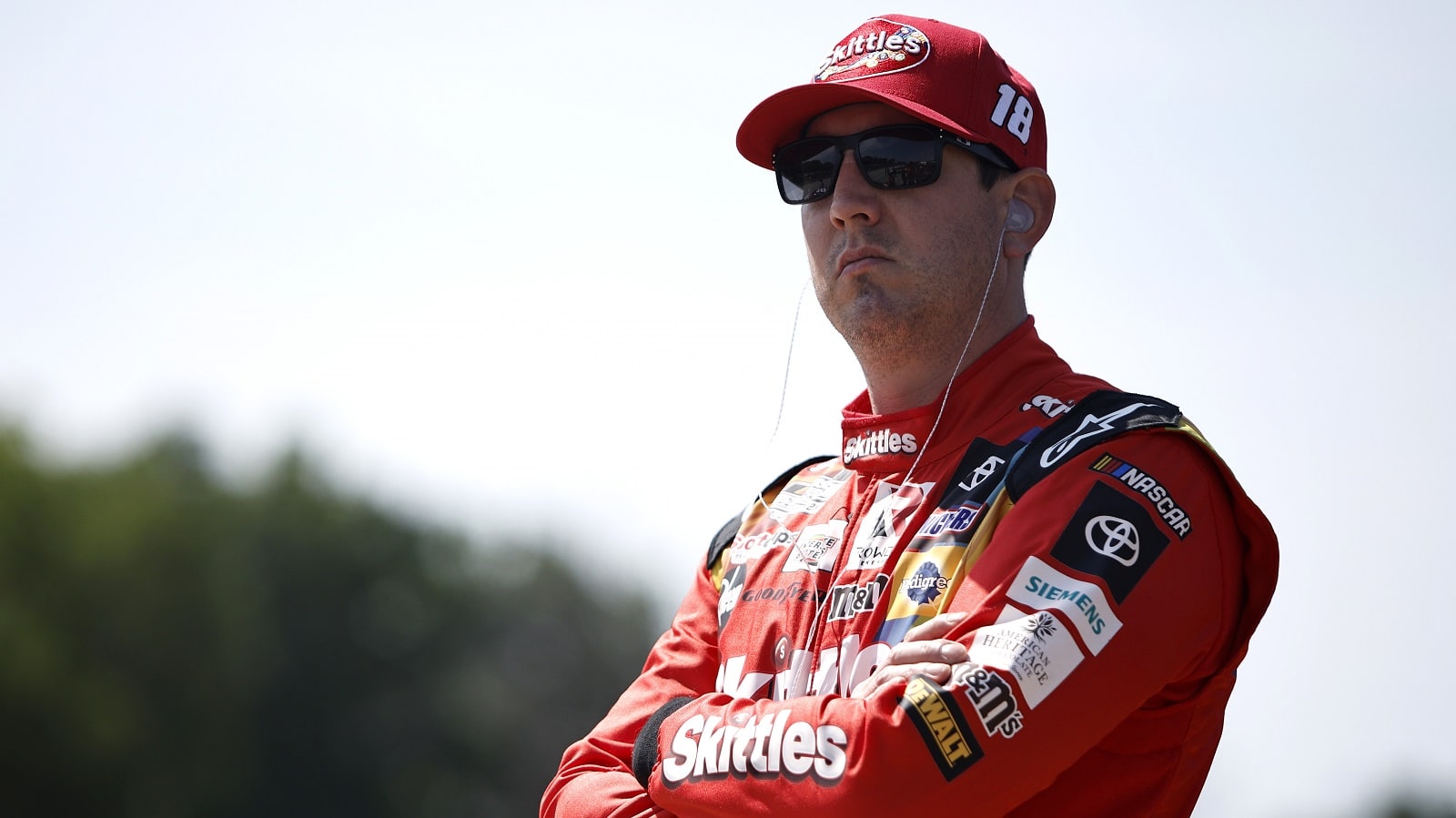 Kyle Busch Just Blinked While Discussing Musical Chairs and His Uncertain Future at Joe Gibbs Racing
Kyle Busch is admitting less money and a shorter deal appear to be the only solution to his contract dilemma.
Kyle Busch nearly made it through another week without being the No. 1 topic of conversation in the Joe Gibbs Racing garage, but that came to an abrupt end on Saturday when he started talking about money and his future with the NASCAR Cup Series team.
Never a dull week around the Toyota teams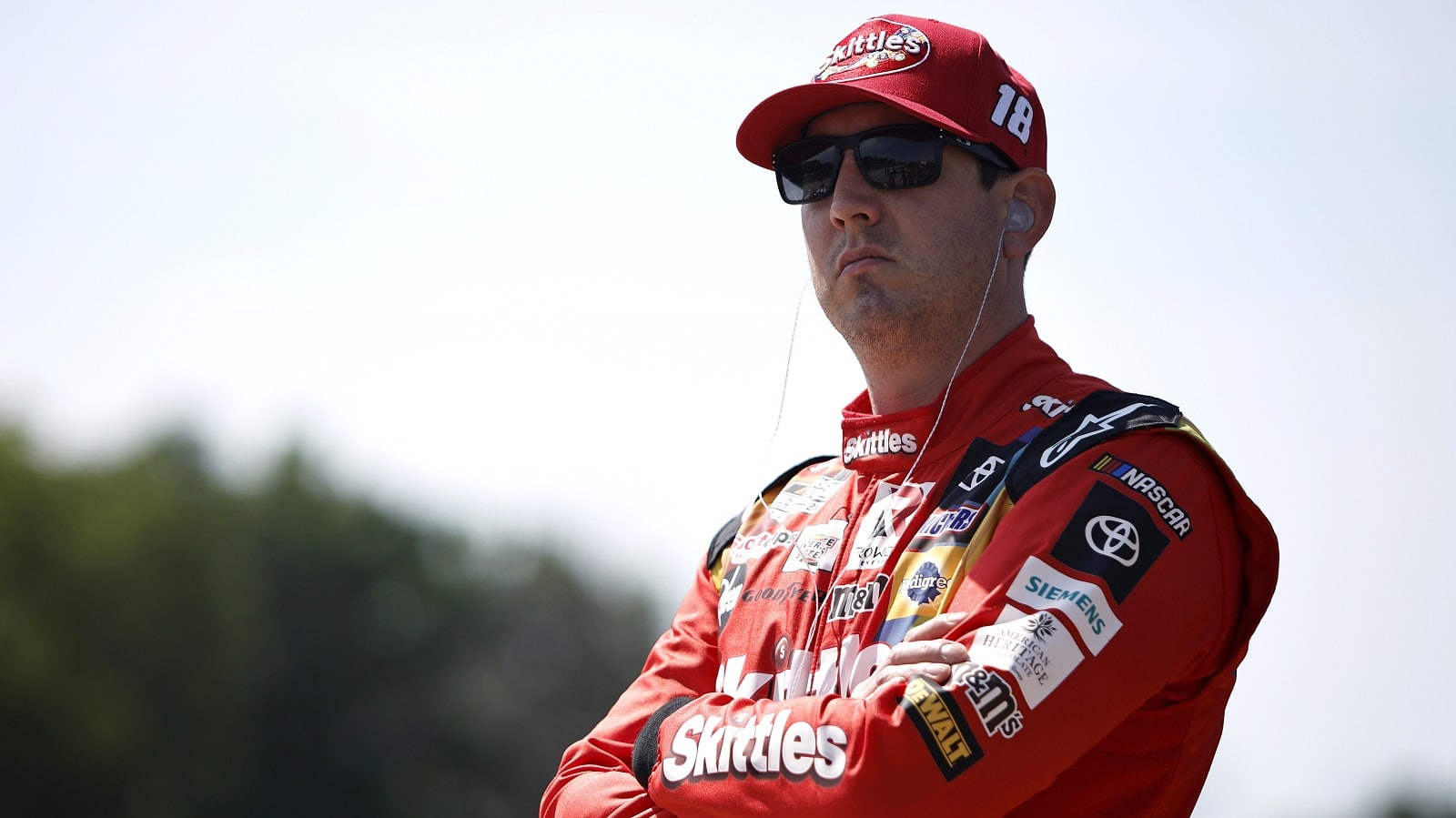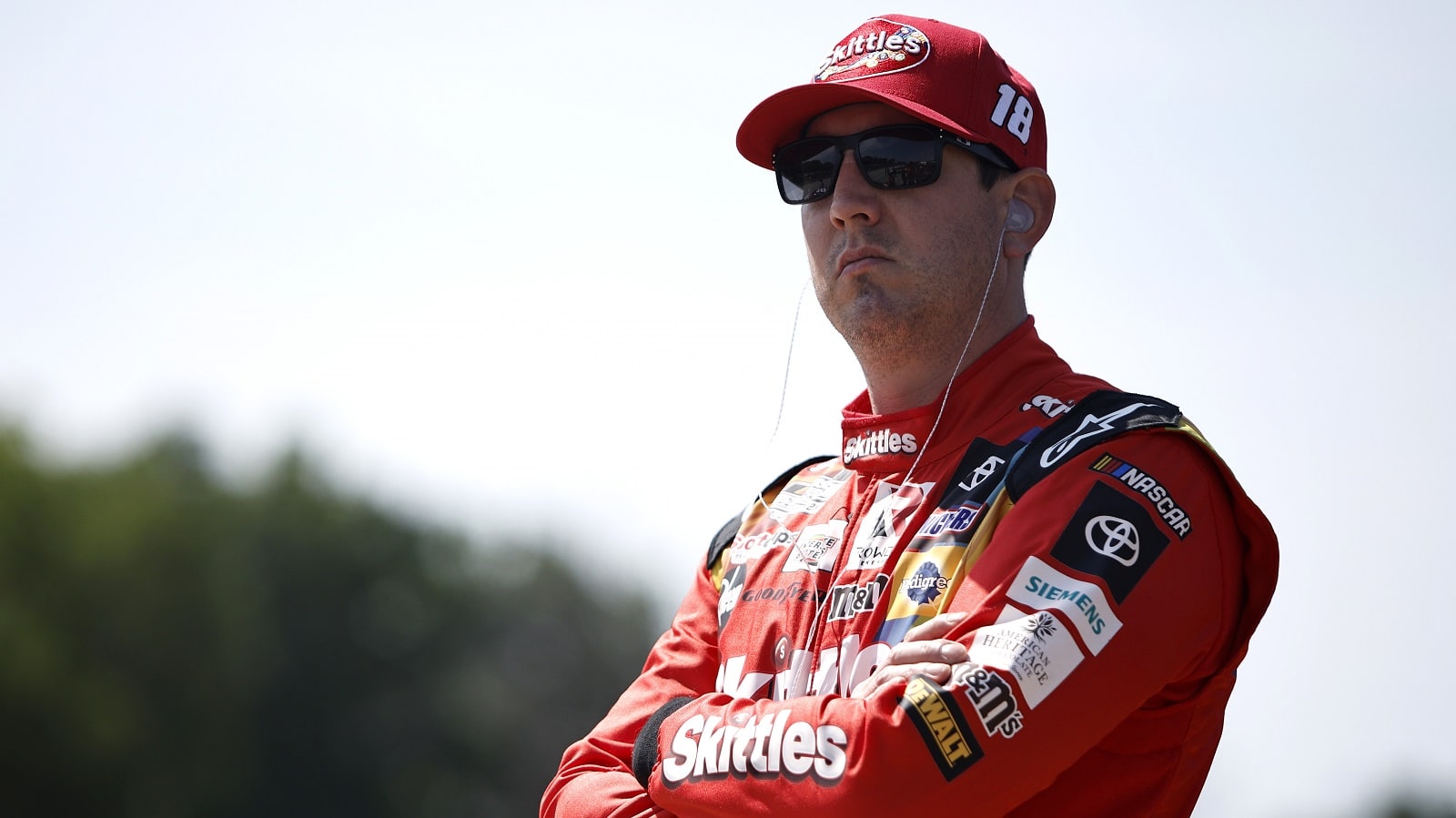 Ty Gibbs had to pinch-hit at Pocono for 23XI Racing's Kurt Busch at the last minute, and Denny Hamlin became the first Cup Series winner that NASCAR has disqualified in six decades.
That chaos actually almost constituted a nice break for Joe Gibbs Racing, which finally put to rest chatter about pit crews the previous week courtesy of Christopher Bell winning and Bubba Wallace placing third at Loudon.
But every Monday during the season means hitting the reset button and starting fresh, and Kyle Busch took back the spotlight on Saturday morning by discussing his contract situation.
Kyle Busch just blinked while discussing his uncertain future
The status of Kyle Busch's contract negotiations has been a story throughout the NASCAR Cup Series season. His deal with Joe Gibbs Racing ends after the season, as does his lucrative sponsorship deal with Mars, Inc., the maker of M&M's.
Up until now, Busch has oscillated between frustration and bewilderment while discussing his situation. On Saturday, he added capitulation to the mix by conceding he might have to accept less money and/or a one-year contract if he wants to stay in the Cup Series.
Speaking to reporters at Indianapolis Motor Speedway before qualifying, Busch suggested money has never been the issue. But saying so publicly is tantamount to blinking.
"I know where the sport's landscape is," he said, according to NBC Sports. "I know what's happening. And I've accepted (settling for less money). And have told everybody that."
Busch said he has been speaking with other teams and even thinks about leaving NASCAR for other circuits. However, either of those options would necessitate taking an even bigger pay cut and reeks of desperation.
"Somebody said, 'Maybe you should go and do the (Kyle) Larson tour,'" Busch said. "Go run Late Models, dirt cars, IMSA, Indy. And it's like, 'Oh my God.' That just seems to add a new element to everything. And that's probably the farthest down on my list that I'd entertain but certainly wouldn't leave it out."
Kyle Busch uses a children's game to explain his predicament
Two-time Cup Series champion Kyle Busch said he would take a one-year contract from Joe Gibbs Racing as a path toward hammering out a longer deal that would allow the team to lock down more sponsorship money.
"We're talking '23 options. We're talking '24 options. We're talking long term," he said. "Everybody, everything. The white board is quite full."
The goal remains to continue the association with JGR, which began in 2008. But loyalty only goes so far when you're facing the prospect of the paychecks stopping in November.
"If the musical chairs music stops, and I'm still standing and don't have a seat, I'm screwed," Busch said. "So, I have to make sure I continue to talk and evaluate each place, each situation to find something."
Like Sportscasting on Facebook. Follow us on Twitter @sportscasting19 and subscribe to our YouTube channel.
Got a question or observation about racing? Sportscasting's John Moriello does a mailbag column each Friday. Write to him at [email protected]