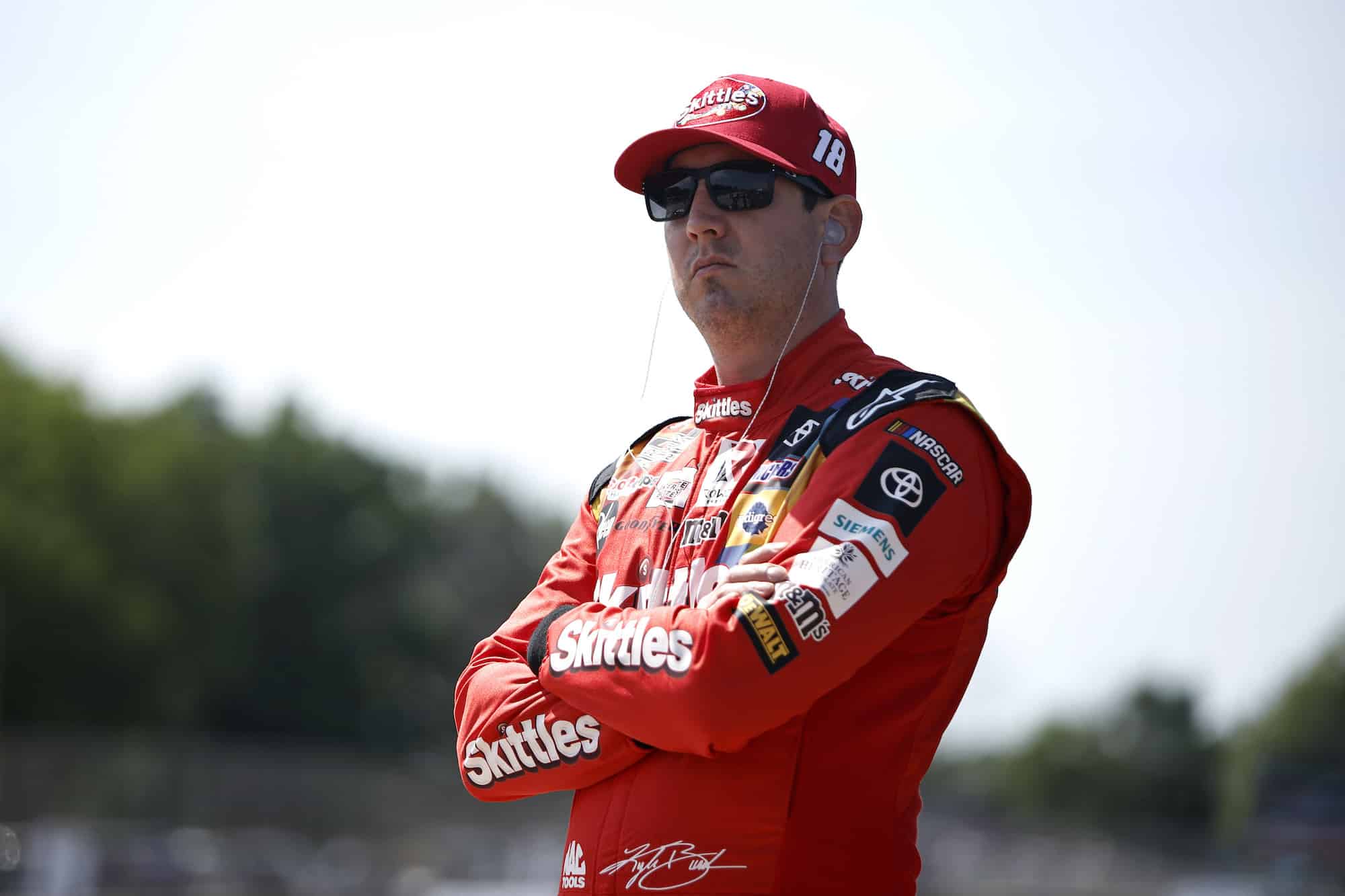 Kyle Busch Remains Unsigned, and Top JGR Official Makes Comment That Should Make No. 18 Fans Nervous
Kyle Busch is in his 15th season at Joe Gibbs Racing and a top official for the organization insisted this week that they want him back in 2023 but made a comment that generated more questions than answers.
Kyle Busch's future with Joe Gibbs Racing has been in question since January. That's when the two-time Cup Series champion acknowledged that he wanted to stay with the team and hoped it all worked out.
It hasn't worked out yet. This week a top JGR official addressed Busch's situation and said multiple times how the organization wanted the future NASCAR Hall of Famer to remain with the team. However, he didn't necessarily make a compelling argument that it's actually going to happen and even made one remark that should cause some concern for fans of the No. 18 car. 
Kyle Busch's future at Joe Gibbs Racing in question
Last August, Kyle Busch and JGR received bad news that Mars Inc. was exiting the sport as a sponsor after 32 years. That meant the organization would have to find a replacement for the longtime partner of the No. 18 car.
In April, after months of silence on the subject, Busch was asked about the progress of finding a new sponsor. He surprised everyone with his response. 
"Yesterday," the driver answered when The Athletic's Jeff Gluck asked if he was feeling antsy about the situation. "I'm not getting antsy about it. If it happens, it happens. If it don't, it don't. Goodbye."
He then told reporters multiple times to "ask Joe Gibbs" when questioned about his future with the team.  
JGR president insists team wants Kyle Busch back 
This week, JGR President Dave Alpern provided the latest status update on Busch's situation. It was a familiar refrain.
"We've been pretty consistent since the end of last season, which is we want Kyle to be in the (No.) 18 car and that's our plan," Alpern said. "We're still working on sponsorship, and as much interest as there is in our sport, these take a long time. And admittedly, this one's taking a little longer than we thought. It's not for lack of interest. It's just trying to get everything put together. So those will probably happen in parallel. And, again, we're hoping to get something decided here in the very near future."  
Alpern is right. The team has consistently said they want Busch back in the car. However, the organization has also regularly made it clear that despite all their best efforts, including signing with a marketing agency run by JTG Daugherty Racing owner Tad Geschickter, nothing is set. 
"What we do is get sponsors. I mean, we've been doing that for 30 years. We're in the business," he said. "I think it's not a matter of just slapping something on the car. It's finding a partnership that makes sense. And so we're just trying to find the right fit."
Moments later, the JGR president again repeated the plans of bringing back Busch but also made an eye-opening comment.
"We have every intention (of re-signing Busch). Pro sports — look, things happen. Carl Edwards retired on the week of Christmas one year, so trying to speculate what's going to happen? Things happen. But the plan is we feel confident there'll be a good partner on that car for next year."
Martin Truex Jr. re-signed during this same time
Things happen? Those words don't necessarily instill confidence in Busch's fans. Adding a little more fuel to the uncertainty is Martin Truex Jr.'s future was also in question over the last few months, but it got resolved several weeks ago when he announced his return in 2023 for another season. 
Meanwhile, Busch remains in limbo. 
Obviously, the organization wants one of the greatest drivers of all time to return to the No. 18 in 2023 and beyond. But as JGR officials, including Gibbs himself, have repeatedly stated, it can be challenging working out all the details.
But, as Alpern mentioned, sometimes those details don't get worked out, and things happen. Just ask Carl Edwards.
Like Sportscasting on Facebook. Follow us on Twitter @sportscasting19 and subscribe to our YouTube channel.