Ty Gibbs Rejects a Flattering Comparison to a Future NASCAR Hall of Famer
Ty Gibbs' multiple Xfinity Series victories before the age of 20 are drawing comparisons to a driver on his grandfather's NASCAR Cup Series team.
There likely are drivers in the NASCAR Cup Series who've won multiple races but would happily trade their past for Ty Gibbs' future. That says plenty considering Gibbs has yet to advance beyond the Xfinity Series.
However, competing in NASCAR's top series is something that will happen sooner rather than later for Gibbs. He's tearing things up for an organization employing heavyweights like Denny Hamlin, Martin Truex Jr., and Kyle Busch.
Gibbs said after his latest victory that he watches and learns from the Joe Gibbs Racing Cup Series drivers. He also said he rejects a comparison to one of the best.
Ty Gibbs pulled off a gutsy move to win at Atlanta Motor Speedway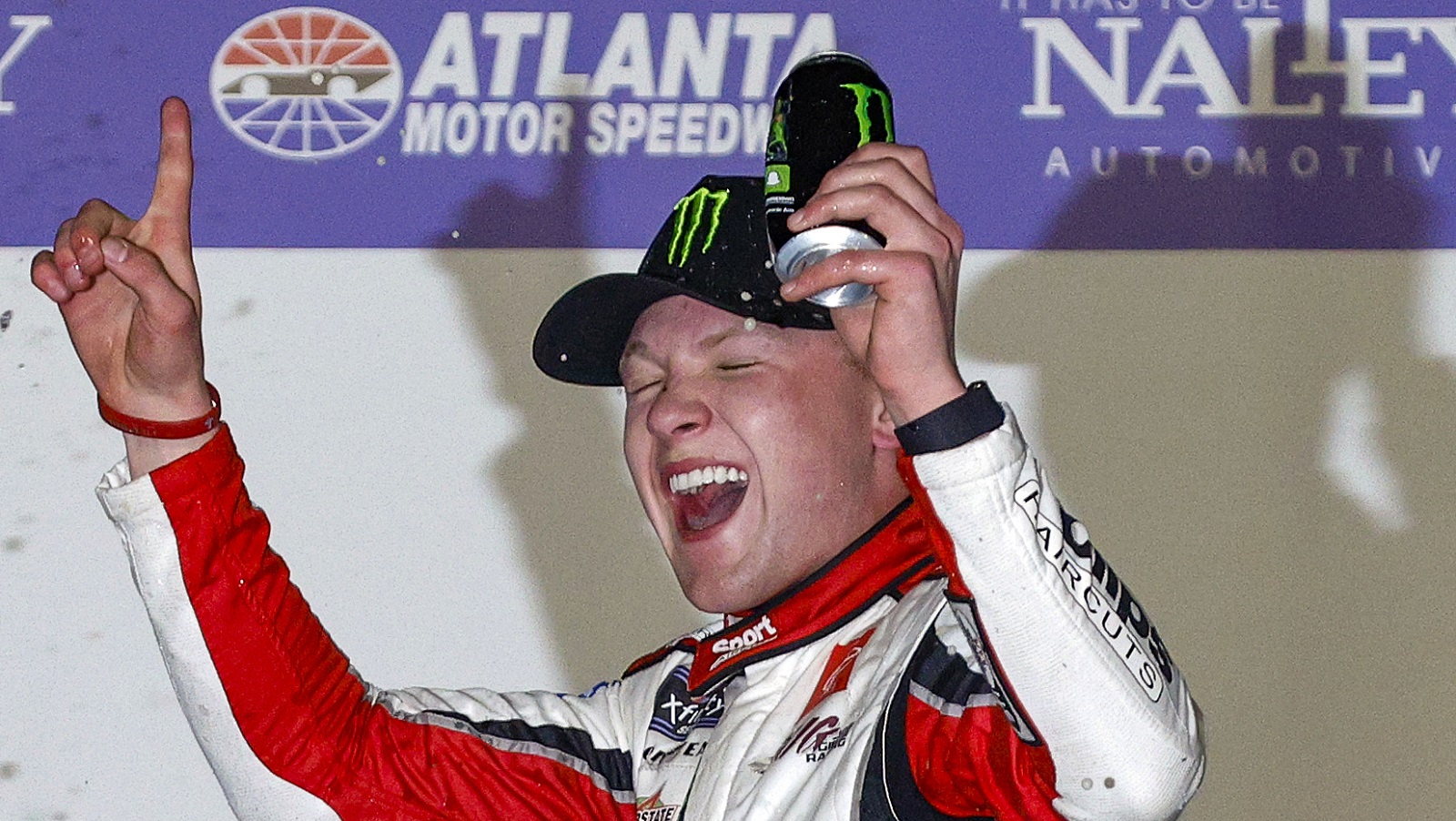 Ty Gibbs made a bad memory from the race go away by executing a superb move on the overtime white-flag lap of the Nalley Cars 250 at Atlanta Motor Speedway on Saturday.
In the second green-white-checkered OT, Gibbs lined up on the outside behind Ryan Sieg, built momentum off Turn 4, and made a dive to the inside just inches in front of Austin Hill. That gave Gibbs his only lead of the day and propelled the 19-year-old prodigy to his second victory of the season and sixth in just 23 NASCAR Xfinity Series appearances.
"Oh, my gosh, I didn't expect this at all," Gibbs said, according to NASCAR.com. "That's one where I learned a big lesson: Just never give up."
Gibbs was running mid-pack on Lap 82 when he missed his stall on pit row and resumed racing in the back of the field. It took just a dozen laps to work back into the top 10. He remained there and eventually took the checkered flag over Hill and AJ Allmendinger. Sieg landed in 10th.
Ty Gibbs rejects a flattering comparison to Kyle Busch
Ty Gibbs won his Xfinity Series debut a year ago on the Daytona road course. He has shown since that it was no fluke. The Atlanta victory marked his sixth in 23 races, and he has finished in the top five in five others. The only reason Gibbs didn't contend for the 2021 championship was that he didn't run a full schedule.
This year, he's as good a candidate as any driver in a deep field to walk away with the title. In that respect, the grandson of team owner Joe Gibbs is reminiscent of Kyle Busch, who competes for the JGR Cup Series team.
Busch owns 222 victories in the three national NASCAR series, including 102 in Xfinity cars. His first five came in 2004 before the age of 20. Thus, comparisons between Gibbs and the future Hall of Famer are inevitable. However, Gibbs wanted no part of a question about whether he's the next Busch.
"No, I'm still trying to figure out where my pit stall is out there," he said, referencing his race gaffe. "I don't think I'm the next Kyle Busch at all. Thank you, though."
The emerging NASCAR star draws upon the knowledge of JGR's drivers
The incident with Ryan Sieg in Las Vegas, where he unnecessarily dumped the NASCAR veteran, was indicative of Ty Gibbs' inexperience and perhaps some immaturity. More time driving Xfinity cars will cure that, and it's inevitable that Gibbs will race in the Cup Series by his early 20s.
In the meantime, he can draw upon the combined knowledge of the Cup Series drivers at Joe Gibbs Racing. Kyle Busch, Denny Hamlin, and Martin Truex Jr. are veterans, and Christopher Bell is a peer he's raced against in recent years.
The age difference between Busch, 36, and Gibbs isn't much greater than the difference between Saturday's Atlanta winner and Busch's 6-year-old son.
"I like Kyle. I played iRacing with Brexton multiple times, like 11:30 at night," Gibbs said. "They'd text me. He's like, 'Get on (the game) and I'm like, 'All right, I'll get on."
The relationship with all the drivers is something he values.
"I'm very thankful to be in these spots and be able to have their number if I need to ask them anything, on and off the track, experiences and things to learn," Gibbs said. "I'm very blessed with great teammates and I wouldn't want to be with any other team."
All stats courtesy of Racing Reference.
RELATED: Sam Mayer's Debut Gives the NASCAR Xfinity Series the Ty Gibbs Rival It Needs