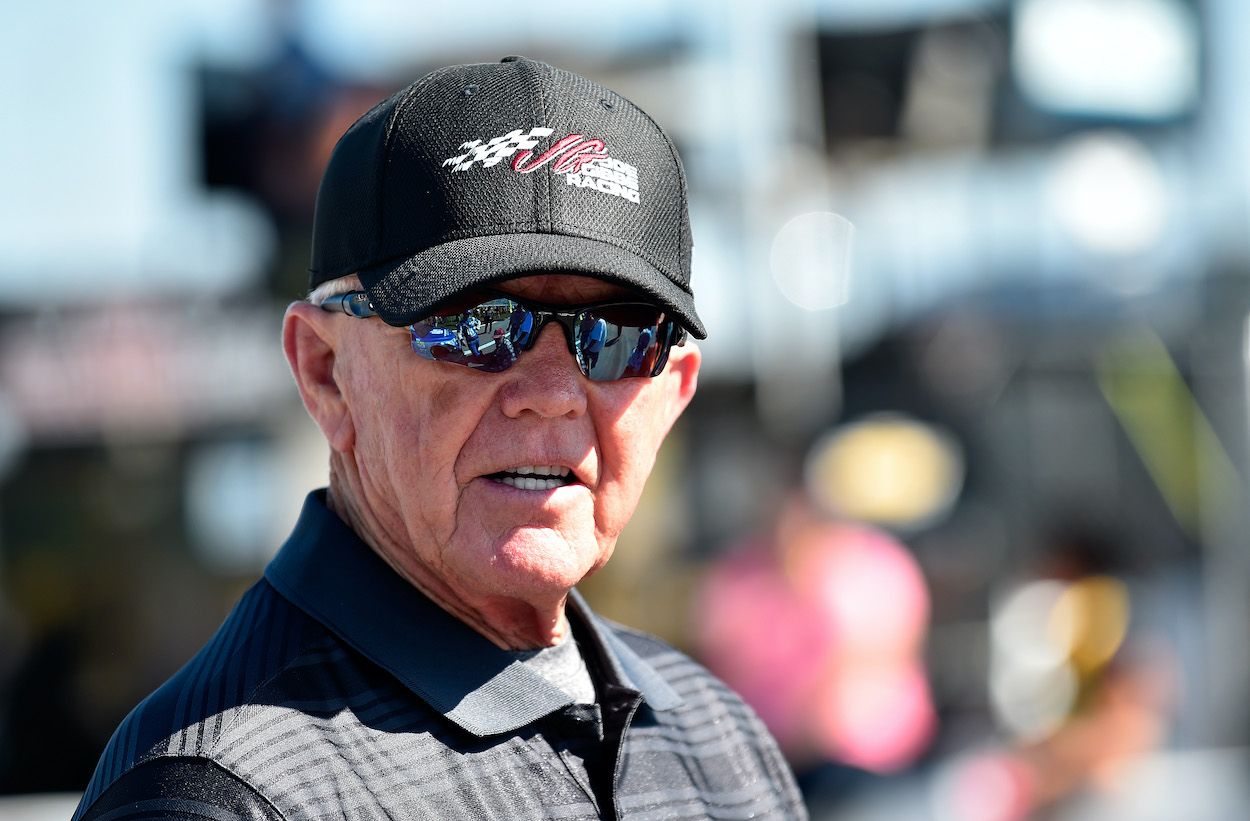 Joe Gibbs Racing Surprisingly Announces a Former Daytona 500 Winner Will Join Xfinity Series Team in 2022
Joe Gibbs Racing made a surprise announcement of a new Xfinity Series driver joining the team in 2022, and it's a familiar face.
With just over a week remaining until the start of the 2022 NASCAR season, most teams have announced their driver lineups with a few exceptions. Joe Gibbs Racing has yet to announce its full rotation for the Xfinity Series. 
The team answered the question for one of those slots this week with a somewhat surprising name and a former Daytona 500 winner.
Joe Gibbs Racing Xfinity Series team wins championship in 2021
Joe Gibbs Racing is one of the most respected organizations in the garage. Last year the four-car Xfinity Series team combined for five wins, the most important coming in the season-ending race at Phoenix when Daniel Hemric pulled off the double, winning his first-ever race and the championship simultaneously. 
While winning the championship was undoubtedly huge, the season numbers overall for the team dropped off from the year before. In 2020, Brandon Jones won three times and finished sixth. Harrison Burton won four times that season and finished eighth. 
In 2021, both drivers went winless. But the team found its future with Gibbs' grandson Ty, who made his debut with the series at age 18 and was more than impressive, winning four times in 18 races. He also recorded five additional top-five finishes. 
Trevor Bayne to drive for Joe Gibbs Racing Xfinity Series team in 2022
With Burton moving up to the Cup Series and Hemric switching over to Kaulig Racing, Brandon Jones is the only confirmed returning driver in 2022. Most expect the team to announce Gibbs will be a full-time driver in the coming days. 
While JGR fans wait for that official announcement, the team posted a mysterious photo to its Twitter account, revealing that it would be making a new driver announcement this week. The "new" caught most by surprise, and naturally, speculation went into overdrive. 
On Wednesday, the team surprisingly announced that 2011 Daytona 500 winner Trevor Bayne will be competing in seven races for the team. 
"I honestly didn't know if I'd get a shot to drive for a great team like Joe Gibbs Racing again, and Devotion Nutrition, American-made, family-owned business came along and said we want to put you back in a race car," Bayne said on NASCAR Race Hub, where he also serves as a co-host. "I'm pumped. I can't believe I'm going back to race again. Got seven races and we're going to go make it count." 
Trevor Bayne shocked NASCAR with Daytona 500 win
Trevor Bayne knows a little something about making it count. Back in 2011, in just his second-ever Cup Series start and his first Daytona 500, the 20-year-old pulled off the unbelievable and won with Wood Brothers Racing. It was easily one of the most astonishing victories in the history of the Great American Race and NASCAR as a whole.
Unfortunately for Bayne, that success wasn't a predictor of things to come. For the next four years with the Wood Brothers, he raced a part-time schedule and managed just a pair of top-10 finishes. 
In 2015, he switched to Roush Fenway Racing and ran a full-time schedule. Over the next three and a half seasons, he managed 13 top-10 finishes but never made another trip to Victory Lane. He raced a part-time schedule in 2018 and then lost his ride.
He made his return to NASCAR in 2020 when he raced eight times with Niece Motorsports in the Truck Series, earning a pair of top-10 finishes. His return to the Xfinity Series, where he won twice, will be his first NASCAR racing since the trucks. 
And who knows, maybe he can recapture that magic he found on that February day in 2011 and make his way to Victory Lane once again. 
Like Sportscasting on Facebook. Follow us on Twitter @sportscasting19.