Daniel Hemric Bet on Himself by Accepting an Awful Contract From Joe Gibbs Racing on His Way to the NASCAR Xfinity Championship
Article Highlights:
Daniel Hemric won his first NASCAR race and Xfinity Series championship Saturday in Phoenix
Hemric drove for Joe Gibbs Racing under unfavorable contract terms this season
Hemric has signed to drive for Kaulig Racing in the 2022 Xfinity Series
To say that Daniel Hemric woke up in a better place on Sunday morning qualifies as the potential understatement of the year regarding NASCAR drivers. As of shortly before midnight Eastern time on Saturday, Hemric carries the title of defending Xfinity Series champion for 112 months, and he will be doing so under better contract terms.
Daniel Hemric capped a crazy season and week with the NASCAR Xfinity title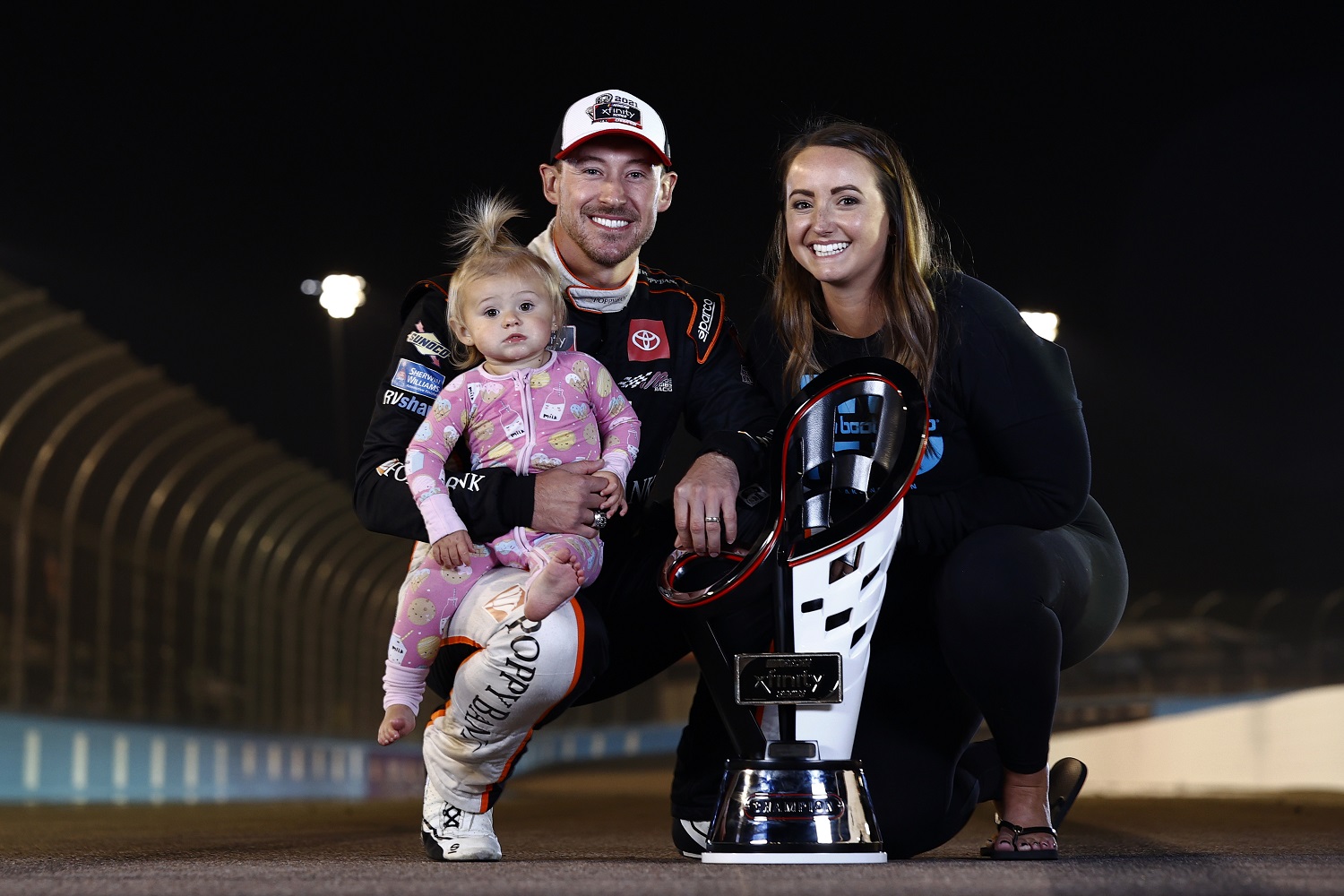 Winless in more than 200 career starts in NASCAR's three major series, Daniel Hemric broke through Saturday by narrowly beating Austin Cindric across the line in overtime in the Xfinity Series championship race at Phoenix Raceway.
Hemric started overtime on the inside lane alongside Cindric. He tapped the defending champion's rear bumper coming off the final turn, then leaned into Cindric just enough to maintain a lane for himself and hit the finish line less than half a car length to the good.
It was the perfect ending to a crazy season and then a crazier week. Hemric, 30, finished second three times and third in six other races this year, keeping intact his winless record across the trucks, Xfinity, and Cup series. Still, his consistency earned Hemric a playoff berth and allowed him to advance to the Championship 4.
However, the weekend began with the hauler for the No. 18 Joe Gibbs Racing Toyota breaking down in Texas on the trip from Martinsville. The car arrived in Phoenix barely in time for practice, borrowing tools from Ty Gibbs' ARCA Menards Series West hauler.
Daniel Hemric bet on himself by agreeing to an awful contract with JGR
Daniel Hemric is one of the easiest guys to root for in the Xfinity Series, and fans will have that opportunity again next season when he moves from Joe Gibbs Racing to Kaulig Racing.
"He is probably one of the … least polarizing champions our sport has seen," Toyota Racing Development president David Wilson said, according to the Charlotte Observer. "He is such a good guy. We have wanted so badly to help bring him into winner's circle all season."
Richard Childress Racing promoted Hemric to the NASCAR Cup Series after he placed third in the 2018 Xfinity Series, but that turned into a one-and-done season after Hemric placed 25th in points with just one top-five finish.
"I felt like my life was unraveling before me," Hemric said. "Everything I build from the time you're 5 years old till you're 27, 28, the next thing you know the decline starts. I was counting it out, especially then."
JR Motorsports was able to offer Hemric a partial 2020 schedule, and then the driver moved on to JGR and a highly unfavorable contract that ended with a championship. According to Bob Pockrass at Fox Sports, the deal amounted to JGR only paying the driver for top-five finishes.
The rise to the top of the NASCAR Xfinity Series is complete
Until Saturday, Daniel Hemric's last victory was the All American 400, an off-circuit race in Nashville. The Charlotte Observer reported he recalled then having to siphon gas from his legends car one night in 2010 to be able to drive his Honda Civic home from a race. That's the kind of stuff that speaks to determination and perseverance.
"Through that process, then you do get here," Hemric said after the Phoenix triumph. "You're like, 'Man, this is incredible, right?' This is what you dream of. You start looking at the hundreds of thousands of kids who start out wanting to drive race cars for a living. You realize the top three series, you take those numbers, it's incredible to overcome to get there.
"I think I never once took it for granted. In the grand scheme of things, having a chance to run for a championship quickly in the Xfinity Series in '17 and '18, it's hard to appreciate that until you go through tougher days."
The tough days are over. Starting today, Hemric is a defending NASCAR champion and heading to a better place with Kaulig Racing.
Like Sportscasting on Facebook. Follow us on Twitter @sportscasting19.
RELATED: