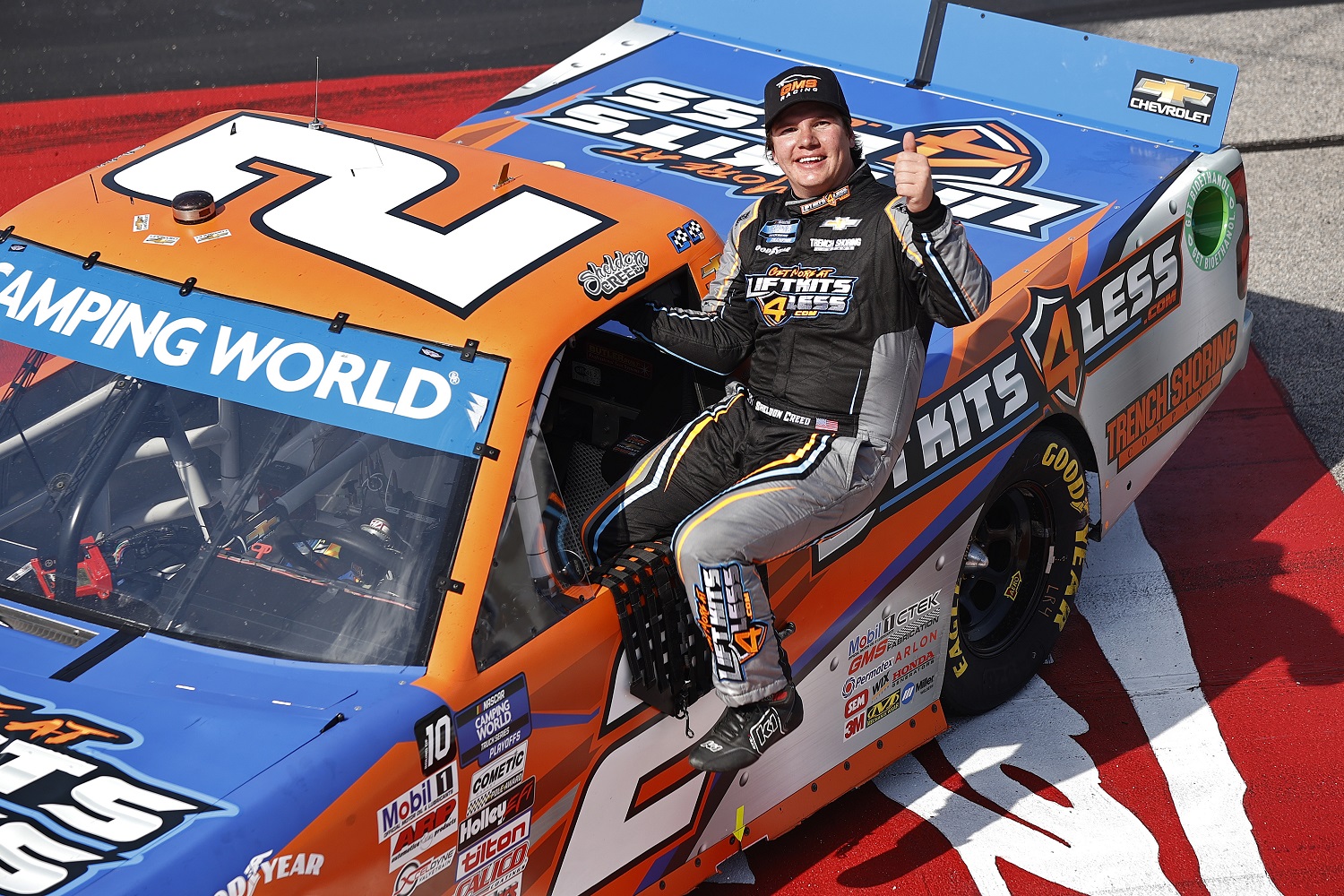 Sheldon Creed and Austin Cindric Are Proof That NASCAR's 3-Tier System Works
Sheldon Creed has been working his way up the NASCAR ranks, and Richard Childress Racing will put him in an Xfinity Series car in 2022.
One aspect that sets NASCAR apart from the major American team sports is that drivers can officially line up a job for next year while the current season is still playing out. The NBA or NFL would call that tampering. Defending truck series champion Sheldon Creed and others in motorsports call it moving up the ranks.
Creed is the latest driver to announce plans for 2022. He's both moving up a notch within NASCAR's three major circuits and joining a bigger-name team. It's a natural progression after eight victories over the past two seasons in the Camping World Truck Series. It's also confirmation that the system works for guys like Creed and Austin Cindric.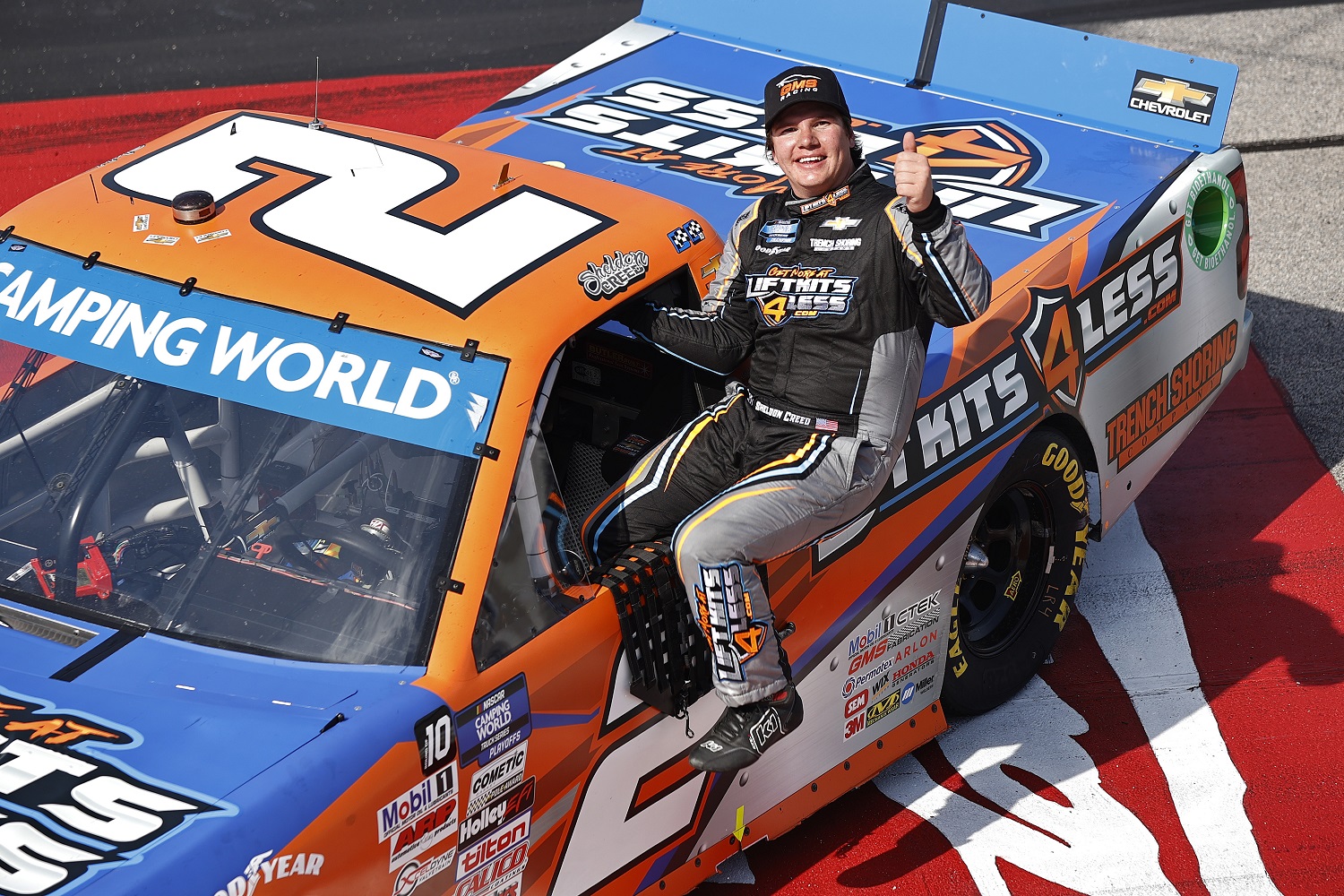 Creed, 23, attracted attention by competing in off-road circuits and then winning the ARCA Menards Series in 2018. That earned him a promotion to the truck series. And though he was winless in 2019, Creed did finish in the top 10 in 11 of 23 events. Then, he won five races and the season championship last year.
Three more victories this season and the lead in the point standings have added to his appeal, and Richard Childress Racing announced this week that it has signed Creed to drive in the 2022 Xfinity Series, moving him one step closer to the big prize: a seat in a NASCAR Cup Series car.
"Sheldon has proved himself as a talented driver during his short NASCAR career and we know that he will help contribute to RCR's competitive NASCAR Xfinity Series program with his drive to succeed," team chairman and CEO Richard Childress said in a statement.
Kevin Harvick and Clint Bowyer are among the better-known drivers to have competed in the Xfinity Series under the RGR banner, and Tyler Reddick won the 2019 championship.
"To drive for a legendary team like Richard Childress Racing and have the support of Richard Childress means everything to me," Creed said.
The unknown in the equation is how many Xfinity cars RCR will roll out next season. Myatt Snider replaced Reddick in the No. 2 Chevy and possesses a victory and eight top-10 finishes this season. He seemingly has earned the right to continue racing in 2022, so Childress may be returning to a two-car Xfinity program.
The bonus for Creed is that GMS Racing, his current team, announced this spring that it will field a Cup Series team in 2022. They have not announced any additional details, but it wouldn't be a stretch to envision GMS recruiting him to drive select races.
That would conceivably pit him against Cindric. While Creed was winning the trucks title last year, Cindric emerged as the Xfinity Series champion. He'll drive in the Cup Series for Team Penske, and that's the way that NASCAR's three-tier system of national circuits is supposed to work. Success at one level should lead to opportunities at the next. A couple of recent examples:
Austin Dillon won the 2011 trucks title and the 2013 Xfinity championship. He's been driving full-time in the Cup Series since 2014, winning three races.
Christopher Bell was never lower than fourth in the two minor series from 2016-19, earning him a place in the Cup Series a year ago. He now drives for Joe Gibbs Racing and is in the playoffs.
Chase Elliott (2014) and William Byron (2017), two of the four Hendrick Motorsports drivers in the Cup Series playoffs, are former Xfinity series champions.
Cindric has been a driver-in-waiting for a year. After his dominating 2020 season with six victories and 26 top-10 showings, Cindric was going to move full-time to the Wood Brothers team in the Cup Series for the 2022 season, replacing Matt DiBenedetto. But when Brad Keselowski finalized a deal over the summer to join Roush Fenway Racing for next season, Penske announced that Cindric will remain in the organization and take over the No. 2 Ford.
All stats courtesy of Racing Reference.