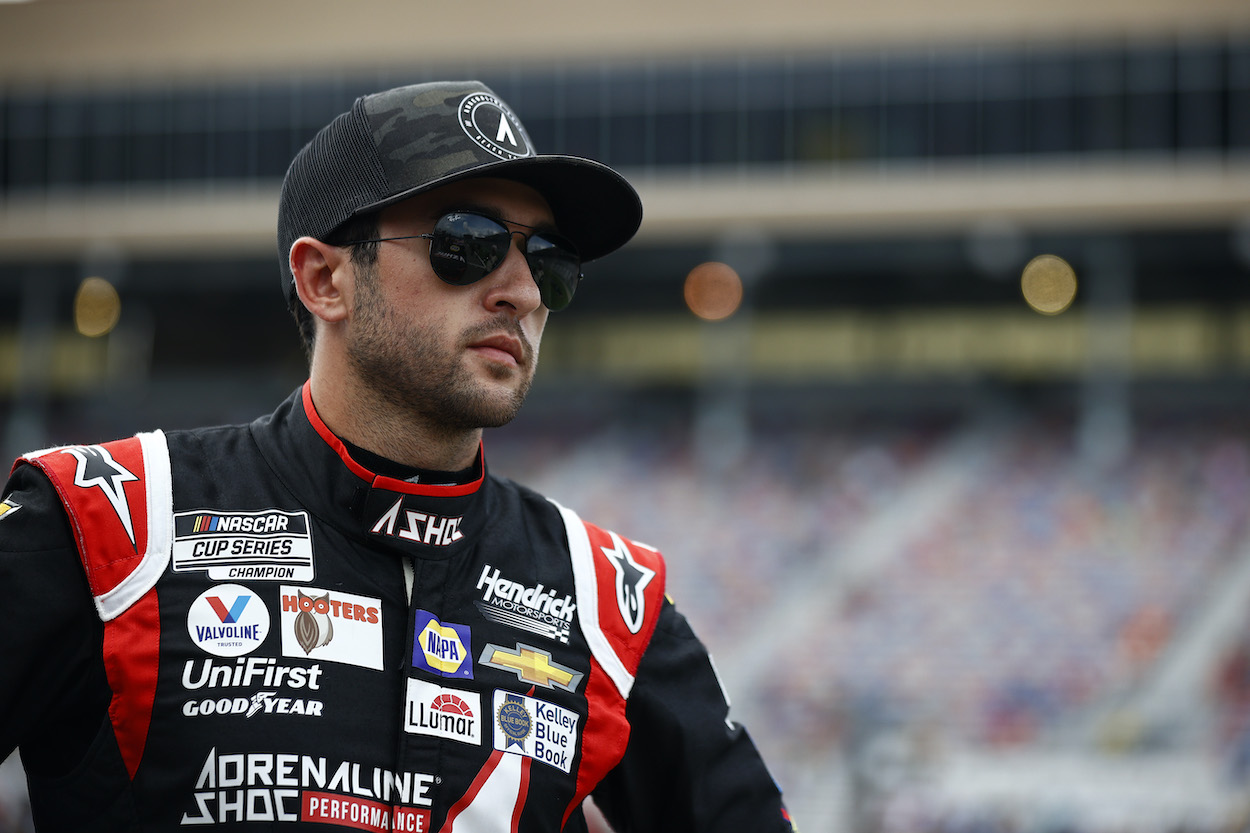 Chase Elliott Fires Multiple Shots at Clemson Tigers During Appearance on ESPN's College GameDay
Chase Elliott made a guest appearance on ESPN's College GameDay and showed his support for the Georgia Bulldogs while firing multiple shots at the Clemson Tigers.
Chase Elliott is on the eve of the NASCAR Cup Series playoffs and defending his 2020 championship. On Saturday morning, the 25-year-old from Dawsonville, Georgia didn't have racing on his mind. Making his first guest appearance on ESPN's College GameDay, Elliott showed his support for the University of Georgia, donning a red shirt and Bulldogs hat. He also didn't hesitate in showing his disdain for Clemson, Georgia's opponent on Saturday night, and fired multiple shots at the Tigers. 
Growing up Chase Elliott 
Chase Elliott was destined for racing greatness. By the time he was born, his dad, Bill, had already achieved greatness as the 1988 NASCAR Cup Series champion. 
While promoting the documentary Chase, which debuted on Peacock in August, the younger Elliott told Sportscasting that his father took a no-nonsense approach during his early racing days and trained him to treat racing as a business, not recreation. 
"When I was growing up racing, he always made it very clear, there's a lot that goes into this," Elliott said. "He made me appreciate the larger picture of just how much goes into racing. It's not a cheap thing to go do. When you start racing cars, there are other people depending on these race shops and these race teams and that's their livelihood. They have families at home. There's a lot of people that are involved and I think more than anything just respecting the bigger picture. 
"Even as a kid, I feel like we always tried to go to the race track, it was very clear, if we were at a race track, we were there to race. We weren't there to chit-chat. We weren't there to be in the clique and go walk around with everybody and talk about everybody else and hang out and gossip. We were there to race. We always parked away from everybody else. Kind of came and did our thing and left. I have always appreciated that. I think it gave me a good perspective of things and kept my head in the game and helped me learn quicker."
Chase Elliott appears on College GameDay
While a young Chase Elliott treated racing like a business, he found time for fun in cheering for the Georgia Bulldogs. During a guest appearance on College GameDay, Elliott admitted it wasn't his parents who influenced him to support the Bulldogs.
"I have been a Georgia fan for a long time," Elliott said. "I grew up and my mom and dad were never huge Georgia fans, but my dad's best friend was. And he took me to some games when I was super young. I remember going to see Georgia play Marshall in Athens. That was my first game. Early 2000s."
When ESPN's Jen Lada suggested College GameDay analyst and former Bulldog defensive star David Pollack was a big reason he supported the team, Elliott hedged.
"I don't know if we'd give him that much credit or not," Elliott said. "Yes, I guess so. I guess him and David Greene were at Georgia at the time." 
Fires multiple shots at Clemson Tigers
Elliott made his fondness for the 'Dawgs abundantly clear during his appearance. He also didn't hesitate in firing multiple shots at the rival Clemson Tigers, which Georgia plays on Saturday night. 
He first expressed his contempt for the Tigers when Lada mentioned how he grew up in Georgia but was kind of close to Clemson as well.
"No. Not close enough to Clemson, for sure," he interjected. 
She then asked him his thoughts about the wrap on the College GameDay car he drove onto the set, which featured Georgia colors and the logo on the passenger's side and a Clemson scheme on the driver's side.  
"Well, they got half of it right. The worst part is I had to get in on the orange side. Y'all don't hold that against me," he said to the Georgia fans nearby. "That side's ugly. This side looks really good. Go Dawgs!"
Chase Elliott has been named the most popular driver in NASCAR for the last three years. After Saturday, he might expect those numbers to drop for a certain set of college football fans. 
Like Sportscasting on Facebook. Follow us on Twitter @sportscasting19.