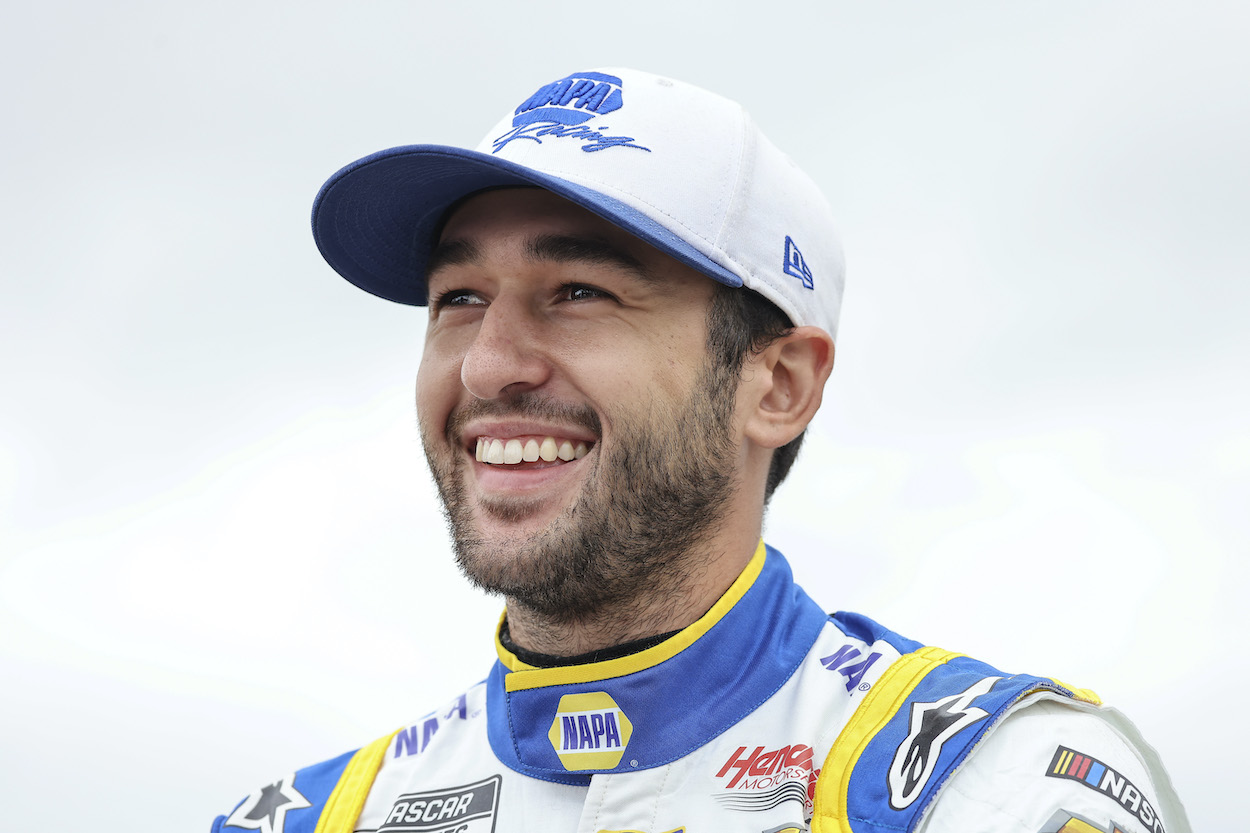 Chase Elliott Shouts Out a Watkins Glen Fan Who Goes to Painful Lengths to Show His Support for the No. 9 Car
Chase Elliott won his first Cup Series race at Watkins Glen. The fans love him and one in particular shows it in a painful way.
Chase Elliott loves Watkins Glen and has a pair of wins to his credit. Watkins Glen fans love the three-time Cup Series most popular driver back. In early August, Elliott talked about his affinity for the track, the crowds, and specifically, the single fan who has developed a reputation for his support of the No. 9 car and the painful lengths he'll go to show it.
Chase Elliott wins first Cup race at Watkins Glen
Chase Elliott will always have a fondness for Watkins Glen. He earned his first career Cup Series win on the iconic track in 2018. A year later, he returned to New York and replicated his efforts, winning for a second time on the 2.45-mile course. 
"That will forever be a special place to me whether we ever run good there again or not. Your first of anything is special, especially that first Cup win for me," Elliott told reporters.
In addition to the victories, he has a pair of top-15s in his two other Cup races and a pair of top-10s with the Xfinity Series. 
Chase Elliott shouts out a specific fan who sunburns No. 9 on his chest
While Elliott is understandably fond of the track because of his previous results, he's also a fan of the fans. They have shown him a lot of love through the years, and one fan, in particular, stands out because of the painful lengths he will go to show his support for the 2020 Cup Series champion.
The unnamed fan sunburns the No. 9 on his chest each year.
Elliott spoke glowingly of the fan's commitment. 
"Just a passionate fan, which I think is amazing," he said. "I got to see him a couple of times. I specifically remember seeing him after our first win up there a few years ago. I mean, what else can you say? The guy is committed. I'm not sure we can ask for anything more. The fans up there have been awesome. Watkins Glen will always hold a special spot and certainly that gentleman for his passion and commitment to not just wear a t-shirt, but he reps the 9 for free, which is cool."
Favorite to win at Watkins Glen in 2021
Last season, The Glen wasn't on the Cup Series schedule. However, don't expect the layoff to negatively affect Elliott's performance in 2021. 
Chase Elliott has confirmed this season that he remains the king of the road courses. He earned his first win of the year at the first-time race at Circuit of the Americas, and he also won at Road America. He finished second at Sonoma. With his two road course wins, Elliott moved into third place on the all-time career list at seven behind only Tony Stewart (8) and Jeff Gordon (9). 
Most experts and fans expect Elliott to be in contention late in the race on Sunday. But no matter what happens in the final results, it's guaranteed that one fan will go to work on Monday with a painful reminder of his favorite driver.
It'll just be a lot less painful if Elliott can come away with his third win. 
Like Sportscasting on Facebook. Follow us on Twitter @sportscasting19.