NASCAR Fans Won't Be Happy With NBC's Potential Move That Includes Charging Customers to Watch Races
It's no secret that NASCAR viewership numbers have been dramatically declining for years. Look no further than the sport's biggest race, the Daytona 500, which was watched this year by 4.83 million viewers, a 35 percent drop from the previous record-low numbers in 2020.
And now, there's word that NBC is considering a new plan that would go into effect in 2025 that would likely reduce those numbers even more. That's because fans would be required to subscribe to the network's streaming service and pay the monthly fee just to watch several races.  
NASCAR viewership numbers on decline for years
There's no way around it — the NASCAR viewership numbers are alarming, and the Daytona 500 figures back it up. According to Sports Media Watch, the numbers have been on a steady downward trend since 2006, the year of the highest viewership ever at 19.35 million. 
Since that high point, the numbers have consistently headed south. In 2015, 13.36 million viewers tuned in for the Super Bowl of NASCAR. The following year, that number decreased to 11.35. 
Since 2018, the total number of viewers for a single race hasn't surpassed the 10 million mark. Last year, 7.33 million NASCAR fans watched the season-opening race. The 2021 edition recorded the lowest numbers since 1979 at 4.83 million viewers, which was not helped by a lengthy weather delay. 
NBC could shift some NASCAR races to Peacock streaming
NBC announced earlier this year that it was shutting down the NBC Sports Network at the end of this season and most of the sports programming would be shifting to NBC, the USA Network, and its Peacock streaming service. This was a red flag to many NASCAR fans. And now, it's becoming clear why.
According to an interview in Forbes with NBC Sports Group Executive Jon Miller, NBC has "been paying very close attention to the cable ecosystem, as it were, and more and more people are cutting their cord or not signing up for cable distribution, and more people are streaming sports, and we have found it to be the way of the future here."
As a result, that means after 2024, there's a chance that some NASCAR races will be available exclusively on Peacock streaming. Miller was quick to point out that paying the $4.99 monthly fee gets fans more than just a couple of races.
"They are buying a subscription to Peacock, which gives you not just the racing but also gives you an enormous amount of other programming. I believe at last count, Peacock has over 18,000 hours of programming, other entertainment, sports and news, so that you pay 4.99 a month for Peacock, and you get all of that, all of that product."
NASCAR fans leaving sport in general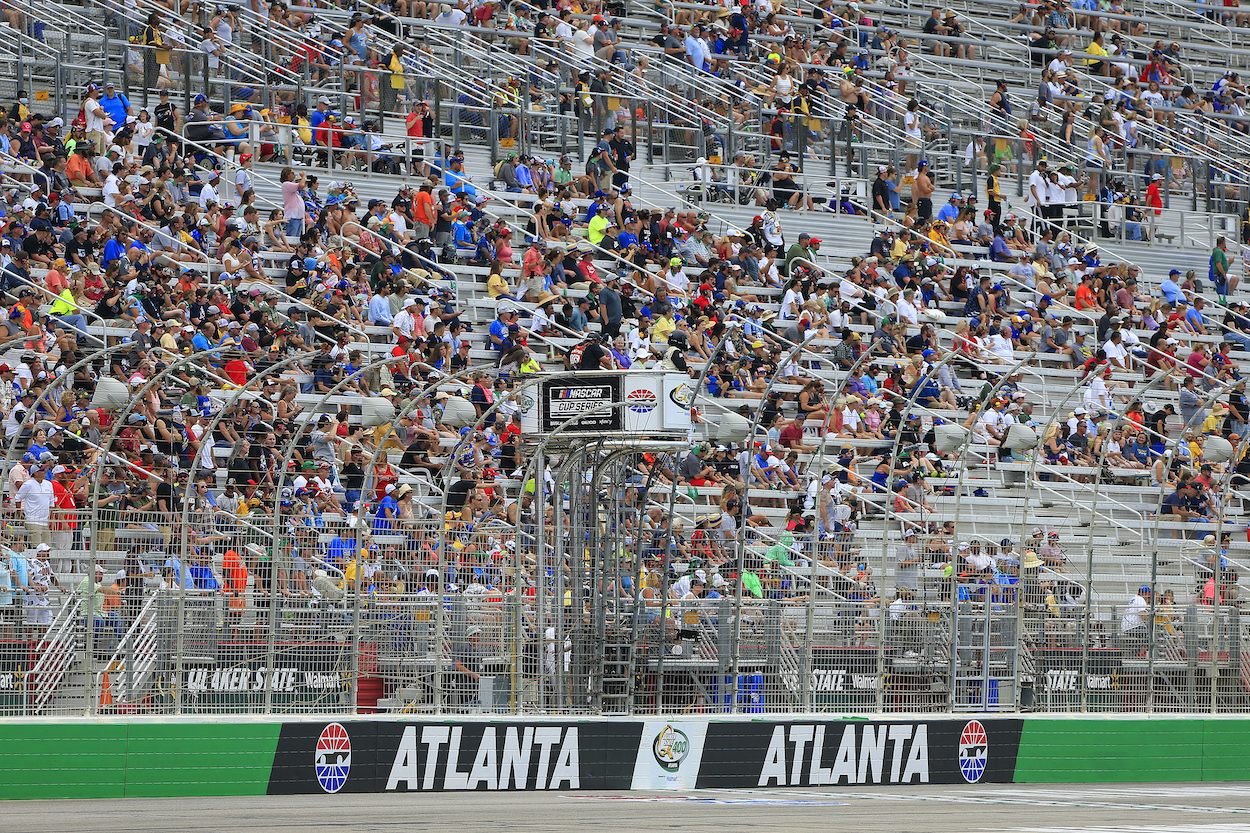 While the dwindling number of fans tuning into sports is problematic and an indication of the changing times because, as Miller suggested, customers are "cutting the cord," when it comes to NASCAR, it's a symptom of a much bigger problem. Fans are leaving the sport in general for a variety of reasons.
The introduction of the NASCAR playoffs in 2004 rubbed a lot of fans the wrong way. That format goes against the nature of the sport and its long history. Stage racing, which started in 2017, didn't exactly make the masses happy because, once again, it was NASCAR attempting to change the sport for the better, but it hasn't been all that well received.
And the personalities of the sport have vanished. Dale Earnhardt vs. Jeff Gordon was the peak of NASCAR. Since that time, as the numbers show, fans haven't had a rivalry as intriguing. Outside of Kyle Busch, there are no real personalities that fans love and love to hate.  
All of it combined shows NASCAR is heading in the wrong direction. This potential move by NBC and its broadcast coverage in the future is just another step the wrong way. 
Like Sportscasting on Facebook. Follow us on Twitter @sportscasting19.