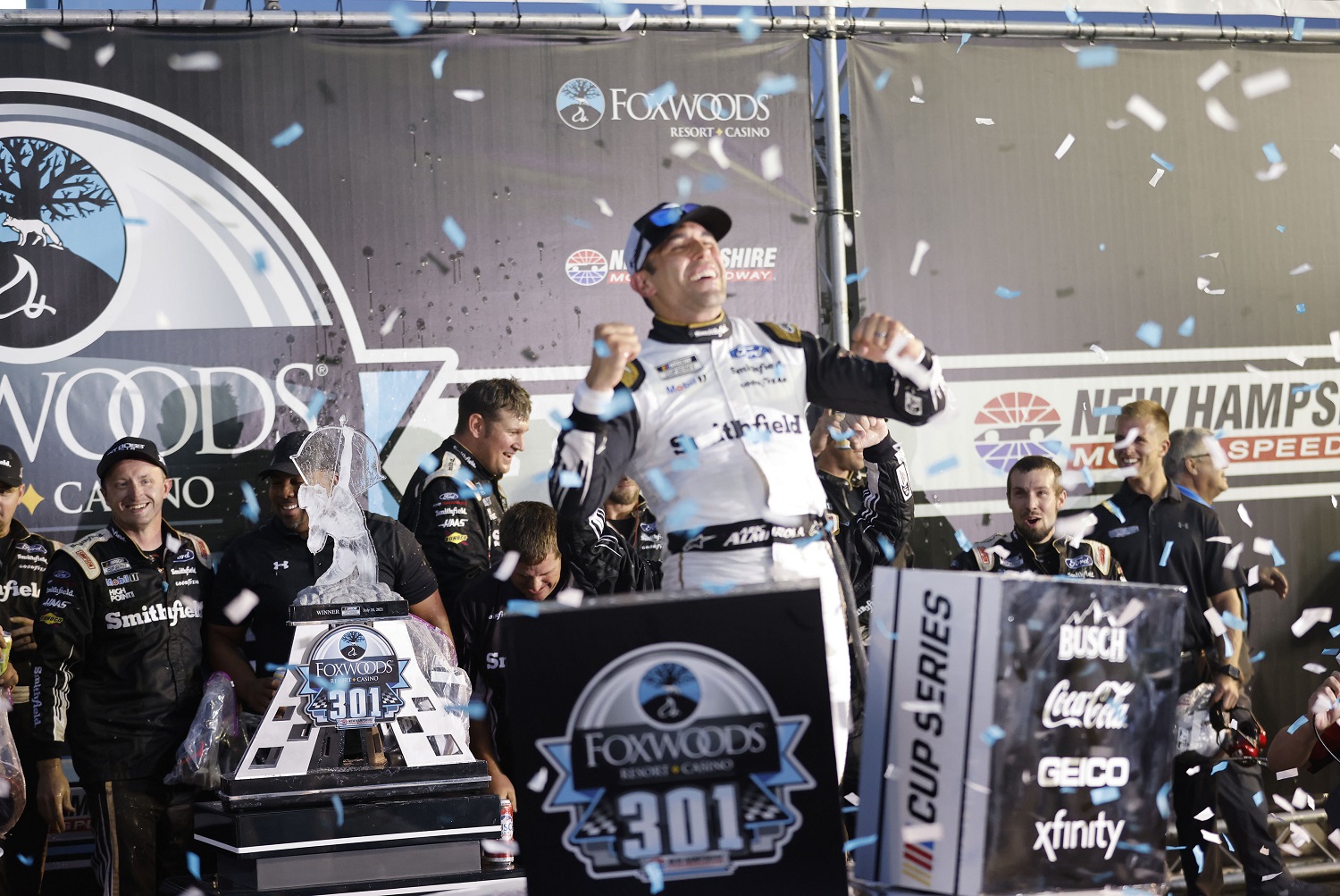 Did Aric Almirola Make Life Easier or Harder for Tony Stewart as the NASCAR Regular Season Winds Down?
Aric Almirola is believed to be in his contract year. Winning in New Hampshire after leaving five races early due to crashes this season changes the outlook on whether he'll return to Stewart-Haas Racing in 2022.
Aric Almirola won at New Hampshire Motor Speedway to send the NASCAR Cup Series into hiatus during NBC's coverage of the Tokyo Olympics through early August. Having that much time off is fortuitous for Tony Stewart and Gene Haas because Almirola has given them plenty to think about.
Almirola is now Stewart-Haas Racing's version of the least dirty shirt in the clothes hamper. Consequently, his racing future is now the hot question in Silly Season.
Stewart-Haas Racing is having a disappointing year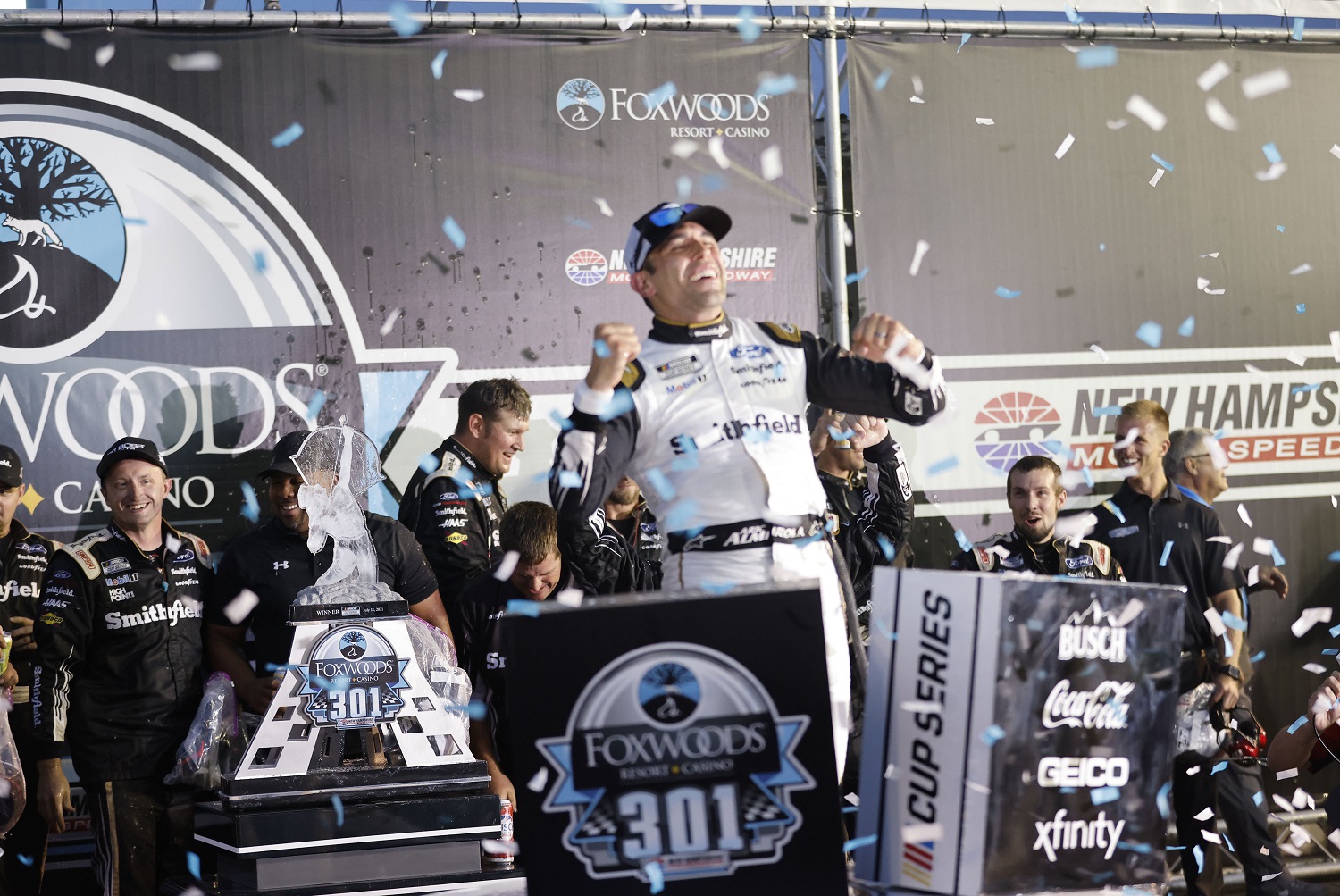 It's hard to believe that Kevin Harvick won nine races last season in the No. 4 Ford and 21 races since 2018. While Harvick has generally been competitive this season, 2020 is a distant memory. He has not won in the 2021 NASCAR Cup Series and has placed second just once. He remains in a position to qualify for the playoffs with four races left in the regular season, but getting there is not a sure bet.
Meanwhile, the rest of the Stewart-Haas Racing team has problems of its own.
Cole Custer, who is in his second season in the No. 41 Ford, showed promise with 11th– and 13th-place finishes at Daytona the first two weekends of the season. In 20 races since, 10th-place finishes at Talladega and Dover have been the highlights.
Chase Briscoe's first season in the No. 14 hasn't gone any better. A pair of sixth-place finishes and his consistency in finishing higher than he starts bodes well for the future, but he is nowhere close to playoff material this season.
Did Aric Almirola make life easier or harder for Stewart-Haas Racing?
Almirola wasn't having much of a season before winning at New Hampshire last weekend in a race shortened by darkness. His best result had been fourth place at Nashville. He DNF'd five times because of crashes and sits 23rd in points. But his victory tentatively puts Almirola into the playoffs beginning Sept. 5 at Darlington.
Almirola's two previous victories in 374 NASCAR Cup Series starts came on superspeedways at Daytona and Talladega. Frontstretch.com might be reaching by suggesting that races there tend to be crapshoots, but terming Almirola "one of the least likely drivers capable of pulling off a surprise" elsewhere is fair.
Almirola is in his fourth season with Stewart-Haas Racing and in the final year of his contract, according to reports. While he is not one of the half-dozen guys merely filling out the back of fields, Almirola also is not star material either.
Up until last weekend, he might have been considered replaceable for next season by any of the others who are still looking for rides. If that's what Stewart and Haas were thinking, then their decision is now harder in light of the fact that no one else at SHR has seen victory lane this year. If their intention all along has been to keep Almirola, then the 37-year-old from Tampa, Florida, just made their decision for them.
The best guess is that Almirola is safe for 2022
Barring a string of first-time winners taking checkered flags in August, Almirola will make the 10-race playoffs series. That doesn't guarantee job security, but the combination of reaching the playoffs and the fact that Stewart-Haas Racing isn't going to scrounge up anybody appreciably better – maybe Matt DiBenedetto is the exception – makes keeping him more likely.
In that sense, winning at New Hampshire was probably career-saving. At 37 years old, Almirola probably isn't the first choice of teams still looking to fill seats for 2022. Team owners would be more inclined to go with someone younger and build around him should that driver score some quick success.
Stewart-Haas went that route this season by putting Briscoe, fresh off a nine-win Xfinity Series season, into Clint Bowyer's old ride, likely because SHR couldn't line up sponsors willing to risk being associated with Kyle Larson. Briscoe hasn't produced but still has a couple of seasons to prove himself.
However, SHR won't be in a hurry to make the same gamble on another prospect so soon afterward. Stewart and Haas might actually be relieved that Almirola kind of made their decision for them at New Hampshire.
All stats courtesy of Racing Reference.