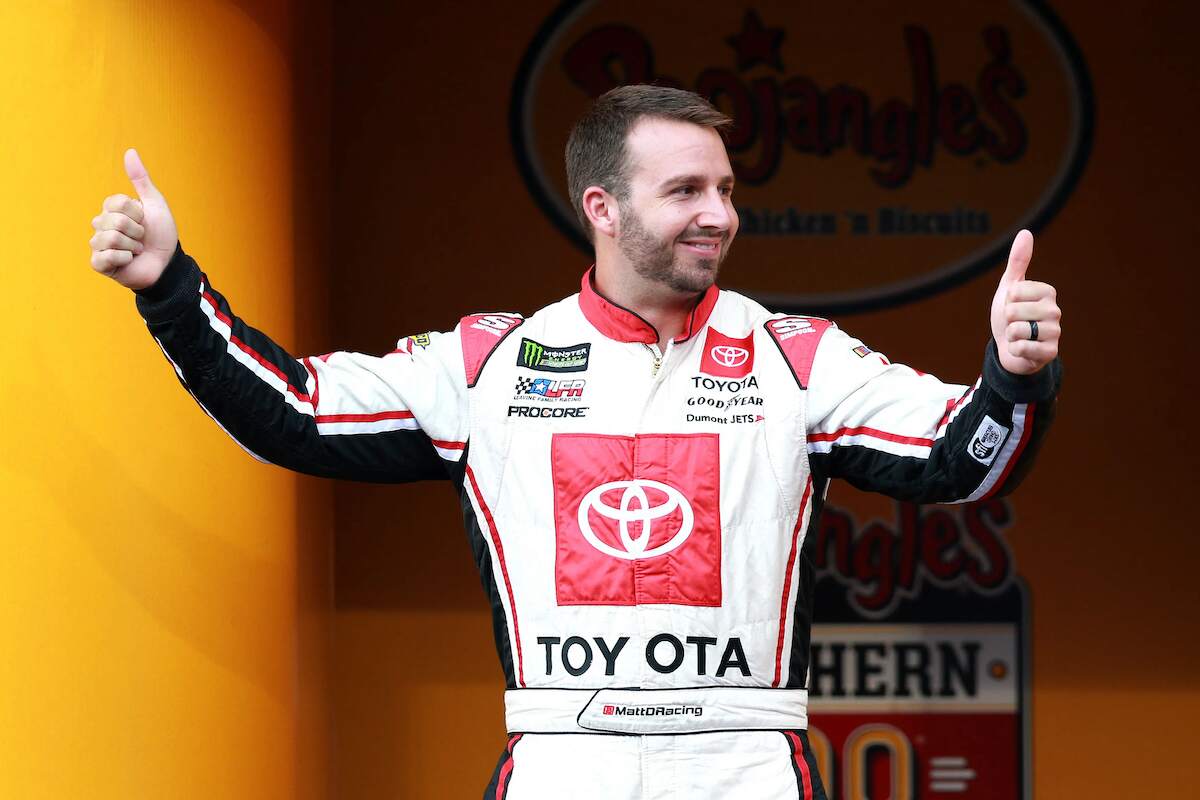 Matt DiBenedetto Isn't the Only NASCAR Driver to Lose a Shocking Amount of Weight During a Race
Matt DiBenedetto lost nearly 10 pounds in a single race back in 2019.
It's not the typical way to lose weight but it just may be the quickest. NASCAR drivers feel the heat during their Sunday races, and that heat goes a long way in taking some weight off the drivers. While several drivers have dropped a few pounds, Mike DiBenedetto practically emerged from his car a whole new man after a 2019 race.
It's not uncommon for drivers to shed weight during a race
Between the extreme heat inside the car and the nerves that go with competitive driving, drivers usually come out of the car a few pounds lighter after a race. According to CBS Sports, Dale Earnhardt Jr. once said on his podcast that drivers could lose anywhere between six to eight pounds in a race.
Legendary driver Mario Andretti told Sportscasting he remembered a time when he lost seven pounds because of the heat and tension.  "I lost seven pounds, and I'm not a guy who's 300 pounds," he said. "For three days, I just stayed at the hotel. My mother came in, looked at me, and just started crying."
Earnhardt Jr. said the weight loss usually comes from water weight from the driver's preparation, but some suffer from dehydration while racing. Inside the car can get up to 130 degrees during a normal day and much higher on the hotter days. The heat, combined with the fire suits they wear, makes for some uncomfortable times behind the wheel.
NASCAR driver Landon Cassill's experiment in 2015
During the 2015 Brickyard 400, NASCAR driver Landon Cassill decided to do a little weight-loss experiment. That Sunday, temperatures inside the cars easily hit the 140-degree mark. According to USA Today, Casey Mears had a thermometer in his car, and TV cameras showed it reaching 142 degrees.
Cassill posted a picture on Twitter before the race, showing his weight. His weight showed 155.4 pounds and he said he was planning to take in 80 ounces of water during the race and would compare his weight when the race was finished. The results were surprising.
Cassill posted his weight on Twitter after completing the race. The scale showed 147.4 pounds, a net loss of eight pounds. In his tweet, Cassill said he actually took in 110 ounces of fluids and 1,100 calories during the race and still lost a whopping eight pounds.
Matt DiBenedetto lost nearly 10 pounds in a 2019 race
Matt DiBenedetto is known for owning NASCAR's longest winless streak. He entered the season 0-for-212. DiBenedetto isn't just losing on the course. He was a big-time loser in the weight department back in 2019.
During the Foxwoods Casino 301 held in New Hampshire in July of 2019, the temperature outside reached 94 degrees. Prior to the race, DiBenedetto weighed in at 207.8 pounds. After the race was over, DiBenedetti was nearly 10 pounds lighter. He weighed in at 198 pounds.
Not only is the heat a major factor, but the heart rate of a driver increases significantly during the race. Landon Cassill had a maximum heart rate of 173 beats per minute during the Foxwoods Casino 301 race.  DiBenedetto wound up finishing fifth in the race, and Cassill was 26th.