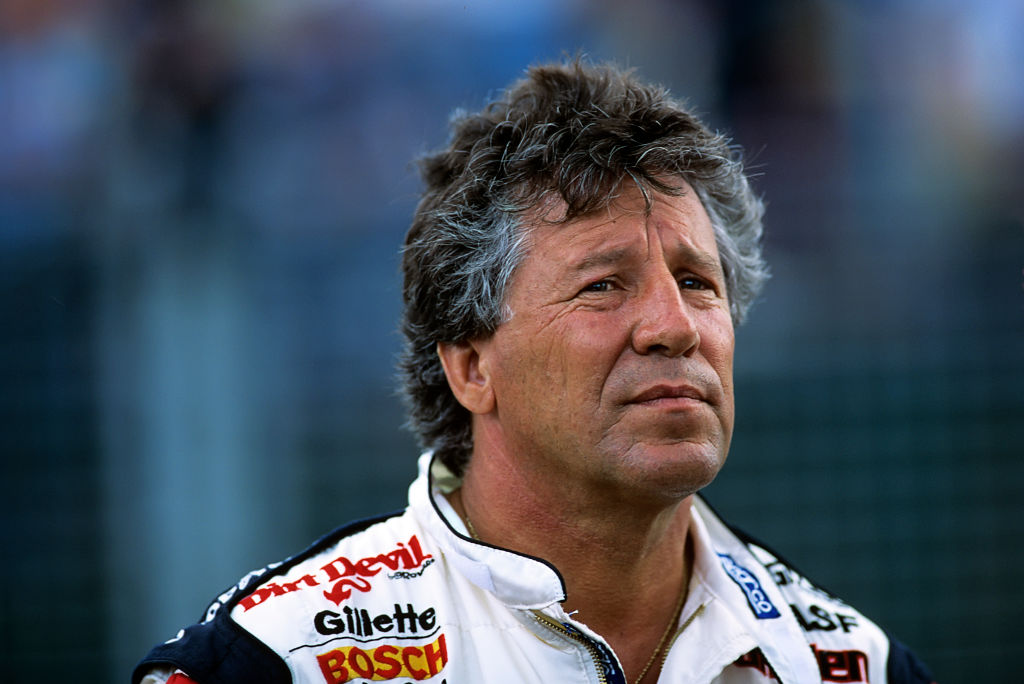 What is Mario Andretti's Net Worth After His Hall-of-Fame Motorsports Career?
Motorsports Hall of Famer Mario Andretti had himself quite a racing career and is still going strong after his retirement.
Although the Indianapolis 500 won't be running this Memorial Day weekend because of the coronavirus (COVID-19), there will be some auto racing this weekend. NASCAR will be returning to action at Darlington when the NASCAR Cup Series begins Sunday, May 17. Because of the virus, the Indy 500 has been pushed back to Sunday, Aug. 23. Although Darlington will be hosting live racing, there won't be any fans to watch with social-distancing laws still in effect. While Darlington will still have live racing, it will presumably get the juices flowing for racing fans. It's the perfect time to take a look back at one of the best drivers in the business, Mario Andretti.
Mario Andretti's early years

When Mario Andretti was a child, he already knew what he wanted to do. He had a plan and stuck with it. "I don't remember as a kid wanting to do or be anything else but drive something, be a race driver," Andretti once told ESPN. 
According to his mother Rina, when Andretti was 2 years old, he and his twin brother Aldo would take the lids out of the cupboard and run around the kitchen using them as wheels as if they were driving. In the 1950s, auto racing was the most popular sport in Italy and Andretti developed a love for it. In 1955, the Andrettis were granted a U.S. Visa and settled in Nazareth, Pennsylvania. Nearby was a half-mile dirt track and the twins eventually saved up enough money to fix up a car.
In 1959, they began racing and Aldo crashed and went into a coma. He recovered after some time, but his driving career never took off. Mario, however, was hot from the get-go. He won 21 of his first 46 races in modified stock class in 1960 and 1961 and that was just the beginning of a promising and Hall-of-Fame racing career.
Andretti's Hall-of-Fame career
In 1964, Mario Andretti became a naturalized citizen. He has since put together arguably the best auto racing resume in the business. Andretti has 111 career victories, including 52 Indy Car victories (USAC and CART). The extremely versatile Andretti also has 12 Formula One victories, nine Sprint car wins, and nine Midget victories (ARDC, NASCAR, and USAC), among others.
He is a four-time Indy Car National Champion, a Formula One World Champion, and has won both the Daytona 500 and the Indy 500. He is the only driver ever to win the Daytona 500, Indy 500 and Formula One World Championship. When he won his final IndyCar race in 1993, Andretti became the first driver to win an IndyCar race in four different decades.
From 1961-2000, Andretti competed in 879 races, winning 111 of them. He is the only driver ever to be named Driver of the Year in three different decades. The Associated Press named Andretti Driver of the Century in December of 1999. He was also named American Driver of the Century by RACER magazine.
What is Mario Andretti's net worth?
Mario Andretti has maintained an active lifestyle after racing. He's done everything from speaking engagements to owning a chain of gasoline stations, car washes, and go-karts. He's also the vice-chairman of Andretti Winery in California's Napa Valley. Andretti is also an ambassador for both Firestone and MagnaFlow Performance Exhaust.
Andretti's career has always been about speed. He has lived his life the same way. "If everything seems under control, you're not going fast enough," he once said. Andretti used that theory to carve out an amazing career that helps him live comfortably in retirement.
When the Andretti family came to America, they had $125 to their name. Today, celebritynetworth.com lists Mario Andretti's net worth at a whopping $120 million.