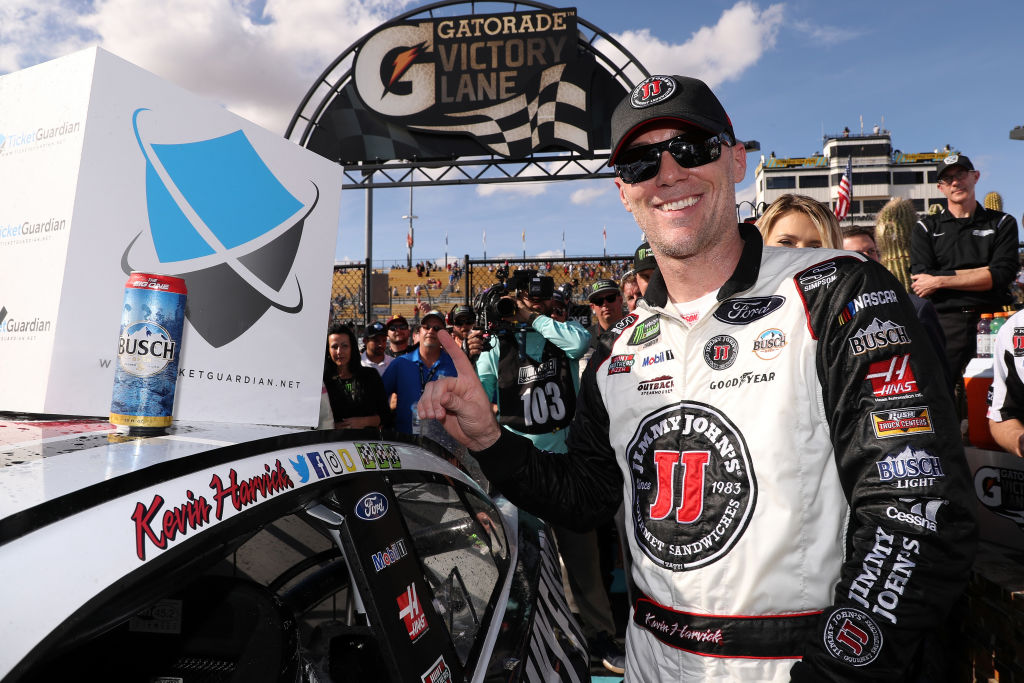 Kevin Harvick's High School Wrestling Helped Make Him One of NASCAR's Top Drivers
Kevin Harvick's high school wrestling days helped make him one of the top NASCAR drivers that he has become today.
Kevin Harvick's first love has always been racing. Ever since his parents bought him a go-kart as a kindergarten graduation gift, the NASCAR star has fallen in love with racing cars. Like most youngsters, Harvick participated in other sports. In high school, Harvick was a member of his high school wrestling team, qualifying for a sectional tournament. Harvick, however, drifted away from wrestling, but still managed to use his experience in the sport to get him to where he is today.
Kevin Harvick's NASCAR career
Kevin Harvick began his NASCAR career in 1995 and has blossomed from the very beginning. He earned his first NASCAR Cup Series victory in 2001, capturing the Cracker Barrel Old Country Store 500 in Atlanta. Harvick is the 2014 NASCAR Cup Sprint Series champion and a two-time NASCAR Xfinity Series champ, winning in 2001 and 2006.
Harvick ranks third all-time in NASCAR Xfinity Series victories with 47. Throughout his career, Harvick has compiled 111 total NASCAR victories. Those 111 wins put him third all-time, trailing only Richard Petty and Kyle Busch. Harvick in just one of three drivers to have won a championship in both the Sprint Cup Series and Xfinity Series.
In both the NASCAR Sprint Cup Series and the Xfinity Series, Harvick has combined for 629 top-10 finishes out of 1,037 races. The 44-year-old Harvick owns the record for most Cup Series victories at Phoenix International Raceway. He has won there nine times.
Harvick's high school days
Kevin Harvick is and always has been a competitor. His competitiveness goes back to his go-kart days when he was just 5 years old. He carried it with him through his high school years when, along with racing, he was also succeeding as a member of the North High School (Bakersville, California) wrestling team.
As a high school freshman, Harvick was a scrawny 98 pounds. He was wrestling at the junior varsity level and he didn't care for the sport that much. He was more into racing cars and contemplated quitting wrestling. He eventually decided to stick it out and became pretty good at it.
His coaches were the ones who convinced him to stick with wrestling. Harvick himself said it was tough, but he's glad he was pushed and continued. He called pushing himself to something his heart wasn't completely into "the hardest thing you could ever challenge yourself to do," he told SBNation in 2010. Not only did Harvick become a good enough wrestler, but he won the sectional title at 140 pounds.
Harvick said wrestling helped him prepare for NASCAR
Kevin Harvick told The Courier-Tribune, "I quit once in my life and I'll never quit again," referring to skipping a wrestling match in high school because it fell on racing's opening weekend. He said he regrets the decision to skip that match because he felt he let his team down. Sticking with wrestling, however, is the best decision he made.
"It was the best thing I ever did to prepare me for this level," Harvick said in the SB Nation article. "You want to quit about every other day, but you have these great coaches that give you these great speeches as to why you should keep pushing forward. It was never about being content with how good you were at the time, it was, 'How are you going to get better? How are you going to get in better shape? How are you going to learn this move?' It was you against yourself."
In an NBC Sports article, Harvick said he learned a lot about himself as a high school wrestler. "I think that (wrestling) taught me how to push myself," Harvick said. 'It instills this different type of mentality that is instilled in your brain when you go through those day‑to‑day wrestling practices and the meets and the matches and the intensity and the days where you just drag yourself out of the room and have to go to class. It's a hard, hard sport. Those were four of the best years that I've probably ever spent in my life in learning about myself.''