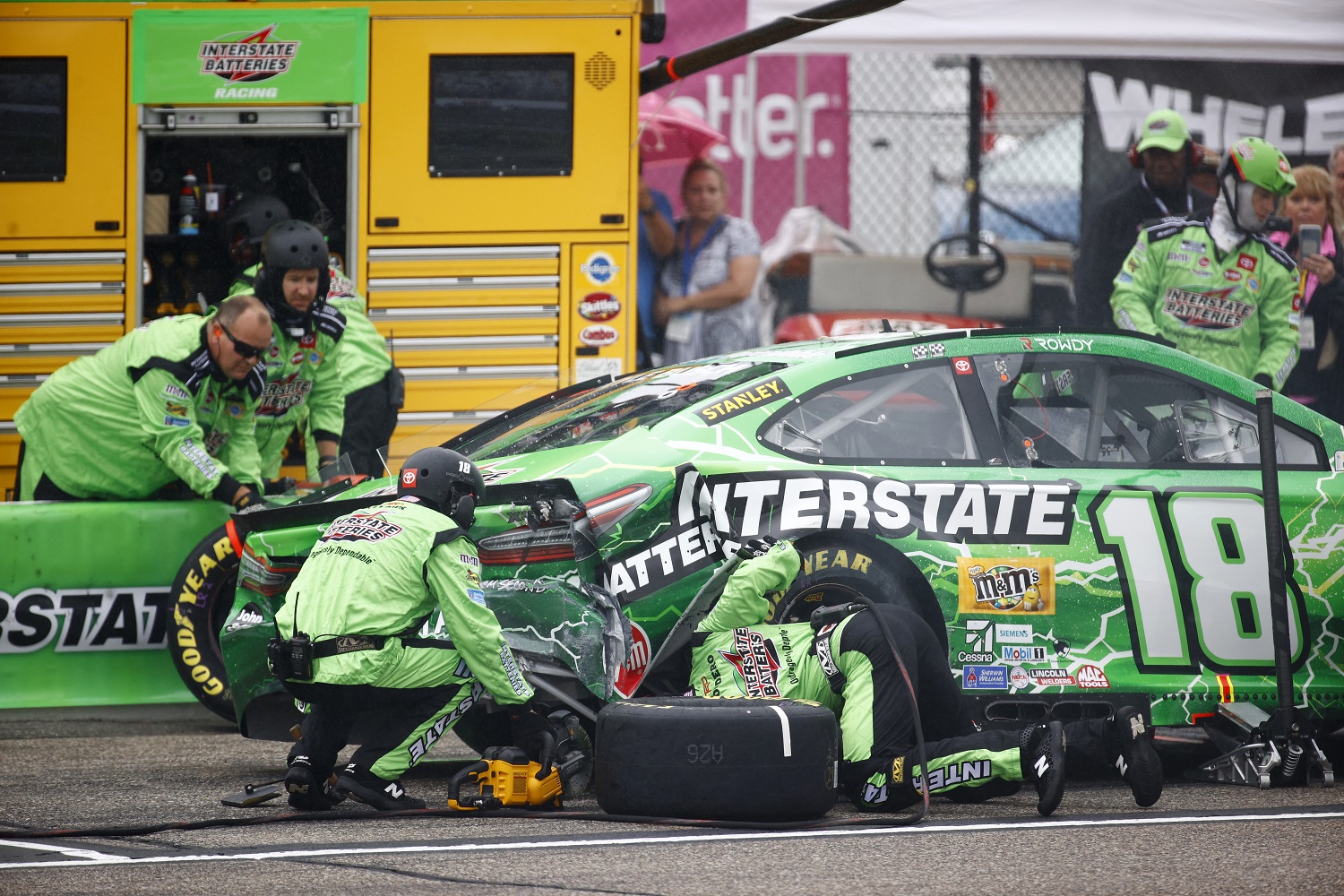 Kyle Busch Showed Remarkable Restraint After NASCAR Officials Were Too Slow to Throw the Caution Flag at New Hampshire
NASCAR Cup Series star Kyle Busch was unhappy after race officials did not drop the yellow flag quickly enough to prevent an early crash at New Hampshire Motor Speedway.
NASCAR drivers rely upon cat-like reflexes to react to potential trouble on the track. Unfortunately for Kyle Busch and Martin Truex Jr., race officials at New Hampshire Motor Speedway showed the reaction time of a bear in hibernation in the early moments of Sunday's race.
The Joe Gibbs Racing team took the hardest hit, with Busch and Truex among the victims of their inability to throw the yellow flag in a timely fashion early in the Foxwoods Resort Casino 301.
The NASCAR Cup race at New Hampshire grinds to a halt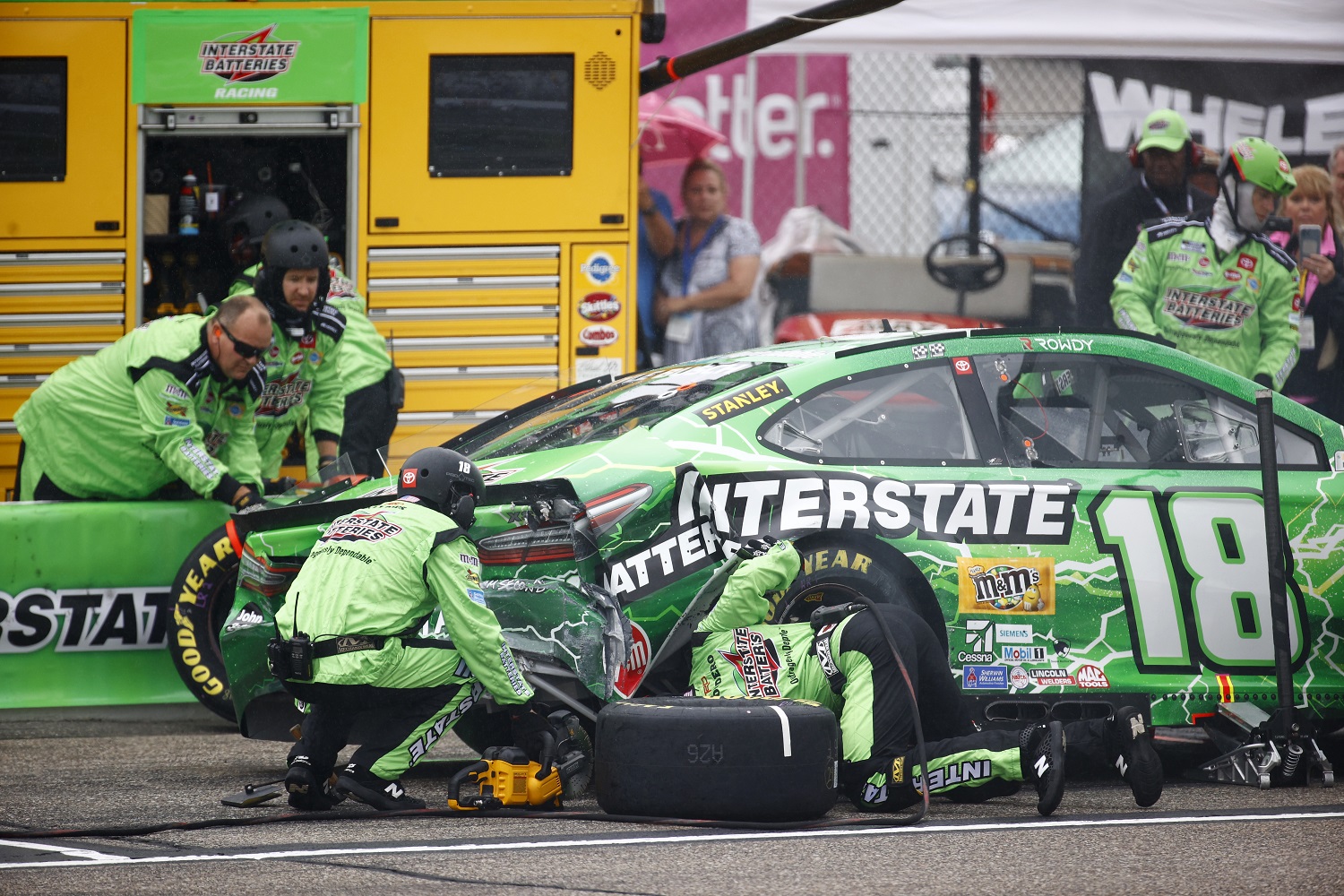 Three JGR cars crashed in turn 1 on the sixth lap of the NASCAR Cup Series race at New Hampshire Motor Speedway as rain created chaos that resulted in the event being red-flagged.
Busch, who started from the pole, and Truex ran at the front when their cars lost their grip and spun. Further back, teammate Denny Hamlin's car did the same.
Busch's No. 18 Toyota backed into the wall and suffered the most damage. Truex's No. 19 took on damage on its front end, and Hamlin's No. 18 scraped the No. 48 Chevy of Alex Bowman as well the outside wall.
Ross Chastain's No. 42 Chevrolet was another casualty.
The yellow flag came down with Chase Elliott holding the lead, and the red flag followed, sending the drivers to pit row.
Kyle Busch wasn't happy but stayed composed
Busch drove his damaged Camry to his pit stall and got out of the vehicle. Because of the red flag, his crew could assess the damage, but the rules prevented them from doing hands-on work.
Busch, who owns a pair of victories this season, had a few minutes to compose himself before speaking to an NBC Sports pit reporter. That gave him enough time to compose himself and keep his temper in check even if his remarks were still pointed.
"We started the race under a mist and, so, yeah, it never should have gone green to begin with," Busch said. "But then it kept getting worse and worse with lap after lap before I went into (turn) 1 and it shoved the nose really bad.
"I was able to keep it under control; it wasn't wet enough. And then the next time I went down there, hell, I lifted at the flag stand.
In Busch's mind, they were already beyond the point of no return.
"We'd been talking about it two laps that it was raining," he said. "There's no sense in saying what I want to say. It doesn't do you any good."
The prospect of a a long delay ahead of the restart on the horizon didn't matter for Busch.
"We're done, we're going home," he said. "It's over. There's no fixing that thing."
NASCAR official explains what happened
Steve O'Donnell, NASCAR's executive vice president and chief racing development officer, stopped by the NBC broadcast booth to discussed what transpired minutes earlier.
He said a final check with pace car driver Kip Childress went fine, but the rain moved in quickly after that as chatter from observers around the track pointed out that a mist had started falling. Childress confirmed the situation, and O'Donnell said NASCAR was moments from calling for the yellow flag. They weren't in time to keep Busch and others near the lead from wrecking.
"I've been here a number of years," O'Donnell said. "That's the first time I've seen that in terms of how quickly it came upon us. … The track got slick, obviously, in a hurry and it was unfortunate what took place."
Like Sportscasting on Facebook. Follow us on Twitter @sportscasting19.