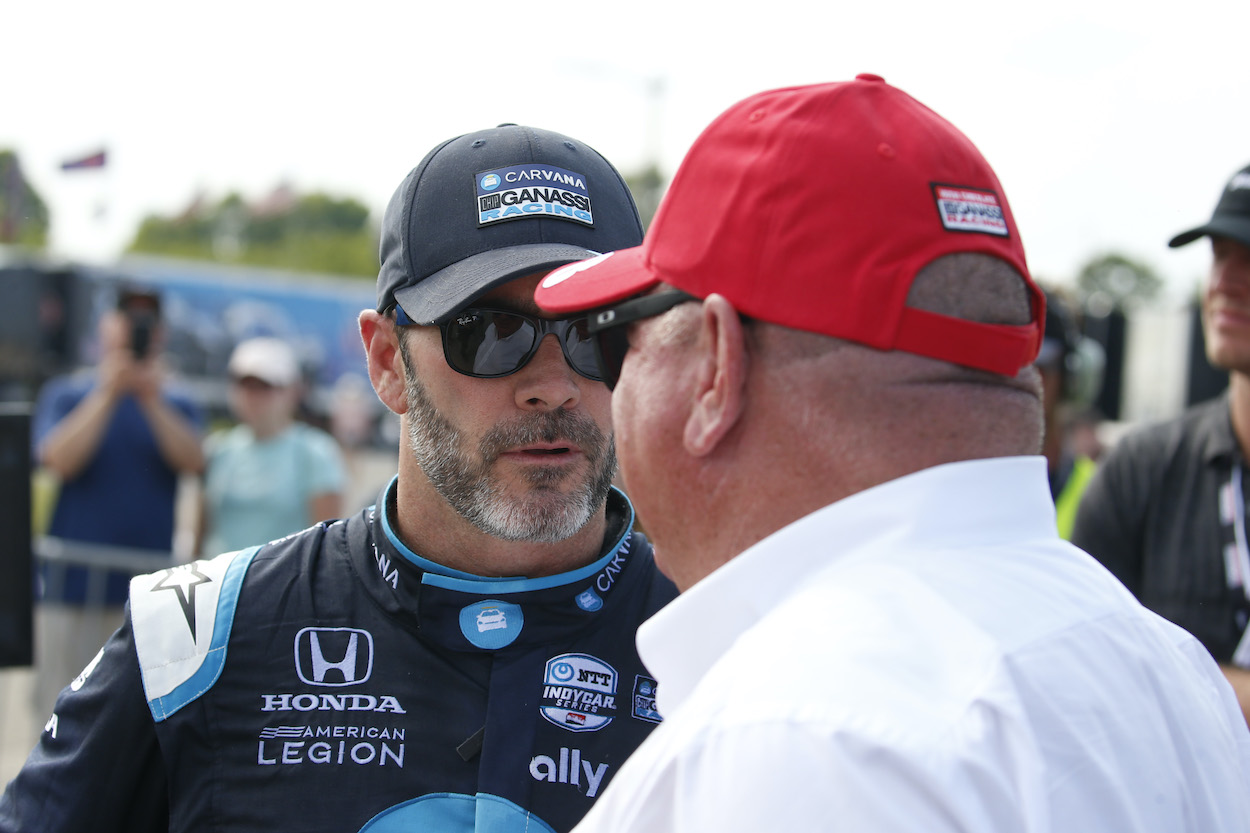 Jimmie Johnson Readily Admits He's Considering a Return to NASCAR in the Near Future
Jimmie Johnson is driving with the IndyCar Series in 2021 but acknowledged in an interview he's looking for a possible return to NASCAR soon.
Jimmie Johnson will go down as one of the greatest drivers in NASCAR Cup Series history. After the 2020 season, he stepped away from his full-time ride with an impressive 83 wins and record-tying seven championships to his credit. 
This year Johnson crossed over into the IndyCar Series, competing part-time for Chip Ganassi Racing on road and street courses. Interestingly, in a recent conversation with Fox's Bob Pockrass, the 45-year-old driver didn't hesitate when asked if he would consider racing again in NASCAR.
Jimmie Johnson crosses over to IndyCar in 2021
Jimmie Johnson is undeniably one of the greatest drivers in all of motorsports. This year, after an incredible career that included winning seven championships in the NASCAR Cup Series, Johnson committed to driving in the IndyCar Series with Chip Ganassi Racing on a part-time schedule, competing specifically on road and street courses.
Johnson, who is the definition of success in NASCAR, has struggled to find any of it during his first season with IndyCar. In seven races, his best finish was 19th at the season-opening race in Alabama. He hasn't cracked the top 20 since that race in April.
This week Johnson made headlines about his desire to expand his schedule and potentially race on oval tracks in 2022, specifically, the Indianapolis 500. 
"I'm trying to find my comfort with the ovals," Johnson told reporters. He said he's continuing to build confidence in racing ovals, and his previous NASCAR experience at the Brickyard 400 should prove to be helpful when he does eventually race at the Indianapolis Motor Speedway.
"Of all the tracks we run on," Johnson said, "there should be some crossover on the oval. I found there was zero crossover on the road courses, so that was interesting."   
Jimmie Johnson admits he's interested in racing in NASCAR with right opportunity
Jimmie Johnson knows a thing or two about the Indianapolis Motor Speedway. He won four Brickyard 400s on the famed oval. While he's looking forward to potentially racing there at the Indianapolis 500 next season, the two-time Daytona 500 winner visited with Fox's Bob Pockrass and talked about the conversation he recently had with one of his IndyCar competitors, Sage Karam, who finished seventh in this year's Indianapolis 500 and is debuting with the Xfinity Series in August. 
Pockrass also asked Johnson about the possibility of racing with NASCAR in the future. He gave a surprising answer.
"I feel like I'm very near the cap of races that I would want to run in a year," Johnson admitted. "17 to 20 is that number that I've been aiming for. If a great opportunity came along, I'd definitely look hard at it and probably do it." 
Considered 1 of the greatest ever in NASCAR
If Jimmie Johnson does return to NASCAR for just a one-off race this year or next, it would likely draw a good turnout because fans want to see Johnson compete one last time in the series where he made his name and became a legend.
His career numbers are astounding: 83 wins, two Daytona 500s, four Brickyard 400s, four Coca-Cola 600s, and a pair of Southern 500s. All of them totaling seven championships, which puts him in elite company with the only two other drivers to achieve such a feat, Richard Petty and Dale Earnhardt.
If it happens, Johnson's return to NASCAR would be a must-see for fans because it's a chance to watch history in the making. For Johnson, returning to familiar surroundings could only benefit him and potentially boost his confidence. And who knows, stepping away from IndyCar, even for just a single race, might provide him with some perspective and allow him to return to his rookie season with a fresh mindset that produces improved results. 
He'll never know unless he tries. NASCAR fans are waiting. 
Like Sportscasting on Facebook. Follow us on Twitter @sportscasting19.