Dale Earnhardt Jr. Doesn't See Lewis Hamilton Pulling a Jimmie Johnson-Like Move
Lewis Hamilton has established himself as one of the best in the business in Formula 1 racing. On his latest Dale Jr. Download podcast, NASCAR Hall of Famer Dale Earnhardt Jr. was asked if he believed Hamilton would ever make a move to NASCAR if only to experience a new challenge. Junior explained why he doesn't believe that will be the case.
Lewis Hamilton dominant with F1 racing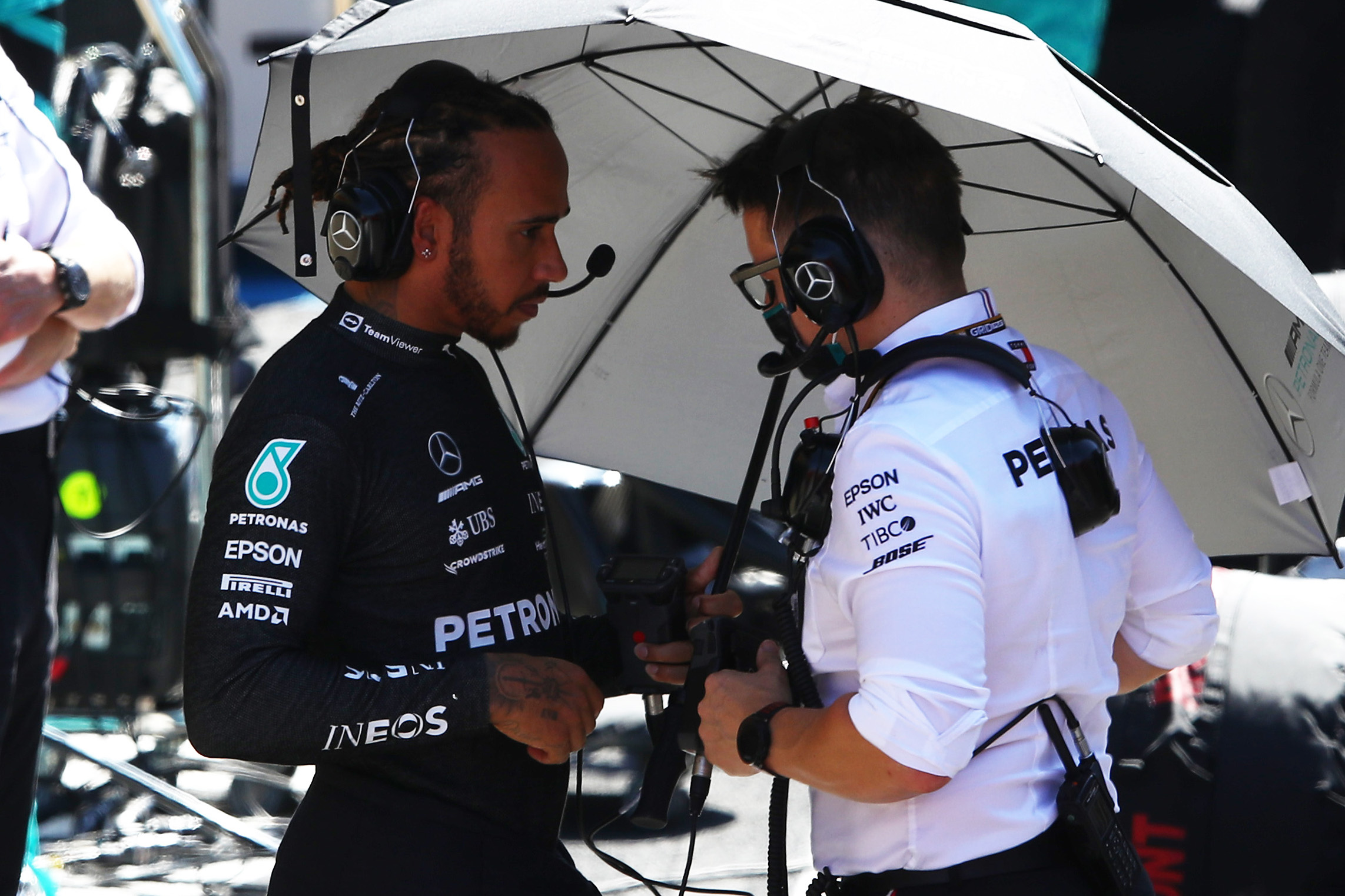 Hamilton doesn't have a whole lot to prove in Formula 1 racing despite being just 36 years old. He's already accomplished what most drivers can only dream about. Hamilton entered his first F1 race back in 2007 at the Australian Grand Prix and set the tone for his career with a victory. He finished second that season (by one point) in the World Drivers' Championship.
In 2008, he claimed the first of his seven titles. Those seven championships rank him tied for first with Michael Schumacher with seven. As dominant as Hamilton has been throughout his career, his current stretch has been unheard of. He's captured six out of the last seven championships, including the last four.
During his career, he holds several F1 records, including wins (99), pole positions (100), and podium finishes (172). Hamilton has a wide range of marketing appeal in the sport. He's the only Black F1 driver ever and has a strong voice in social activism. He's one of the most influential people, not just in motorsport, but in all of sports.
Dale Earnhardt Jr. doesn't believe Lewis Hamilton will pull a Jimmie Johnson move
During the Q&A session of his weekly Dale Jr. Download podcast, a listener asked Junior he thought there might be a chance of Hamilton making a move to NASCAR. Seven-time NASCAR Cup Series champion Jimmie Johnson went the other route, going from NASCAR to IndyCar. Johnson wanted to fulfill his dream of racing IndyCar and also wanted a different challenge.
Earnhardt Jr. doesn't believe Hamilton will make the move to NASCAR.
"I don't think he's going to come to NASCAR," Junior said. "I think that once a driver like that gets to the end of the road, they got other things in their lives they want to do. He may surprise us, but I don't think that…
"You know, Jimmie is an anomaly, where he goes and tries to create a whole new version of himself as an IndyCar driver. That's a tough, tough thing to do at that point in your life.
"So I think I guy, as successful as Lewis is, just goes and relaxes and enjoys himself. Maybe there's other things he's passionate about that he puts more time into. Maybe he becomes a broadcaster. I don't know. I really don't know what he ends up doing."
Jimmie Johnson knew the move to IndyCar would be quite the challenge
Statistically, Johnson and Hamilton have quite a bit in common. Like, Hamilton, Johnson has seven championships and is also tied for the all-time lead with Richard Petty and Dale Earnhardt. They both also strung together impressive championship stretches, with Johnson winning five straight Cup Series titles and Hamilton on a current win streak of four world Drivers' Championships.
Johnson retired from NASCAR at the end of last season, brushing aside the change for an eighth title, to pursue his lifelong dream of IndyCar racing. He knew it would be a challenge and it has been. In seven races, his stat line is all goose eggs. No wins, top-10 finishes, and no laps led. That's not surprising, and Johnson expected as much before starting his new journey.
"For me, I always wanted to be an IndyCar driver as a kid growing up," Johnson told Danica Patrick on her Pretty Intense podcast. "I'm not expecting the type of success I had in Cup, but I am really trying to tell myself, and of course the competitive side is going to kick in and I'll be sad plenty this year, but the experience to do this is really where my heart is. I've always wanted to race one of these cars and be around this industry."
After seeing the struggles of Johnson and watching his own success, Hamilton is likely to stay right where he is for quite a while.