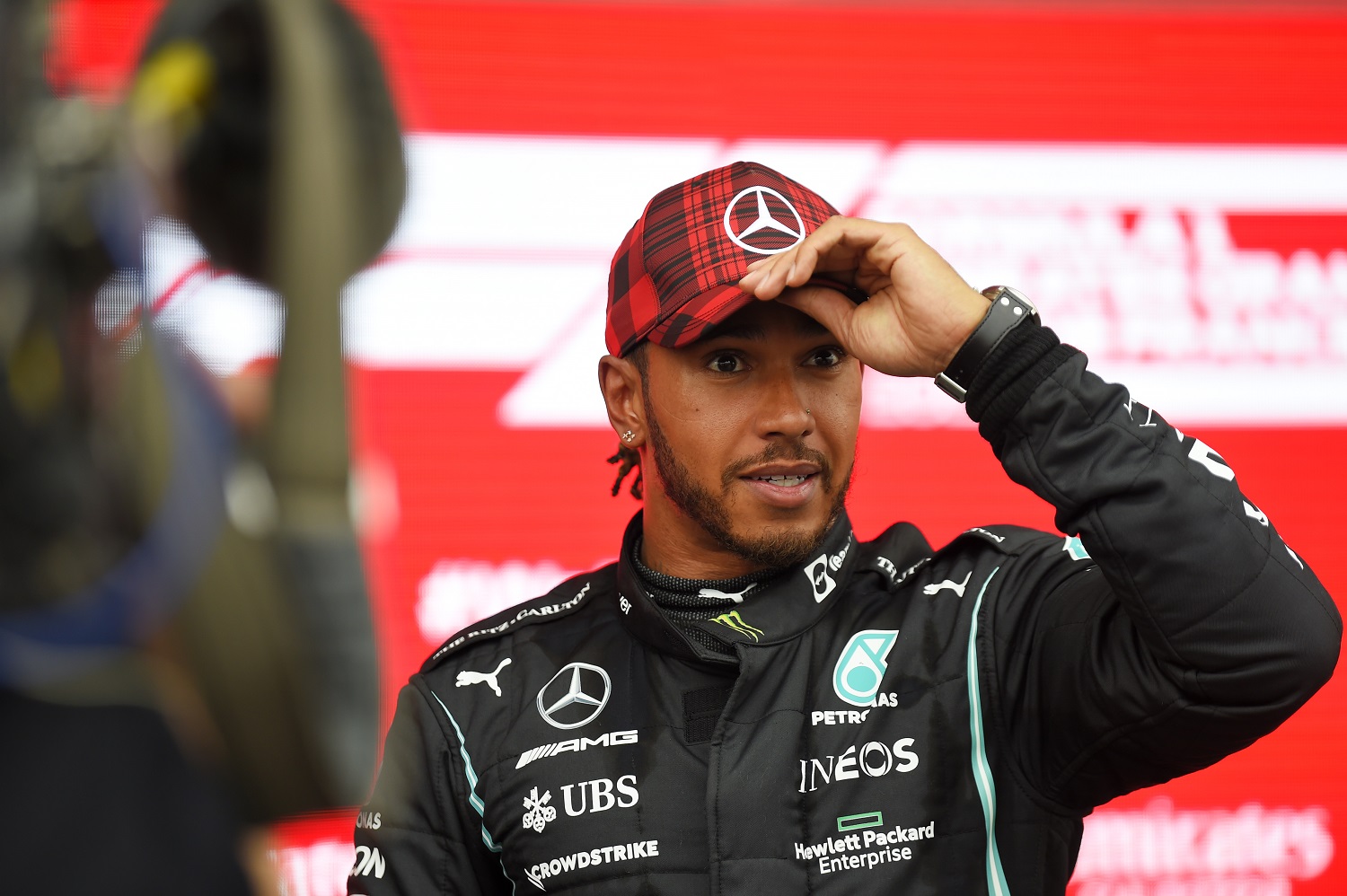 Lewis Hamilton's Billion-Dollar Observation About Formula 1 Is Priceless
Lewis Hamilton grew up in public housing and has won seven Formula 1 driving championships. He fears that drivers who don't come from affluent backgrounds are being locked out of the sport.
Seeing Red Bull, Mercedes, and Ferrari sit near the top of the constructor standings in Formula 1 a quarter of the way through the 2021 season surprises no one. They employ Lewis Hamilton, Max Verstappen, and Charles Leclerc — all accomplished drivers in motorsports' top attraction.
More importantly, those teams invest aggressively to develop the best engines and aerodynamic packages. In addition, they bring top-notch support crews to race days around the world.
That sort of spending understandably triggers criticism about how money buys podium finishes and championships. However, money has infiltrated the sport in a more insidious way, and Hamilton deserves credit for calling people out on it.
Lewis Hamilton has come a long way in life
Formula 1 racing has made Lewis Hamilton a rich man. By winning the last four World Drivers' Championships and seven overall to match the record of all-time great Michael Schumacher, he has commanded the highest salaries in the sport and signed endorsement deals with powerful international brands like Bose, Puma, Tommy Hilfiger, and Monster Energy.
Forbes pegs the 36-year-old driver's annual earnings at $82 million. A report last year estimated Hamilton's net worth at $285 million. That kind of money afforded him the luxury not long ago of buying one New York City penthouse for more than $40 million before finalizing the sale of an even more expensive property there.
However, it wasn't always like that for Hamilton. He lived in public housing while growing up in England with parents who divorced when he was still a toddler. Though he supported the future superstar's interest in racing, Hamilton's father frequently held down multiple jobs at once.
In short, Hamilton earned his fortune rather than inheriting it.
Lewis Hamilton's billion-dollar observation about Formula 1 is on point
Hamilton's status as a seven-time champion in the world's most glamorous racing circuit gives him a pulpit, and his personal wealth grants him the freedom to speak without fear. So, the broadside that he has fired at his sport is attracting plenty of attention.
"We live in a time where this sport has become a billionaire boys' club," Hamilton told AS, a Spanish publication, according to ESPN. "If I were to start over from a working-class family, it would be impossible for me to be here today because the other boys would have a lot more money. We have to work to change that and make this an accessible sport, for the rich and for people with more humble origins."
The observation is spot-on.
There are drivers in NASCAR and open-wheel circuits other than Formula 1 who come from affluent backgrounds. But top teams there "only" spend in the tens of millions annually to contend for championships. Therefore, it is harder for someone with money to come along and influence a team's choice of drivers.
Winning in Formula 1 comes with a price tag in the hundreds of millions. That raises the question of whether also-rans might select their drivers based upon families' financial clout.
This is what Formula 1's most accomplished driver means
One must be careful about passing judgment based exclusively on points standings. After all, Williams Mercedes driver George Russell is still sitting on zero points through six races, but he was Toto Wolff's choice — quite an endorsement — to take the wheel at the 2020 Sakhir Grand Prix after Hamilton tested positive for the coronavirus.
On the other hand, Nicholas Latifi of Williams Mercedes and rookie Nikita Mazepin of Haas Ferrari are also both scoreless this season. Nor did Latifi record a point in 2020, his rookie season. Both come from wealthy families.
Latifi is the son of Michael Latifi, who built a $2 billion net worth through Sofina Foods. Dmitry Mazepin built a fortune of between $1.5 billion and $2 billion in the chemicals industry, according to Celebrity Net Worth.
The other driver sometimes lumped in with them is Lance Stroll. His father, Lawrence Stroll, built a clothing empire and owns the Aston Martin Formula 1 team. To Lance Stroll's credit, however, he has logged three podium finishes and scored 151 points since joining F1 in 2017.
While his father's money all but guarantees his seat, Stroll doesn't fit as easily into the billionaire boys' club to which Hamilton referred while expressing concern about the sport's future. Still, he's another driver who rode an easier path into F1 because of money.
Like Sportscasting on Facebook. Follow us on Twitter @sportscasting19.