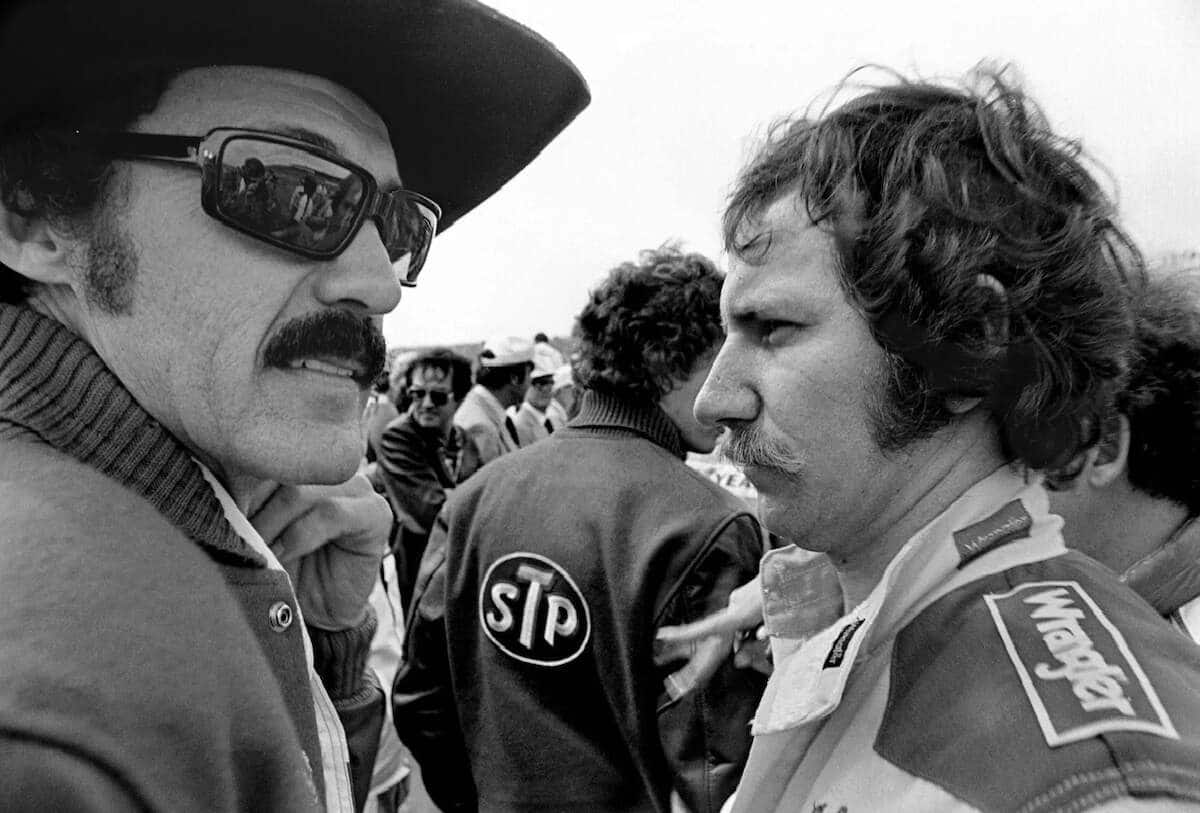 Richard Petty's 1st Encounter With Dale Earnhardt Sr. Involved a 9-Car Wreck and a Finger-Pointing Confrontation
While Richard Petty and Dale Earnhardt Sr. were both NASCAR legends, their first meeting wasn't exactly friendly.
Over the years, motorsports fans have seen plenty of colorful characters and big-name stars climb behind the wheel of a stock car. While everyone probably has their favorite driver, no one will ever forget the likes of Richard Petty and Dale Earnhardt Sr. If nothing else, the King will never forget his first encounter with the Intimidator.
Although the two men would both become NASCAR legends, Richard Petty's first encounter with Dale Earnhardt Sr. wasn't exactly a friendly affair full of mutual respect. Instead, it involved a nine-car wreck and plenty of finger-pointing.
Richard Petty had already become a star by the time he met Dale Earnhardt Sr.
In pro sports, generations will always have some overlap with each other. Patrick Mahomes, for example, was becoming a star as Tom Brady wound down his career. In the world of NASCAR, Richard Petty had already established himself as a top talent by the time Dale Earnhardt Sr. arrived on the Winston Cup scene.
Growing up, Petty showed promise as a football player but ultimately decided to follow his father's footsteps into auto racing. He made his NASCAR debut shortly after turning 21 and, before long, had captured the Rookie of the Year title.
By the time Dale Earnhardt Sr. became a full-time Winston Cup driver, Petty had already established himself as the sport's king. He won two Grand National Championships and four Cup Series crowns (with a fifth coming in 1979), claiming plenty of checkered flags along the way.
Dale Earnhardt caused a nine-car wreck at the 1980 Virginia 500
During his time on the NASCAR circuit, Dale Earnhardt Sr. ruffled quite a few feathers with his aggressive driving. Even as a relative newcomer to the Cup Series scene, he wasn't going to hold back. Just look at the 1980 Virginia 500.
"I started fifth or sixth or tenth or somewhere," Richard Petty explained on the Dale Jr. Download podcast. "Your dad was behind us. We go down the first corner, they throw the green flag. We go down the first corner, I'm turning here, here comes a car across the grass, lands on my hood. Who is it?"
The driver was, of course, no one other than Dale Earnhardt, who, in his second full-time NASCAR season, was prepared to go all out in pursuit of a checkered flag.
As documented by the Greensboro News & Record, that first-lap crash involved nine cars. As you might imagine, Richard Petty wasn't too happy about being one of them.
Richard Petty scolded the future racing legend after the race
As the King, Richard Petty had built up plenty of clout on the NASCAR scene. After that crash in 1980, he used it to remind Dale Earnhardt Sr. of the proper way to conduct himself on the track.
"So I went over and said, 'Don't let that happen again," Petty continued, miming jabbing in a finger into someone's chest. "I gave him one of those finger [pointing] deals. And that's the first time I remember Dale Earnhardt."
That wasn't the only time the two needed to have a stern conversation, though.
"Maybe one other time I had to have a talk with him," the King recalled. "I think I did later on, when he got where he was winning races and really knocking people around. I think I told him somewhere that I didn't mind him beating on my driver, but don't you beat on my race car."
Over the course of his career, Dale Earnhardt Sr. proved to be quite the NASCAR star. Even the Intimidator, however, doesn't outrank the King.