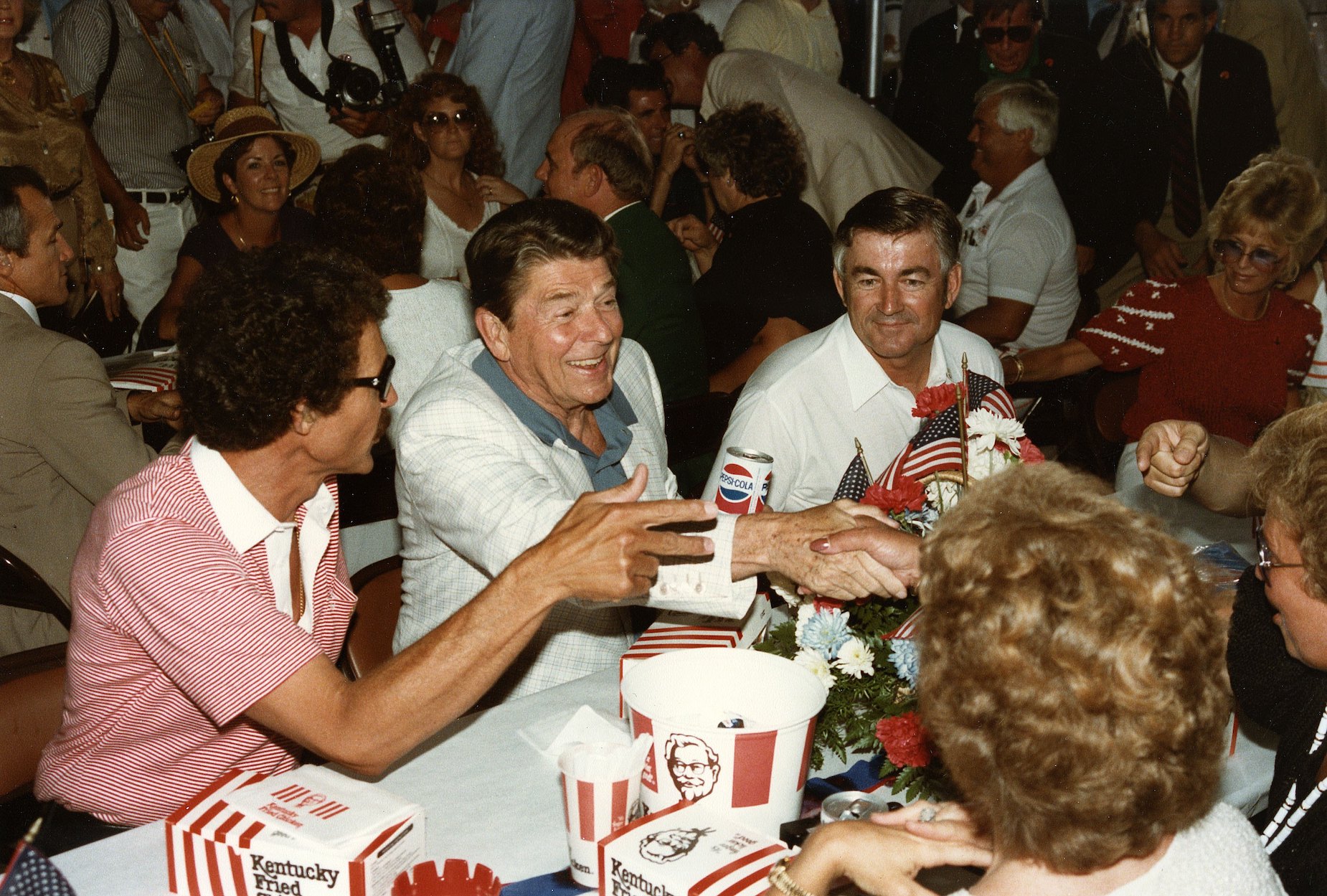 Richard Petty Once Celebrated the Fourth of July by Making NASCAR History and Eating Kentucky Fried Chicken With Ronald Reagan
In 1984, Richard Petty scored his 200th NASCAR win on July 4, 1984, then celebrated the milestone by eating KFC with Ronald Reagan.
Whether it's completely accurate or not, baseball is usually referred to as 'America's Pastime.' In 1984, however, Richard Petty celebrated the Fourth of July in the most American way possible.
On that fateful day, the motorsports legend made history by winning his 200th NASCAR race, the 1984 Firecracker 400. To top things off, he celebrated the victory by eating Kentucky Fried Chicken and drinking Pepsi with Ronald Reagan.
Richard Petty found incredible success during his NASCAR career
These days, it's been quite a while since Richard Petty climbed behind the wheel and took part in a NASCAR race. Even the passage of time, however, can't erase the King's incredible resume.
While he was a talented football player during his younger days, Petty eventually realized that his future was in racing and followed his father's footsteps onto the track. He made his NASCAR debut shortly after turning 21 and quickly captured the Rookie of the Year title.
Petty wasn't just a flash in the pan, though; that early success proved to be the start of a legendary racing career. Barring a brief stint in drag racing, he spent more than three decades on the NASCAR circuit.
As his title of 'the King' would lead you to believe, Petty grew into a legitimate star. His NASCAR Hall of Fame profile says it best: he "has racked up most wins (200), most poles (123), tied for most championships (seven), most wins in a season (27), most Daytona 500 wins (seven), most consecutive wins (10) and most starts (1,185)."
Earning his 200th win at the 1984 Firecracker 400
While winning a single NASCAR race is an impressive feat in its own right, Richard Petty claimed the checkered flag an incredible 200 times. The final victory of his career, however, came in pretty special circumstances.
By 1984, Petty's on-track success started to dry up. He managed to claim victory at the Drydene 311, though, putting him on 199 wins for his career. That year's Firecracker 400, which took place on the Fourth of July at Daytona, represented a chance to claim number 200 in style.
While President Ronald Reagan didn't make it to Florida in time for the start of the race, he still told the drivers to start their engines. He was present, however, to see quite the finish; with a caution flag coming at the start of the next lap, Petty narrowly beat Cale Yarborough to the finish line. That new lap officially put the caution into effect, clinching the King's 200 victory.
At that point, it was time to start the celebrations.
Richard Petty got to meet Ronald Reagan, then celebrated with some KFC and Pepsi
Whenever Richard Petty won his 200th NASCAR race, there was always going to be quite a celebration. By winning on the Fourth of July in front of Ronald Reagan, though, things got kicked up a few notches.
"They had then told us, 'stop on the race track," Petty explained to Graham Bensinger. "Instead of going to the winner's circle, stop on the race track. The President was up in a press box, so we go up and get to talk to the President in a press box. And then when we get through there, we take pictures, do the whole deal, and then, when the race was over, they took the garage area and closed it off. And the drivers, their families, the crews, and their families, got to eat Kentucky Fried Chicken with the President of the United States. On July the Fourth on top of that."
As if that wasn't American enough, there was also plenty of Pepsi on hand. Tammy Wynette provided the entertainment, singing "Stand by Your Man."
During his legendary career, Richard Petty had some one-of-a-kind experiences. He's the only one to have won 200 NASCAR races, let alone celebrated their 200th win by eating KFC with the President of the United States on the Fourth of July.