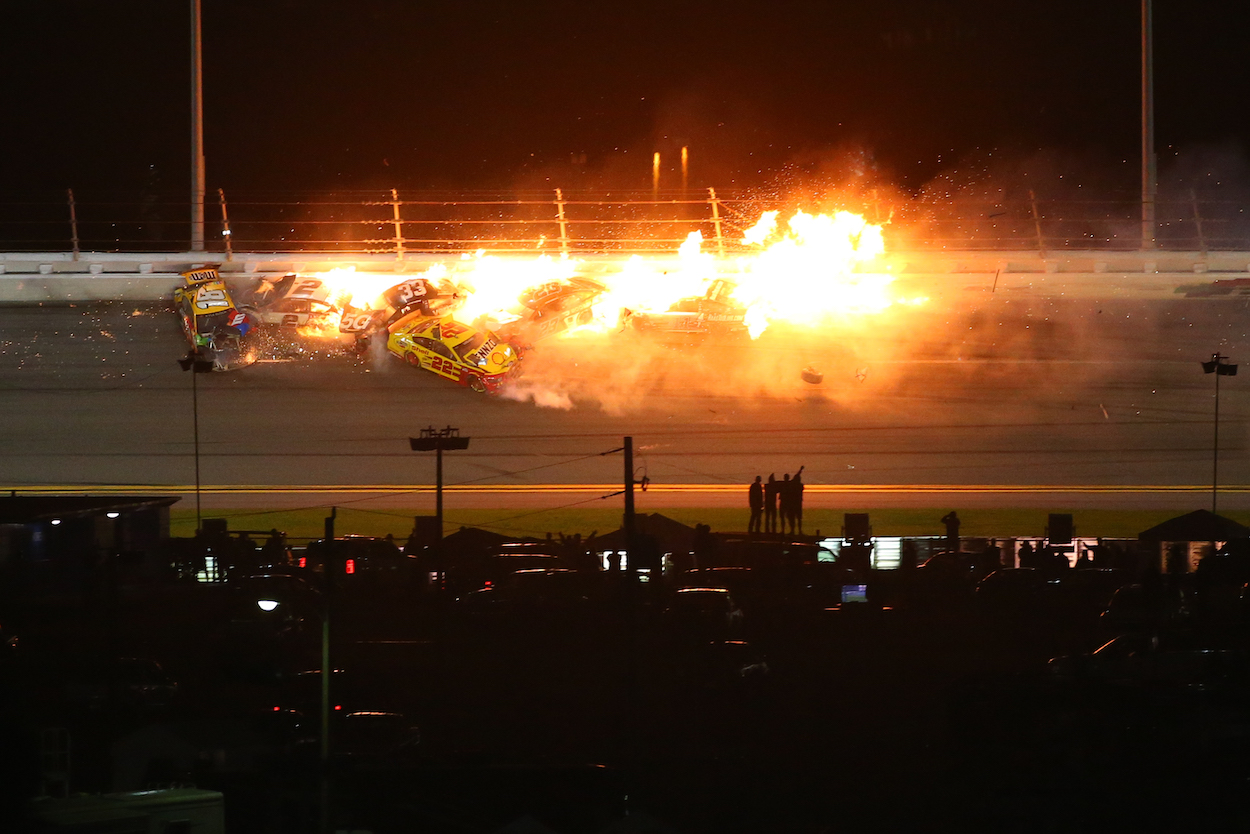 NASCAR Fans Won't Be Happy With the Cup Series' Latest Attempt to Make Races Safer
Joey Logano's wreck at Talladega in April spurred NASCAR to make an unpopular decision in order to make Cup Series races safer.
NASCAR fans come in all different shapes and sizes, but the one thing they all have in common is a need … a need for speed.
Sure, driver safety has always been a concern, but diehards would much rather watch a blur of colors whiz by their faces as the deafening sound of engines roaring penetrates their eardrums. In the world of motorsports, the fastest driver wins, right? Why wouldn't we want race cars to go as fast as humanly possible?
But after a few dangerous wrecks on superspeedway tracks already this season, the Cup Series is dialing back on speed in an effort to make races safer for drivers. Sorry, racing fans. The future of NASCAR is about to look a little bit slower.
Wrecks at Daytona and Talladega raised questions about safety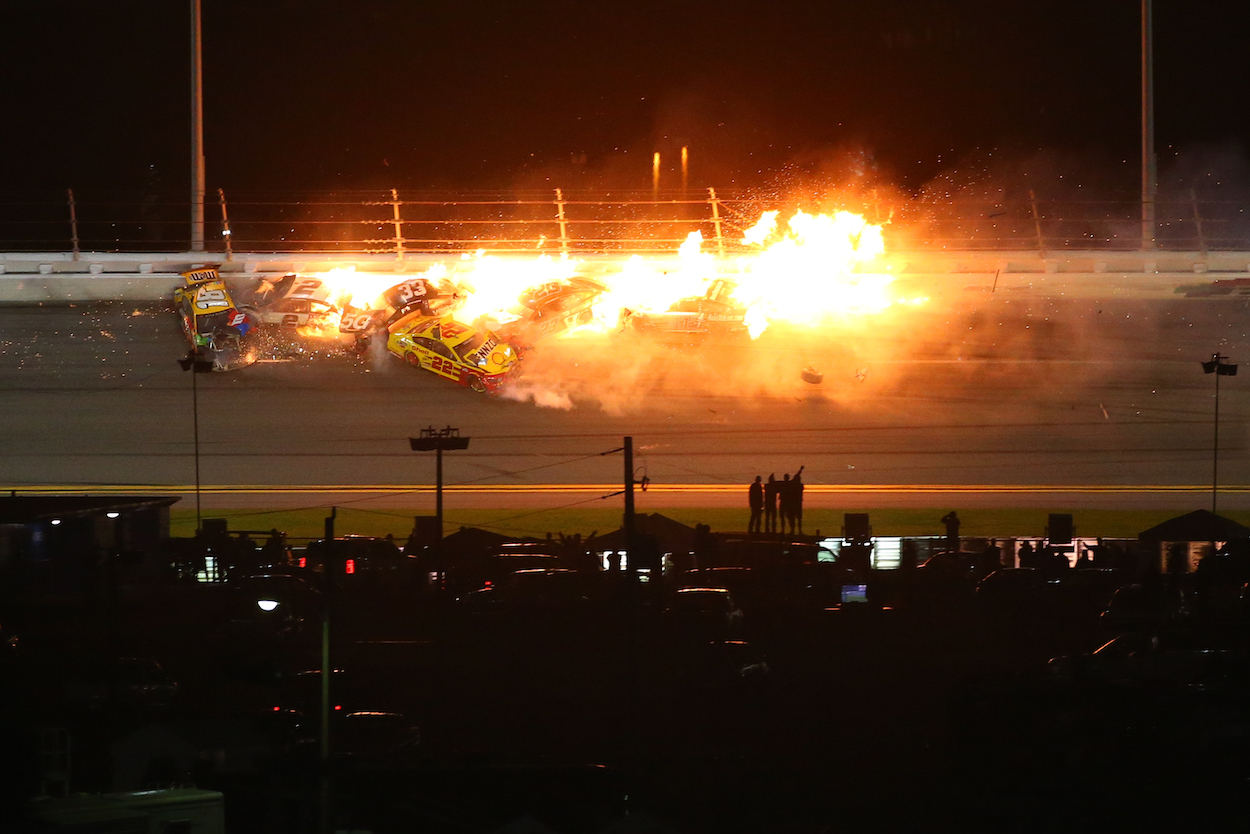 It's been a fiery season in the NASCAR Cup Series this year, and not just in the metaphorical sense, either. There has already been a multitude of dangerous wrecks in the premier racing division in 2021, most notably at the superspeedway tracks in Daytona and Talladega.
During the Daytona 500 back in February, the race came to a grinding halt after Christopher Bell nudged Aric Almirola's No. 10 Ford and sent it spinning out of control on just the 14th lap. The sloppy maneuver turned into a 16-car pileup, ending the day early for many of the drivers involved. Then, on the final lap, Brad Keselowski nudged teammate Joey Logano from behind and sparked a fiery wreck as Michael McDowell escaped the carnage to reach the checkered flag.
Just two months later, another scary wreck occurred on a superspeedway track. During the GEICO 500 at Talladega Superspeedway, Logano's No. 22 Ford was clipped from behind and sent airborne. The race car levitated in the air before flipping upside down and crashing back down to the pavement, skidding on its roof down the track.
Logano somehow escaped the wreck with no major injuries, but the terrifying incident was enough to get NASCAR to crack down on safety.
NASCAR makes rule change to slow down cars 7-10 mph at superspeedways
NASCAR is constantly in an impossible predicament, trying to balance driver safety with entertainment for the fans. The more you speed race cars up, the more fun it is for fans to watch, and vice versa.
But after Logano went airborne at Talladega earlier this year, NASCAR had no choice but to make a change in the Cup Series.
On Tuesday, NASCAR announced in a rules bulletin that the tapered spacer holes will be reduced from 57/64 of an inch to 53/64 of an inch, which will slow down cars by approximately 7-10 mph on superspeedways. In addition, it is removing the wicker from the spoiler, and a reinforced roll bar will now be mandatory at Daytona and Talladega.
The new rules will first go into effect on Aug. 28 at the Coke Zero Sugar 400 at Daytona.
NASCAR fulfills Joey Logano's wish
The safety of drivers in the Cup Series is of the utmost importance, so it makes sense for NASCAR to make this crucial rule change after seeing Logano's wreck and hearing what he had to say on the matter afterward.
"We want to continue to make our sport better," Logano said on SiriusXM NASCAR Radio in April. "And we have over the years. Think about where our cars came from and where they are now. And now we need to look at: How do we keep these cars on the ground?
"I want to be an advocate for change for our sport to look at ways to be better. I know we have the Next Gen car coming. We think that will be better, but we have two more races on superspeedways this year and we must do something."
Logano's call for action has officially been answered.