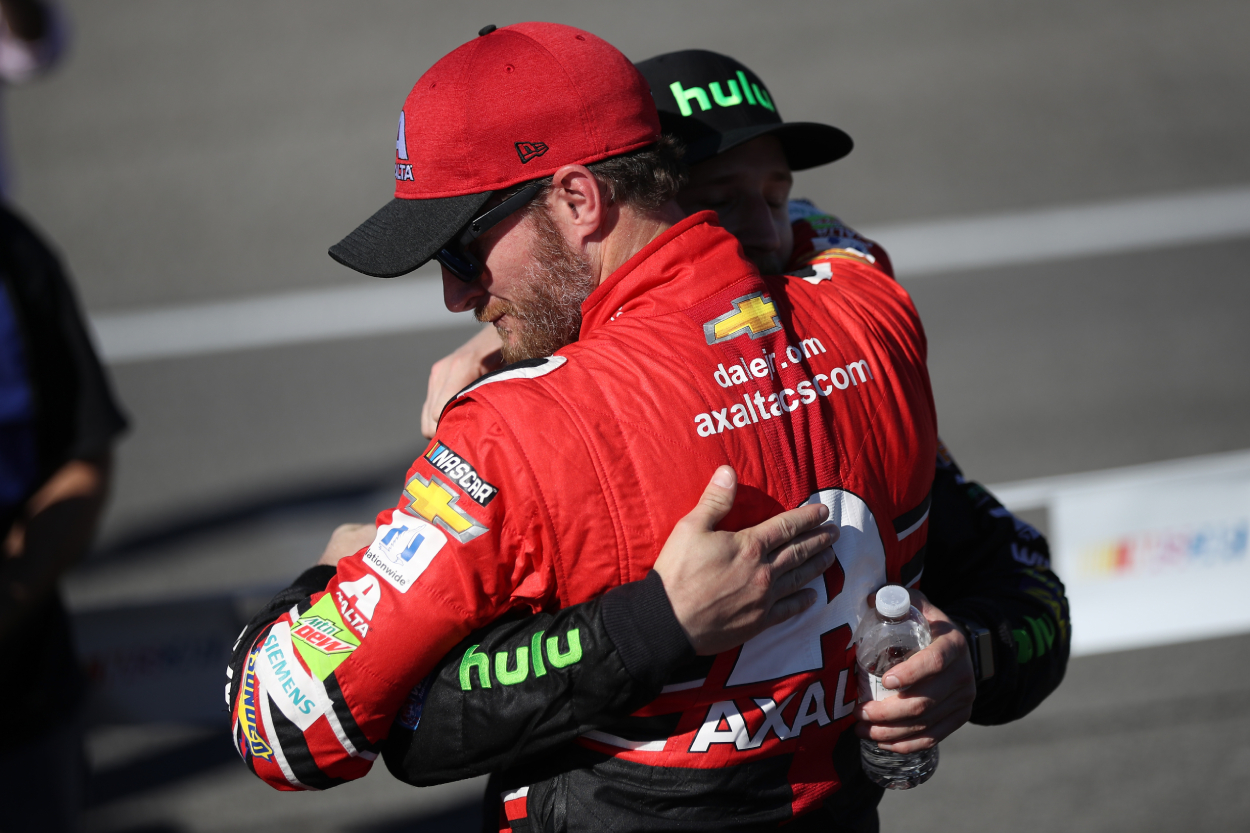 NASCAR Legend Dale Earnhardt Jr. and Nephew Jeffrey Explained What It's Like to Carry the Famous Family Name
Dale Earnhardt Jr. and his nephew Jeffrey explained what it was like to carry on the Earnhardt name.
Dale Earnhardt Jr. had a lot to live up to. The son of one of the greatest motorsports icons of all time, Junior had to make his own name in the NASCAR world and was able to do so. Jeffrey Earnhardt, Junior's nephew, faced twice as much pressure. The two of them once explained how difficult it was to love up to the Earnhardt name on and off the race track.
Dale Earnhardt set the bar high for his family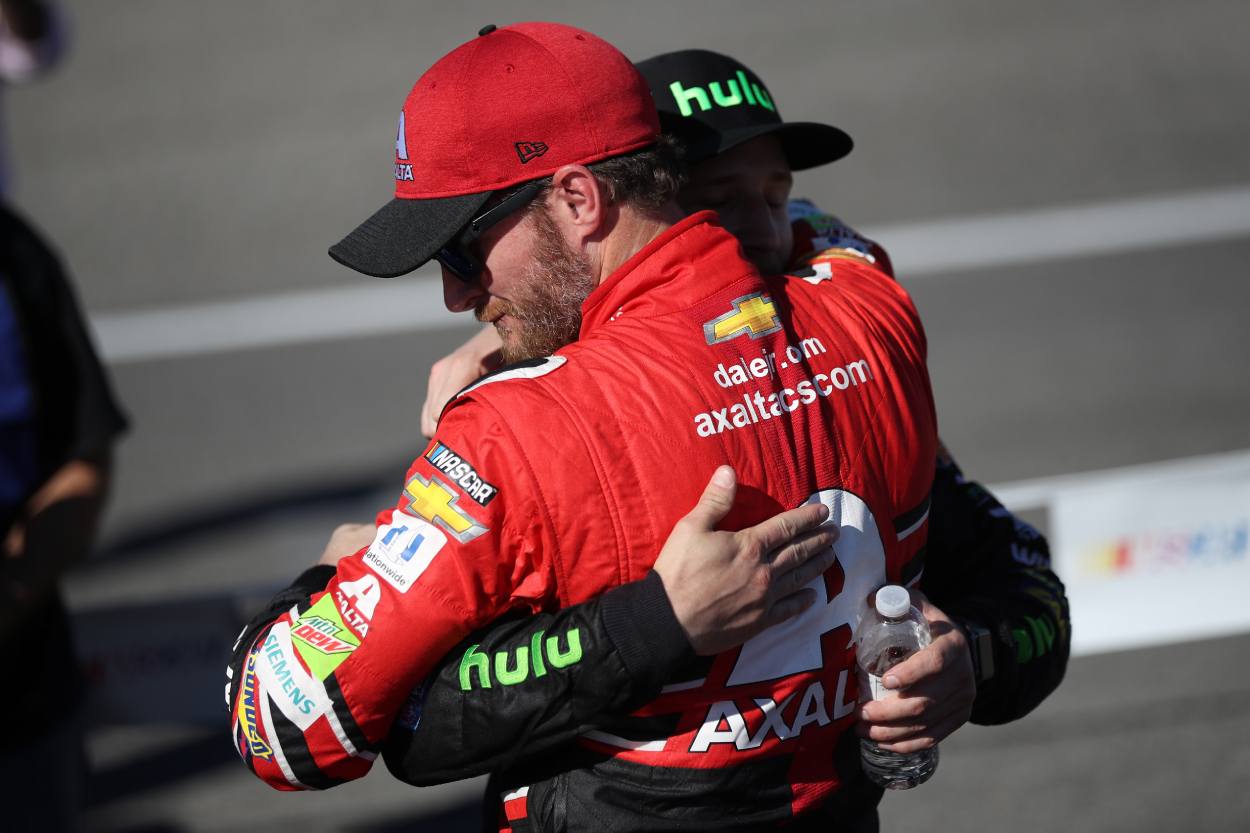 Although it was Dale Earnhardt Sr. who drew attention to the family name, it was his father, Ralph Earnhardt, who got it going. Ralph Earnhardt began his racing career in 1949, a year after NASCAR was born. He won his lone NASCAR Sportsman Championship in 1956, setting the tone for Earnhardt to become a legendary racing name.
Dale Earnhardt then carried the torch. He raced from 1975 until his death in 2001 when he crashed on the final lap of the Daytona 500 and was killed. Earnhardt racked up 76 wins in his Cup Series career and finished tied with the most Cup Series championships. He, Richard Petty, and Jimmie Johnson top the list with seven titles.
In 1998, Earnhardt captured that elusive Daytona 500 victory that had escaped him for years. He collected 428 top-10 finishes in his career. He was inducted into the NASCAR Hall of Fame in 2010, entering as a member of the inaugural class.
Dale Earnhardt Jr. and Jeffrey Earnhardt talked about carrying on the family name
Jeffrey Earnhardt is the son of Kerry Earnhardt, Dale Jr.'s half-brother. While he's been racing for years, he hasn't had the success of his uncle or his grandfather. He still felt the pressure. During a 2019 episode on the Dale Jr. Download podcast, Junior asked him what it was like to carry on the Earnhardt name.
"Man, I'm not telling you anything, but it's awesome," Jeffrey said. "What Papa Dale built and then you. The whole family has continued to carry on that legacy. That's what means the most to me and seeing how much it means to other people."
Jeffrey tasted NASCAR life in 2010 when he was in the truck series. He's run in the Xfinity Series for nine years and has 76 Cup Series races under his belt. Although he doesn't have a win, he has seen first-hand what having the Earnhardt name means to people.
"I was just hanging out at the track, and I ran into a lady that I ran into last year, and she just bawled like crazy whenever I walked up and hugged her," Jeffrey said. "That, to me, is what makes our last name so special and knowing what it means to other people. It's kind of mind-blowing."
Earnhardt Jr. asked if it has ever been a challenge for him.
"Obviously, expectations are high, and people automatically just because of your last name you're going to win races," Jeffrey said. "Unfortunately, wins don't come that easy."
Earnhardt Jr. said he still is challenged even after retiring
After the 2017 season, Earnhardt Jr. retired after a series of concussions. He had much more on-track success than Jeffrey, collecting a pair of Daytona 500 victories and winning 26 races in his career. Junior is a Class of 2021 member of the NASCAR Hall of Fame.
Despite the success, he said he was still hearing about how his last name got him to where he was ever after his retirement.
"You hear it all the time," Junior said. "Even after I retired, I still hear that I rode my dad's coattails all the way throughout my career. It's frustrating, you know, because just like Jeffrey, he's had to work. There's times he's had to sacrifice and do things differently than maybe his dad would've done or Papa Dale would've done.
"It can be frustrating, but you just gotta remember –and I know Jeffrey does this – that you just think about what you're doing and what you're in control of."
The level of success doesn't matter when you're trying to live up to that family name. Those pressures and expectations will always be there.