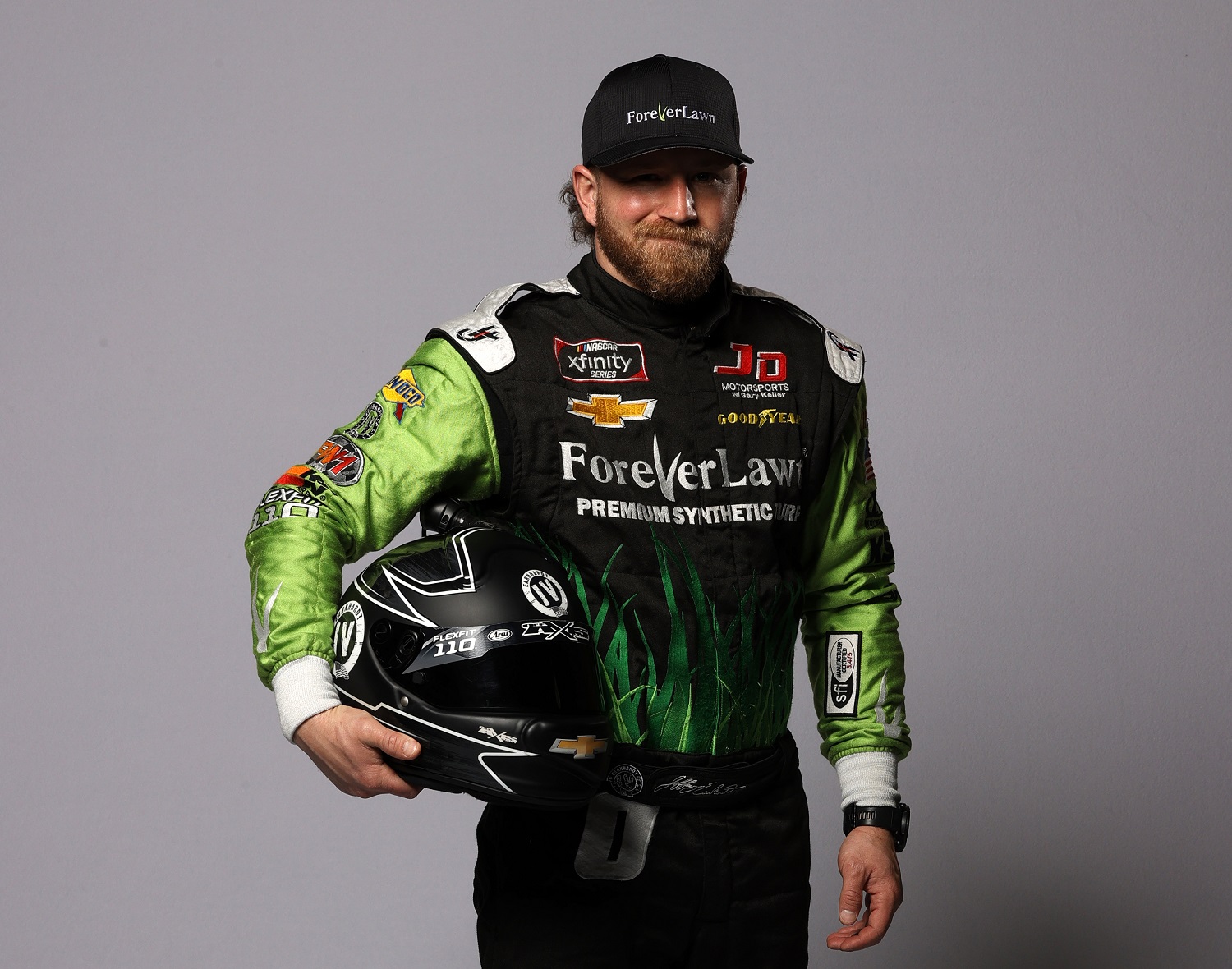 The Dale Earnhardt Magic Hasn't Trickled Down To Jeffrey Earnhardt
Jeffrey Earnhardt is a fourth-generation driver in one of NASCAR's most successful families and the grandson of Dale Earnhardt, the seven-time NASCAR Cup Series champion.
He has worked with well-known names like JD Motorsports, JR Motorsports, and Joe Gibbs Racing in his career as a driver, but the family name matters most. That's because Jeffrey Earnhardt descends from NASCAR royalty, a lineage that includes all-time great Dale Earnhardt.
Earnhardt, 31, is part of the fourth generation from one of the most accomplished families in racing, but he hasn't been able to carve out a name for himself thus far.
The dynasty began with Ralph Earnhardt
Ralph Earnhardt got in on the ground floor by beginning his racing career in 1949, a year after NASCAR was founded. By the mid-1950s, the renowned short-track driver was a consistent contender in the NASCAR Sportsman Series. By the time of his death in 1973, Earnhardt had won more than 350 times in various series. However, the family's best work was yet to come.
Dale Earnhardt followed his father into the sport and established himself as one of the great drivers in motorsports history with seven NASCAR Cup Series season titles. He made his debut in 1975 in what was then known as the Winston Cup but didn't get his full-time ride until 1979. A year later, he won five races and his first championship. He triumphed 76 times before his shocking death on the last lap of the 2001 Daytona 500.
Dale Earnhardt Jr. followed his father into the sport and combined racing acumen with marketing to become one of the most popular and financially successful drivers of the modern era. He won 26 times in the main series and another 24 times in Xfinity races over 22 seasons.
Jeffrey Earnhardt is a fourth-generation driver
The first of three marriages for Dale Earnhardt Sr. took place in 1968 when he was 17 years old. Dale and Latane Earnhardt had a son, Kerry, in 1969 and then divorced the following year. Dale Earnhardt Jr. and his sister Kelley were born to wife No. 2, Brenda Earnhardt.
Kerry Earnhardt's wife gave birth to Jeffrey Earnhardt in 1989, and he is the nephew of Dale Jr. Jeffrey races in NASCAR, and his brother Bobby Dale Earnhardt most recently competed in the ARCA Racing Series and a handful of Xfinity races.
It's Jeffrey Earnhardt who has the higher profile in auto racing, having picked up rides in the Xfinity Series in 2009 and then the NASCAR Cup Series in 2015. In between, he dabbled briefly with a career in mixed martial arts.
Jeffrey Earnhardt hasn't had a breakthrough moment yet
The family name has almost certainly opened doors for Jeffrey Earnhardt in his racing career, and it helped in attracting an instant following. Driving in the Busch East Series in 2007, he finished fifth in the points standings (Joey Logano was the champion) and was selected the most popular driver, according to NASCAR.
Earnhardt's first break in the major NASCAR series came in 2010 when Rick Ware Racing placed him into the truck series, followed by rides in the Xfinity Series the next season. The next eight seasons saw him drive for eight different teams in the Xfinity Series and seven in five years of NASCAR Cup Series racing.
To date, the results simply haven't been there for the grandson of Dale Earnhardt Sr. and nephew of Dale Jr. His best finish in 76 NASCAR Cup Series races was 11th in the midseason Daytona event in 2018. In the Xfinity Series, he posted third-, sixth- and eighth-place finishes in 2019. Those have been his only showings in the top 10 in 102 starts entering the 2021 season.
Throw in his brief work in the truck series, and Jeffrey Earnhardt is winless in 188 races, with just four top-10 finishes. He has placed 37th and 30th in two Xfinity starts in 2021 with JD Motorsports, for whom he is signed to run a full schedule.
Like Sportscasting on Facebook. Follow us on Twitter @sportscasting19.