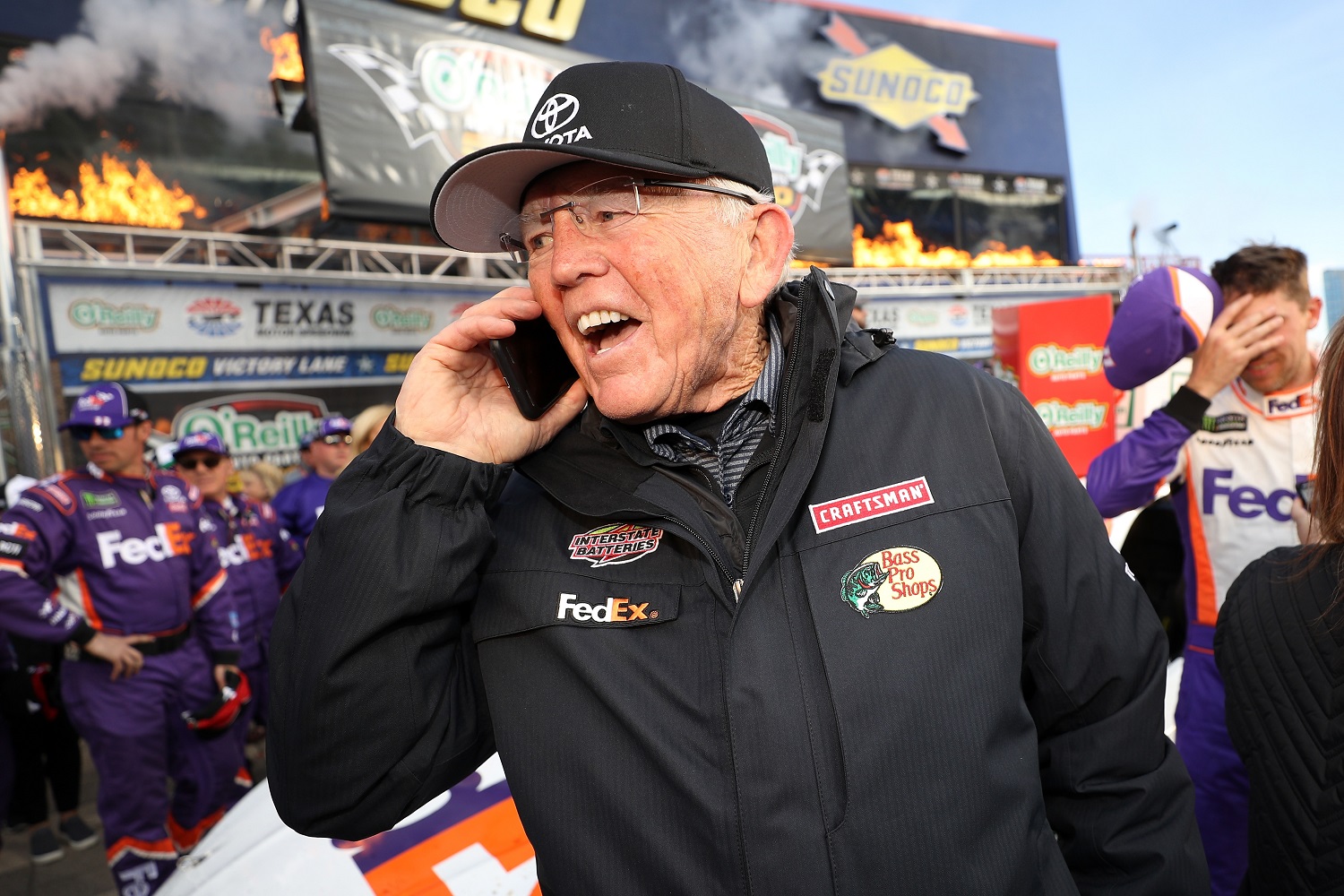 Joe Gibbs Won 3 Super Bowls and 5 NASCAR Cup Series Titles but Will Especially Cherish His Latest Victory
Joe Gibbs has coached three Super Bowl champions in the NFL and seen his drivers earn five NASCAR Cup Series titles. An Xfinity Series race win by grandson Ty Gibbs may be the sweetest moment of them all.
Joe Gibbs needed two seasons as a head coach to win his first Super Bowl and nine years in auto racing to capture his first NASCAR Cup Series championship. It took him just a couple of hours this weekend to experience the thrill of a victory that almost certainly exceeds either.
Ty Gibbs made grandpa Joe Gibbs a very happy man on Saturday night at Daytona with an amazing debut performance.
Joe Gibbs reached the top in the NFL
Finding an NFL coach who adapted to change more effectively than Joe Gibbs did with the Washington Football Team in their days as the Redskins is a tall order. After nine years as a college assistant and then eight on NFL staffs, Gibbs landed the head coaching job with the Washington franchise in 1981 and launched its greatest era ever.
Gibbs inherited a team that had gone 6-10 under Jack Pardee. Two years later, Washington went 8-1 in the strike-shortened season and captured Super Bowl 17 over the Miami Dolphins. The second triumph in an NFL championship game followed in January 1988 with a rout of the Denver Broncos, and Gibbs scored his hat trick in Super Bowl 26 by downing the Buffalo Bills.
What made the three Super Bowl triumphs unique is that they came in just a 10-year span, but with three different quarterbacks at the helm: Joe Theismann, Jay Schroeder, and Mark Rypien. There was also a different leading rusher each time (John Riggins, George Rogers and Earnest Byner).
Gibbs went 124-60 with eight playoff appearances in 12 years before stepping down after the 1992 season to set off on a different adventure. He would return to the sideline for four more seasons beginning in 2004 to direct the team to two more playoff appearances.
Joe Gibbs has built a NASCAR empire, too
Plenty of members of the Pro Football Hall of Fame are enshrined elsewhere, most often in the College Football Hall of Fame. Joe Gibbs is a bit different. He has a bust in Canton, Ohio, alongside the legends of the NFL. But Gibbs is also a member of the NASCAR Hall of Fame. It's in recognition of what he was able to accomplish in such a short time.
Gibbs formed Joe Gibbs Racing in 1992, fielding a team with Dale Jarrett in the driver's seat, while finishing up his coaching responsibilities in Washington. After that, Gibbs completely immersed himself in auto racing. The owner methodically built a stable of drivers and teams across motorsports, even dabbling in the NHRA and motocross. But it has been the NASCAR Cup Series where the retired NFL coach has scored his biggest wins.
In 2000, Bobby Labonte won four races and placed in the top five on 15 other occasions to bring JGR its first NASCAR Cup Series season championship. Tony Stewart brought home the titles in 2002 and '05, and then Kyle Busch earned the crown in 2015 and '19.
With those five championships, Joe Gibbs Racing now stands alongside the likes of Hendrick Motorsports as one of the most consistently successful outfits in NASCAR.
Ty Gibbs scores a special victory for JGR
Joe Gibbs can be justifiably proud of what his racing organization has achieved as it begins its 30th season in NASCAR. However, it is hard to imagine anything could send a chill down the team owner's spine to match what he experienced on Feb. 20, 2021, at Daytona International Speedway.
Making his debut in the Xfinity Series at the age of 18, Ty Gibbs scored a road-course victory in one of his grandfather's Toyotas. In doing so, he joined Dale Earnhardt Sr., Joe Ruttman, Ricky Rudd, Terry Labonte, and Kurt Busch as the only drivers to win in their first Xfinity Series start. Gibbs also became the youngest winner on a road course in the Xfinity Series.
"The family is everything to me, they do so much for me," the rookie driver said. "I just can't thank them enough. This is just amazing; this is a dream come true."
Joe Gibbs seconded that.
"This is the only thing Ty has wanted to do since he was 2 years old," he said, according to ESPN. "This is such an experience. Any parent or grandparent would tell you, it's like a dream come true for our family."
Like Sportscasting on Facebook. Follow us on Twitter @sportscasting19.