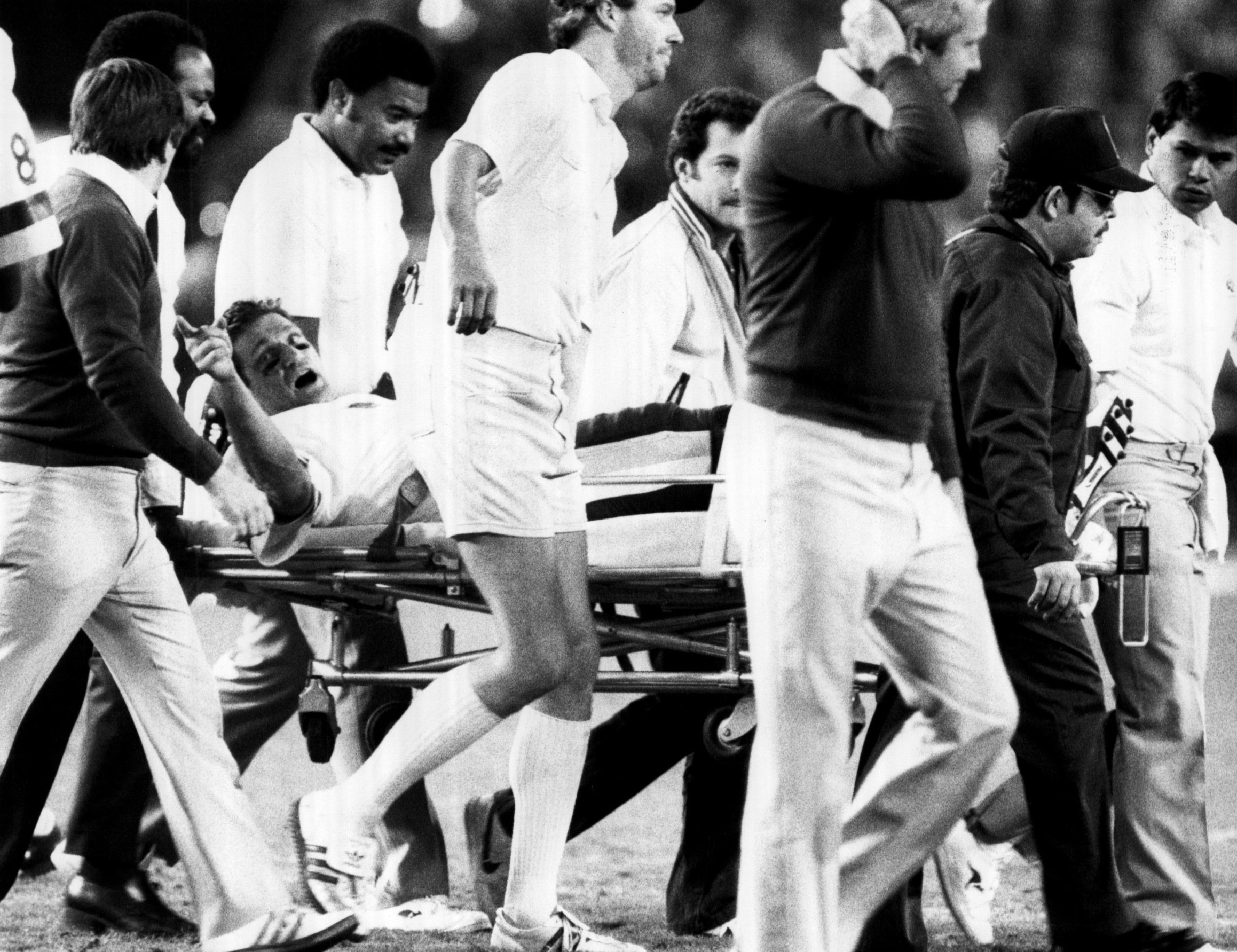 Joe Gibbs Reveals the One Regret He Has Regarding Joe Theismann's Gruesome Injury
Former Washington Redskins coach Joe Gibbs reveals the one regret he has regarding Joe Theismann's gruesome leg injury.
On Nov. 18, 1985, Washington Redskins quarterback Joe Theismann saw his NFL career come to an abrupt ending. Theismann suffered a gruesome leg injury that was seen by many on Monday Night Football. Redskins head coach Joe Gibbs remembers the game very well and has one regret about the incident that still haunts him.
Joe Gibbs had two stints as Washington Redskins head coach
Joe Gibbs was named head coach of the Washington Redskins in 1981 and his Hall-of-Fame career got off to a rough start. Gibbs and the Redskins dropped their first five games of the season. Washington bounced back to finish with an 8-8 record.
The following season, a strike-shortened one, Gibbs and the Redskins went 8-1 during the regular season. Gibbs went on to win the first of his three Super Bowls. Gibbs also earned Super Bowl titles in 1987 and 1991. He was inducted into the Pro Football Hall of Fame in 1996.
Despite his Hall-of-Fame induction, Gibbs returned to coaching in 2004. He rejoined the Redskins and coached through the 2007 season. He finished his career with a 171-101 record, postseason included.
Joe Theismann's gruesome injury
It was a gimmick play – the 'flea-flicker' – which proved to be the beginning of the end of Joe Theismann's football career. During a Monday Night Football game on Nov. 18, 1985, Theismann handed the ball off to running back John Riggins. Riggins then lateraled the ball back to Theismann, who was under heavy pressure by New York Giants linebacker Lawrence Taylor. The play did not fool Taylor.
Taylor sacked Theismann and then immediately jumped up, calling for the trainer. Theismann's leg bent the wrong way and snapped. He had a compound fracture of the tibia and his fibula was shattered. Theismann, surprisingly, didn't feel a whole lot of pain after the initial hit.
"It was at that point, I also found out what a magnificent machine the human body is," Theismann said to The Washington Post in 2005. "Almost immediately, from the knee down, all the feeling was gone in my right leg. The endorphins had kicked in, and I was not in pain. Joe (Gibbs) was kneeling on my right side. He's looking at me and he says, 'You mean so much to this club, and now you've left me in one heck of a mess.'"
Gibbs reveals his one regret from that night
After Joe Theismann went down with one of the ugliest injuries seen in sports, Joe Gibbs ran out on the field to check on his quarterback. "It was kind of interesting because he was kinda screaming at everybody but he wasn't, I felt like, in a lot of pain," Gibbs said in an interview with Graham Bensinger last year.
"I just kinda looked at him and tried to make a joke. I'm not sure if that was a smart thing to do, but I said, 'Well it's a fine mess you've left me in.' He was ranting and raving. He was screaming at (Lawrence) Taylor. Everyone still talks about it. It was a horrible accident there for him to break his leg like that."
Gibbs doesn't regret making the comment to Theismann, but he said he did screw up one thing. "I really messed that up, too," Gibbs said. "Joe and I had gone through a lot of stuff, won a Super Bowl, and kinda went through a lot of stuff together. I was so caught up that week, coaching and getting the game plan ready and all that, and I did not visit him in this hospital. I should've done that. That was a big mistake on my part. I always felt bad about that."