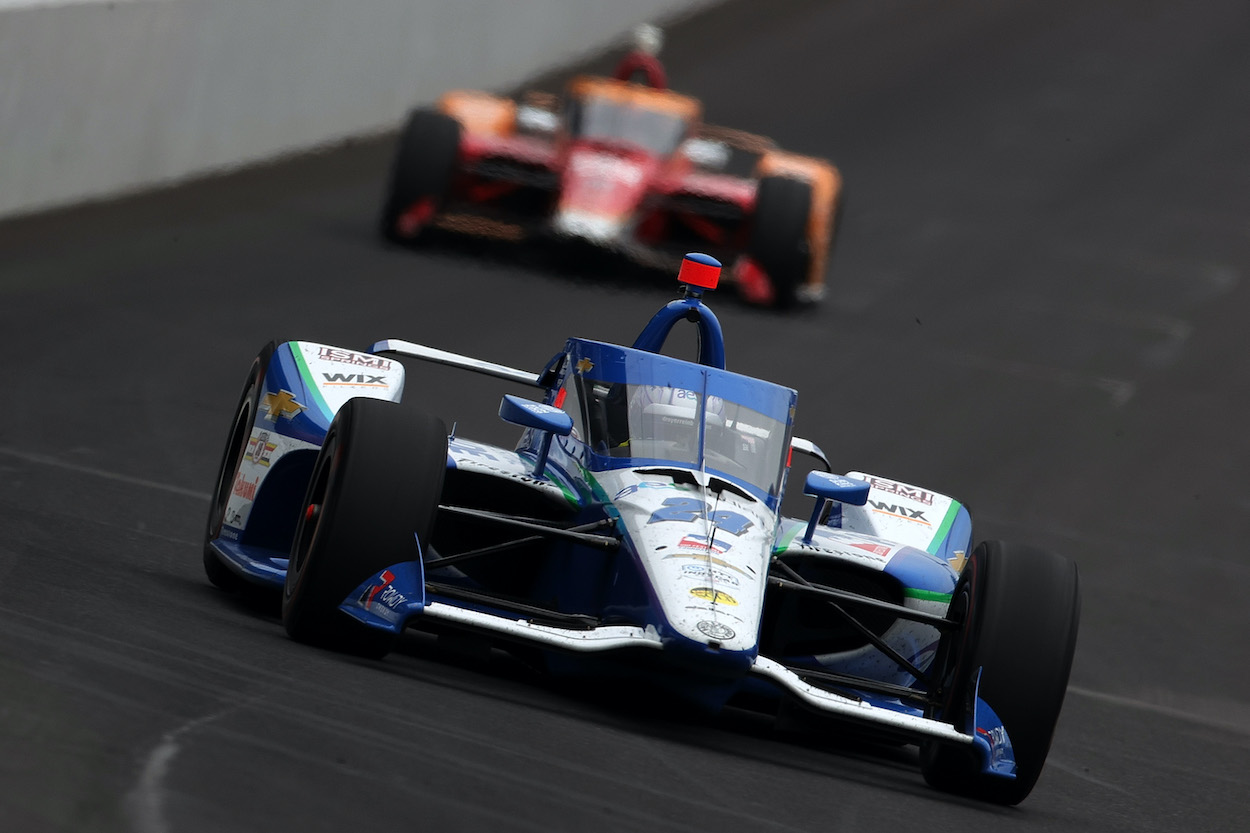 IndyCar Series Veteran Who Finished in Top 10 at 2021 Indy 500 to Make NASCAR Xfinity Series Debut in August
Next month there will be a crossover as a veteran IndyCar Series driver who finished in the top 10 at the Indianapolis 500 will make his NASCAR Xfinity Series debut.
Juan Pablo Montoya successfully transitioned from IndyCar to NASCAR. In recent weeks, Marco Andretti has hinted he'd like to do something similar after his experience with SRX. With rumors swirling this past weekend that an IndyCar driver would be debuting in the NASCAR Xfinity Series in the coming weeks, Andretti appeared to be the logical choice. 
On Monday, it was revealed that veteran driver Sage Karam, who finished seventh at the 2021 Indianapolis 500, will be making his Xfinity Series debut at the Indianapolis Motor Speedway road course for the Pennzoil 150 on August 14.  
Sage Karam to make his NASCAR Xfinity Series debut
With multiple current and former IndyCar Series drivers competing in SRX over the last six weeks, there's been plenty of speculation about drivers making a move over to NASCAR. Marco Andretti was the most-often mentioned name associated with the rumors. On Monday, Sage Karam beat him to the punch. 
The 26-year-old Karam will make his NASCAR Xfinity Series debut in the No. 31 Chevrolet of Jordan Anderson Racing at the 2.5-mile Indianapolis Motor Speedway road course on August 14.
"It has always been a dream of mine to be able to compete at this level with some of the world's best stock car drivers," Karam said in a team press release. "My goal is to learn as much as possible and soak in this experience. It's a welcomed challenge for me, and I'm looking forward to building strong relationships with the talented people of Jordan Anderson Racing."
Anderson was understandably excited to have a road course racer who is familiar with the Indy road course joining the team. 
"With Sage's extensive experience in road racing and open-wheel racing, along with finishing 7th in this year's Indianapolis 500, we knew that the road course at the famed Indianapolis Motor Speedway would be a special place for him to make his NASCAR debut with support from Montage Mountain Resorts and so many other great partners," Anderson said. 
Sage Karam found success early in career
Karam made a name for himself in 2010 when he dominated the U.S. F2000 National Championship at just 15 years old. He won nine of the 12 races he competed in that year. 
Over the next three years, he moved his way up the Road to Indy driver development program, competing in the Star Mazda Championship and Indy Lights. He won an impressive eight times in both series, including the points championship for Indy Lights in 2013.
Karam has raced a limited IndyCar Series schedule in the last seven years but has managed to race each season at the Indianapolis 500. He made an impressive debut in 2014, finishing ninth. That was his best finish until this year when he started 31st and navigated his way through the field to earn a seventh-place finish.   
Jordan Anderson worked with multiple drivers in 2021
While Sage Karam is new to NASCAR, he's just one of five drivers who has competed for Jordan Anderson Racing in 2021, including Cup Series regular Tyler Reddick, Kaz Grala, Josh Berry, and Anderson. 
"Our entire team is incredibly proud to add Sage Karam to our list of talented drivers that have driven the 31 Chevrolet this year," Anderson said. "To bridge the gap between two different fields of racing is a challenge that I'm confident Sage will be able to master. We're blessed to have some amazing drivers and people that continue to help our organization grow, and this opportunity is another pivotal part of our long-term goal."
The team has earned four top-10 finishes this season and based on Karam's track record at Indianapolis, there's a strong possibility he could make it five.
Like Sportscasting on Facebook. Follow us on Twitter @sportscasting19.