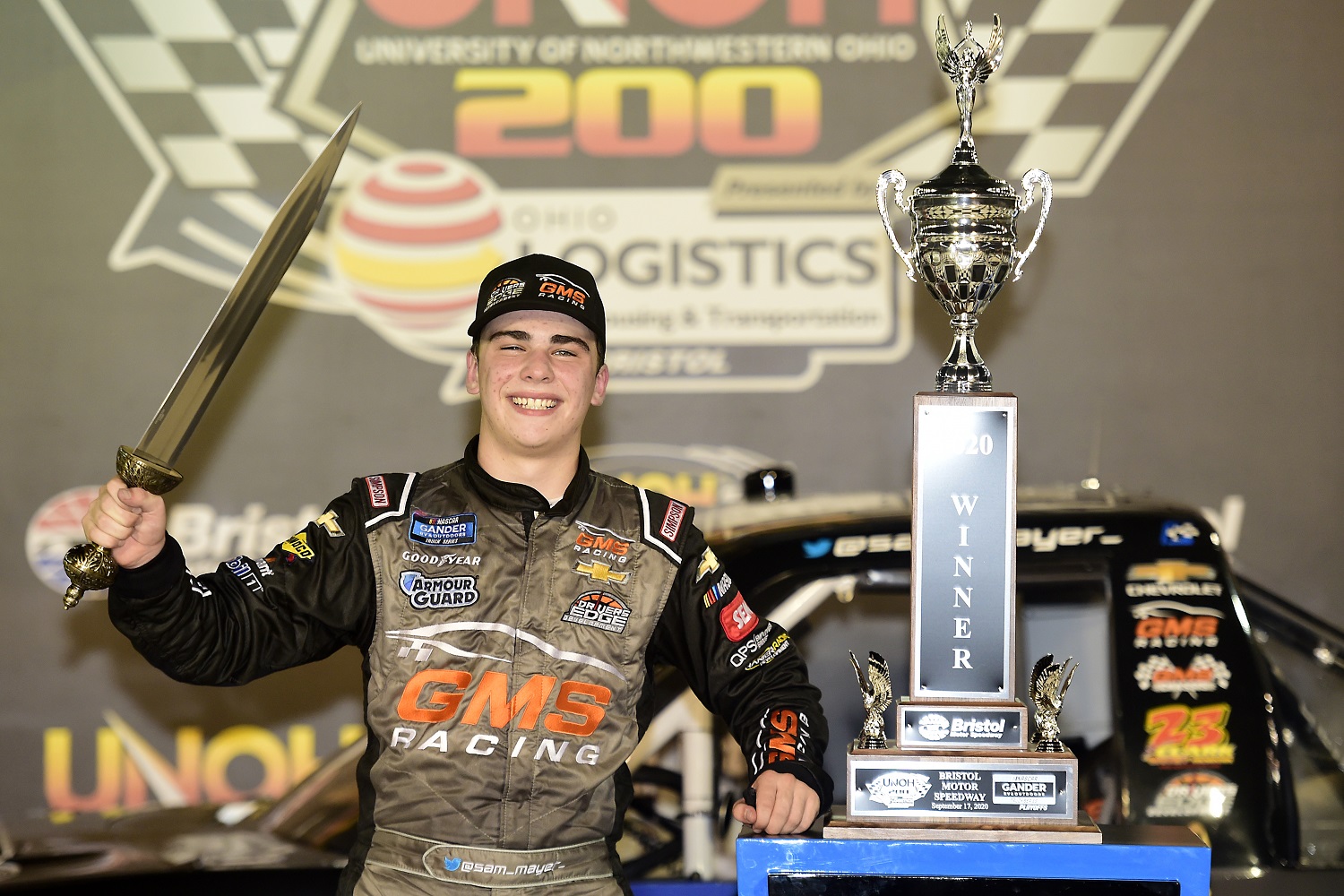 Sam Mayer's Debut Gives the NASCAR Xfinity Series the Ty Gibbs Rival It Needs
Sam Mayer has missed half the NASCAR Xfinity Series because of age restrictions, but he is now set to make his 2021 debut, joining rival Ty Gibbs.
The Xfinity Series may be a second-level NASCAR circuit, but it features legitimate talent. Austin Cindric and Harrison Burton are young drivers among the points leaders who figure to win their share of Cup Series races down the road. Now, touted teen Sam Mayer makes his debut this weekend and gives the Xfinity Series a boost.
As good as prospects like Cindric and Burton are, Mayer will forge a rivalry with Ty Gibbs these next few seasons that will lure extra attention for the series. They already have established that rivalry at lower levels, and now they're carrying it to a more visible platform.
Why is there so much excitement about Sam Mayer's debut?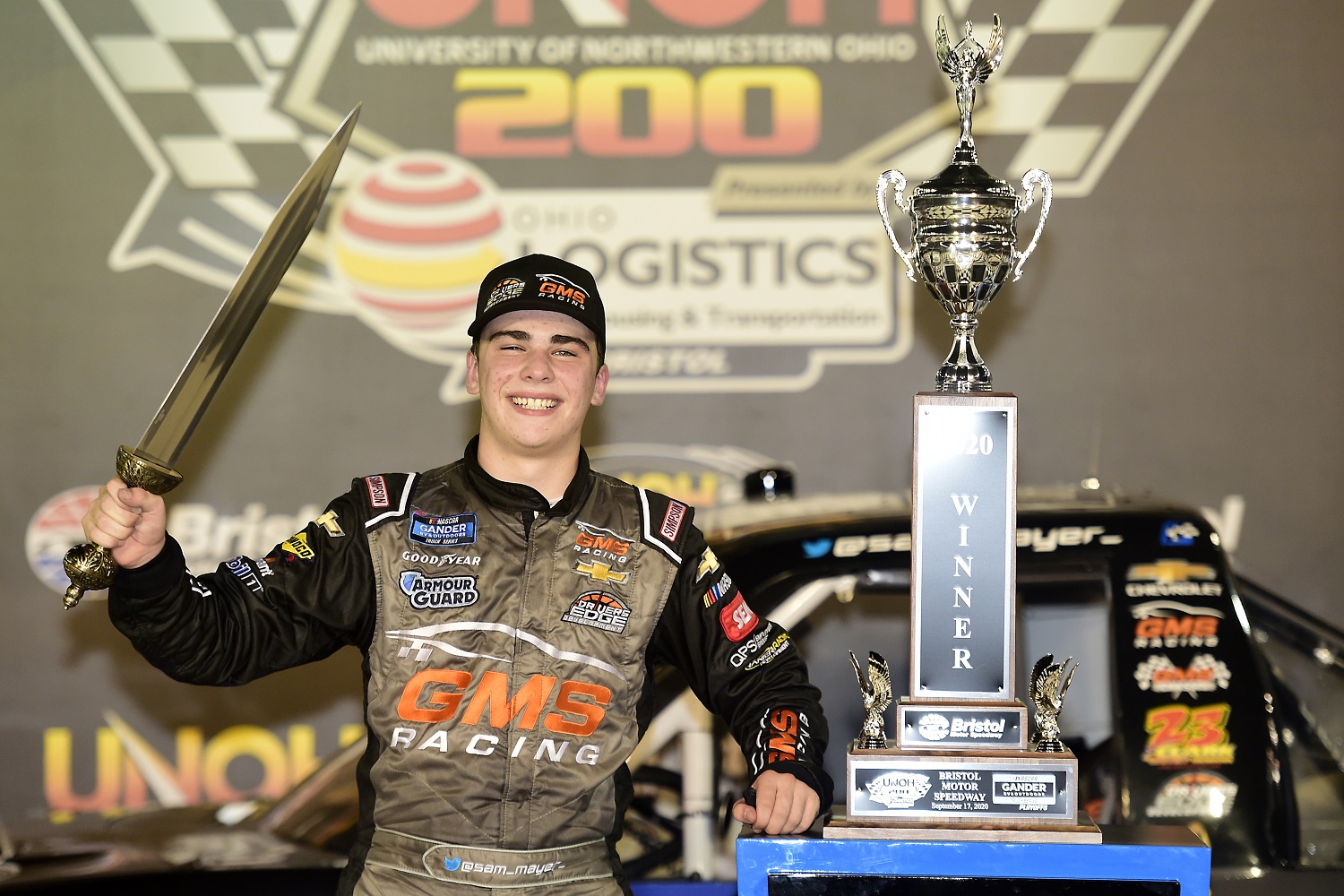 Most of the NASCAR Cup Series stars who drive on Sundays follow a similar career path that begins with racing karts before they're even teenagers. From there, they eventually move up to the K&N Pro Series and the ARCA Menards Series.
The 5% or so that excel there might finally get a crack at the Truck Series and then Xfinity racing. Well, Mayer has been in that 5% each step of the way. In fact, everything about him suggests he's a one-in-a-hundred prospect.
Mayer, a Franklin, Wisconsin, native, has made 29 starts in ARCA races the last two seasons and won 11 of them. He placed in the top five in 15 others and is a two-time series champion.
And he has done it all before the age of 18. Mayer hits that milestone birthday on June 26, at which time he becomes eligible to drive Xfinity and Cup Series cars. He'll make his Xfinity debut at Pocono the next day in the JR Motorsports No. 8 Camaro.
And here's how much his team thinks of Mayer: Josh Berry owns a win at Martinsville, a pair of second-place results, and three other showings in the top 10 this season, but the keys belong to Mayer for the rest of the season unless something goes horribly wrong.
Sam Mayer vs. Ty Gibbs will make for a great story when they compete
Ty Gibbs, the grandson of Joe Gibbs, beat Mayer onto the Xfinity circuit by virtue of hitting his 18th birthday last October. He has acquitted himself well, winning his debut race on the Daytona road course in February and also taking first place on the oval at Charlotte.
In fact, Gibbs has finished in the top five in all but one of his seven Xfinity starts. Unfortunately for him, Joe Gibbs Racing has a deep stable of drivers and a variety of sponsorship commitments. That means that the teen prodigy is sharing his Xfinity Series rides with Denny Hamlin, Martin Truex Jr., Kyle Busch, and Ty Dillon. Gibbs spends the remainder of his time in ARCA races.
Still, Mayer vs. Gibbs will be exciting when they do take the track together. They have a history in ARCA East races, with Mayer winning five races and championship last season. Gibbs won one race.
"I'm not too worried about comparisons between another driver, but I definitely want to go out and beat him," Mayer said, according to Frontstretch.com. "Because the last two years I've done just that. I'm 2-for-2 so far, I guess, championship-wise."
Reaching the playoffs is unlikely for either
A pair of 18-year-old rivals battling in a demanding and at-times dangerous sport makes for good viewing and publicity, and both drivers possess both the talent and the resources to race at the front of the Xfinity Series pack.
Unfortunately, the way NASCAR rules are set up makes it unlikely that either can qualify for the playoffs at the end of the season alongside Cindric, Burton, AJ Allmendinger, and the other drivers who run full schedules. Berry will be in the same boat now that Mayer has his car.
In theory, Mayer has the best crack at getting in via a waiver, but that presumes that he racks up enough quality finishes. According to Fronstretch.com, NASCAR granted Tyler Ankrum a waiver in the trucks series in 2019 because he missed the start of the season due to the age restriction. In his case, though, he only missed three races compared to Mayer's 15.
Obviously, Mayer can race right to the conclusion of the season even without the waiver. It's just that he wouldn't have as much at stake as the playoff drivers.
Nevertheless, Mayer vs. Gibbs makes a great complement to the excitement of the playoffs.
All stats courtesy of Racing Reference.