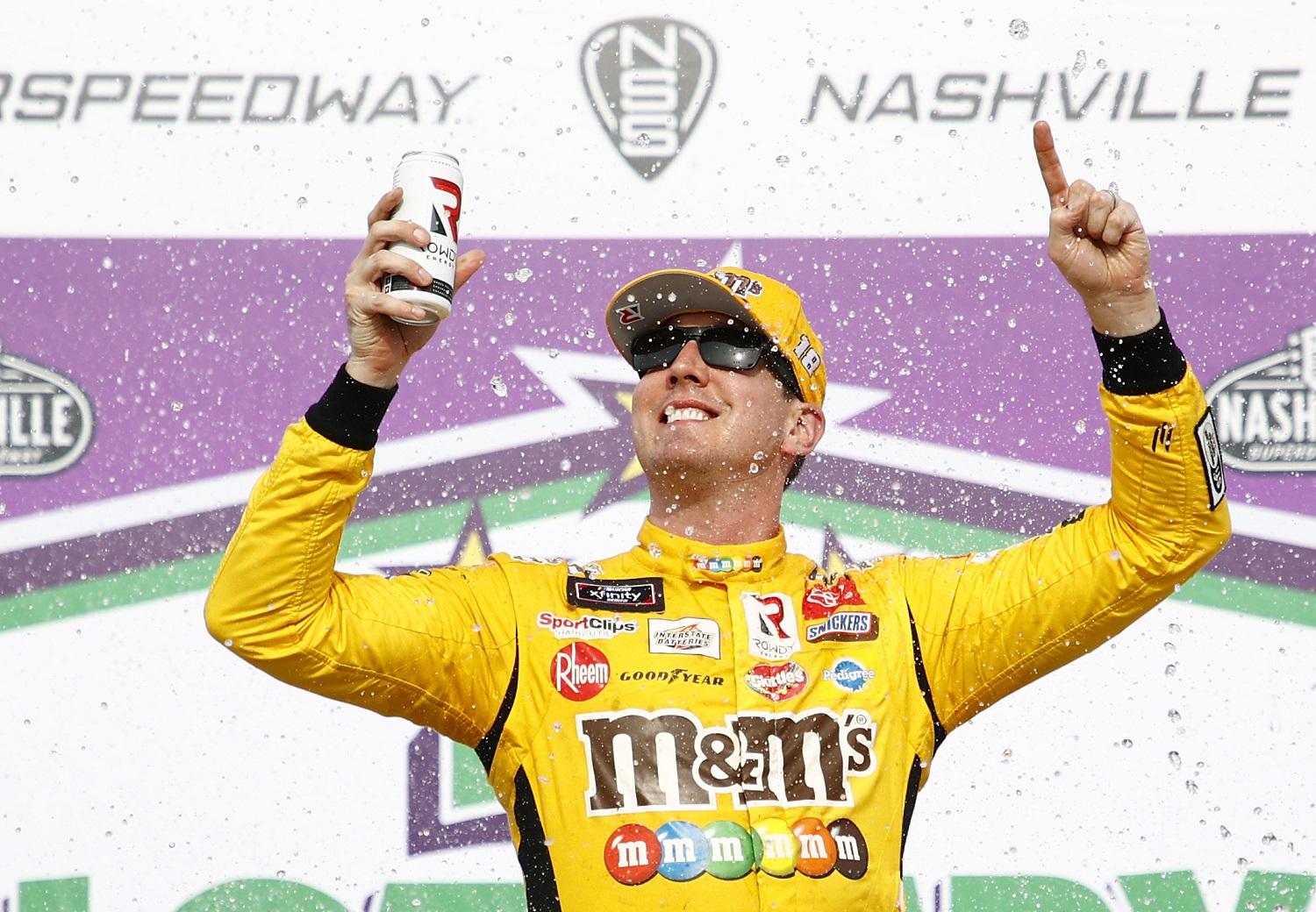 Kyle Busch Should Quit the NASCAR Xfinity Series but Has a Reason to Stay 1 More Year
Many observers think Kyle Busch's Xfinity Series goal was to reach 100 victories. Now that he's hit the milestone, the NASCAR veteran might have a different goal in mind.
He has earned his milestone victory. Now, Kyle Busch needs to give the little guys in NASCAR something to fight over other than table scraps.
Busch already overstayed his welcome in order to reach one round number. The suspicion, though, is that he will do whatever it takes to reach another in 2022.
Before bashing Kyle Bush, let's give the man his due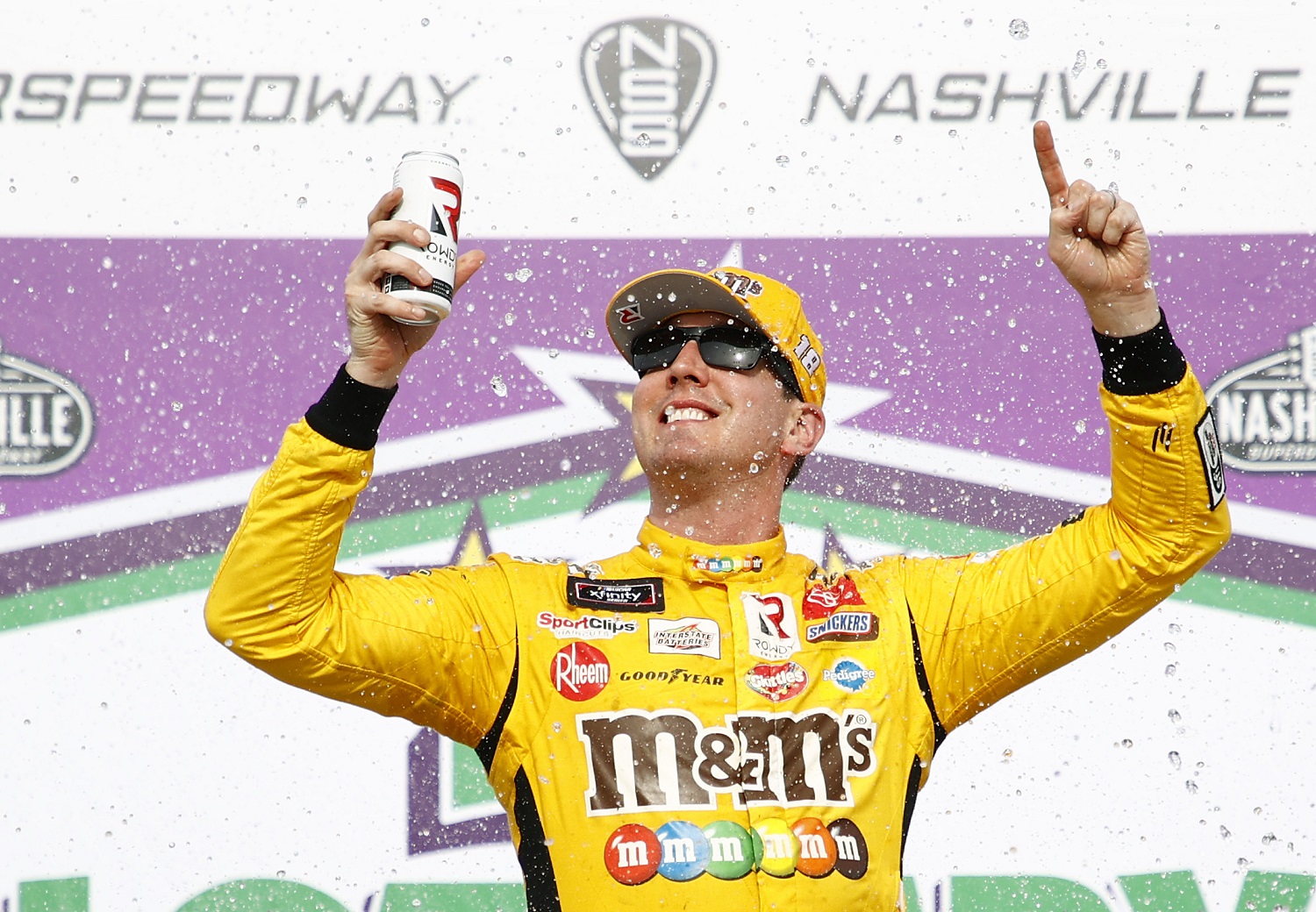 Busch already assured his enshrinement into the NASCAR Hall of Fame several years ago. The Joe Gibbs Racing veteran reached 50 career Cup Series victories and 50 more in the Camping World Truck Series in 2018. He hit 50 in the Xfinity Series long before that.
Throw in the pair of Cup Series season championships, and he was already a no-brainer for the sport's ultimate career achievement honor by shortly after his 30th birthday. That's impressive work.
Busch notched a fresh milestone over the weekend in the Xfinity Series by winning there for the 100th time when he took the checkered flag in Nashville. That made him the third driver to reach triple digits in one of the major NASCAR circuits. Hall of Famers Richard Petty (200) and David Pearson (105) previously accomplished the feat in the Cup Series.
The case against the man with 219 NASCAR victories
At some point, enough is enough. Whether he realizes it or not – and he would have to be tone-deaf not to – Busch reached that juncture long ago but has remained in the Xfinity and truck series anyway. He started dialing back his Xfinity schedule in 2011 after NASCAR made it impossible for full-time Cup Series drivers to win the points title, but Busch still competed in 75% of the races as recently as 2014.
Busch reduced his schedule to five per season per NASCAR rules and has won all three starts so far in 2021, allowing him to reach 100 victories in his career. Combined with his 58 in the Cup Series and 61 in trucks, he owns 219 victories.
The man loves racing. He loves winning. The trouble is that he's doing both at the expense of others.
The truck series is a training ground for drivers trying to reach the Xfinity Series, which itself is a steppingstone to the Cup Series. Every time Busch takes the driver's seat in either of the lesser series, he deprives someone of the chance to pick up experience, exposure, and money.
That also applies to the team aspect of the sport. For every big-time racing outfit like Joe Gibbs Racing, there are three or four teams whose entire livelihood depends on performing well in the less glamourous circuits. The first-prize checks that Busch collects there – 18 in the past 2½ seasons – could be helping small teams meet their payrolls this season and attracting sponsors for next season.
Kyle Busch has a reason to stay in the Xfinity Series in 2022
Busch has been saying for several years that he has a finish line in mind for his Xfinity Series career. Understandably, many have assumed he was alluding to 100 victories.
After winning Saturday in Nashville, Busch said he didn't think JGR had lined up any sponsors for him for Xfinity races in 2022, and NBC Sports reported that a team spokesman said plans remain uncertain.
It would take zero arm twisting for JGR to line up the necessary money on short notice, even for the maximum five allowable races. And there is a reason that  Busch just might prod the team to do so. Busch is on an impressive streak of 17 consecutive seasons with at least one NASCAR Cup Series triumph. If he wins at least once apiece in all three circuits against next year, he will have stretched his streak in each to at least 10 years in a row.
It's another round number and another impressive feat. That also makes it a reason Busch might try sticking around.
All stats courtesy of Racing Reference.