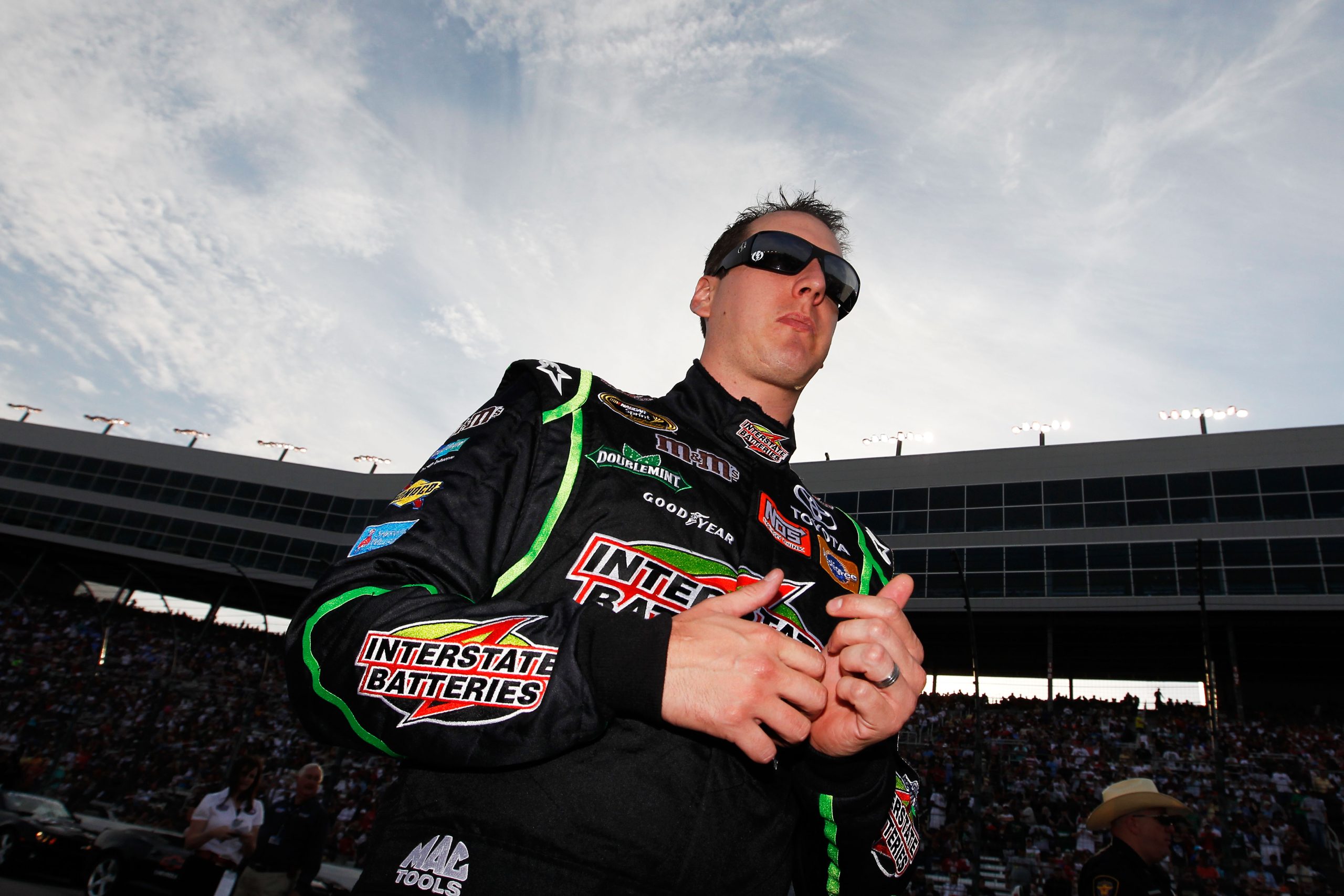 Kyle Busch Was Once Parked by NASCAR at Texas Motor Speedway and Fined $50,000 for Purposely Pushing a Fellow Driver Into the Wall
Kyle Busch was once parked by NASCAR and fined $50,000 for purposely pushing a fellow driver into the wall at Texas Motor Speedway.
Throughout the 2011 NASCAR season, Kyle Busch got himself into trouble on a number of occasions, both on and off the track. In May, he was placed on probation following a post-race incident at Darlington in which he slammed into Kevin Harvick's car on pit road. Later that same month, he lost his driver's license and was put on actual probation after being cited for careless and reckless driving after being caught doing 128 miles per hour in a 45 miles per hour zone in North Carolina. There were reports that Busch got into it with Richard Childress at Kansas Speedway in June. In August, he intentionally wrecked Elliott Sadler at Bristol after the two had made contact with one another earlier in the Truck Series race.
The trend continued at Texas Motor Speedway as the season came to a close as Busch, who famously enjoys running in all three major NASCAR series, was parked by NASCAR for the Nationwide Series (now the Xfinity Series) and Cup Series races in Fort Worth and fined $50,000 for an incident that occurred during the Truck Series race.
Kyle Busch intentionally wrecked Ron Hornaday Jr. during the 2011 NASCAR Truck Series Winstar World Casino 350K at Texas Motor Speedway
Coming into the 2011 Winstar World Casino 350K at Texas Motor Speedway, Busch had won six NASCAR Truck Series races on the year and had only finished outside the top 10 twice in 15 starts.
He put himself in a good position to pick up a seventh win as he began the race in fourth position, but his day wouldn't last very long at all. On lap 14 of the 148-lap race, Busch and four-time Truck Series champion Roy Hornaday Jr. made contact with one another while trying to pass a slower truck, causing both to brush the wall.
Busch, driving his familiar No. 18 truck, proceeded to get behind Hornaday Jr.'s No. 33 and pushed until it ended up in the wall. Busch was immediately parked by NASCAR for the remainder of the race and Hornaday Jr.'s day ended as well. Following the race, Hornaday Jr. said he would have been "really upset" had NASCAR not made the decision to park Busch and would have shown up to Busch's house had NASCAR not intervened.
But it wasn't just the remainder of the Truck Series race for which Busch was parked.
Busch was 'parked' for the remainder of the weekend at Texas Motor Speedway and fined $50,000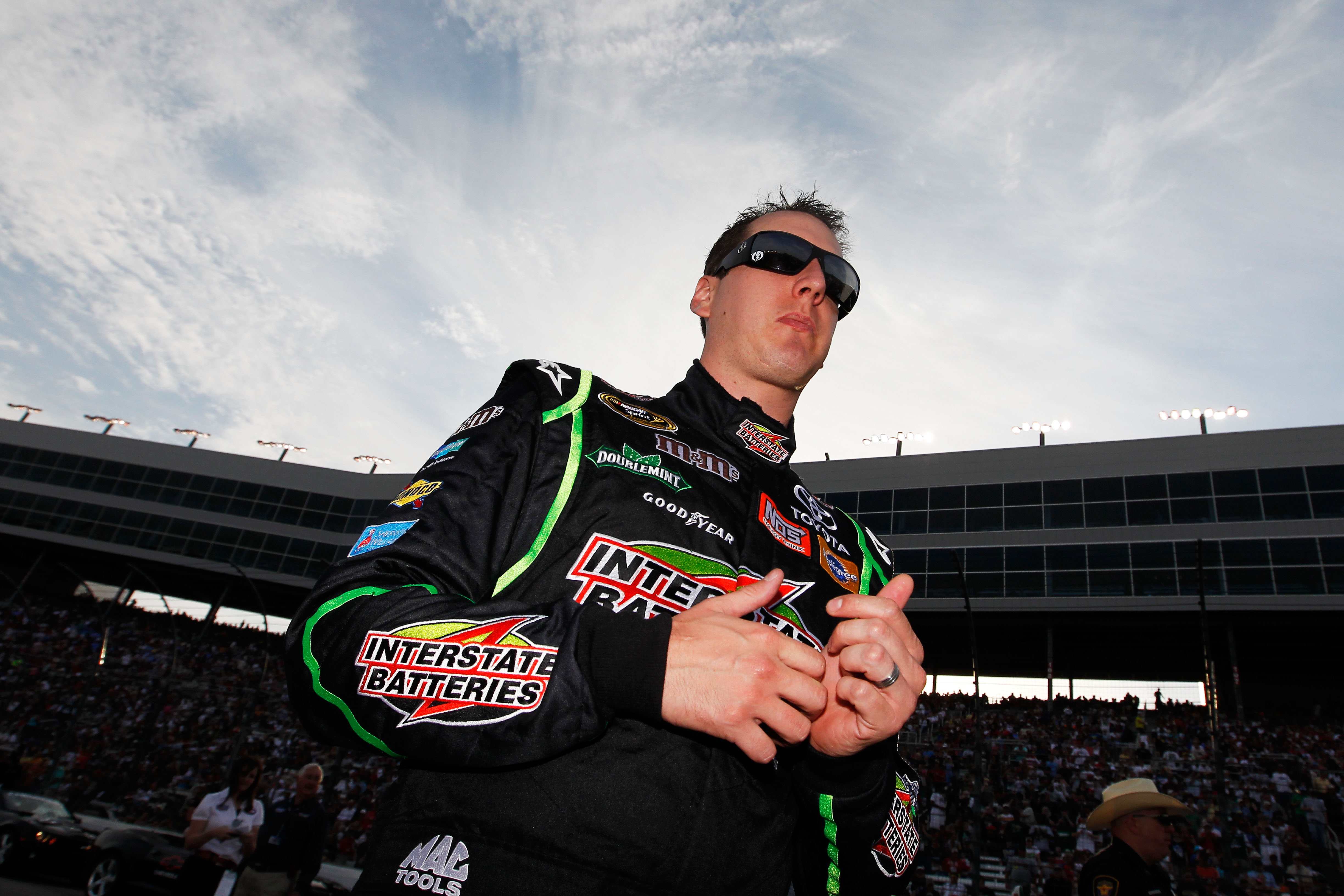 The morning after the Truck Series race, Busch was called back to Texas Motor Speedway and was told by NASCAR that he was barred from competing in the Nationwide Series race on Saturday and the Cup Series race on Sunday. It's not often that NASCAR makes such a choice, but given everything that had transpired, they felt it was the right call. And Busch actually agreed.
Later that day, Busch released a statement in which he apologized to Hornaday Jr. and his team, while also apologizing to his fans and sponsors (h/t ESPN).
"I understand why I was taken out of the car for the rest of the weekend. NASCAR officials had to act, and I accept their punishment and take full responsibility for my actions.

"As a racecar driver, the hardest thing to do is to sit on the sidelines listening to cars on the track when you know you should be out there competing. For this, I have no one to blame but myself."

Kyle Busch
Denny Hamlin took over for Busch in the Nationwide Series O'Reilly Auto Parts Challenge and finished second despite having to start from the back of the field. Future Daytona 500 winner Michael McDowell took over Busch's No. 18 Toyota for the Cup Series AAA Texas 500 and finished 33rd.
By not being able to race on Sunday, Busch fell to 11th place in the Cup Series standings, 100 points out of the lead, and was officially eliminated from contention for the points title. That Monday, his bank account was affected as well as Busch was fined $50,000.
He wasn't the first driver to be parked by NASCAR
Busch certainly wasn't the first driver to be parked by NASCAR, nor would he be the last. In 2002, Kevin Harvick, the owner of Hornaday Jr.'s truck, was kept out of the Cup Series race at Martinsville after getting into multiple collisions with Coy Gibbs during that weekend's Truck Series race.
In 2007, Robby Gordon was barred from competing in the Cup Series race at Pocono due to his actions in the weekend's Busch Series race as he failed to obey NASCAR's instructions for positioning his car on a restart following a collision with Marcus Ambrose. Gordon then wrecked Ambrose, who was leading the race, on the second-to-last lap.
In 2015, a season in which Kyle Busch won the points title, NASCAR parked Matt Kenseth for two of the final three Cup Series races of the season, one at Texas Motor Speedway and the other at Phoenix Raceway, for what was deemed a purposeful wreck of Joey Logano at Martinsville.
Stats courtesy of Racing Reference