Who Has the Most NASCAR Cup Series Victories at Kansas Speedway?
Kansas Speedway may not have the storied history of some of NASCAR's most famous tracks or hold as many people, but that doesn't change the fact that we've seen some great races take place on the 1.5-mile tri-oval over the last two decades.
Kansas Speedway, which is located in Kansas City, Kansas, first opened in 2001 and is owned by NASCAR, which acquired the track in the merger with the International Speedway Corporation.
From 2001 to 2010, NASCAR held just one race weekend at Kansas Speedway but added a second in 2011, the same year lights were installed, with the second race of the season being a part of the NASCAR Playoffs.
So who has the most NASCAR Cup Series victories at Kansas Speedway?
Jeff Gordon won the first two NASCAR Cup Series at Kansas Speedway and is one of five drivers with three wins on the 1.5-mile track
The first NASCAR Cup Series to take place at Kansas Speedway came back on September 30, 2001, with the running of the Protection One 400, which was just the second Cup Series race to take place after 9/11. Jeff Gordon was the winner that week, edging out Ryan Newman by .413 seconds. Gordon defended his title the following year, with Newman again finishing second. Newman finally took first in 2003.
"The Rainbow Warrior" took his third checkered flag at the track in 2014 and is one of five drivers to win at Kansas Speedway three times, the other four being Jimmie Johnson, Kevin Harvick, Denny Hamlin, and Joey Logano.
Six drivers have two wins
Following Gordon, the first driver to capture two NASCAR Cup Series wins at Kansas Speedway was Tony Stewart, who won on the 1.5-mile tri-oval in 2006 and 2009 but never claimed a third title before retiring. Nor did Greg Biffle, who took checkered flags in 2007 and 2010, or Matt Kenseth, who went back-to-back in October 2012 and April 2013.
Brad Keselowski, Martin Truex Jr., and Kyle Busch are the three current Cup Series drivers with two victories.
Year-by-year NASCAR Cup Series results at Kansas Speedway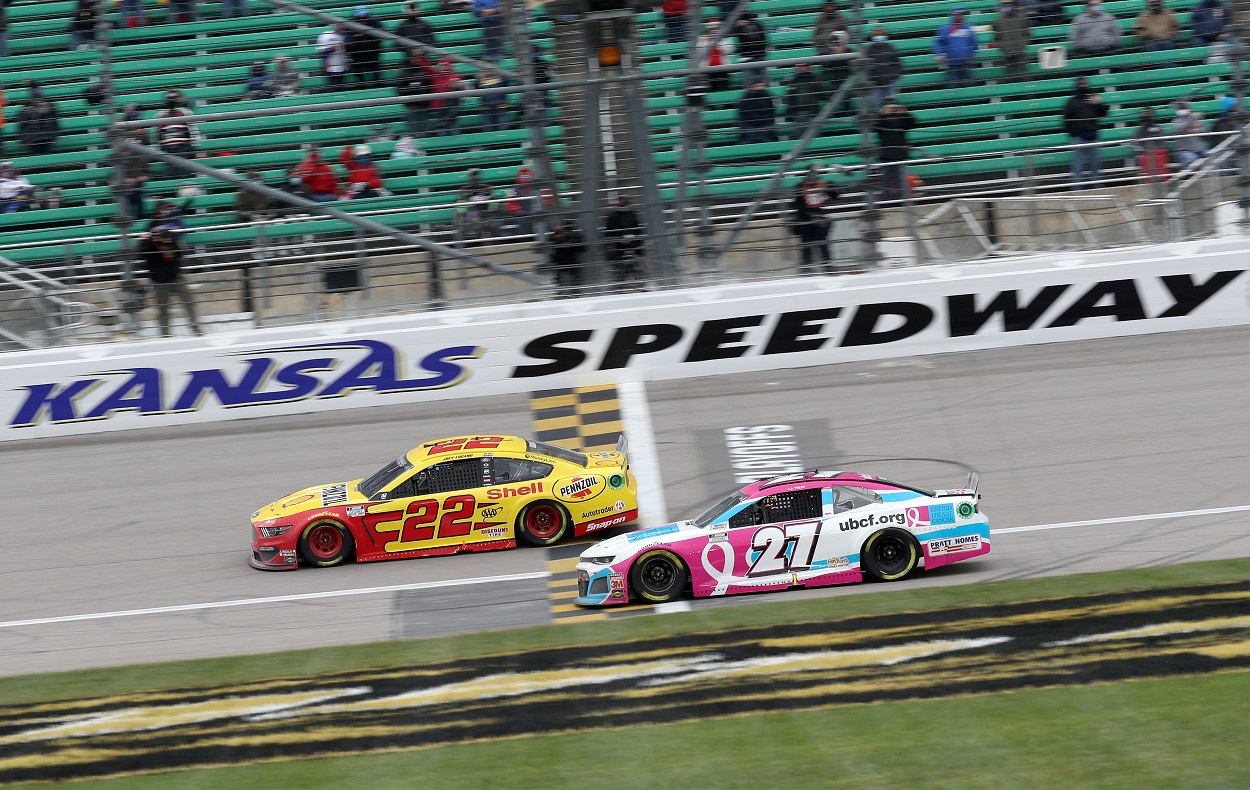 Here are the year-by-year NASCAR Cup Series results at Kansas Speedway.
2001: Jeff Gordon
2002: Jeff Gordon
2003: Ryan Newman
2004: Joe Nemechek
2005: Mark Martin
2006: Tony Stewart
2007: Greg Biffle
2008: Jimmie Johnson
2009: Tony Stewart
2010: Greg Biffle
2011: Brad Keselowski
2011: Jimmie Johnson
2012: Denny Hamlin
2012: Matt Kenseth
2013: Matt Kenseth
2013: Kevin Harvick
2014: Jeff Gordon
2014: Joey Logano
2015: Jimmie Johnson
2015: Joey Logano
2016: Kyle Busch
2016: Kevin Harvick
2017: Martin Truex Jr.
2017: Martin Truex Jr.
2018: Kevin Harvick
2018: Chase Elliott
2019: Brad Keselowski
2019: Denny Hamlin
2020: Denny Hamlin
2020: Joey Logano
2021: Kyle Busch
2021: Kyle Larson
2022: Kurt Busch
Stats courtesy of Racing Reference
Like Sportscasting on Facebook. Follow us on Twitter @sportscasting19 and subscribe to our YouTube channel.