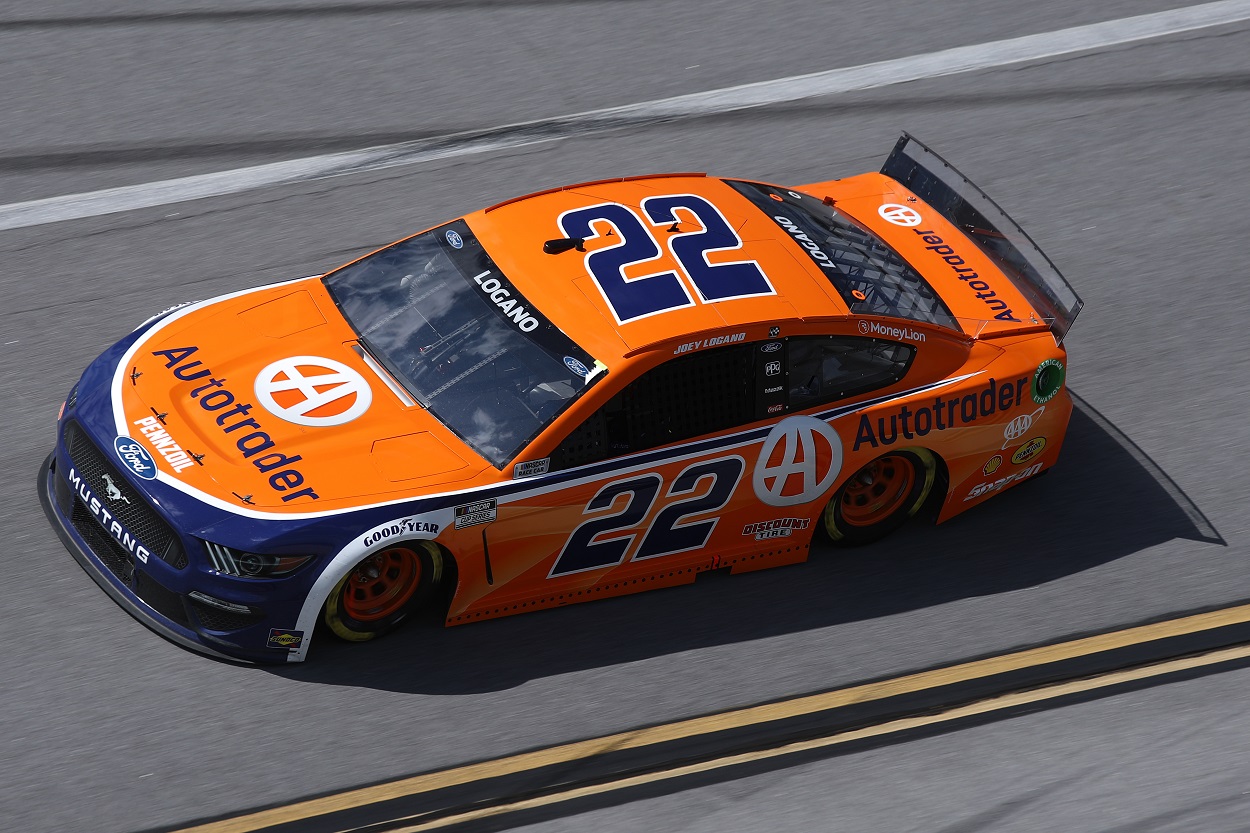 Joey Logano Sends a Warning to NASCAR Following His Scary Airborne Crash at Talladega
Joey Logano warns NASCAR that changes need to be made following his airborne crash at the Geico 500 at Talladega Superspeedway.
A 27-time NASCAR Cup Series winner and the 2018 points champ, Joey Logano is happy to be alive following his scary airborne crash at the Geico 500 at Talladega Superspeedway. But he certainly doesn't seem happy with how NASCAR continues to skirt the delicate balance between risk and entertainment at superspeedways and made sure to get that point across after somehow avoiding catastrophic injury during the April 25 race.
Joey Logano went airborne in his No. 22 Ford at the Geico 500 at Talladega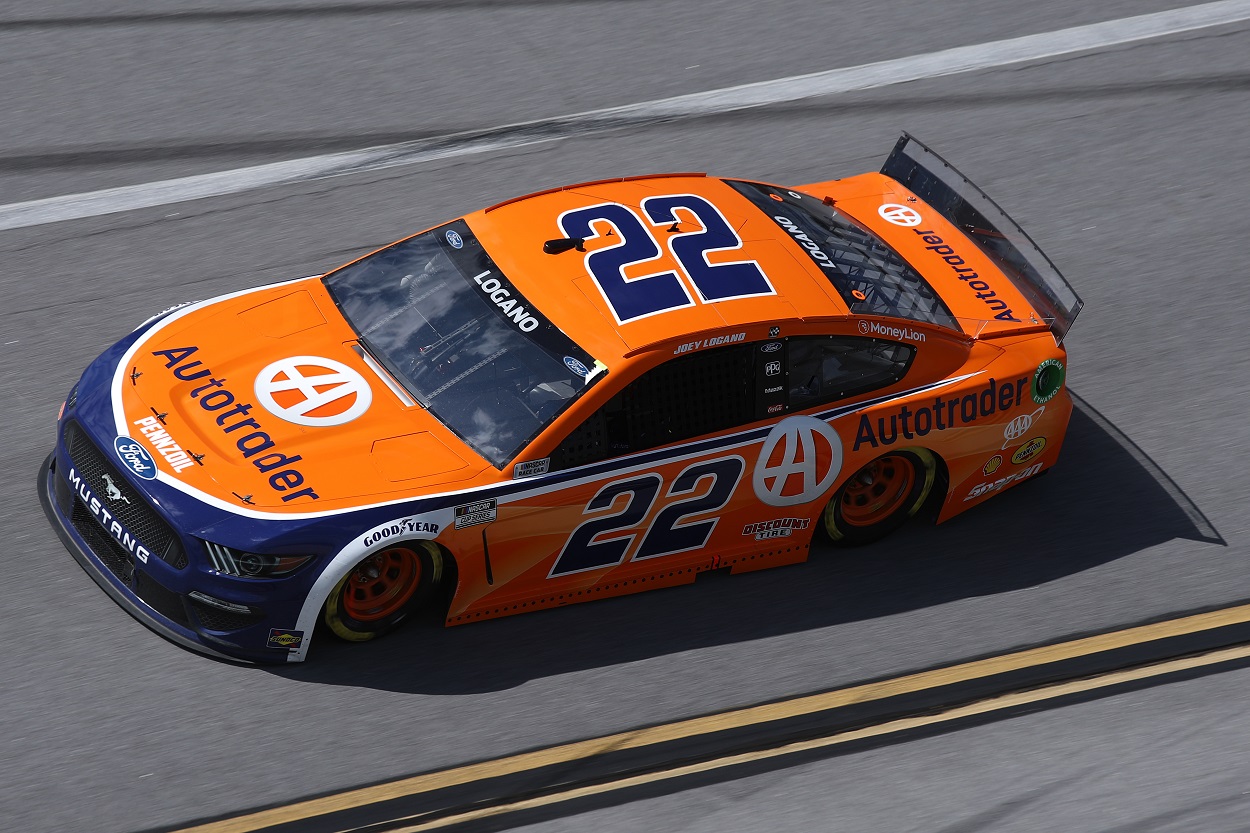 As the first stage of the Geico 500 at Talladega came to a close, a stage during which he led 10 laps, Logano was running third in the outside lane behind fellow Ford drivers Matt DiBenedetto and Ryan Blaney when Denny Hamlin, who'd been bumped by Ricky Stenhouse Jr., tapped his No. 22 Autotrader Ford on the left rear.
The No. 22 spun out down the bank and was hit by Stenhouse Jr.'s No. 47 Chevy, sending Logano airborne. His car flipped upside down and essentially skated on its roof while continuing to spin before flipping back over and sliding onto the infield grass.
Logano was thankfully able to climb out of the car on his own and was taken to the infield care center, where he was evaluated for a short time before being released. Somehow, he hadn't sustained any serious injuries.
Logano sent a warning to NASCAR following the race
After his release from the infield care center, Logano joined the Fox broadcast and was shown replays of his airborne crash, at which point he said:
"I guess I don't know exactly what to think. It's a product of this racing. On one hand, I am so proud to drive a Cup car that is safe, and that I can go through a crash like that and get out and speak about it. On one hand, I am mad about being in the crash and on the other, I am happy to be alive.

"On another hand, I'm wondering when are we going to stop because this is dangerous — doing what we are doing. I got a roll bar in my head. That is not okay. I'm one hit away from the same situation Ryan Newman just went through. I just don't feel like that's acceptable."

Joey Logano
Logano, of course, is referencing the 2020 Daytona 500 crash in which Ryan Newman flipped over in a similar manner but was hit while in the air by Corey Lajoie, which knocked Newman unconscious, put him in the hospital for two days, and left him with a brain contusion. Logano nearly suffered the same fate as he just missed getting slammed into by Bubba Wallace when he went airborne.
Logano clearly has some issues with how races at superspeedways like Talladega and Daytona are run, which certainly can't make NASCAR too happy. They actually put in some new rules ahead of a race at Talladega just a season ago.
NASCAR made some superspeedway rule changes ahead of last year's Geico 500 at Talladega
Ahead of last year's Geico 500 at Talladega, which was run in June due to the COVID-19 pandemic, NASCAR implemented some rule changes, seemingly in response to the Newman crash Logano referenced. Speeds are clearly much higher at the longer, wider superspeedways, and NASCAR was attempting to make things a little safer on all tracks but specifically superspeedways.
Here's a look at some of the changes that went into effect in 2020 (h/t Autoweek):
Reduction of horsepower via the tapered spacer
Elimination of aero ducts at superspeedway tracks
Reduction in size of throttle body from 59/64 inches to 57/64 inches;
Updated roll bar padding specifications
Oil reservoir tank or overflow expansion tank must contain a check valve
Slip tape must be applied along the entire length of the lower rearward-facing surfaces of the rear bumper cover and extension
Addition of a lower main roll bar support bar No. 20 / intrusion plate and upper main roll bar support bar No. 21 (mandatory at superspeedways, optional elsewhere)
It's not as if NASCAR isn't aware of the problems that arise at these massive superspeedways. It's just that Logano still thinks there's more work to be done.
We'll just have to wait and see if any more changes come from what happened at Talladega.