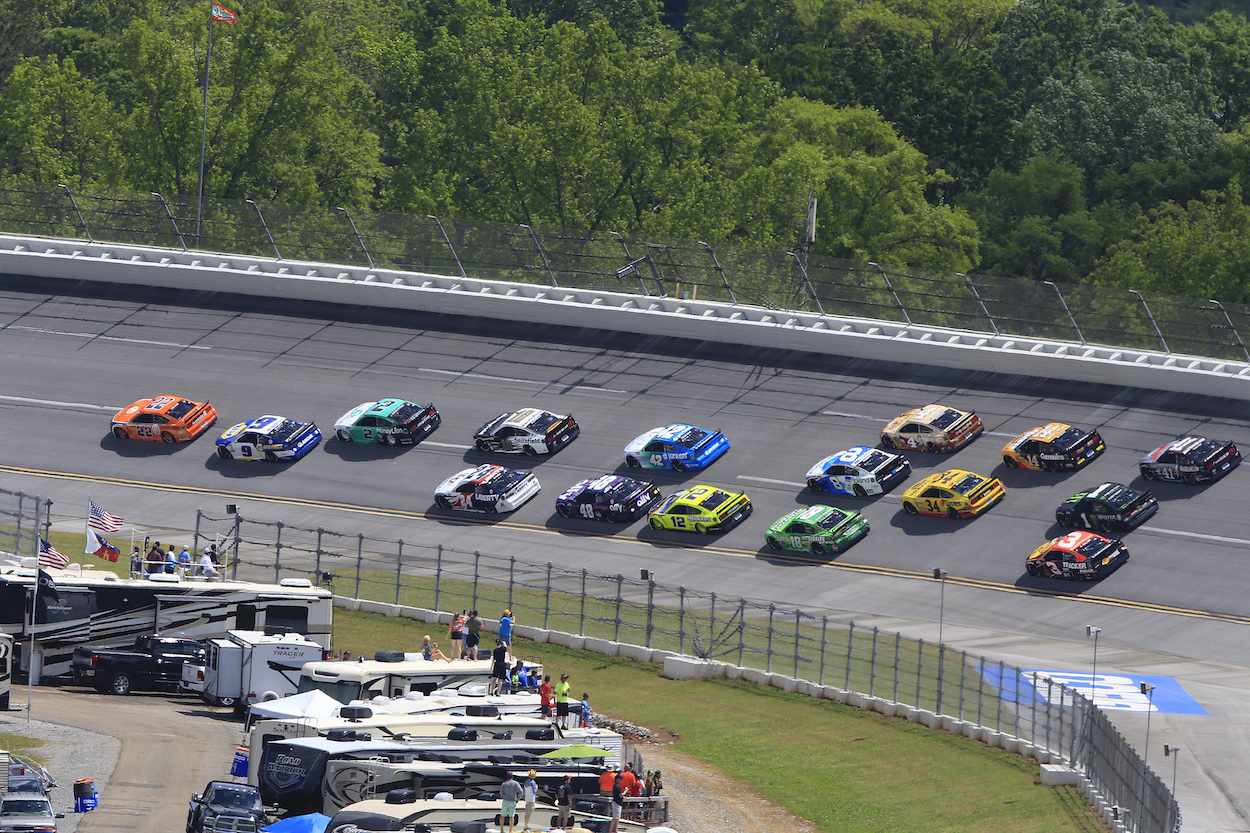 Talladega Weekend Marred by 2 Horrific Accidents, Including Joey Logano Going Airborne and Fiery ARCA Series Crash Where Driver Now on Ventilator in Critical Condition
Talladega race weekend included Joey Logano going airborne on Sunday and a fiery ARCA Series crash on Saturday, which left the driver on a ventilator in critical condition.
Joey Logano started the 2021 NASCAR Cup Series season with a spectacular last-lap crash during the Daytona 500. This weekend, Logano found himself in the middle of another scary accident at another superspeedway, Talladega, which left him shaken after the race. 
Unfortunately, Logano's accident was just one of two terrible crashes this weekend at the Alabama track. The other occurred on Saturday during the ARCA Series race and it ended with a car in flames and the driver seriously burned, which resulted in him being hospitalized on a ventilator in critical condition.
Joey Logano goes airborne in Cup Series race at Talladega
Joey Logano, Brad Keselowski, and the rest of the Penske drivers had a call with team owner Roger Penske this week, where each received specific instructions on avoiding a repeat of Daytona's last-lap disaster.
Logano obliged and didn't even come close to the last lap as he was involved in a scary crash late in stage 1 that sent his car airborne and upside down, sliding down the track on its roof, before it finally tumbled and rested on its wheels.
A few minutes after the incident, an understandably sober Logano offered his thoughts on what he had just experienced in an interview with Fox.
"I guess I don't know what to think. It's a product of this racing. On one hand, I'm so proud to drive a Cup car that is safe. That I can go through a crash like that and get out and speak about it. On the other hand, I'm just happy I'm alive. On the other hand, I think when are we going to stop because this is dangerous doing what we're doing. I got a roll bar in my head. That's not okay. I'm one hit away from the same situation Ryan Newman just went through."
Fiery crash late in ARCA Series race at Talladega
While Joey Logano's crash was scary and violent, he was able to walk away and talk about it. Saturday's ARCA Series included a late-lap crash, and the driver wasn't so fortunate. 
With five laps to go, Derrick Lancaster was bumped and his car slammed hard into the outside wall, and almost immediately burst into flames. The car then sailed down the track with fire engulfing it. 
Eventually, the car made its way down toward the infield grass where Lancaster turned it sideways and it finally came to a stop. Flames and smoke billowing out, obstructed any view of what was happening inside with the 48-year-old driver. 
Driver on respirator in critical condition
Derrick Lancaster was transported to an Alabama hospital where his wife has provided updates over the last 24 hours. She indicated he suffered no broken bones but had second- and third-degree burns to both arms, his neck, and face. 
He was placed on a ventilator so doctors could assess the damage to his lungs and is listed in critical but stable condition. In one of the latest updates, his wife said he would be on the ventilator for 48-72 hours, which would allow his lungs to recover from the extreme heat.
In the latest post, she indicated after Lancaster's sedation medication had been lowered, he was able to follow simple commands, including opening his eyes, squeezing the nurse's hand, and wiggling his toes. 
Lancaster's improvement is encouraging. But it's also a very sobering reminder of how dangerous it can be driving a race car, especially at superspeedways like Talladega. Just ask Joey Logano. 
Like Sportscasting on Facebook. Follow us on Twitter @sportscasting19.