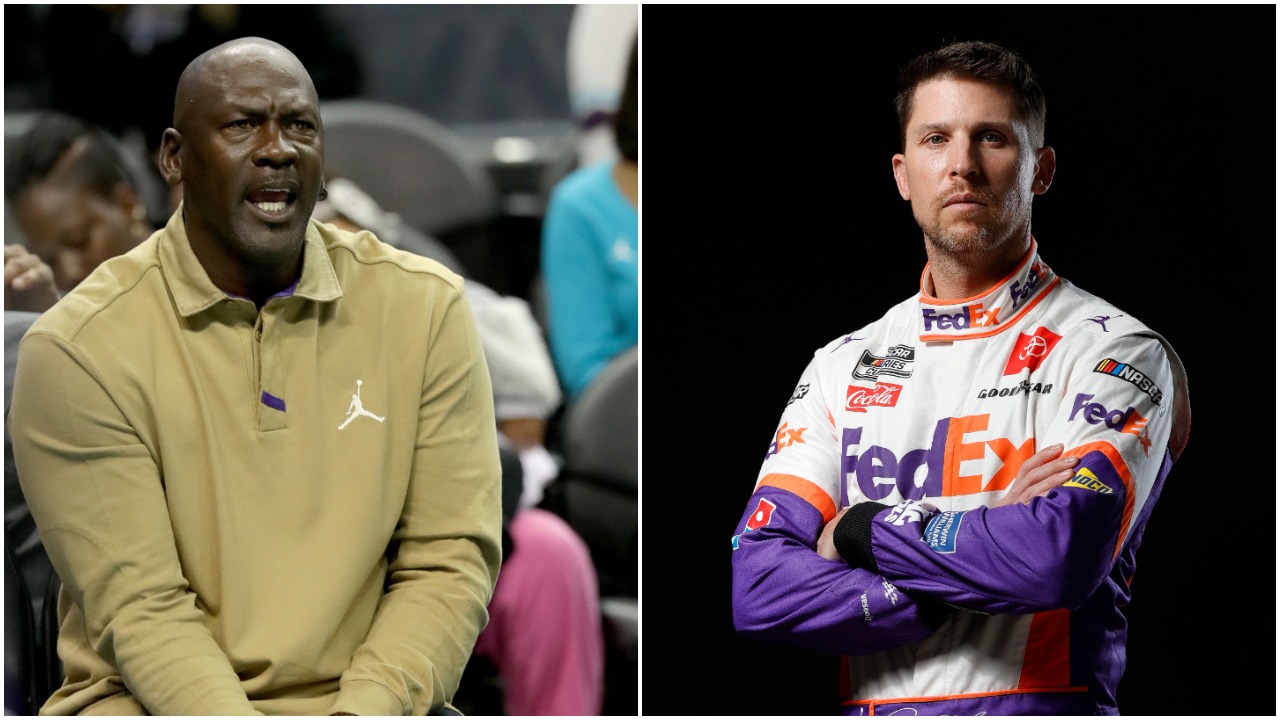 Michael Jordan Once Told 23XI Racing Partner Denny Hamlin He Should Have Wrecked Kevin Harvick to Win a Race
Michael Jordan once roasted 23XI Racing partner and good friend Denny Hamlin for finishing second in a NASCAR race.
Before becoming co-owners of 23XI Racing, Michael Jordan and Denny Hamlin were just your average set of buddies…well, as average as two multi-million dollar athletes can be anyway. They'd watch a little basketball, play a little golf, talk a little NASCAR…you know, normal things.
Of course, the basketball they watch is the team that Jordan owns, the golf they play is…well, it's golf involving MJ so you know what that entails, and the NASCAR conversations could include the fact that Hamlin has only finished outside the top 10 in the Cup Series standings once in the last seven years and is one of just four people to win back-to-back Daytona 500s.
Fine, so it's a little different than the average pair of buddies hanging out. But friends are friends and it's certainly not uncommon for pals to razz each other from time to time and anyone who watched The Last Dance knows that Jordan doesn't have any problem dishing out barbs to…well, anyone, including those closest to him.
And we certainly know that Michael Jordan did whatever it took to win back during his playing days with the Chicago Bulls (not so much with the Washington Wizards) and he expects the same from his athlete buddies, including Denny Hamlin, who he once shaded simply for finishing second in a race.
Denny Hamlin was the first NASCAR driver to don Michael Jordan's famous 'Jumpman' logo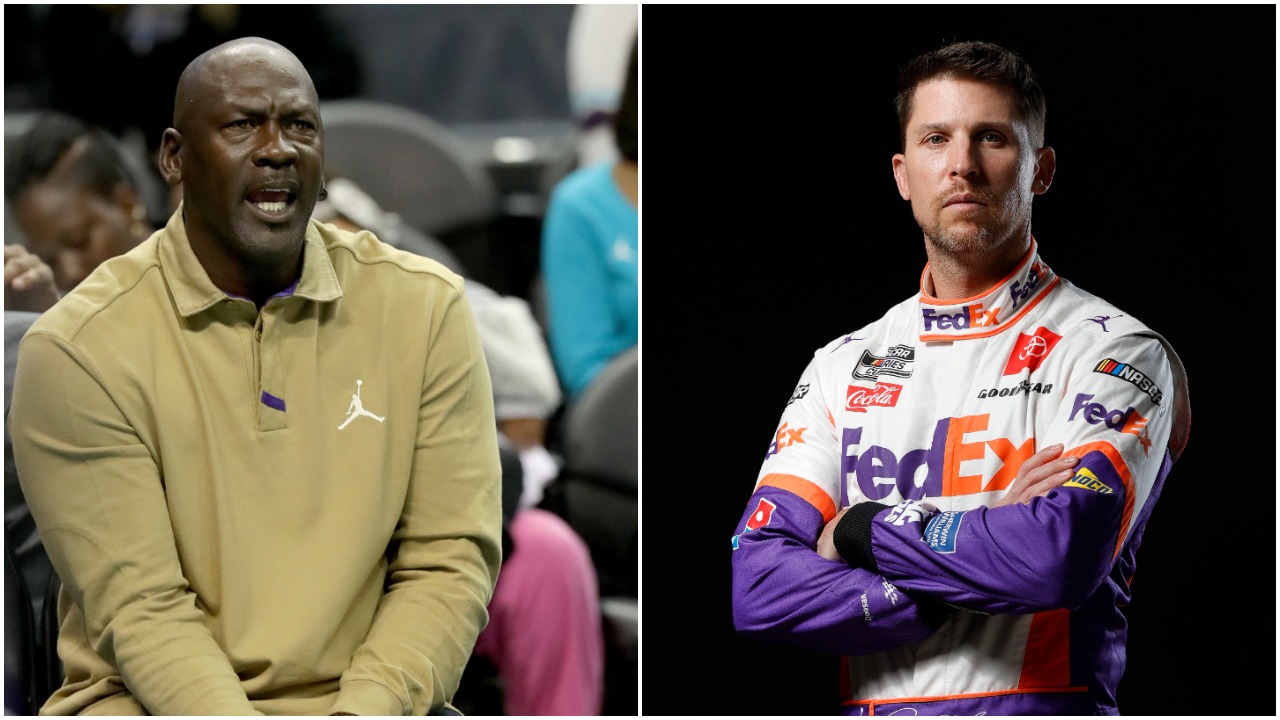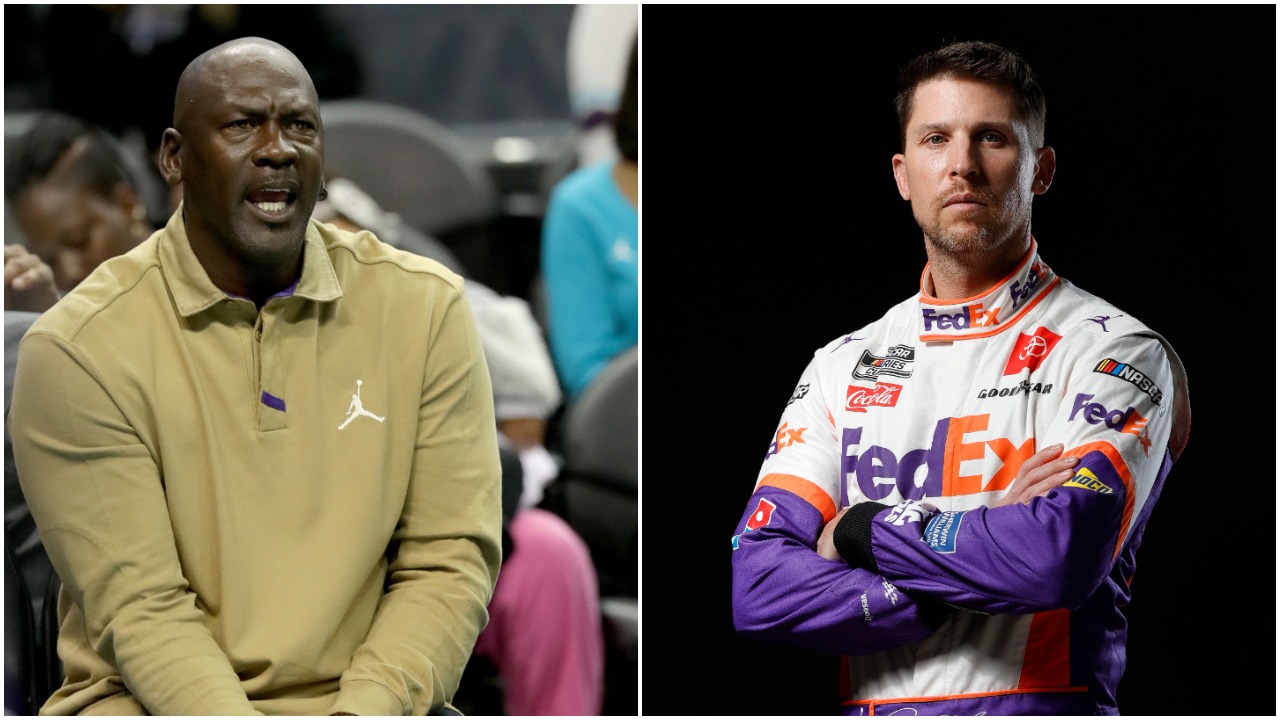 Michael Jordan and Denny Hamlin first met back in 2009 at a then-Charlotte Bobcats game. Hamlin, who is a huge NBA fan, was a season-ticket holder and Jordan, who has long been a fan of NASCAR, made it a point to introduce himself.
Just two years later, Hamlin became the first NASCAR driver to don Jordan's famous "Jumpman" logo, showcasing it on his uniform's belt, back, shoulder, and racing gloves.
In the years since, Hamlin and Jordan have become quite close and MJ would text his good friend often to wish him luck before races. But Jordan would also come down on Hamlin if he didn't like what he saw on the track.
Michael Jordan torched Denny Hamlin for coming in second at the 2019 Foxwoods Resort Casino 301
Let's be honest here. The Foxwoods Resort Casino 301 at New Hampshire Motor Speedway isn't the sexiest race on the NASCAR calendar. But it's a race nonetheless and any driver that gets behind the wheel that week wants to win, at least any real racer anyway.
When the race rolled around in July 2019, Hamlin had already won twice that season, including the Daytona 500, and put himself in a great position to pick up a third win. Hamlin was battling Kevin Harvick on the last lap and easily could have spun out the No. 4 Ford down the stretch. But he kept things clean and finished second, which apparently didn't sit well with Michael Jordan, as Hamlin told Dan Patrick just a few days later.
"And this past weekend when I finished second on the last lap, it was like… expletive. He was like, 'Dammit!' He was like, 'So close!' He said, 'You should have moved him.' And I'm like, 'Yeah, I know I should have knocked him out of the way.' He was like, 'He would have done it to you! You get him first!' So he's pretty passionate about it."

Denny Hamlin on Michael Jordan
And that passion for racing ultimately led to 23XI Racing.
The two started 23XI Racing in 2020
A little over a year after Michael Jordan ripped Denny Hamlin for finishing second in New Hampshire, the duo partnered up to form 23XI Racing, a single-car (for now) NASCAR team that was able to get into the Cup Series by purchasing Germain Racing's charter.
Hamlin is still driving the No. 11 car for Joe Gibbs Racing, recently signing a multi-year extension, but had long been interested in ownership and certainly found a nice partner (and wallet) in Michael Jordan. Bubba Wallace was brought in to be the team's first driver and, not shockingly, drives the new No. 23 Toyota Camry.