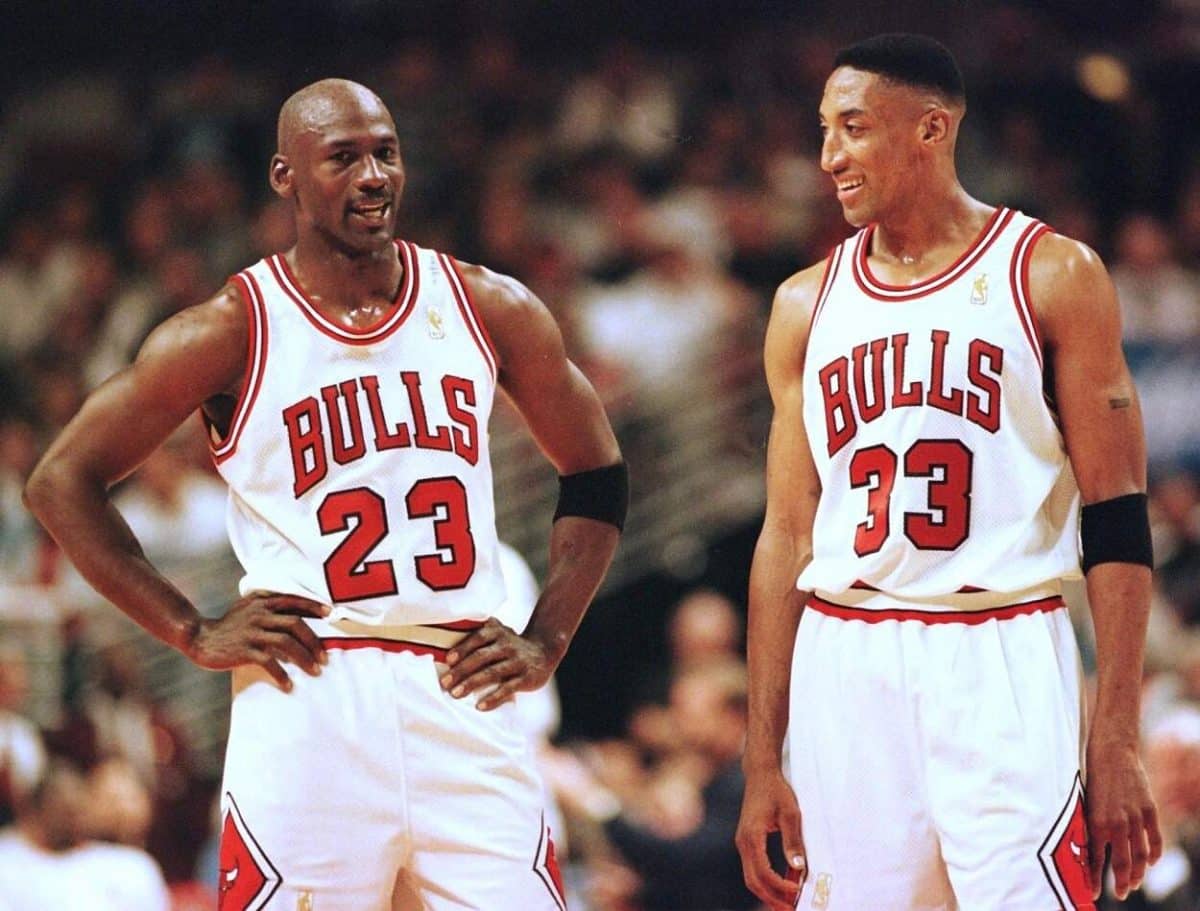 Michael Jordan Didn't Want the Chicago Bulls to Draft Scottie Pippen as He Wanted His Former UNC Teammate Who Averaged 4.2 Points in the NBA
In the 1987 NBA draft, Michael Jordan didn't want the Chicago Bulls to take Scottie Pippen (or Horace Grant) as he had a former UNC teammate in mind.
For the first few years of Michael Jordan's career, the Chicago Bulls were essentially just a one-man show. MJ would put up his points and provide highlight after highlight, which he continued to do throughout his career. However, the Bulls were never seen as a real threat in the Eastern Conference, as evidenced by the three first-round postseason exits in MJ's first three seasons.
It wasn't until the Bulls added Scottie Pippen and Horace Grant ahead of the 1987-1988 season that they started to make some real noise in the East. That nucleus eventually led Chicago to its first three-peat in the early '90s.
However, if Michael Jordan got his way back then, Bulls GM Jerry Krause would have never drafted Pippen or Grant. MJ wanted him to take center Joe Wolf, with whom Jordan teamed for one season at the University of North Carolina.
Michael Jordan won three NBA titles with Horace Grant and six with Scottie Pippen
Scottie Pippen and Horace Grant cracked the Chicago Bulls' starting lineup on a full-time basis alongside Michael Jordan in the 1988-89 season. This just happens to be the season in which the Bulls made the Eastern Conference Finals for the first time.
In both 1989 and 1990, the Bulls lost to the Detroit Pistons in the conference finals but finally got past the "Bad Boys" in that famous four-game sweep in 1991. As one would expect, Jordan (29.8), Pippen (22.0), and Grant (13.5) were the top three scorers for Chicago in that series. The same held true when the Bulls knocked off Magic Johnson and the Lakers to win their first NBA title.
The trio led the Bulls to two more NBA titles over the next two seasons before Jordan retired for the first time in 1993. When MJ returned to the NBA, Grant had taken his talents to the Orlando Magic. But Jordan and Pippen won three more titles together in Chicago before His Airness again called it quits following "The Last Dance" season of 1997-98.
But one has to wonder how different the NBA might have been in the '90s had Michael Jordan gotten his way back in 1987.
Michael Jordan wanted the Chicago Bulls to choose Joe Wolf over Scottie Pippen in the 1987 NBA Draft
As the 1987 draft approached, Chicago Bulls GM Jerry Krause kept an eye on a skinny forward named Scottie Pippen. The Central Arkansas product averaged 23.6 points, 10 rebounds, 4.3 assists, and 3.1 steals as a senior on the way to being named an NAIA All-American for the second straight year.
Krause had been scouting Pippen for quite some time. He thought he might be able to steal him with the No. 8 pick the Bulls held in the draft, a pick Krause cleverly acquired from the New York Knicks. However, as Pippen began to excel at pre-draft camps, his name started being thrown around a lot more. Krause feared he wouldn't get his guy.
But that worry apparently didn't bother Michael Jordan as he didn't want the Bulls to select Scottie Pippen anyway, which Jerry Krause later told the Boston Globe. No, MJ wanted Chicago to select North Carolina senior center Joe Wolf, with whom Jordan had teamed in his final season with the Tar Heels in 1983-84.
Wolf was a First-Team All-ACC selection at UNC as a senior in 1986-1987. He'd averaged 15.2 points on 57.1% shooting while also pulling down 7.1 rebounds per game. But Krause stuck to his guns and crafted a trade with the Seattle Supersonics, who drafted Pippen at No. 5 for Chicago while the Bulls took center Olden Polynice at No. 8 for the Sonics.
The Chicago Bulls chose Horace Grant over Joe Wolf at No. 10
Michael Jordan still had a chance to reunite with Joe Wolf as the Chicago Bulls also had the No. 10 pick in the 1987 NBA draft. But Jerry Krause again wisely ignored his superstar's advice. Instead, he selected Horace Grant, who, like Wolf, was also a First-Team All-ACC selection in 1986-1987.
Grant, however, was also named ACC Player of the Year that season after averaging 21 points per game while shooting 65.6% from the floor, adding 9.6 rebounds for Clemson.
As for Wolf, he was taken with the No. 13 pick by the Los Angeles Clippers and ended up playing 11 seasons in the NBA for seven teams, averaging 4.2 points and 3.3 rebounds. With his playing days behind him, he moved on to a coaching career that eventually led him to become the head coach of the NBA G League's Greensboro Swarm from 2018-20. And you know who owns the Swarm, right? Yep, the Charlotte Hornets. And you know who owns the Charlotte Hornets, right? But I digress.
Jerry Krause was named NBA Executive of the Year following the 1987-88 season, a season in which Michael Jordan also won his first NBA MVP award as well as Defensive Player of the Year. Wonder if any of that would have happened had Joe Wolf been wearing a Bulls uniform. Or, for that matter, would the Chicago Bulls have ever won an NBA championship had Krause listened to MJ?
If nothing else, that 1987 NBA draft taught us Michael Jordan should never have a say in picking players. It's a good thing he just stuck to playing and never took on that type of role after he retired.
Oh, wait…
Stats courtesy of Sports Reference